Dartmouth
Sailing bit :
A steady South Westerly force 5 was the forecast , which wasnt ideal for making the short hop from Brixham to dartmouth , I was tempted to go into Salcombe , but the prices put me off and I hate paying to anchor, so we continued to Dartmouth and sailed right the way up the river.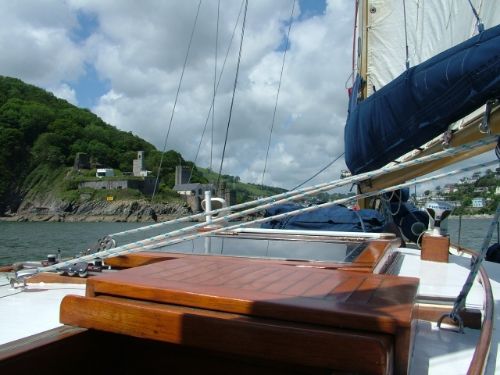 The wind was more Southerly than West and once out of Torbay we were able to get on a single tack and head for Dartmouth entrance , I love the entrance to Dartmouth with its old fortress and steep sided cliffs
General bit:
We stopped for an over nighter here , the weather wasnt great, but Dartmouth still has plenty going on and is gorgeous even in a gale, but time was counting down and I needed to be thinking about getting into a good sized harbour for the trip back to work.
Plus I needed all the facilities of a decent yard and somewhere to get the damage repaired from the Lymington fiasco, so disappointingly we left with a good forecast for the trip into Plymouth.
Nelsons Bit :
The admiral loves it here , so many footpaths all along the cliff tops, rabbits galore and the cafes are mainly dog friendly , why cant more places be like this ?