Plymouth Aquarium a welcome relief on rainy days
Its time to go back to work, with a heavy heart I pack everything away and head back to Australia, another five weeks in the sun , mmmm maybe not so heavy a heart after all !
BA is craned ashore in preparation for the essential repairs including the damage to the toe rail and fitting a new hydro vane self steering.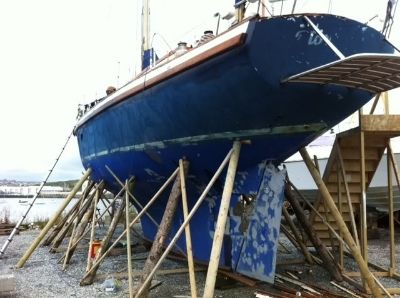 Did however visit a few local attractions , the aquarium was great , but the best place was captain jaspers burger van in sutton harbour , bit of a bikers hang out !
* So back from the land of OZ and straight into the repairs needed to get the old girl back to looking pretty and functioning without problems, the main jobs are to replace the smashed up toe rail on the stern and to repair and repaint the starboard side storm damage.
While still at work I had made arrangements to hire in a MIG welder as doing a major job like this with a stick or TIG that I have on board would take ages - I didnt have ages !
I also had booked a scaffolding company to erect scaffolding around the boat so I could easily move around it and the welding would be one continuos flow .... If only they had showed up , i ended up renting a wheeled platform which would have been great on a solid concrete floor not large gravel.
This picture from three years ago, showing the Admiral as a mere pup, also gives an idea as to how rusty the toe rail had become and how badly splintered the toe rail was, it was taken after relaunching and had just been painted again !
So I got to work with a selection of grinders and hundreds of cutting discs and took off the top two inches of steel work around the entire boat, the steel was rusted and in places had expanded and split the toe rail timbers , thirty five years of salt immersion had taken its toll ... It all had to go.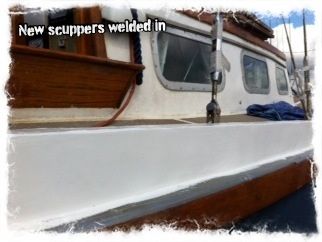 It rained most of the time, the yard was a swamp, getting the dog walked was a nightmare, the interior of the boat was getting trashed regardless of all the precautions I took, the whole thing was pretty soul destroying.
Working on a tower meant moving it every six feet , which with a large welding set and cougar 5 size MIG bottle attached wasn't an easy task , oh how I cursed those scaffolders !
I got it all cut off and cleaned up ready , the new material had arrived , the timber was measured up and also machined to my specifications, then it was time to go back to work , some break that was !
Another five weeks in OZ , normally I look forward to getting home , but I knew that I had all the welding to look forward too and absolutely no rest time what so ever.
I spent an age doing this job all made more difficult by the continual rain and slowed by simple things like the scaffolding tower and grinders burning out , the logistics of getting spares and stopping for the day to do so was frustrating.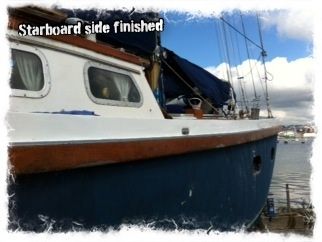 I finally completed all the welding and the fairing was applied quickly on any sunny days we had , often using a hot air gun to dry the surfaces before applying the paints etc .
Next came the timber, I chose to use Iroko instead of Teak, mainly to,cut costs as teak is mentally expensive due to trade sanctions against Burma, the timber is 75 mm wide , 25 mm thick and in sections that range from 3 to 3.5 meters in length.
They have to conform to the shape of the hull , which obviously is curved, so to make the curve conform to the steel, I fixed the curved section in first which was pre cut by the saw mill , then added the first plank starting at the transom.
I used a trailer winch and some webbing strap (it lies flat ) to winch a gentle curve into the timber , then clamp it off with a couple of G clamps , then drill the correct hole size and tap the steel as I'm not using nuts, as its my intentions to seal the underneath of the toe rail to prevent corrosion.
The wood is bedded into sikaflex to seal it onto the new scupper and then bolted into place using M8 taper headed screws, which are then sealed with more sikaflex and then plugged before sanding (and later varnishing).
Next i use an industrial hole saw to cut out the timber to allow the stanchion posts to be reinserted, Ive yet to decide how to tidy these holes as the posts aren't always central in them , which irritates me a tad.
Hydrovane next ... ?