Muxia... pronounced Mugia (of course)
Just a swift stop here and a few hours ashore before a big nights sleep , preparations for rounding Cap Finesterre and the end of the Bay of Biscay.
There is a couple of days where the wind drops off on this prominent headland and we can finally get around the bend , although it has been pointed out I am already around the bend.
This is a relatively new marina in what was once a small fishing harbour, the spanish attempt to keep the place alive I guess and they have done a great job, the place is clean and tidy .
There are still only portaloos as the cash ran out thanks to the recession, but the prices for berthing a fifty foot boat on a walk ashore pontoon is just 13 euros which is the best value Ive had since leaving Camaret in Britanny france.
A quick trip ashore produced a great little restaurant and some cheap food , the restaurant owner thanking us for our custom and shaking hands etc as we left , even Nelly had a doggie bag !
So Muxia deserves a leg up from any passing yachts , its a fraction of the price of La Coruna and NO GRAFITTI .... NO CRUISE LINERS .....NO SWELL in the marina.
So the following morning we left at first light to round the Cape of Finesterre and onto the "Costa Del Morte" ....The coast of Death (gulp)
The weather forecasters upto this point had been called many names as they had royally screwed up at least twice on the Spanish coast line and both times had given us a pasting , so we were taking the latest forecast of light winds and calm seas with a little scepticism.
Its COLD now , October is here and the temperatures are falling >> going South !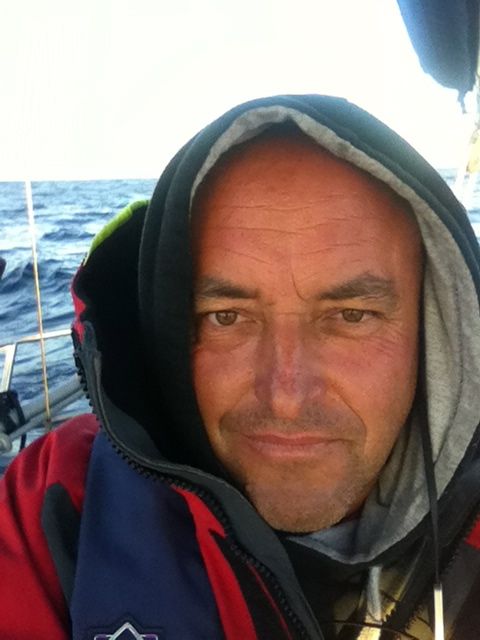 Once away from Muxia,(first light) we were followed out by three other yachts all heading South, it was nice to have some company as we motor sailed around Finisterre, there was stronger winds on the headland and the seas cut up a little , but im happy to say it was an uneventful trip... phew.
So now we head South, I can feel it warming up already , Nelly has stayed inside most of this leg of the journey, not sure if hes feeling ill or just had enough of travelling and wants to be back on terra firm for a while.
we soldier on