Spain - Cascais
Sailing bit:
The trip from Povoa de Vazim was a tedious slog, the distance involved meant a long drawn out trip to make the hundred plus miles to Cascais, there was also the matter of a million lobster pots to contend with and the associated night time risks of snagging one was just too high.
I decided to play safe and make sure I was in deep water overnight, so calculated my daytime course to ensure by nightfall I would be in deep water and then when dawn broke I would start to head back in land.
Thirty one hours later after motor sailing all but the last hour when the wind went from nothing to thirty knots (typical) in the space of fifteen minutes and then blew like a bastard when I had to get alongside the pontoon!
We were tired and feeling disheveled as we walked into what seems like the entrance lobby of a five star hotel, marina de Cascais is home to many wealthy people it would seem.
Prices here aren't cheap for sure (6 euros for a washing machine token), but the marina is immaculate and we are made to feel very welcome - even stinky dog was given a load of attention from the marineros .
This town has wealth - and lots of it, the number of Porsche, Mercedes and Ferrari's is just staggering, the car park is full of high end automotive eye candy, its like sitting on the set of Top Gear.
The local park is beautiful and set in the grounds of a local famous writer, the museum is a great place to spend the afternoon, sadly the Admiral wasn't allowed in and was left behind on the boat.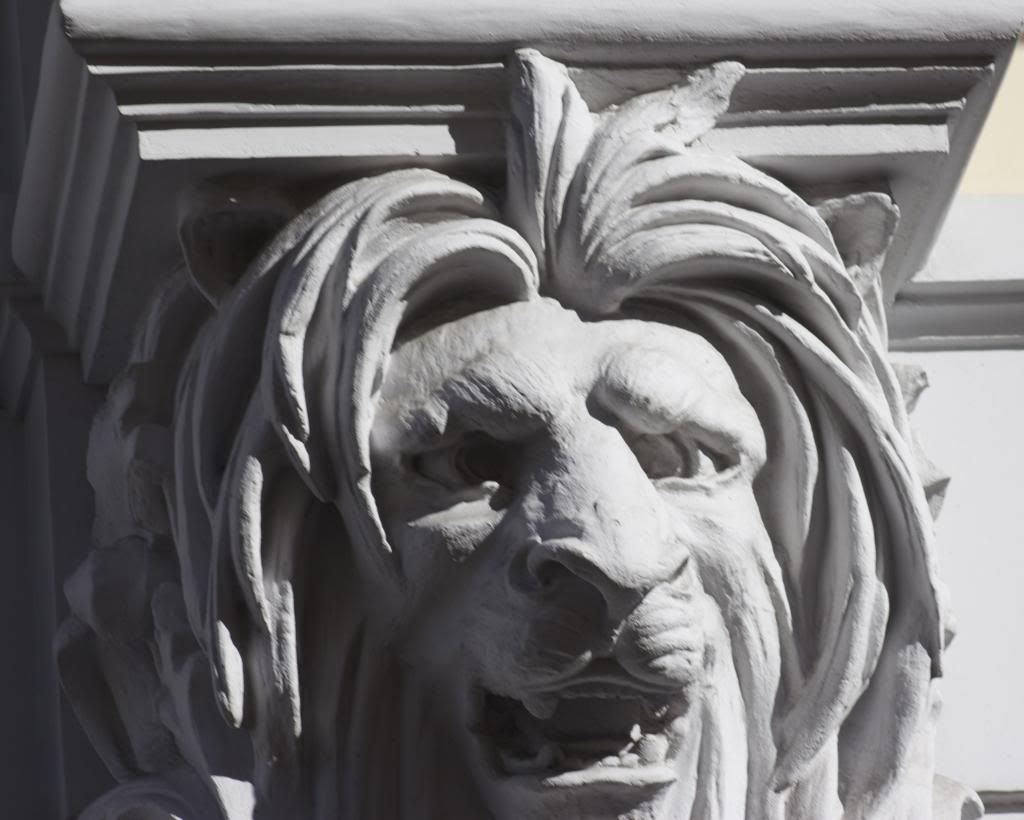 The temperatures here in October are still around twenty-six degrees and I'm still in shorts and t-shirt, whilst Nelson is sweating his ginger nuts off, so I've now put up the deck tents to keep him a little cooler.
The nearby beaches seem to allow dogs, (although ginger ones may be barred) so I'm going to take him down to the beach and give him a good run each day, when we were in La Coruna and had access to the harbor wall he would barely run to keep up with my bike - lazy dog!
Walking around a Portuguese super market for the first time was mildly amusing, apparently what we took for lobster pot markers are actually harboring fish traps as the markets are full of salted cod - indeed you cant escape the smell which pervades the entire market.
We also found some UFO's (Unidentified Furry Objects) at the meat counter, not sure what they were but they were skinned and wrapped in cling film, looked a little like squirrels, but maybe bigger.
That and the smell of salted cod left me feeling less hungry that night, jam and banana sandwich time, the neighbors are all nationalities but mainly Dutch, they always speak, but as the saying goes "birds of a feather flock together" so we are a little isolated as there are currently four Dutch boats and no other Brits on the Pontoon.
One family has this really sweet blond girl on board, I guess she's around four or five (no I'm not broody) she always gets excited when she see's Nelson walking along the pontoon and her parents (Dutch) always smile and wave, so maybe they will become more friendly in time.
There seem to be no more boats heading into here, some have left and moved on, I guess trying to squeeze a few more miles South before winter hits, its difficult to think about winter at the moment as its so VERY hot.
Well winter hit ..ok , The marina has two sections to it , divided by the "technical area" which is essentially a very wide area of concrete yard for working on boats - you aren't allowed to work on your own though !
when we arrived we along with the vast majority of visiting craft were directed to the second part of the marina, at the time I thought it odd that the visitors got essentially the safest part of the harbour- STOOOOPID !
No the visitors get the WORST bit of the harbour, as the tide and swell outside combine , they frequently come crashing over the sea wall and into the pontoon area, add that to the swell that comes in from the marina entrance and you will see why BA was towed to the other section to avoid a winter storm when I was at work !
what remains of the pontoon we were on
I will post pictures when I get some from the web of this storm, but boy was it significant ! huge waves crashing over the sea wall and landing where the boat had been the previous day ! Portimao just 100 miles along the coast has lost whole sections of pontoon as the storm surge tore through the town .. gulp , that's where I was heading !