Spain - Almerimar
Talking to frogs
we left the anchorage at La Heradura with the intentions of going around to marina del este for a coffee, little did we know just how protected our little anchorage was.
Once we cleared the headland the swell was uncomfortable, so much so that the anchorage at marina del este would be un tenable, as such we decided to press on towards Almerimar our next chosen destination.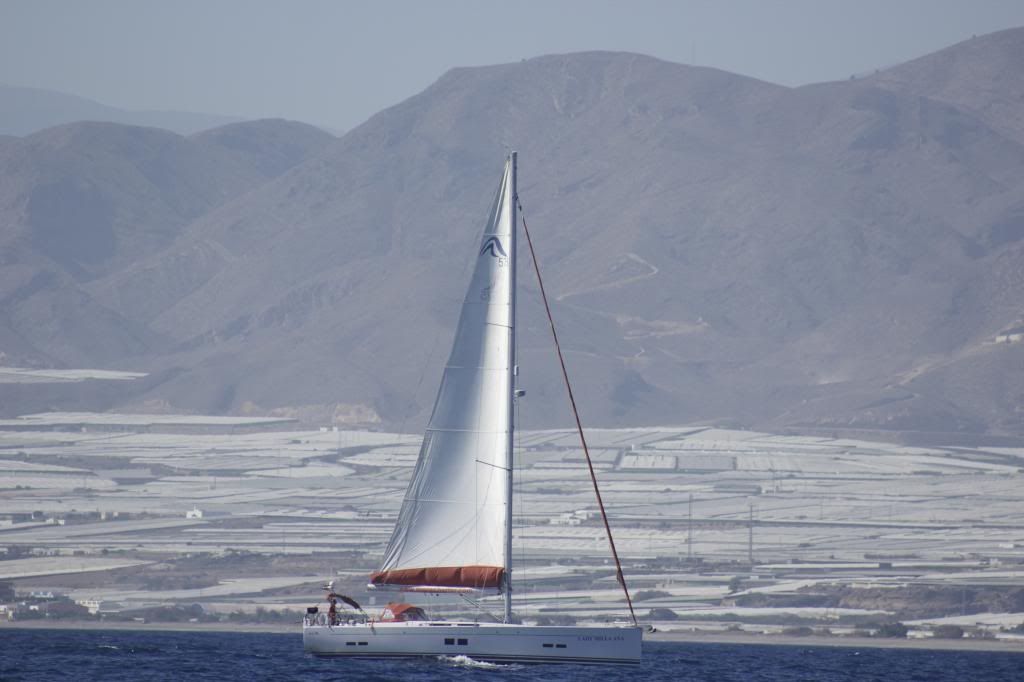 Plastic farm
The trip was fairly straight forward 15 knots of wind - on the bow and a swell that sent spray high into the air as blown away ploughed into each wave, our speed would go from 6 knots down to 3 knots, by the time we reached Almerimar I had had enough and was glad to tie up to the waiting area (rough concrete wall)
This was to be my first attempt at med mooring in Blown Away and I was apprehensive as she has the turning circle of the Queen Mary and is out to make me look stupid at every opportunity - remember Gijon ?
I managed to swing the bow down wind and she went backwards into the berth without issue, relief ! Then began the wash down as we now had access to fresh water.
Almerimar has a live aboard community and we were invited to a "jamming " session at the local irish bar "Mc Gowans" , we normally dodge these things but Andrea does like a drink so we thought we would join in .
So it was that we met up with Brenda and Ali again from Melody, another couple heading into the med, we last saw them in Gijon coincidentally.
So we settled into a chair and listened to the others musical, abilities which was very good fun , the guiness however was hitting the mark and around midnight we left the bar to walk back to the boat.
Thats when we heard the strange noises coming from a corner of a dark barely lit grassed area near the marina, i walked over slowly to investigate and found a pond, the strange noise was the frogs calling each other , as i approached it stopped, so I mimicked them , as I did they started up again, so for ten minutes or so I stopped to talk to the frogs and we were rolling around on the floor laughing - a most enjoyable evening .
The Great Escape
It was a lovely evening and we were invited by Brian and Sue to go for a pizza at Guzzi bar on the marina, of course we had a pre meal drinkiepoo in another bar, the wine was flowing and we were having a lovely time.
The pizza was delicious, thin crust, lots of topping and no peppers, the salad was great too , the beer was cold and all was well with the world, we left around 23:00 and started the short walk back around the marina.
We hadn't gone far when i could hear Nelson barking , which is unusual, he normally sits in the cockpit and seldom barks at anyone or anything , instead prefers to sleep through burglaries etc.
When we got closer to the boat the waiter from the restaurant adjacent came running across to me ...."senior senior" he cried " your dog , he has been running wild , up and down the street, into my restaurant, through the kitchens" .
Nelson - in disgrace - was tied to a near by hand railing and still barking, the bar he had gone into was the one he had last seen us in having a drink , god knows why he got off, he never gets off !
He will need a motorbike and a ramp to escape now !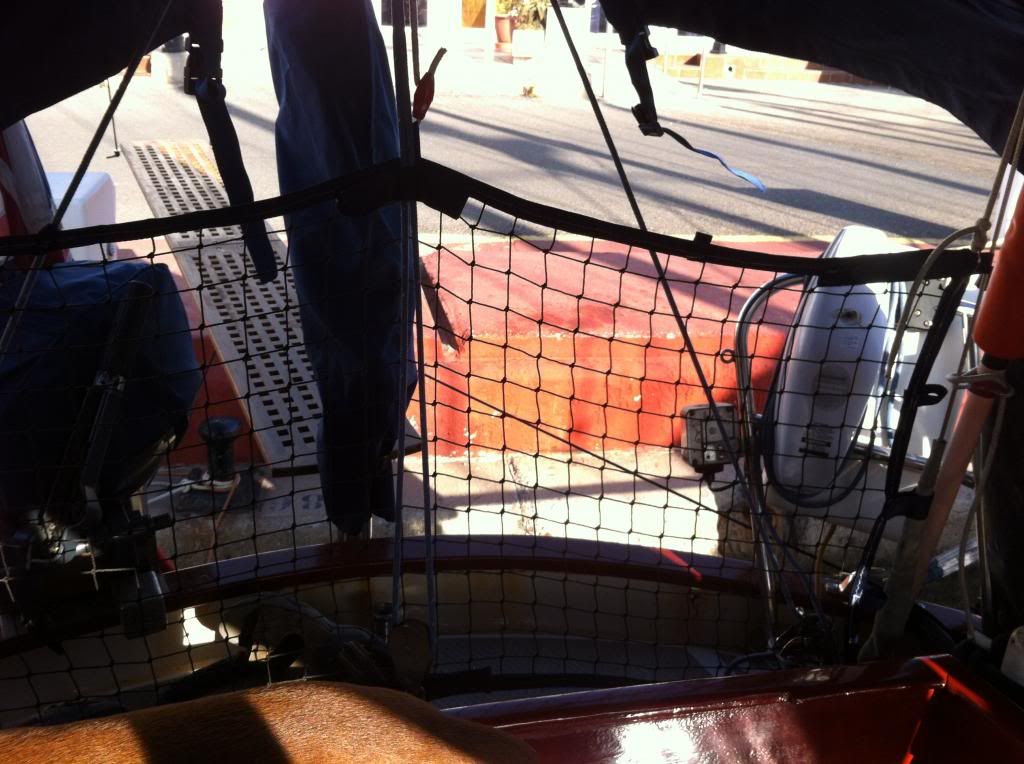 The restaurant owner had called the police, i felt pretty bad and had to smooth things over with them about the dog going into the kitchen and tried to explain he was probably looking for me as we had been drinking there earlier.
So this morning I'm keeping a low profile - anyone want a dog ?
RATS - Hmmm .... DONT go into Darsena 2 would be my advice , fortunately this isn't Blown Aways bow , but someone has a rat problem !
Look what we found again ...mmmmmmm
Live aboard shopping trips look a little like this !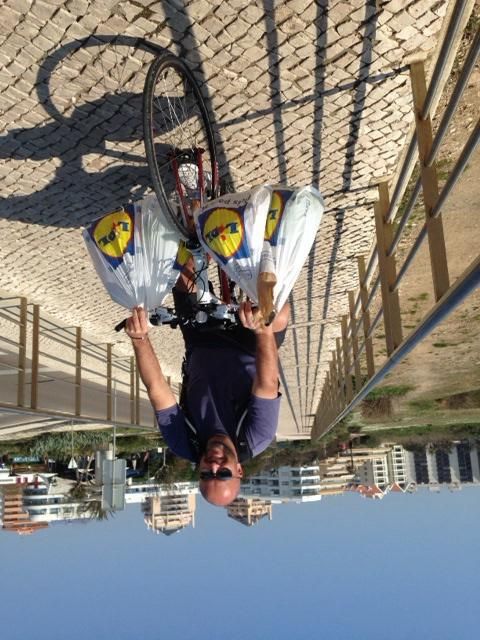 Nelson pulls a bird !
Id only left him for 12 hours or so , id needed to get my motor bike from Portugal, well obviously the cheapest and fastest route was never going to be the least miles , that would make way to much sense.
So for less than £100 i jumped on a flight from Spain to London in the morning and then a flight from London to Portugal an hour later , with intentions of riding the bike the 500 kilometres back to the boat , home in time for tea .
Except Lazy jet was late leaving , then flew into the north terminal , my connection was south terminal and a monarch flight - bloody missed it , so £157 later I'm in Portugal and 4 hours behind schedule.
I get back onboard the yacht early hours of the morning and there is a scantly dressed Norwegian in my bed, i kid you not ! Clever dog discovered if he barked every time she left , she came back , so much so that she slept on board to make her life easier !

So wish i had taken a picture , the dog winked at me with that knowing look, he drew back on a cigarette, blew smoke in my face then rolled over and slept, dirty dog didn't buy her a drink or even say good bye.... Im so proud of him.
A thought for today : If you speak 5 languages fluently , why work in a bar ?