San Antonio :
For two thousand years, Sant Antoni was a small fishing village that rose from the Roman natural harbor Portus Magnus, but it began to grow in the late 1950s when many hotels and tourist resorts were built as part of a mass tourism initiative which took place across Spain. As the number of tourists grew the development of bars, hotels and other tourist infrastructure spread right around to the other side of San Antonio bay, as far as Cala de Bou which actually lies in the adjacent municipality of Sant Josep de sa Talaia.
Since the 1980s British tourists have made up the majority of summertime visitors to San Antonio, though this is changing as more eastern Europeans and Russians stay in San Antonio, many are attracted by programmes such as the Ibiza Uncovered series on Sky TV as well as the laid-back Ibiza lifestyle. Due to the sheer number of noisy and drunken tourists during the summer season many websites have begun to actively advise against staying in San Antonio, recommending quiter locations like Santa Eulària Portinatx or Es Canar. San Antonio has a bad reputation because of the type of tourists it attracts, but some will argue that it is simply a by-product of the cheap and low quality holiday packages that the town encourages. San Antonio is not a family resort and towns to the north of the island are more suited to this type of holidaymaker.
Today's funny quote :
"Hi mum" says the daughter ,
"How was your appointment today" asks mum
"I saw a new midwife today" replies daughter
"How was she" ? Enquiries mum
"She was really quick and
didn't beat around the bush
" says daughter
Promptly Followed by roars of laughter and rolling on the floor (at this end of the phone)..... of course being eight months pregnant, plus hot and grumpy, due to juniors in womb football training, it may not appear quite as funny the other end of the phone ?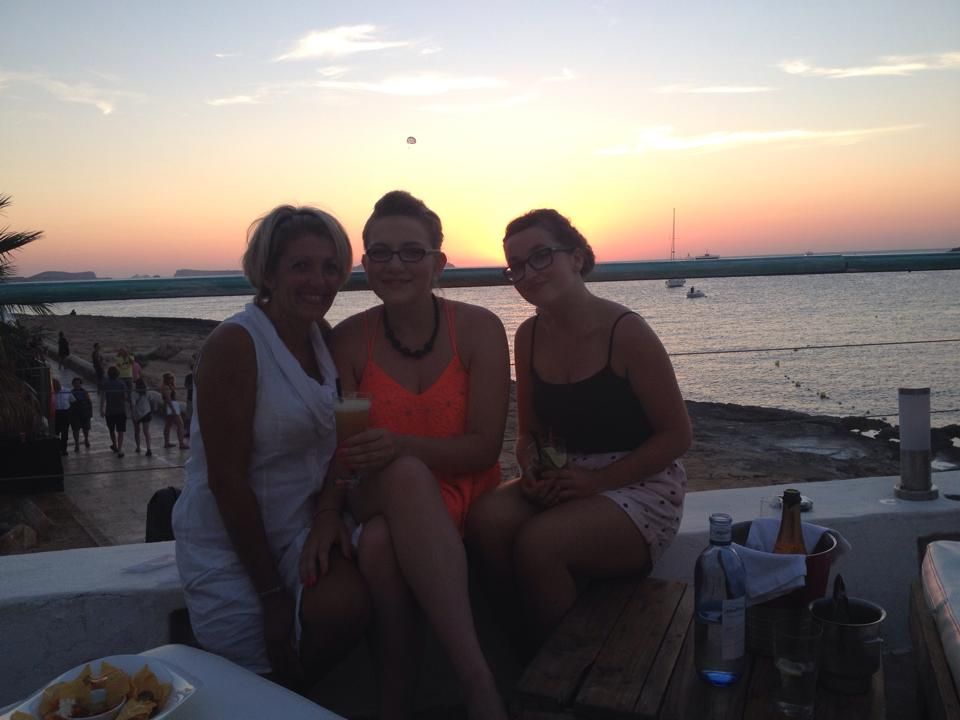 So on to San Antonio, it's a large natural bay with a smallish sea wall built out into the bay, the marina is very plush - and accordingly expensive, we were quoted 160€ per night , so that's not happening , fortunately the anchorage is pretty good , even if the holding is patchy due to heavy impenetrable weed in places , some sand is visible, you just have to hit it with your anchor !
This is a party town it would seem and lots of famous (or infamous) clubs on Ibiza are based here - apparently - anyways at €60 entry just to see the DJ push a few buttons and work the crowd to an alcohol fuelled frenzy is not my scene, so while they party hard we sleep.
I walk the dog around 07:00 just as the clubs empty out, it's pretty common to see clubbers sat binge drinking with spirits and coke bottles strewn around the quay and all over the beach, the stoned clubbers barely noticing the council workers stepping over them collecting litter.
The admiral wants them to play , often bounding upto them expecting a response, but he is ignored mostly due to self induced alcohol or drug coma's , so now he just runs up and barks at them , rarely provoking movement.
TYPICAL CLUBBERS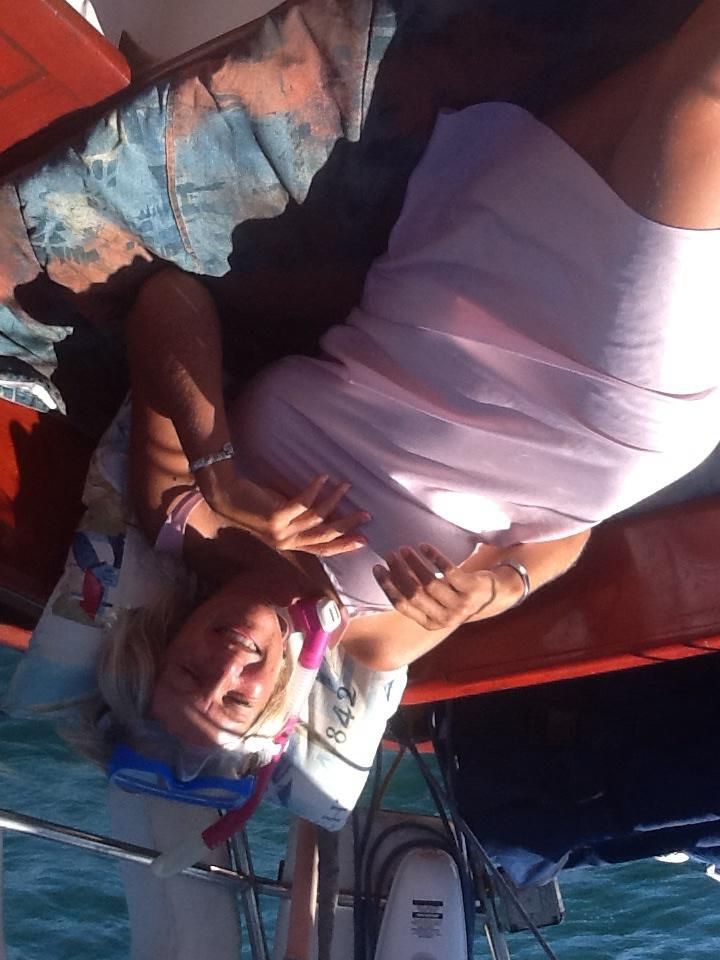 The benches along the town front are a meeting place after club close down, the pavements are covered in chewing gum, alcohol and barf, not a good look , again all cleaned up and washed down before the little angels return to the beaches later in the day.
This is inflatable towed toy central, with speed boats flying in and out of the beaches nearby with screaming kids clinging to rubber handles and bouncing over the waves from other boats as "Pedro" tries his best to shake them off, like some demented tourist with a monkey on his back .
The beach here faces west and is renowned for its sunsets, OH just another excuse to sell tourists alcohol and get them partying more like , we watch from afar as the sun sets over the horizon and the teen vampire clubbers emerge from their darkened hovels.
Most of the hotels here are egg crates, basic affairs with little charm, the ground floor shopping areas a mass of tourist crap, plastic boomerangs with Australia printed on it and such like.
As grim as this picture sounds, we like San Antonio, you know what you are getting ands YES the place is a zoo at certain times of the day, but work around other peoples pleasures at your discretion and there is a certain nicety to the place.
THERE ARE GOOD cafés with quirky charm, friendly people that tolerate the clubbers invasion during July , August and September, a short walk from the centre there are tree lined hills , greenery not seen on the mainland just fifty miles away.
The hire boat menace, no you do nt need a licence to hire a small motor boat with a twenty horse power outboard engine , nor do you need a brain it appears, a stoner passed by us real close, his girlfriend wrestling the wheel from his hand just before he rammed the boat next to us.
High as a kite, we watched the couple as they weaved their way around the anchorage before finally heading off into the sunset outside the harbour - by now they should be in Sardinia !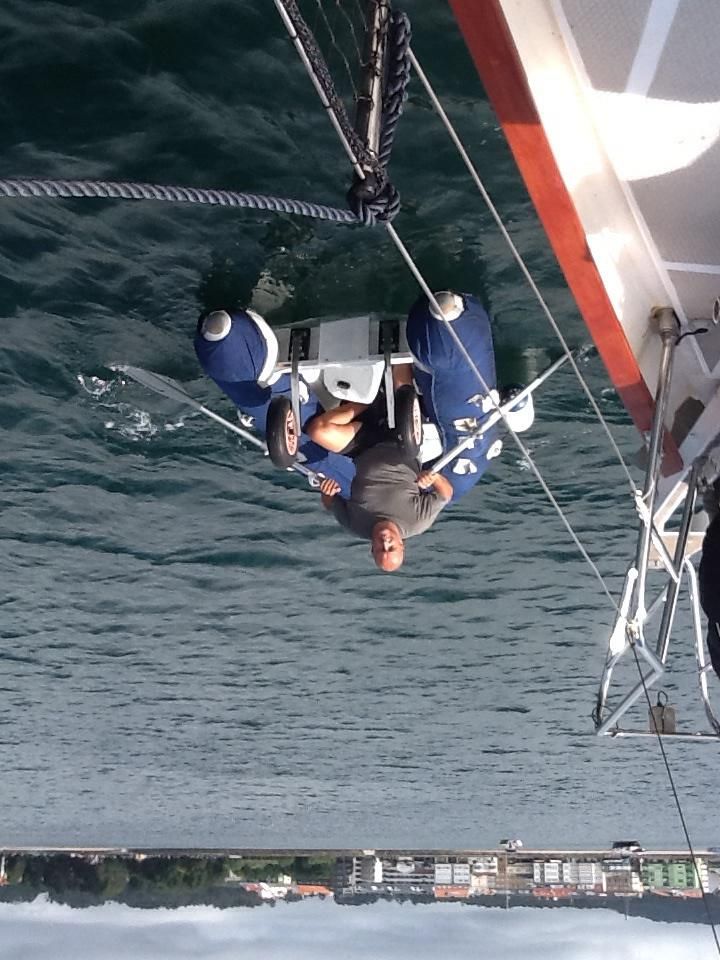 We have so far recovered the inflatable chair from our last anchorage, today I rescued an air bed doing back flips and heading for Mallorca, so now I have an additional toy for when the kids come.
We also bought an inflatable kayak, we need the exercise, I'm trying to gain some lung capacity again and it generally seemed like a good idea, god knows where we can store it !
HEADLINE :
BIG BERTHA SEES DAYLIGHT
BIG BERTHA GETS WET
BIG BERTHA DOES THE BUSINESS
It was windy today in sunny down town San Antonio , so much so that our CQR - (VERY old schooL) anchor started slowly dragging , it wasn't the fastest drag act , but we did 20 meters in an hour , enough for me to make an effort.
We have this wonderful AIS - automatic identification system on board made by vesper , it has the best anchor guard I have ever seen , we know where the anchor is and how far away and most importantly - if it moves on the sea bed !
The alarm sounded several times and we reset it in the hope it would be ok , no , we were dragging , bring on BERTHA , BERTHA is a large old fishermans anchor , like the one you see on Popeyes arm - toot toot - even more old school than the CQR
They cut through weed or cling to rocks , they are every cheap , so much so I wonder why no one else has one ? Any ways the big girl went over the side on 40 m of chain - we haven't budged since - bless her xx
NELSON UPDATE : Some of you regulars, nay many of you regulars - well ok , just one person has asked how Nelson is after ripping his nail part off in the movie " Behind the iron curtain" well I'm pleased to announce that no further dog maintenance is required, he has lost the claw and is now nursing a bare "finger" , I' m fairly confident a new nail will grow back and he will be scratching the varnish work again in no time !
PLAYING ANCHOR PIN BALL
we've been at anchor here for a week now, boats come and go daily, watching some drop their anchors I find myself involuntarily shaking my head at the techniques employed, few use day symbols (anchor ball) many no light at night.
That's great until a squal or strong wind hits at night - like tonight - unlit boats dragging anchors, people in underwear running around on deck frantically pulling up the inadequate lengths of chain and under sized anchors, from their poorly laid positions and unchecked holding.
When the boats motion changes I wake up , I've sat in the cockpit watching this circus and hoping nobody drags down on me, upwind is a sixty ton sun seeker around 70 ft in length, it sails at anchor alarmingly but so far hasn't moved.
A mug of tea and dimmed lights, sat patiently awaiting daylight, I can already see one boat that's now anchored in the main channel , the crew unaware they have slowly dragged out of position.
Roll on sunrise !