The sunsets here are to die for, everybody imagines Ibiza to be a crazy club capital and party venue and to a degree it is, but there are areas that retain a certain ambience, an innocence that lies beneath a gaudy charade of luminous bright T shirts and copious cans of San Miguel or Piña Coladas.
You need to dig a little deeper than San Antonio or Ibiza town, escape from the bling and the noise, find the "chill out " Ibiza of old, it's here , Isla Bosque and sunset Ashram faces West and celebrates every sunset like it was the last.
A mixture of cultures gather here each evening to watch the sun go from a bright yellow globe, eye watering glare gives way to a mixture of hues, reds , pinks , fading and sinking below the horizon, the music in the back ground soft and in keeping with such a majestic spectacle, the sunset here is to die for .
The anchorage is the most picturesque we have seen so far, the beach extends out from the main land towards Isla Bosque, a thin line of rocks is all that remains of a once umbilical connection between the two islands, now separated by the majesty of a bright blue sea.
The sand is almost white, the shallow water reflecting an azure blue onto the hulls of the anchored boats, fish swim from vessel to vessel in search of the next free offering, fighting like a shoal of piranha on the surface to gain an upper hand and take the largest portion of food for them selves.
We met Rafael and Raul a young couple eking a meagre existence by visiting the anchored boats, offering ice cold drinks, made while you watch, there small dinghy bouncing to each wave crest as they juggle with limes and ice to make an exceptionally good MOJITO .. What else !
They bring us water in one of our containers, they ask for nothing in return, we talk for an hour , my bad Spanish , they're remarkably good English , we exchange our views on the world and part company.
Within a short distance the shore line is jagged and crumbling, perfect sanctuary for all sorts of sea life, we kayaked our way into caves, eaten into rock by millennia of water erosion.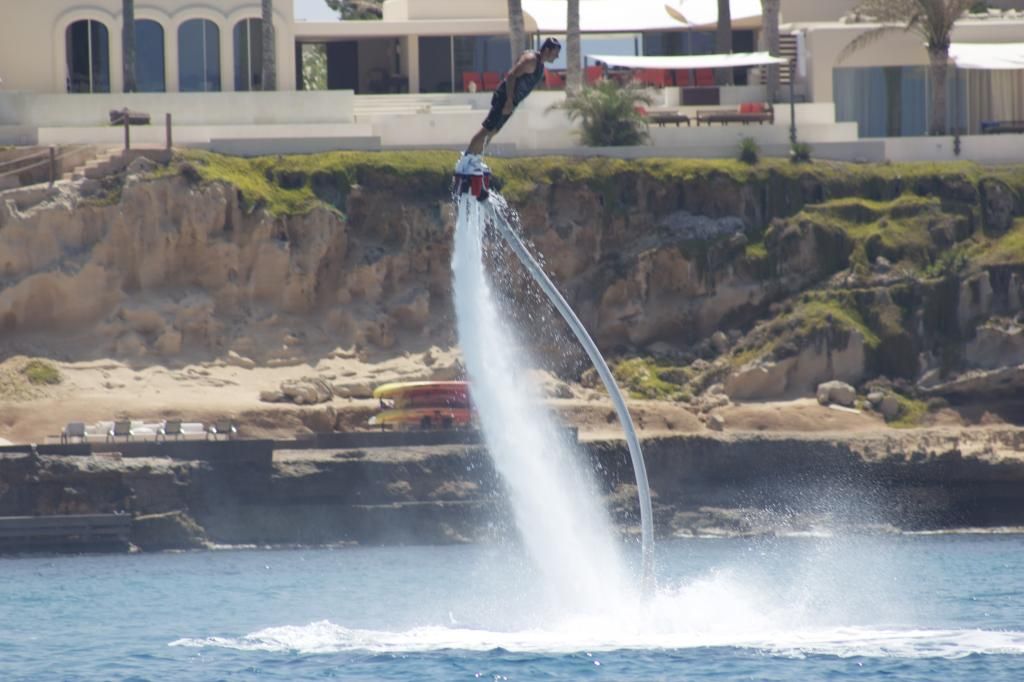 Expensive houses stand at the cliffs edges, mans pitiful attempt to thwart nature, like King Canute standing on the beach and ordering the tide to recede, the inevitable storm yet to come that will remove all evidence that a house ever existed there.
The sun rise brings an on shore wind, it's not hard but the combination of wind and passing motorboats make us lift our anchor and head for shelter and replenish our food cupboards