Pull up a chair ... The story so far
We had an engine mounting plate fail on our steel ketch "Blown Away"(BA) , we nursed it during the summer, safe in the knowledge it was not a major issue and that we could do it during our winter lay up, where ever that was going to be? We started emailing different yards on the Balearics and mainland spain that would allow me (marine engineer) to carry out our own work and also stay aboard during that period.
We chose Sant Carles marina as MDL is a familiar name from the UK and they were the most professional in their response, plus with a large British contingent on site we figured getting parts and sourcing help would be easier, so we booked BA in for a couple of months with intentions of completing a short yard stay and then sailing to Bonaire on Majorca for Xmas.
Andrea and my self posted a request on the SCM forum asking for help with the work we wanted to do while the yacht was ashore, as we felt that while the engine was out it was a perfect opportunity to repaint both the engine room and the engine its self, clearly this was beyond DIY as we would need shot blasting and paint spraying equipment ETC
We were contacted by 3 separate companies each giving an estimate for the repairs we wanted to delegate, which primarily was the shot blasting and spraying operation, we eventually chose to go with Vidals quote as Josep had been very convincing with how the company he used for shot blasting would be VERY careful when working inside our yacht, he even sold Andrea on shot blasting the cockpit area which is lined with teak - we subsequently stopped them from doing this !.
We were duly lifted out by Tomas and the team and the boat yard, pressure washed and placed into cradles, then lashed down with ratchet straps to avoid the winter storms, so far all very impressive.
The engine was lifted out by lavals who were exceptionally careful and very professional in his use of the HIAB ( I have a G20 crane ops licence - he was good ! ) when removing the engine and putting it into the back of his truck, the truck went off with my engine to the painters yard to be cleaned and painted and we started removing bilge pumps and battery trays in preparation for the shot blasters - I also opened a plate in the bottom of the bilge to remove the debris .
The shot blasters turned up and started to prep the engine bay with plastic sheeting being erected and stuck around the inside of the upper saloon - we had already removed or covered everything we could - the plastic sheeting looked a little light but I kept quiet as I figured they knew their trade and watched from a distance while they got stuck into cleaning the bilge area with a scraper - oily steel toe cap boots all over the tread master deck was the first sign of things to come.
The following day they came back to begin the shot blasting, clearly we could go no where near while they did this, as the cleaning medium is not to be breathed in and heavy suits with breathing apparatus is the norm, so the first we saw of it was on the evening using a torch after the shot blasters had left - we could have cried.
Much of the shot blasting material had gone through the protective layers and into the lower saloon , as we climbed through the deck hatch to get to our cabin what met us was unbelievable , this was our home , neither of us slept that night, we spent hours with our little hoover cleaning debris which in some places was an inch thick....... then it started raining.
The following day we could only see the upper saloon and galley through the plastic sheeting but we were expecting the worst by now, but we had gone to far to turn back , the engine was out and our engine room was bare metal. it had to be painted and it had to be finished, we contacted Josep from Vidals and expressed our concerns at the mess and damage to the yacht but were assured it would all be cleaned up and it was ok.
So they hoovered out the bilge area through the access port I had cut into the bilge and began spraying the area with paint, mean while I went off to collect some materials for the next phase , I was stopped by Josep from Vidals as he passed me in the street, he explained that in the morning there had been an accident and that the engine was slightly damaged as it had fallen from a pallet.
I rode to the painters premises to see what the problem was , it was clear the engine had been dropped from a far greater height than a pallet, the rocker cover was compessed like a bean tin and wrapped around the rocker shafts underneath, the casing around the fly wheel was smashed in several places and there was oil running from different areas........ suffice to say I was livid.
I returned to the yacht to confront both Josep from Vidal and his contractors who were painting my engine, they were apologetic and explained it was an accident and that they would put it right, that they would pay for any damages and sort it out for me, my engine was the heart of my boat , a Leyland 4/98 marinised thirty years ago by Tempest marine and used in many heavy displacement world girdling boats of the day.
Marine Parts for the engine are hard to come by in this day and age , I have sourced many components for this engine over the fifteen years of ownership and stored them on board for any eventuality , but never considered needing a spare fly wheel housing ! ... they aren't available, I have scoured the internet and exhausted all contacts in the UK for this part,
My fear is that the engine block and head which is cast iron will have suffered unseen damage sustained on impact, so even if I could source parts or replace them, what I'm now looking at is an unknown quantity and as such we have turned to Josep from Vidals to put right this problem , it was caused by his contractors and is not our responsibility to try and track down parts or do these repairs ourselves.
To add insult to injury we were left to clean the boat by our selves, the shot blasters appearing to have better things to do - would you expect to clean up all of shot blast material and debris from your boat ? we certainly didn't and took this up with Josep from Vidals as well , he offered us a flat to stay in while we cleaned the boat - we declined.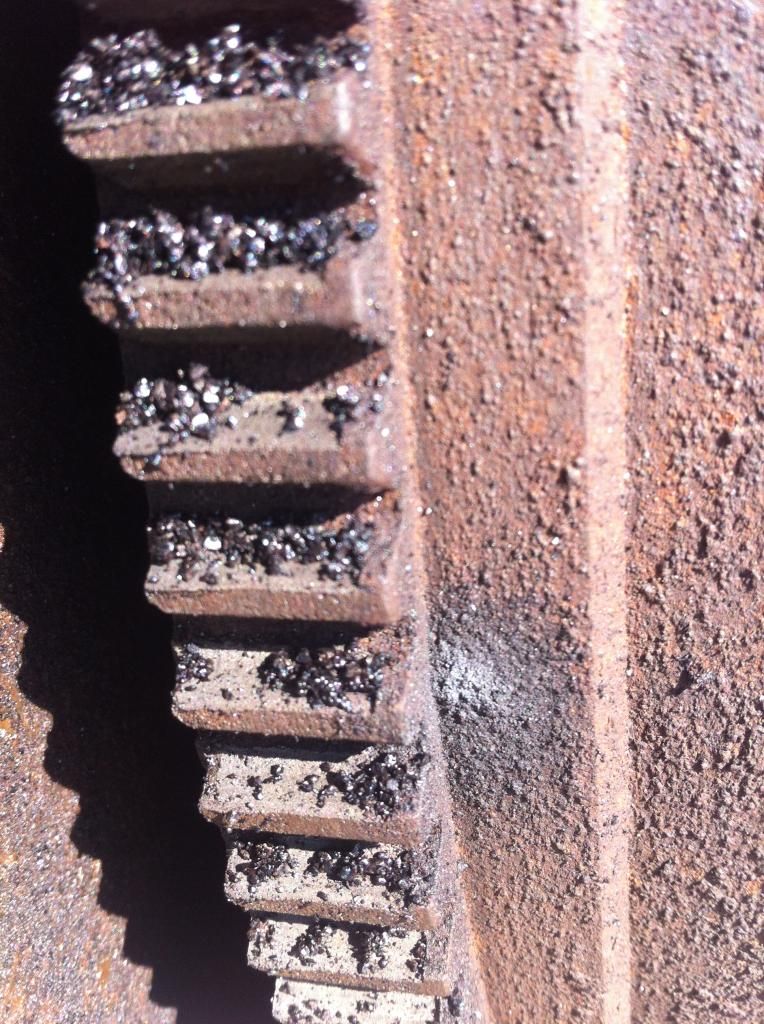 I had been asking for the engine to be returned to me for days , it remains my property to do with as I please yet josep from Vidals decided to collect it from the paint sprayers yard and take it to his workshop beside his house, if I hadn't been eating in the café next door I may never have found out.
He had already removed the rocker cover and was planning some DIY repairs of the engine, I immediately stopped him and told him to return the engine to the boatyard as I would work on it alongside the yacht, he said I could use his garage as it wasbetter equipped and dry , for me to come back the next day - so I did - he was locked up all day and never reappeared !
After numerous e mails requesting the engine be returned to me , the shot blasters and Josep of Vidals eventually turned up completely unannounced , with the engine and all the components in the back of a van, we unloaded them onto a pallet , strapped them down for safe keeping .
I removed the smashed casing as there was a suggestion by Josepof Vidals that he may be able to get a new casting made at a local foundry, so \I set too removing the housing - when I did , guess what the fly wheel housing and starter motor were full of - Yep - shot blasting sand
On further Inspection I also found shot blasting sand has entered into the ports in the cylinder head, which means it will be inside the cylinders as you can guarantee at least one of the valves would be open and the fall would have opened even more as the impact was on the rocker cover !
So now Im stuck with the option of rebuilding the engine completely or fitting a complete replacement..... rock or a hard place anyone ?
Im getting quotes of between 20'000 - 25'000 euros to carry out this work