This is the new engine , the guys are in the process of installing the gearbox, Ill be posting a complete blog on the installing of the engine and all the ancillaries as soon as I can upload the pictures on line.
This is the preparation for the engine arrival , the engine beds are being made ready for the new engine and the electrical system is being altered as the old engine was 24 volt and the new one is 12volt - we had no options
We have retained the 24volt domestics as the new windlass was 24 volt and brand new , so we now have two alternators , one running 12 volt and one running 24volt , another reason for using Volvo as it was an off the shelf option - albeit an additional £1200 !
We hope to be afloat mid January and on the move sometime In February, we haven't really decided on 2015's itinerary as yet , but Google earth accounts for a LOT of our internet activity, we also watch every thing the engineers are doing , not because we don't trust them , but its important to know how everything works - so when it fails (which it will) you know how to repair it .
We have a LOT of cleaning to do if we want to get her back in shape , I started with the tool store as we had just about everything out and scattered to the wind, it makes it easier to find something when it gets put back !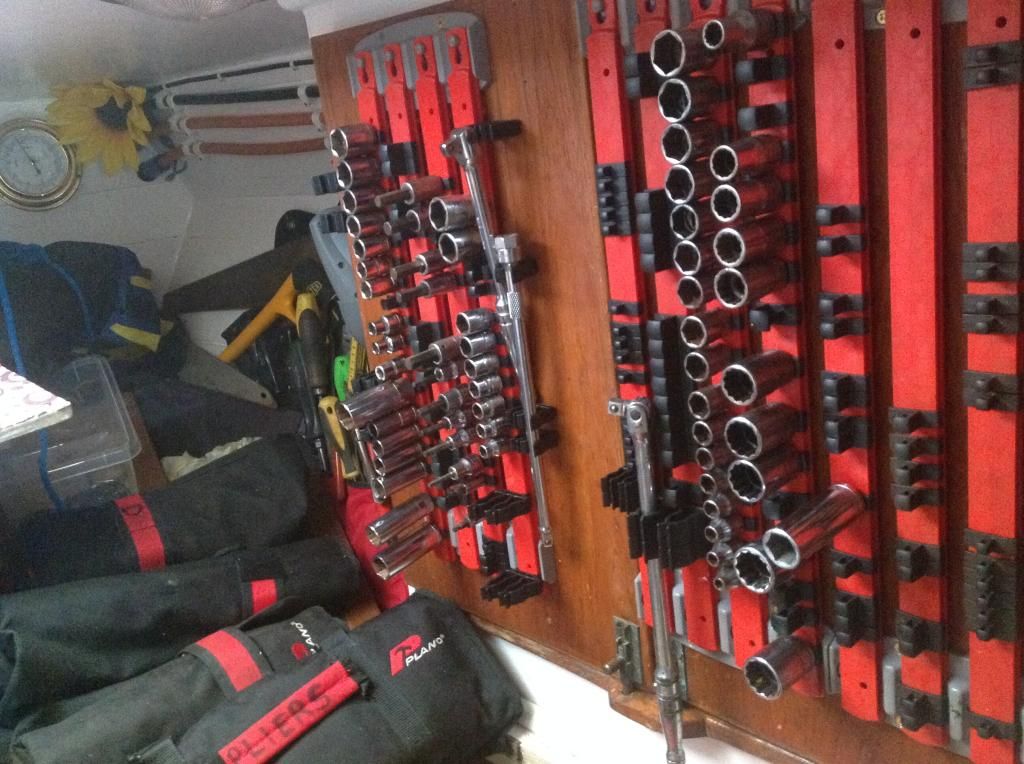 We have on board a vast supply of spare parts that are now obsolete, I'm hoping to find someone that has the same engine and sell some of this lot , we have spare injectors, head sets, injection pump, impeller pumps, countless filters and belts to name but a few , so if you know anyone with a leyland 4/98 tempest engine let me know so I can offload this lot and make space for the Volvo spares !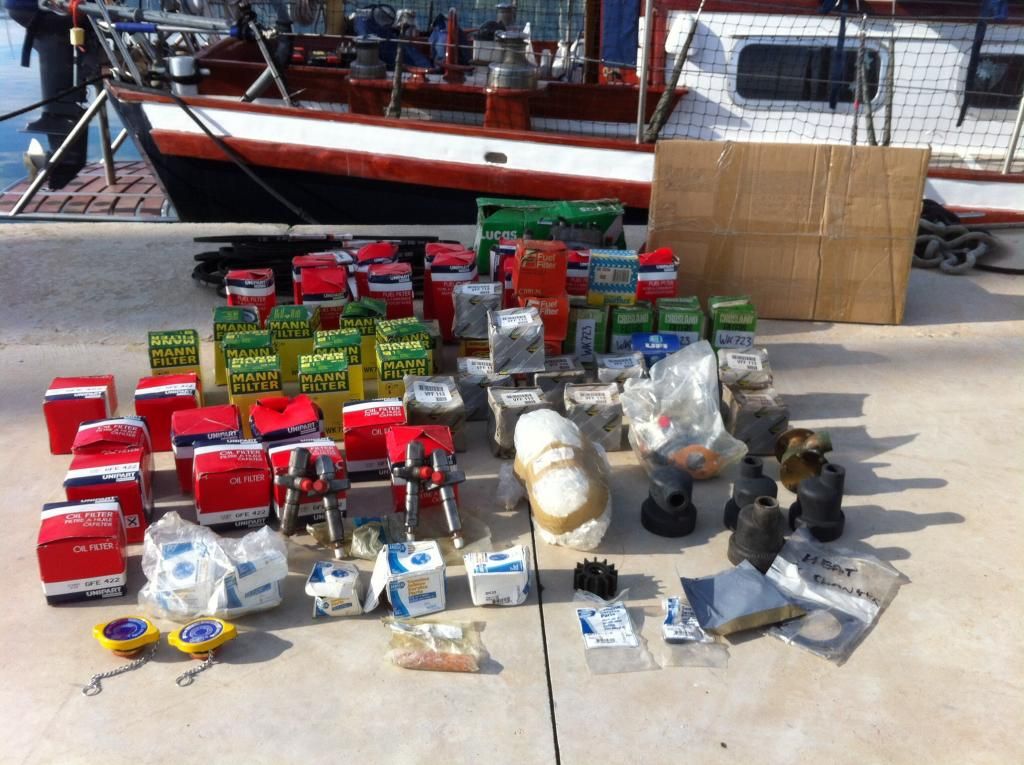 Internally all that was left to do is the boxing in of the new anti syphon valve, it's the valve that stops water running back into the engine when we switch it off, without the valve the engine would fill with sea water . It has to be positioned a minimum of 1 meter above sea level to operate properly , so we have fitted it where our old exhaust heater used to sit on the bulkhead in the upper saloon , this picture shows me boxing it in with vinyl trimmed plywood.
The electronics you can see in the picture are new USB charging plugs, really small and neat, a 1 amp and a 2.1 amp outlet for charging both an I phone and an I pad at the same time , it also includes an electronic volt meter to monitor the domestic battery bank , which is now next to my bed ! .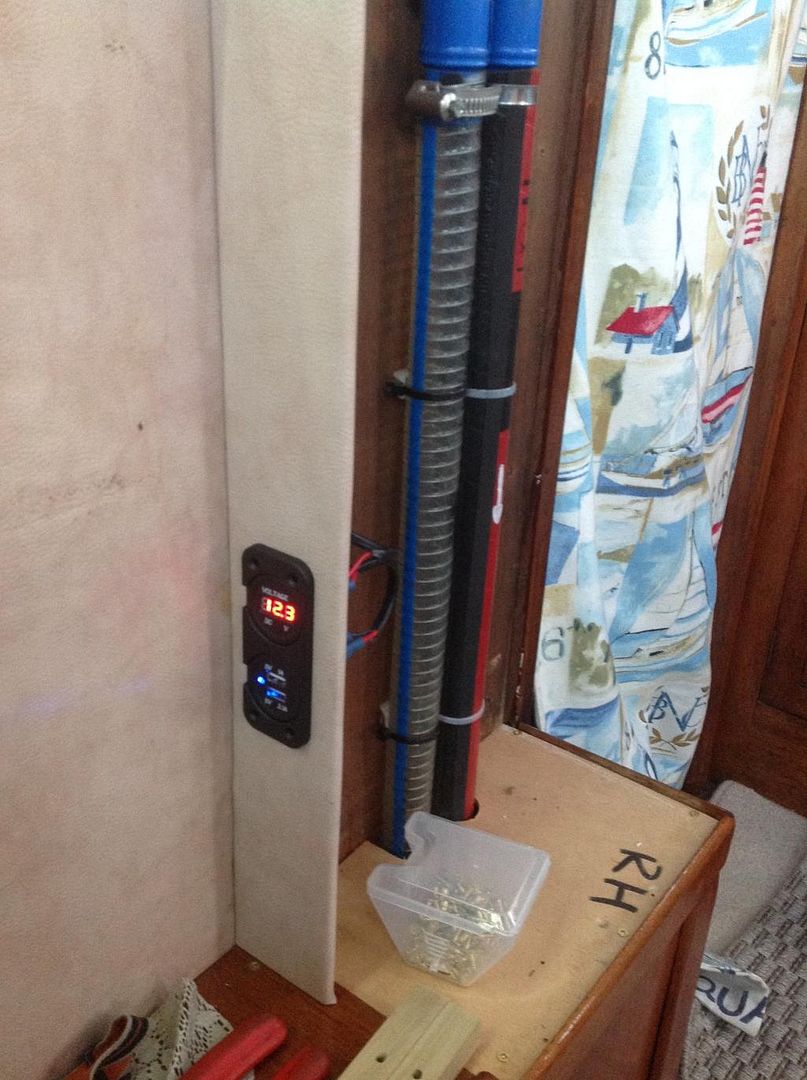 The completed job , fortunately there was enough of the original vinyl left over to do this repair , the creases drop out after a few days and are now invisible, better to roll this stuff up when it's stored but it was crammed into our sail store on board .
We went to anchor for a few days and tested the fire , it needed a good clean but "fired" up straight away , I still can't sleep easy with a flame flickering in the back ground, this fire came from Canada , is made by Dickinson's and is possibly one of the best things I have bought for this boat.