We're back !
Tarragona is a great place and at a great price , so with family visits looming from just about everyone we have decided to spend a couple of months here.
We will sit out high season in the Balearics where the prices are ridiculous and anchorages over flowing with super yachts and move in September when it all quietens down again.
Meanwhile I'm serving drinks to our guests , taking grandchildren fishing and watching the sun set over the horizon on a daily basis.
Here's a preview of Elliot in his captain Nemo clown fish swim suit probably made by Prada !
We have visited all the sights here in Tarragona, the roman ruins abound in the old city, every corner paining a picture of years gone by.
The family have been staying in The Placa de Font which now stands on the remains of the roman chariot racing arena, its streets still fill with crowds every evening.
No longer watching the chariots or the gladiators , they now sit and watch their favourite team Barcelona taking on other giants in the world of football.
The beach at Tarragona was little Elliots first taste of sand (literally) and also his first dip into the briney - after all who wants to go swimming in the UK ...BRrrrrrr.
We also convinced the girls to go for a dip , although not for long , they did get in and swim !
Even jumping from the boat !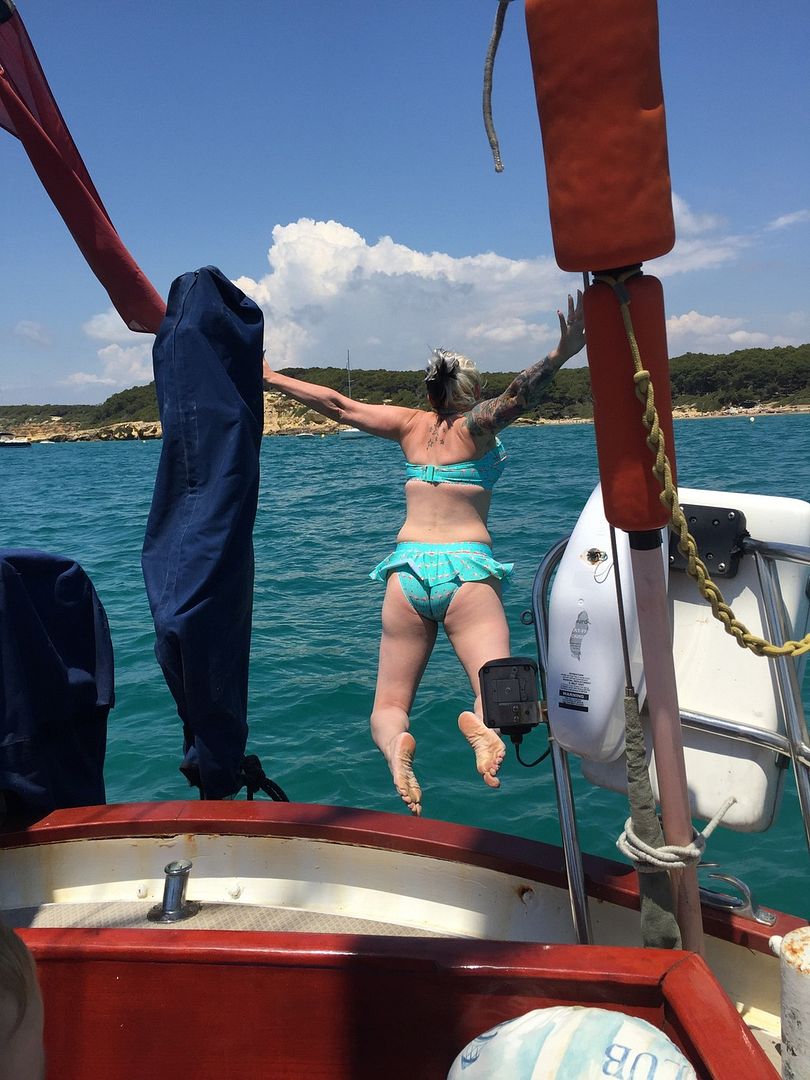 It was Laurens 21st birthday while she was here and we couldn't let that pass without a knees up (party to you foreigners) so we went for a sail about , anchored in a quiet little bay for a few hours and made some noise , finally the BBQ got fired up - first time for 2015 !
Of course everybody thinks the captains job is an easy one and there was no shortage of volunteers to take the wheel
Happy Birthday Lauren !
And the day they left ........
TAKE TWO :
This picture is the Chinese all you can eat wok - lost count of how many times we've been there but at 12 euros for all you can eT it's the cheapest way of taking the family out for a 27 course meal !!
Then inspired by everyone else's efforts even more family turned up for a free holiday !
The beach is such a short walk from the marina it made a welcome break from the midday sun when sitting around was just too hot !
Your text to link...
Of course no beach visit would be the same without a selection of inflatable beach toys - meet GaryGator who I believe jetted off to Florida not long after his visit to Spain - that's one lucky gator !!
And then there are the festivals - this ones a water festival and it's awesome fun.
And a BIG THANK YOU to Andrea for buying me the best present EVER