Spain - Salou - WRC rally
I have a confession - IM a petrol head !!
YES I know we sail in utter peace and tranquility
YES we own solar panels and a wind generator.
YES we travel everywhere at 5 mph or less
BUT I used to own a TVR 5 litre V8 with a 0-60 time below 5 seconds, and had a Drew Bowler comp safari racer that I built by hand, plus owned all sorts of petrol head toys over the years - there's a devil in me that wants out, if only for a brief spell.
Today the little bumps on the front of my head erupted and the long twisted horns were in full view , WRC rally and only a few miles to the nearest event - who could resist ?
So we slipped our lines and headed the 8 miles down the coast to Salou to meet up with Andreas family who had come to visit her dad.
A few miles out there was the distinctive smell of burning rubber and the squeal of tortured tyres as car after car was tested in the parc de ferme at port Ventura.
I tried to hold back but it was too late , I felt the shirt start to rip as the muscles flexed, my hand reached into the locker and the throttle went forwards half an inch further as we accelerated from 5.5 knots upto a heady 6.5 knots.
I'd like to tell you I heard the turbo waste gate dump some excess pressure like always happens on fast and furious, but I can't lie and not even the dog noticed the 1 knot increase in speed, his ears didn't flow back and nothing flew past my head from the galley either.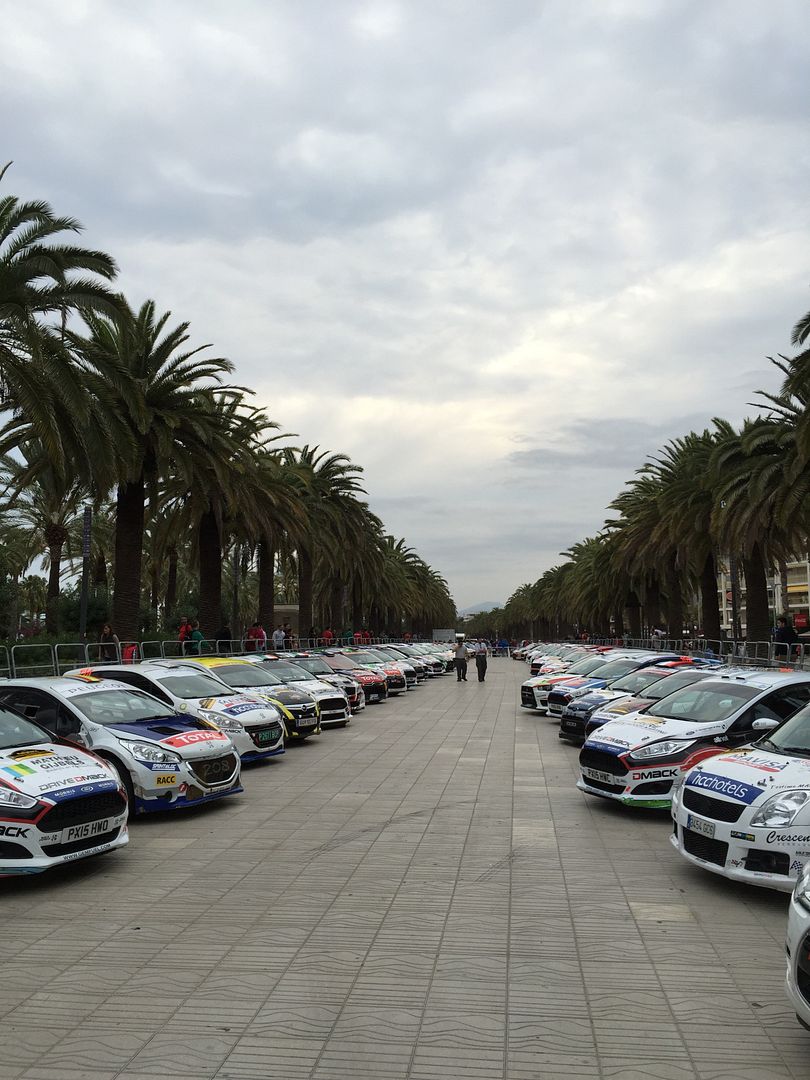 SPECIAL STAGE 17
I just had to see the vintage rally cars , they lined up near Salou marina (which was full) there were all the cars of my boyhood dreams.
Mark 1 ford escort Mexico
Mark 2 ford escort RS 2000
Alfa Romeo
Metro 6R4
BMW M series
Audi Quattro
Fiat Panda
WAIT A MINUTE. - Fiat Panda !!
That wasn't on the boyhood list !
We waited by the barrier , front row for a good place to see the carnage of Special Stage 17
First the vintage cars went flying by - I say flying but I really mean sauntering , I think the drivers were men with similar fantasies to mine , own a vintage rally car and compete in the a WRC rally , but the thing with owning a 50 year old Paddy Hopkirk MK1 FORD ESCORT is that it cost a bloody fortune to restore and it looks gorgeous , who in their right mind wants to wrap it around a lamp post ?
So the cars came up to the first bend making lots of noise , as they approached the 120 degree corner, they slowed , the co driver gets out the car with a brush and sweeps away any gravel that could cause stone chips then waves the driver around the bend whilst walking in front of the car giving arm directions.
Once around the bend the co driver climbs back into the car and the driver - breathing a sigh of relief - continues at high speed to the next bend with lots of noise and gusto before repeating the process.
The only one with any balls and using the handbrake into the corners was the guy in the Fiat Panda who clearly knew how stupid he looked in the car park and was desperate to make amends for taking his grandmothers run about to a rally and looking like a complete dick.
factory cars - WOW - the noise was phenomenal, I felt a surge of adrenaline just listening to the sounds of those factory prepared million pound animals that were approaching the start line - I'm definitely going to re engine the yacht with a big block V8 next time and take us water skiing !
The contrast in driving attitude is immense - yes I'm sure that the skills of a 20 something driver as opposed to grandad in his restored rally classic is also a big game changer but these factory guys are PAID to do this.
PLUS they have cars that are given to them and all repairs are tossed in for free , who wouldn't rag the ass out of a souped up rally car on Salou promenade in front of hundreds of adoring spectators - some young gorgeous and wearing bikinis !
Oh to be 48 again !
Then there were the walking fire work parades at the end of the day - reminds me of the welding that went into building the Bowler race car we had - maybe 50 isn't too old to build another one ?
Now Where did I hang my overalls ?
Family stuff :
We also had the joy of meeting up with Andreas family as her parents had rented an apartment for a month in Salou
Andreas brother Carl and his wife Christine joined the team along with their two daughters Poppy and Lily.
We soon discovered that the two girls were really keen to spend some time aboard the yacht and do some sailing.
So we took them for a short sail , they loved it as you can see - the pleasure of owning a yacht is often seeing the faces of kids introduced to ailing for the first time.
The infectious giggles sell it to me
Just a few days later I had to return to work and missed the visit by Kelly, Lauren & Elliot so Andrea was left to play hostess.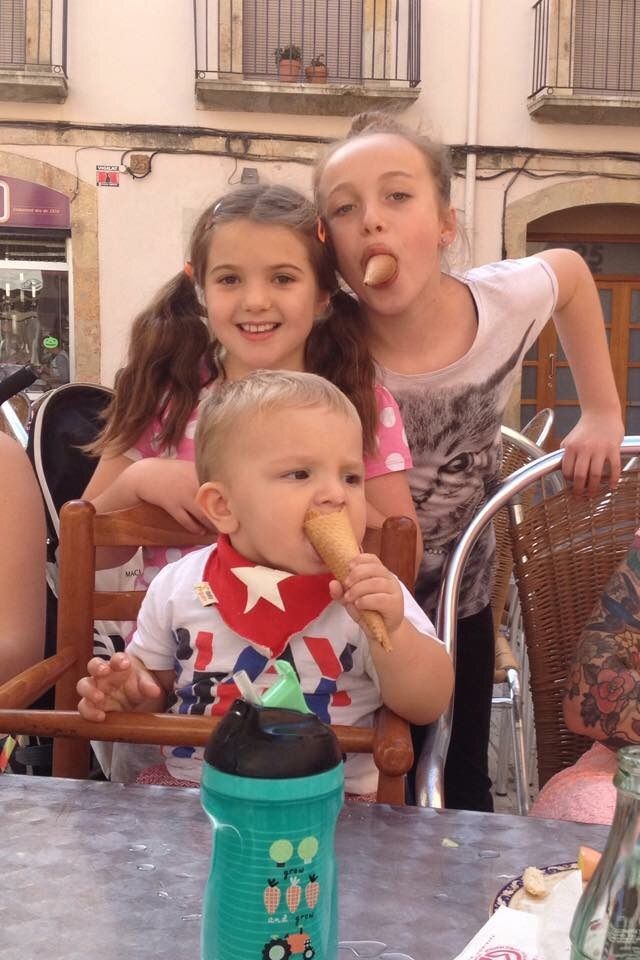 Kelly making her return as a feisty pirate - yarrrrrrr
Happy Halloween !