Conclusion
10 September 2013 | Baltimore, MD
Yesterday was a short trip. I tied up to the outer breakwater of the Anchorage Marina, and went to move my Nordic Tug "Puffin II" that I had left in Curlew's slip, temporarily to another empty slip. First I had to wash two months of city grime of Puffin's decks, including the oily remnants of the fuel that had leaked out of the fuel tank of the outboard. When I started scrubbing the waterline I noticed that there was a lot of growth, but worse, barnacles and a proliferation of tiny little mussels growing on the bottom. This seems to have been the worst year for barnacles, according to my diver. When I moved Puffin to its new slip, it was clear that the bottom, rudder and prop were seriously fouled. Thursday the diver will clean this up, and then I can return to Philadelphia. But first I need to replace the fresh water pump that has failed during my absence. No pump, no fresh water pressure, and without it I cannot flush the head either.

Curlew is now back in her slip.

I put 1600 nm on the log this trip, was 247 hours underway, and a little over half of that under power or motor-sailing. Especially the return trip had often very light wind or no wind at all.

Reedy Island to Worton Creek
08 September 2013
This morning I emptied the 12 gallons from the two fuel jugs into the main tank. Looking at the wooden dip stick that I had made some years ago I now finally figured out that the diesel tank does not hold 67 gallons as advertised (in some Cabo Rico documents it is even listed as 72), but only 56. This confirms what I had always thought. I used 23 gal on this trip, which is about 0.8 gal per hour.

I left the anchorage at Reedy Island at 1115 and motored through the C&D Canal. It being a warm and sunny Sunday there was a lot of recreational boat traffic. Assorted small and medium sized speed boats, roaring loud speed monsters and jet-skis were in abundance. Nasty little buggers. Once we rounded Old Town Point the wind picked up and it was time to do some sailing at last. It was indeed great sailing weather and the strong current was with us again. The wind was from the NNW, increasing from 5 to 20 knots; all sails were drawing on a beam reach to Worton Creek, where I dropped anchor at 1750.

Manhasset Bay to Reedy Island, Delaware Bay
07 September 2013
Manhattan sky line
For Friday's trip through New York's East River and to sea, I had figured that slack tide at Hell Gate was going to be at 1115. To get there around that time I had to leave Manhasset Bay at around 0845. I then should have the current with me until Sandy Hook, NJ, a distance of about 33 nautical miles. So I dropped the mooring at 0845 and went towards NYC. Everything worked as planned. Down Long Island Sound, through Hell Gate, which we passed at 1050 with very little current, then down the East River. This time I passed west of Roosevelt Island. When I did this trip before, in 2004, the Coast Guard had established a security zone around the United Nations building which forced us to go east of Roosevelt Island and through the lift bridge that normally blocks that route to sailboats. This time there was no security zone and we proceeded down to the Battery. Then through the Buttermilk Channel, between Brooklyn and Governors Island into New York Harbor. Once we rounded Sandy Hook a sea-breeze picked up and I raised the main and set the big drifter. We had a great sail for the next 5 hours, with a breeze of 8 to 12 knots from the NE, no significant wind waves and a long 2 to 3 foot swell from the SE. Another (larger) sailboat nearby had the sails up as well, and even put up a small a-symmetrical spinnaker, but they slowly fell behind.
As expected, at sun down the sea breeze died, and it was back to motoring again. The problem with these coastal trips is the amount of traffic near the shore. Fishing vessels going in every direction, tugs going up and down the coast, sport fishing boats large and small. So you don't get much rest. The trip from Block Island to Cape May takes you much further offshore and there is less traffic to worry about.
At close to 1130 I was sitting in the cockpit, trying to stay awake, and had just looked around to see if there was any traffic around. We were about 20 nm north of Atlantic City and 8 nm offshore. There was not much going on at that moment. A few moments later I looked forward around the dodger and saw this bright red light to the south. Now where did that come from all of sudden? A few moments ago there was nothing in sight! I went down below to turn on the radar that was on stand-by at the nav station, but nothing showed up. When I got back on deck the light was now much bigger and brighter, and it looked like it was going up. Then a bright streak of fire trailing the red light appeared, and got longer and longer as "the red thing" climbed higher and higher. Now what the --- was this? It almost looked like a missile or a rocket. It could not be an asteroid or meteor, because this thing was going up, not coming down. I was perplexed and dumbstruck. Who is launching rockets or missiles just south of Atlantic City? I had not heard any warnings on the VHF either. (I have to admit that I had been listening to music on my MP3 player, so may have missed a weak broadcast by the Coast Guard, but I don't think there was one). This "thing' still went higher, towards the NE, and was almost overhead when the flames coming out of its tail slowly dimmed. But I could still see its body through the binoculars. Then, suddenly, a ball of fire shot out of its tail, like a second stage rocket, and after that had burned out I could see the smoke trail in the sky for at least 15 minutes. Then it was over. I later found out that NASA had launched a Minotaur V rocket with a satellite to the moon from Wallops Island, which is on the Virginia portion of the Delmarva Peninsula. Had I known about this I would have been prepared with camera ready. It was a truly awesome sight and I had a front row seat. But no pictures, alas. Here is the link to the NASA site describing this LADEE satellite launch: http://
www.nasa.gov/mission_pages/ladee/main/index.html#
Here is a picture of the rocket taken by someone from about the same angle, but I was much closer and it went more overhead: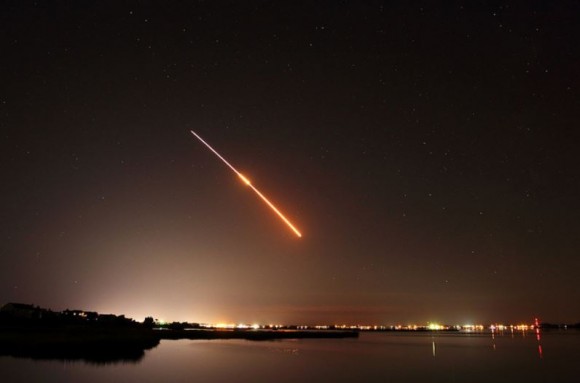 This picture is what I saw after the second stage ignited:
The rest of the night was uneventful and we were off Cape May at 0700 on Saturday morning. The current had just turned and become favorable for a trip up the Delaware Bay so I skipped Cape May. There was still no wind and we motored through the unmarked Cape May Channel into the Delaware Bay. We had a good strong current all the way with us up the Bay and I dropped anchor behind Reedy Island at 1445 for some well deserved rest. 195 nm (on the log though the water) in 30 hours.
Port Washington
05 September 2013
Today was a day for shopping: Two trips to the fuel dock. One to fill 2 jugs to top off the fuel tank, and the second one to fill them again to keep as reserve on deck. The forecast is for light wind tomorrow, so we may be motoring a lot the next few days. One of the two public dinghy landings is right across from a big Stop & Shop supermarket; and also close to a West Marine store. Very convenient indeed. Thank you, Port Washington. At WM I bought a new fuel hose for the outboard engine to replace the old one that was leaking. Then to S&S to fill up the food lockers. The one unfriendly encounter that I had in PW unfortunately was with the dock attendant at Louie's Restaurant. Yesterday I had tied my dinghy to their docks, told the attendant that I had to run an errant, but was coming back in half an hour or so for dinner (Louie's has a free dock for diners). Today I was going back again for drinks and an early dinner, but the attendant started arguing with me that I had left my dinghy at his dock yesterday and that next time I should use the public landing instead. At first he did not believe me when I told him that I had eaten at his establishment, and I don't know if I really convinced him in the end that I had.

Early to bed in preparation for the long trip to Cape May. That should take about 24 hours.

Port Jefferson to Port Washington, Manhasset Bay, NY
04 September 2013
Another day of motor-sailing. The forecast was for a brief period of NW wind, then backing to W. I left at 0730 and hoisted the mainsail inside the harbor. I sailed for two hours but the wind was more west than north and when it backed even further and went down from 15k to below 10 I started the engine again. Otherwise it was a beautiful sunny day. I picked up a mooring in Port Washington in Manhasset Bay, where the town has put out about 20 yellow moorings for transients. They are free for the first 48 hours, and then $25 per night. The town of Port Jefferson could learn from this example. I will stay here for a day, to go food shopping and fix the outboard engine fuel system. (Well, fix the outboard first.) Then to NYC and through the East River, around the south tip of Manhattan to New Jersey.
Sag Harbor to Port Jefferson
03 September 2013
I left at 0700 in dense fog. Visibility was ¼ mile max. Luckily it cleared up a bit when I went through Plum Gut, a narrow passage that leads from Gardner Bay into Long Island Sound. This is a tricky passage due to the ferry boats transiting the area and the strong currents in the cut. Shortly after I entered Long Island Sound visibility shut down again to less than ½ mile. Later several thunderstorms passed the area but we missed most of the heavy stuff. After the thunderstorms had passed the sky cleared. It turned out to be a pleasant afternoon. There still was no wind and it was an entire motor day again with a head current slowing us down most of the day. I anchored in Port Jefferson, in a very pretty anchorage west of the main channel at 1705. When Mary and I were here in 2004 we found it a very unfriendly place. We were fined a ridiculous amount ($100?) for leaving a dinghy in an unauthorized place after we could not find anyone who could direct us to a dinghy landing. I did not go ashore this time.

Earlier today I almost had an electrical fire in the engine compartment. I have had problems with an overheating alternator before, and now carefully monitor the alternator temperature on the regulator display (Balmar ARS-5). When approaching Plum Gut I noticed that the alternator temperature had risen to 96 deg Celsius. Normally it should not go over 90 deg when putting out full output. When I opened the access panel closest to the alternator I could smell burning plastic. It turned out that the connection between the alternator and the battery cable had loosened and this had caused increased resistance which resulted in the battery cable connection overheating. The insulation of this 2-gauge cable was melting and turning black. And of course this all was happening while we were approaching a busy shipping channel in poor visibility. I turned off the engine and tightened the nuts that had loosened. Later, when I was anchored in Port Jeff, I inspected the battery cable and noticed that it has no markings anywhere. Normally marine wiring is marked with the gauge (diameter) of the cable and the maximum rated temperature limit of the insulation. Not this cable. I wrapped the damaged part of the insulation with "Rescue Tape" (which is great stuff!), but put on the to-do list that the cable needs to be replaced with one rated for high temperature.

Block Island to Sag Harbor, NY
01 September 2013
Abeking und Rasmusses yacht "Aviva"

Today I had enough of BI. This SW circulation could last for several more days. I decided to go to Sag Harbor inside the eastern fork of Long Island and from there through LI Sound, around New York City to New Jersey. Mary and I had done this in 2004 and I did not care much for the trip, but by now I was so fed up waiting in BI that it became an attractive alternative.

At 1050 I raised the anchor and put a reef in the main while inside the harbor. It was blowing 15 to 20 kn from the SW. Outside I let the engine run for an hour to charge the batteries. It turned out to be a great sail, with less of a sea running than I had expected after several days of windy weather. At some point I even shook out the reef. At 1755 I anchored outside the breakwater of Sag Harbor. A couple of mega yachts were anchored outside and several of the smaller ones were inside the breakwater tied up to the docks. Well, you are in the Hamptons and that is where the money is. The largest mega yacht in the anchorage yacht was named "Aviva" and when I looked her up on the internet I found out that she was a 68 meter (223 ft) yacht built by the German yard of Abeking und Rasmussen, Lemwerder bei Bremen, in 2007. I was tempted to knock on its hull and introduce myself. My parents also owned an Abeking und Rasmussen built boat. But she was only 15 ft long and built in 1922.

Monday, Labor Day, was foggy and cloudy. It was eerily quiet in Sag Harbor. One would expect more activity on a holiday like this, but I guess everybody was leaving early because of the weather. At some point, when I walked around, I got to the main road leaving the village and there was this long procession of Mercedeses, BMWs, Audis and other expensive cars leaving Sag Harbor. Back on board I heard (but did not see) jet planes taking off from the local airport, to take the captains of industry and their families back home

Annoying Honda owner habits
31 August 2013 | Block Island
Honda on the foredeck

My intention was to wait in BI for a weather window to sail the 200 nm to Cape May. The plan is usually to wait for a cold front with winds veering from south-west to north-west. But that did not happen this time. Constant south west winds 15 to 20 knots from the SW and that pretty much was the forecasted wind direction for the next several days.

While at anchor I have to charge the batteries almost every day. Despite my two solar panels and having changed practically all light bulbs to LEDs the power consumption is still driven by the fridge/freezer and I need to charge almost daily to avoid that the batteries are discharged to more than 50% of their capacity. I use a portable air cooled Honda genset for about an hour on those days, but I try not to annoy the neighbors with the noise. I don't run it in a quiet anchorage and run it at a time of day that it is least bothersome to other people. Some other boaters are not so considerate. I have seen and heard Hondas run for hours on swim platforms or sugar-scoop transoms, on fore and side decks, and even in dinghies tied behind and away from the mother ship. All because their owners don't want to hear the noise and don't care about the nuisance it causes to the neighbors.

Vineyard Haven to Block Island
28 August 2013 | Block Island
On Tuesday I fixed the leaking vented loop. After I had emptied the cockpit locker and taken the vented loop apart again I noticed a small metal spring lying on the locker floor. I guessed it had come from inside the vented loop and must have fallen out when I took it apart in Hadley Harbor. After I had put everything back together again, including the metal spring this time, and had started the engine, there was no water leaking anymore. I did notice that the cooling hoses had started developing cracks in several areas. They need to be replaced. Add this to the to-do list!

Wednesday started very foggy but the forecast was that visibility would improve later to 1 to 3 nm. There was no wind. With assistance of the chart plotter, radar and the AIS receiver I motored to Block Island. Visibility did not really improve much, may be to 1 mile at best, until we rounded the north tip of Block Island, Then it was as if someone slowly opened a curtain and Block Island appeared from the fog, in brilliant sun shine. I dropped anchor at 1615.

Boothbay Harbor to Martha's Vineyard
25 August 2013 | Vineyard Haven, MV
The Cuckolds lighthouse

On Thursday August 22 I did laundry in the morning and then rode my folding bike to the Hannaford supermarket in Boothbay. Back on board I filled the water tanks and loaded 24 gallons of diesel fuel. After a final few drinks and a bowl of chili for dinner at the bar of the Whale's Tail bar and restaurant I went to bed early to get a good night's sleep for tomorrow's long trip.

Friday morning I got up at a little before 0500. I did not sleep well last night. Whenever I start a trip that is expected to last 24 hours or more I cannot relax sufficiently to get a full night's sleep.

I dropped the mooring at 0540 and put up the mainsail. I let the engine run a little while in order to charge the batteries. At 0710 I had the main up and the yankee and staysail as well. The wind was from the NNW at about 15 knots. The sun was up and the visibility was good. It promised to be a perfect sailing day. There was a 4 ft swell running from the SE, probably a left-over from yesterday's breeze, which made for an uncomfortable motion. At 0720 I engaged "Taaie Toon", the Hydrovane windvane steering, turned off the B&G autopilot, put out the towing generator, and all was well. But at 1200 the wind had veered towards the E and was down to 8 knots. Boat speed was down from 7 to about 3.5 knots. I pulled in the towing generator line as it was not charging much anymore at this low speed. A little later the wind was down even more and I turned the engine back on. Bummer. The forecasts had been for NE wind 10 to 15 knots, with gusts to 20. All I got now was 5 knots of wind and an annoying fly infestation. Where do these flies come from? I was miles away from land and there were flies everywhere.

At 0100 on Saturday morning the wind picked up again and I could turn off the engine. Within half an hour the wind had increased from, maybe, 5 knots to 20/25 knots with stronger gusts. The seas became very lumpy, perhaps because I was approaching Cape Cod Bay, where the seabed was rising. Soon I had to pull the mainsail down and run under staysail alone, not only because of the wind speed, but also because I did not want to get to the Cape Cod Canal entrance too soon. There is a lot of current running through this canal and I wanted to pick the last one or two hours of the favorable west going ebb current. At some point I was below decks and heard this loud roar and hissing noise. When I stuck my head out of the hatch I just saw this big breaking wave missing us by a few feet. Time to put the washboards in the companion way! I got to the entrance of the canal at 0445, with 1 ½ hour of favorable current left. I was out of the canal at 0610 and sailed under yankee alone to the anchorage at Hadley Harbor, where I dropped anchor at 0830, 27 hours from leaving Boothbay Harbor. I had not realized that it was Saturday morning and was surprised to see so many boats already in the anchorage. Normally it is a quiet anchorage but it gets crowded on the weekends! And it seemed that every other boat had a barking dog (or two) on board. Later I cleaned the vented loop in the engine cooling water discharge line. It had been dripping salt water in the cockpit locker for some time.

Today at 1350, after I started the engine for the short trip from Hadley Harbor to Martha's Vineyard, I checked the vented loop that I had cleaned yesterday and saw that the problem had only got worse: Now a steady flow of salt water was being dumped inside the cockpit locker. No time to take the thing apart again or I would loose the favorable current window through Woods Hole. Fortunately I had apiece of plastic hose that fit the vent on the siphon break and that now temporarily redirects the water flow into the cockpit. When underway it seems that the flow is less, or stops completely, with the engine running at cruising speed. Something to work on in MV. I dropped anchor in Vineyard Haven at 1530. There were a few boats in the anchorage, but there was enough space for us to anchor in shallow water, close to the breakwater. A good place to be for tomorrow's predicted blow.



Camden, Rockland and Boothbay Harbor
21 August 2013 | Boothbay Harbor
The falls in Camden

Tuesday 8/20 was another motor day. The weather the last several days has been clear and sunny but with very little wind. I left Castine at 0820 and got a mooring in Camden from Wayfarer Marine. They told me on the VHF: "Pick up any mooring that has orange polka dots and has "Max 45" on it". I had to hunt through the entire mooring field until I finally found the only remaining mooring ball that was rated for a boat of 45ft max length. They charged me $42 for the privilege to stay in probably the rolliest anchorage in the state of Maine.

Today I left Camden at 0810, motored to Rockland to pick up my new Nikon binoculars and then motored on to Boothbay Harbor. It was another beautiful sunny day, but again there was no wind. Tomorrow is a day for laundry and food shopping and to get ready for the first half of the trip back south to Baltimore.

Blue Hill and Castine
19 August 2013 | Castine, Smith Cove`
Das Kaiserlisches Yacht

On Sunday 8/18 I motored up Blue Hill Bay, and picked up a mooring at the Kollegewidgwok Yacht Club (I love that name and wonder what its origin is.) I rode my bike up and down the hills to "downtown" Blue Hill for drinks at the almost empty Village Pub. Back on board I had to fend off a 57 ft sailing yacht that was on a mooring next to me. Due to lack of wind and a little current in the mooring field we were swinging differently. Outside Blue Hill a large schooner yacht was anchored. It was the Germania Nova, a recent replica of a yacht that once belonged to the German Kaiser Wilhelm. But did they have to pick this anchorage and block the green buoys of the entrance channel from my view?

On Monday 8/19 I was underway at 0830 and motored the first 2 hours when a nice breeze allowed us to sail for the next 4 hours and up the scenic Eggemoggin Reach and on to Castine, where I anchored at 1445 in Smith Cove.