Still windy and we are staying, plus thanks to Dan
12 April 2015
It has been a hectic few weeks. We had the issue with the exoneration paperwork and the National Car Reantal overcharge and then need for a survey for new insurance.

To say that it has been a roler coaster would be an understatement. Fortunately Bill in Bahia del Sol was keeping a mooring for us in case we needed to sail north for the summer so we had that escape route if needed.

As we mentioned earlier, we did get the exoneration paper work and the contract question was straightened out so that became a non-issue.

National car rental also finally issued a credit for their overcharge a month earlier. On top of that Dan who is the marina manager convinced National to give us a day's car rental for free to make up for their horrible accounting. Thanks Dan !!!

The latest hiccup has been insurance. We wanted insurance for lightning protection further south but to get insurance we need a new survey. Getting a survey down here is not as easy as one might think. At one point we thought our friend Dave Huffman (and Ursula Schwuttke) might be able to fly in from Florida and do the survey but their schedule didn't work out so we are getting captain John out of Guatemale to fly down for a survey on Tuesday. That's a new way to spend money but it needs to be done. Don Spink of Bluewater Insurance in Florida gave us a good quote so once the survey is done we should be in good shape.

In other words we are now just waiting and observing the winds which are still doing their calm at night, up to 30 knots during the day.


Varnish and condo time !
05 April 2015
The cabin sole has been beginning to show some real wear and the companionway door was looking like it should have used a lot more sun screen, so it was time to get ready to varnish.

Nancy rented a studio condo up in the marina complex so we would be able to escape the Epifanes varnish fumes and especially not have to sleep with them. Initially we rented the condo for just two days but we ended up extending that to four days as we decided to also tackle the table in the cabin. We also put some more varnish on the wooden base the windlass is mounted on.

The cabin sole now looks a lot better and we managed to give the cabin sole hatches a good coat too.

Nancy did a great job on the companionway door so it looks much better and should be well protected again. Whenever I look at the door I'm amazed that I managed to do the angles and curves and angled curves to get the fit we have. I did that work in the "fully" equipped garage before we vacated the house and it was still a real challenge. There is no way we could replace it even with the nice tools we have on board so the protective varnish is more than cosmetic.

The table was once again a challenge. For some reason varnish will not flow out on the surface and leaves dry streaks no matter how hard we try. I think I put on about eight to ten frustrating coats before we installed the tabletop on board and I still didn't get one single perfect coat. It was the same problem now, we tried near full strength Epifanes, really thinned Epifanes, sanding, not sanding, foam brushes, bristle brushes, cleaning with water, cleaning with acetone. The surface is very shiny but the varnish is still streaked. At least the table is well sealed.

While staying in the condo we had no WiFi. The managers couldn't find the password and in their and our attempts to get at the password we ended up resetting the WiFi router so it will now have to be re-initialized. Because we had no WiFi we ended up watching television (!!) and reading. Watching television was as bad as we remembered but since we don't speak Spanish well enough it probably seemed a bit better than it actually was because we didn't understand much of what was said ... A blessing.

We thought this would be a great time to watch Firefly or one of our other favorite movies or series. With the MacBook Retina dead we have not been able to watch any of our DVDs even with the external CD/DVD drive but the room had a huge television screen and a DVD player so we were in luck !

Except for the greed of the movie companies and their idiotic region codes !!!

Our DVDs will not play here because of the pirates in Hollywood.

Back to watching broadcast/cable television.

After watching the Miami Open women's semi-final and final we were pretty sure that the miraculous performance of Serena Williams was not all due to genetics and hard work ... it just isn't credible. Some quick image googling on 'Serena Williams steroids' proved our suspicions right beyond any reasonable personal doubt ... the pictures of her looking like Paul Bunion on steroids makes us wonder how she hasn't been exposed yet. The story about how she hid from a drug enforcer because she thought he was "an intruder" just adds comedy to the story. Guess the tennis establishment is making too much money off her to want to do a Lance Armstrong exposure but it really isn't fair to the smaller competitors if they are not cheating.

We also watched the Long Beach electric grand prix. I and my friends on Viking saw what I believe was the first running of the Long Beach Grand Prix back in the late 70s. Nancy and I also went to the LBGP shortly after we got married, so watching it run with electric formula cars promised to be fun. Unfortunately electric cars are too quiet and reliable so the thrill wasn't really there.

The bottom line is that we are not missing television and now we know we shouldn't be.

Mess -> hotel stay
02 April 2015
Now that we know we are going to stay here in Papagayo Marina for the summer we went to work on some chores.

The first chore is the cabin sole. Yes, we know the picture above is upside down. The iPad seemed to think that was the proper orientation and given the mess onboard we can't disagree so we left it that way.

We last varnished the cabin sole some time in 2012 we think, when we had a land-based place to stay overnight. The fumes from the Epifanes varnish are bad enough when you are applying the varnish with good ventilation. Sleeping on board while the varnish cures is not a pleasant thought so we booked a condo in the marina for two days. Once Nancy had arranged the room we started vacuuming, wet wiping, sanding and wet wiping again.

The cabin sole is fortunately the most forgiving varnish job on board. We use a matt or satin finish to reduce slipperiness a little bit and the lack of a mirror finish helps hide imperfections. The surface is also underfoot (or we have other things to worry about !) so we tend to not look at it as much as some other surfaces. The job is still major as the sole is one continuous surface from the "aft stateroom" all the way forward to the v-berth and it all needs to be done in one application.

Of course, almost as soon as we'd prepped the surface and poured the varnish the courier from MOPT arrived un-announced and wanted to deliver the exoneration paperwork and get paid. Nancy was exceedingly nice and didn't let her displeasure show any more than to point out that he really should have called in advance. While she was dealing with the paperwork and payment I tried to finish the work she had to interrupt, before the varnish had time to cure too much to be applied.

The result was certainly not perfect but it will help protect the sole and we'll apply one more coat today.

In the evening we were invited up to the restaurant by Van on m/v Sunday Morning (another Nordhaven 55). Sunday Morning and Giddy Up (yet one more Nordhaven 55) are both headed down toward the canal and Van wanted to thank us for keeping an eye on their boats, rescuing one floating fender, chasing off flying varmints and just sending them occasional e-mails to let them know their boats were ok.

It was a great evening and now we have more friends to visit on the other side of the canal, either by boat or on land. We'll have to start writing the places down !!!

We learned yet more stories about the local officials' misdeeds and by now we have stories from eleven boats in the last two months and that's just from boats we have personally met !! That topic will have to be the subject of a separate blog entry but the bottom line is that the stories we'd read about Costa Rica are being borne out. We'd originally planned to bypass Costa Rica altogether and would have done so if the Papagayos had not clobbered us. Our official interactions during checkin were painless, but that is obviously the exception.

Now we get ready for one more day of prepping and varnishing.
We got the exoneration paperwork !
01 April 2015
Yes, it is April Fools' Day, but we don't think it is a joke.

So, the paperwork does not require that we claim we are going to stay for two years when we are only staying for ~8 months AND we actually finally got the stamped copy of the paperwork !

We won't be getting new batteries or chrome work in Bahia del Sol and we won't get to visit Bill and Jean and Lynn and Lew and Jan and Denny ... too bad :-(

However, we won't have to write off our already paid plane tickets out of Costa Rica and we won't have to wait for a weather window before slogging 250 NM north.

All in all we're just happy to have it settled so we can get on with our adventures.
No bad faith contract needed ?
31 March 2015
We finally got our misappropriated Marina Papagayo National Car Rental refund. That only took almost a month and a lot of reminders and an angry complaint letter. Talk about substandard service !
We would obviously not recommend that anyone rents a car through Marina Papagayo National Car Rental.
We still don't have the exoneration contract that we should have had weeks ago and which is costing us $900 for a two-year temporary import permit. At least we have now been verbally assured that the contract does not obligate us to stay here two years or break a contract if we leave earlier.
Of course, if we don't get the contract in the next week or so it is all immaterial as we will have no option to leave for Bahia del Sol no matter what. If we have to leave because of the agent's inability to deliver I'm sure we will still be charged for his "effort".
What a mess !
Speaking of messes the local flying varmints leave it on any boat left unattended for any length of time.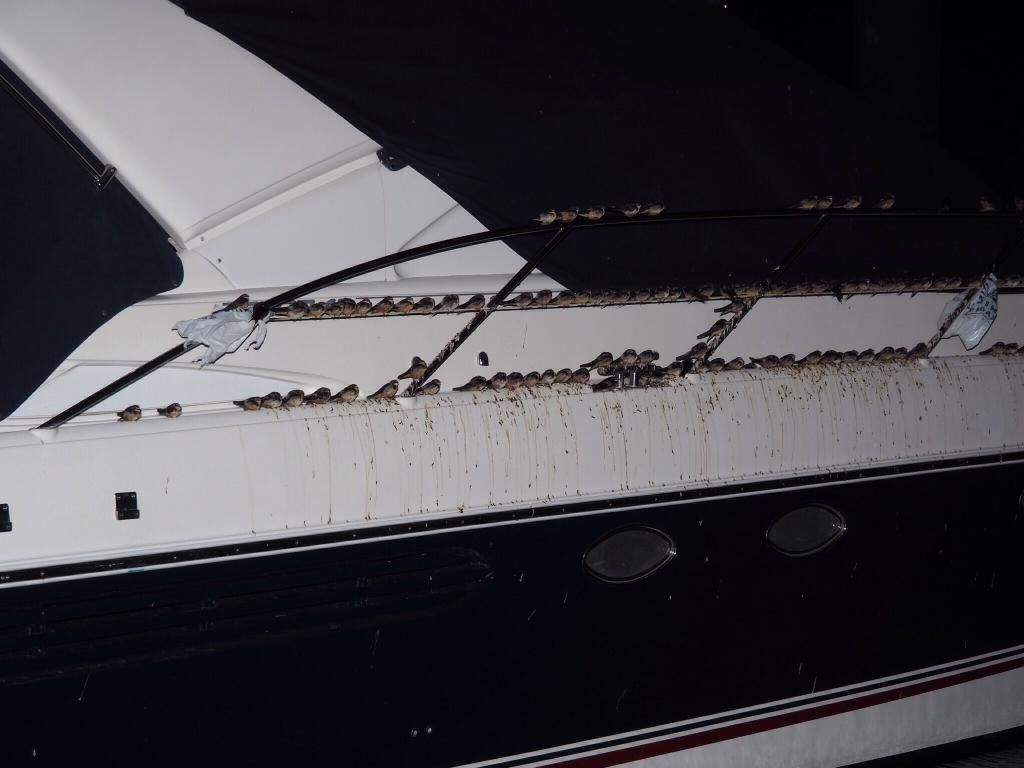 Cultural whiplash
26 March 2015
This is another surprising turn of events. We're almost getting whiplash !

We may well head back to Bill and Jean's sanctuary in Bahia del Sol for the summer.

We are getting some really bad vibes here in Marina Papagayo and Costa Rica in general. We had initially planned to skip Costa Rica altogether because of its bad reputation among cruisers (and other tourists). Of course, the Papgayo winds pretty much forced us to make a stop to rest up and Laird on Winterlude made a summer stay here seem downright perfect. As of right now the plan is to get the two-year exoneration paperwork done and then stay here until October when we return from Sweden and Rhode Island. But, big but, that may change !

We have now run into seven boats that have had from major hassles to downright traumas at the hands of local officials. The everyday thefts that we'd read about have not happened but we're in a very very out of the way location. The only "theft" so far is the overcharge that the National Car Rental hit us with and are still avoiding to credit despite having admitted the mistake over three weeks ago. We have seen the pervasive wish to separate us from as much money as possible at every turn and the prices are inexcusably high. We were told that a martini at the neighboring Four Seasons resort costs $25 !

We are also beginning to wonder about the exoneration itself. It was supposed to cost $600 or $700 but is now $900 (which we get back in the form of free slip rental for October). The process was supposed to be simple and take a couple or three weeks, it has probably already been four weeks and we expect one more week at least !

What really could put a wrench in the work is that we will have to sign a contact at the end of the process. That contact is supposed to cover our 8 month stay here at the marina. We could be wrong, but now we have been told that the contract may commit us to a two-year stay with the understanding that we will break the contact at the end of the eight months. If the deal is that we have to sign the contract in bad faith all bets are off. We are not going to sign a contract with the intent of breaking it, absolutely not.

Tomorrow Nancy will ask Brian in the marina office what the deal really is. After that we may be packing up and heading north. That would be incredibly inconvenient as we already have plane tickets from here to Boston and then back here in the fall.

What a pain !