The extravagant boat parade continues. This is one place where you do not want to have a big big boat because no matter how big it is there will be another that is either bigger or more stunning.
The Ipswitch '50, Wandering Spirit, is a big and stunning boat to us. It is a work of art, but here it is a small little thing. There is of course the big of the big: Pacific.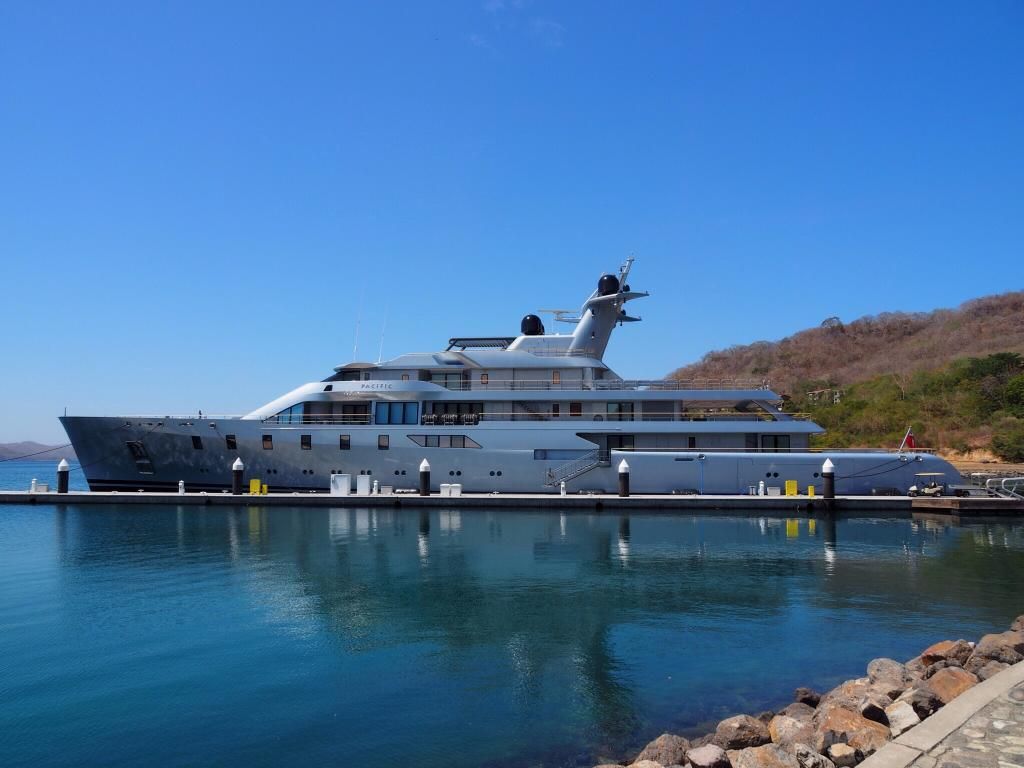 With an annual operating budget of $30,000,000.00 she's almost in a class by herself.
Then we have Atlantic ...
Atlantic is leaving for Galapagos tomorrow, maybe 900 nm from here. She expects to be there in three days, true to her speed-record roots (she's an identical replica of the ship that held the Trans-Atlantic record for years and years).
Then there is Odessa II which seems almost like an also-ran with her weekly charter fee of $750,000.00 plus fuel (?). In front of Odessa is Destiny which arrived yesterday. Unfortunately she really doesn't show up very well in the picture. Her mast is so tall that she has a red tower light to warn aviation about the risk, like radio towers and sky scrapers.
Yesterday a few other boats only slightly larger than Senta came in. A number of them are having bureaucratic issues signing in and out of the country so they are having to rent cars and run around trying to figure out what the officials did with their passports and why they got other boats' paperwork. You can't move until all that is straightened out and some of them are on schedules :-(
To top of yesterday we had a really pleasant dinner up in Dan, Katia & Luca's apartment, overlooking the marina. Dan is the Jefe for the whole marina and he felt sorry for us eating so often in the restaurant that he wanted to offer us a home-cooked meal.
In addition to Luca's antics (she's a dachshund) we had a great evening discussing our various life stories and the world in general. Hearing Dan talk about the balcony-bird was hysterical. We know we have to get a picture of it soon since it keeps serenading their apartment with its LOUD barking at all hours of day and night.
We owe them a dinner in return but that would be hard to offer unless they want to eat in the restaurant, or in Senta's cockpit with their plates almost in their laps :-)
Now we wait for the winds to pick back up to 30+ knots this afternoon and then we go up to sit in the pool to avoid heatstroke. Someone has to do it !
We'll probably also go up to the ships' store to buy a bucket so we can do work some other day.