Kevin/ Sunny and Breezy.
"May God bless her and all who sail in her".
"If a man is to be obsessed by something, I suppose a boat is as good as anything, perhaps a bit better than most."
E. B. White
"Ships are the nearest thing to dreams that hands have ever made".
Robert N. Rose
__________________________________
Happy Memorial Day weekend everyone!
Well, we put Pan in today with the help of Mom and daughter, or should I say Admiral and Firstmate?
The launch went about as smooth as could be expected. The boat and trailer arrived at the ramp safely, wish the same could be said for the trailer's return trip.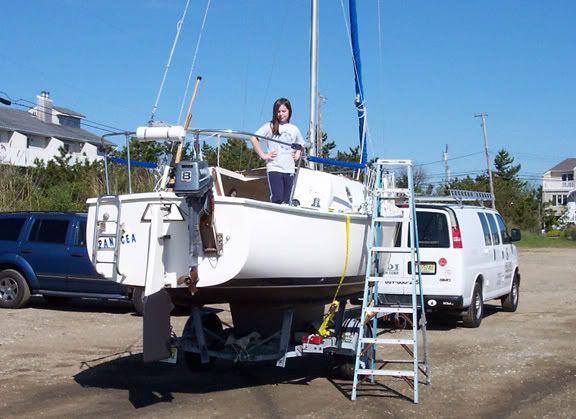 Bunk supports got alittle tweeked during launch and on the trip home, I lost the wheel on the tongue jack. Needless to say we made the short motor to the Marina fine.
Later we took Panacea out for her 'Maiden Voyage'. A short 1.5 hour sail and she did fine, better than the Admiral, but you didn't hear that from me. ;)
She pointed just as good as my old Com-Pac 19 did without the centerboard and the furler was great! Sailed a bit with just the jib then went and hauled up the main.
Had no trouble maneuvering into the slip, easier than I had thought. All in all a great day and looking forward to a wonderful sailing season.
-Kevin
"Once more upon the waters! yet once more! And the waves bound beneath me as a steed That knows his rider."
- Lord Byron