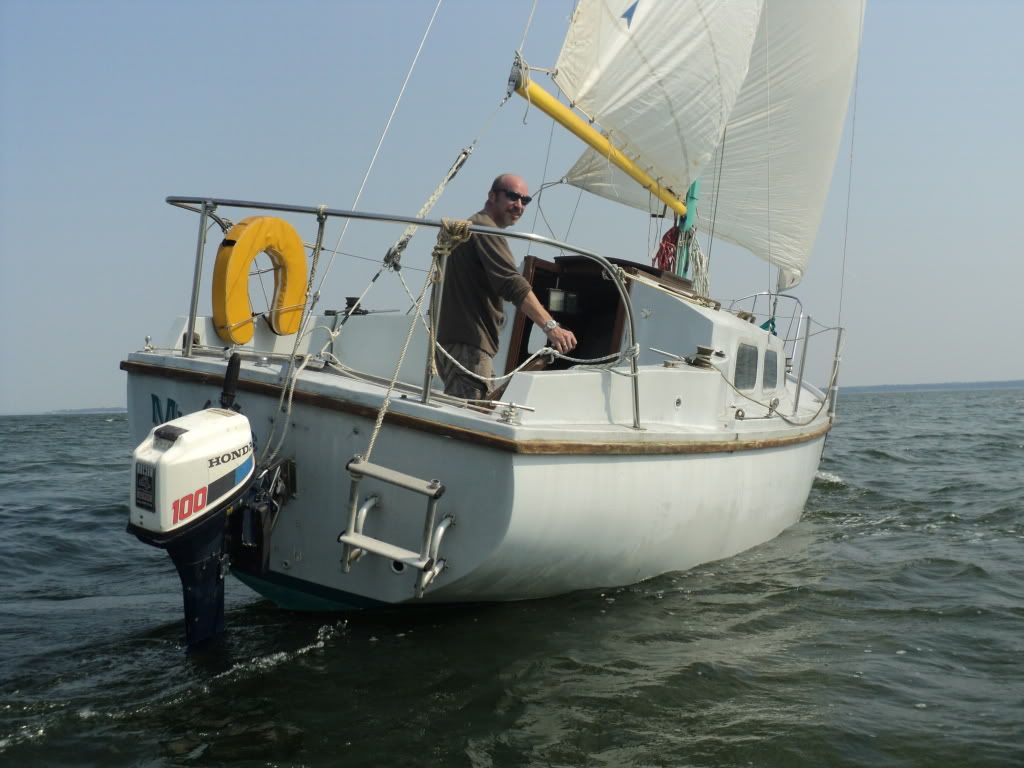 Part deux,
I had got under the bridge. Boats buzz round this all day without a thought, but for me it was one hell of a milestone. I plodded along, tugging on my well earned ciggy and then I spotted the fins. Ok I know there aren't sharks in this river so it wasn't a panic. Just totally elation at seeing a pod of dolphins. Too excited about the view and the experience I jumped down into the cabin for the camera. The little bleeders decided they were camera shy and disappeared. I shot a couple of minutes of film though and went through the ritual of slowing the engine, lining up my bow back on course and then easing up the revs to the point the prop wasn't eating through the boat.
Ok, so wind usually increases for a reason. The odd gusty blow now and then is not the same as a steadily rising wind. This will all become apparent later and dropping the sails had been wiser than I knew.
It was getting dark. Come 8 'O' clock poor Mac had been sat waiting four or five hours now and we had no way to contact each other. I plodded on. This of course was going to be an all in daylight sail so as night began to fall I realised I had no navigation lights. Actually I had no power at all and nowhere to recharge the laptop which had already given me the ten minute warning of imminent battery death. "Shit !!" I thought to myself. I was reckoning on another couple of hours at this speed and took a long look at the chart on the laptop to try and memorise the lights and the headland I needed. If you've ever been on a boat looking at land at night you will understand that all those well placed markers just disappear into the shore lights and are as much use as tits on a fish. To add to it, the locals were celebrating some sort of baseball win and were firing off fireworks all over the place. Basically I could see fuck all of any use but did enjoy the rockets. They spent some money on em that's for sure.( Note to the people of Berwind: two Roman candles and some detonators you stole from the mining company do not count as a firework display). So on I plodded. I could make out the land on both sides, I located the light on a tower and I was happy enough.
Part three later. I need a long bath and tylonol.