Haven't posted in a while but am getting things done, mainly the bulkhead and bowspite.
Here's what the Port side bulkhead looked like when I brought the boat. The dark area is where there is water damage, and there is pretty extensive damage.
Started to remove the outer teak veneered layer and then the 3/4 plywood- totally rotted. I think this water intrusion has been going on a long time.
Most of the bulkhead has been removed but if I want to totally rebuild it and be able to match the original construction I will have to remove the molded in bathroom sink.
No problem since I've decided to install a composting head, I need to redo the whole bathroom anyway - so out comes everything from the head area.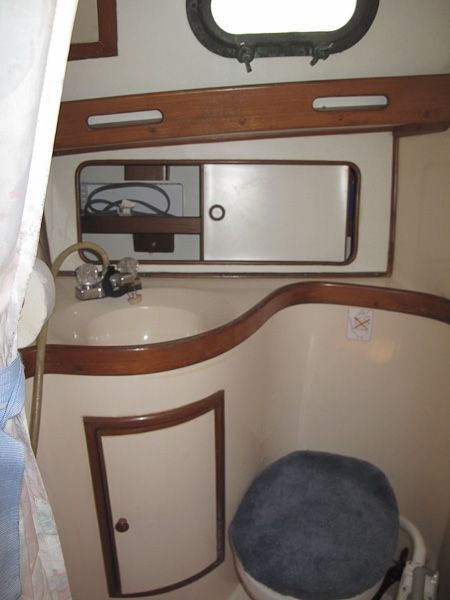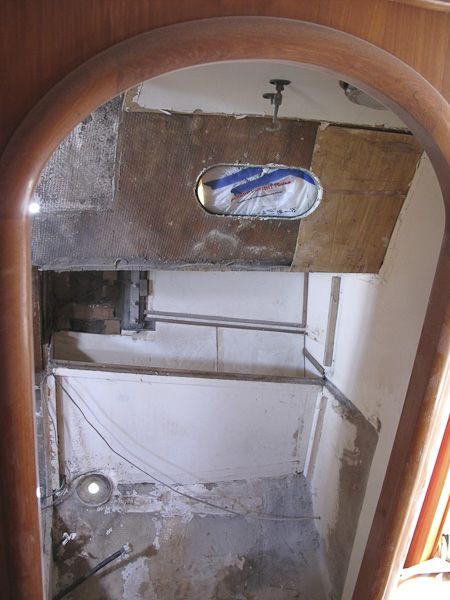 Made a pattern from 1/4 lauan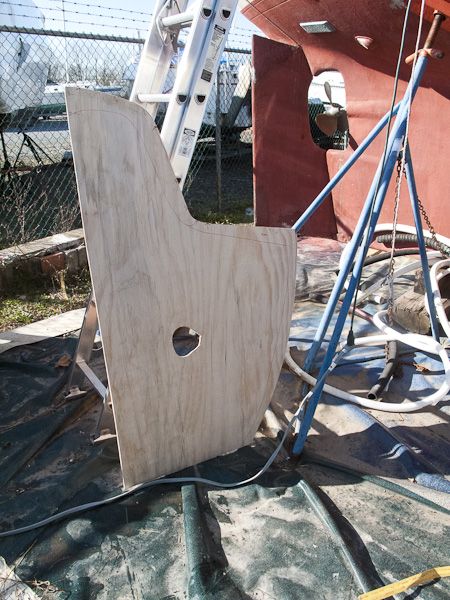 Did a dry fit and it fits perfect!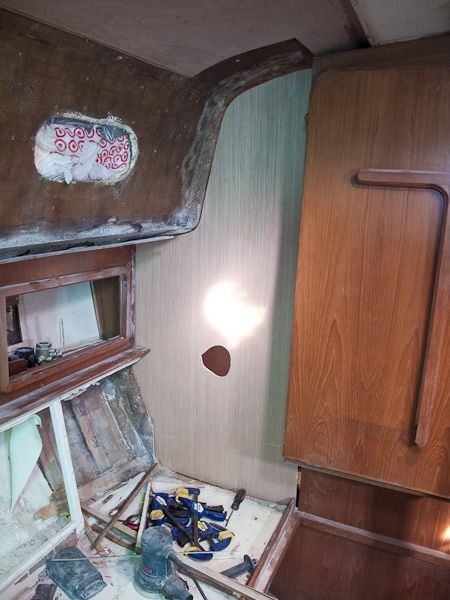 Next got some nice 3/4" marine plywood, soaked the end in epoxy. Also brought some 1/4" marine ply - covered that with a nice teak veneer- hoping it matches up. First the teak face ply went in and epoxied to the frame work and cabinet. Then the 3/4 ply was tabbed with bi-axial glass and glassed in and epoxied to the 1/4 ply and frame work.
The hole ready to receive the new bulkheads
Here's a photo of the tabbing- 2 layers of glass and epoxy!
I don't have a photo of the finished bulkhead- will take one next time I'm at the boat. Due to it being very cold here, am now doing more work in my wood studio. Started working on the bowspite- Decided to make a solid one verses a box construction, simpler and stronger. Will probably be a laminate of 11 layers! Photo shows 5 layers, but tonight am glue up layer 9. Can't wait to start shaping her.