Been working every weekend both days and taking some extra time off from work to get Kodachrome done for a July 31 launch. Still lots more to do. An update -
Corian is cut, routed and polished ready to be installed. Was way easier to work with than I thought - just created a heck of alot of fine dust! Made one small mistake but with the 2 part colored epoxy that you buy for your specific color, the mistake was easily hidden. Will install this weekend with a backsplash.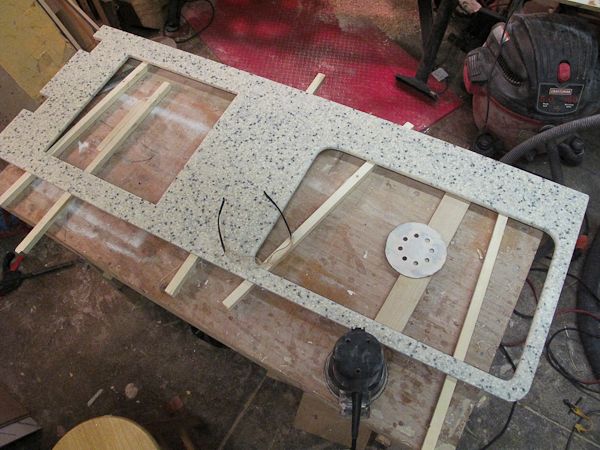 Prior project was to close a couple of thru hulls, actually closed 3 totally- no more marine toilet so I didn't need them and moved and replaced 2. Here's a photo of the old thru and a new Groco.
Installed them according to the way MaineSailor- he's the on-line maintenance and repair guru from Maine, suggests. Lay up a thick backing pad, figure out where the 3 holding bolts would go, drill and then tap those hole. Thread the bolts on and cut off the tops, This eliminates drilling 3 more holes thru the hull, but still be able to tight and hold the thru hull to the boat.
Then add thickened epoxy to the bottom of the backing plate, align with the thru hull, tighten it up.
Nicely installed and secure new thru hull and seacock.
Back to the boat!