One of the problems the boat had, even before I brought her, was the foredeck! It had been repaired once a couple years prior to me buying the boat for water intrusion and balsa core rot! During the survey it came out the is was a shitty repair, and the PO paid a good amount of money for it. Well we got the boat yard, with a little $$ also from the PO to repair the repair!
Well it sucked, the yard is know for it's mechanical repair I guess they thought they could do fiberglass repairs too! BUT NO! within a year of me having the boat, and that's a year after the second repair the deck started getting cracks in it through the deck paint. Don't know if you can see it in this photo.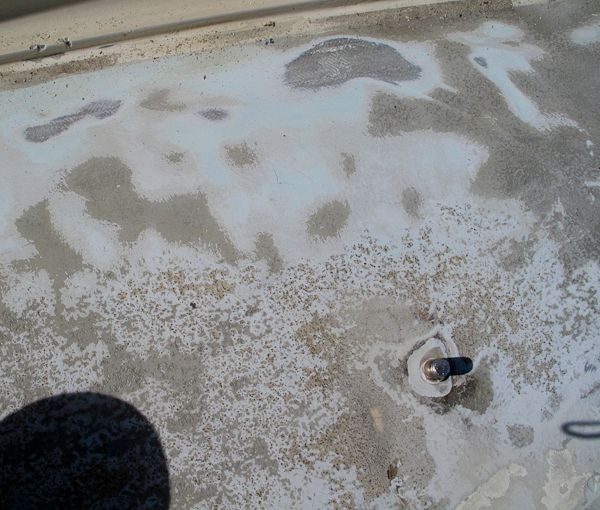 Well one of the reason it cracked is that when repairing the deck they used Bondo filler to fair the deck. Bondo is OK but NOT on a flexible surface which the deck is. No wonder it was cracking! So I started grinding, first take off the crap paint they used , most of the Bondo...
and basically level the deck out! After much grinding I started fairing the deck with the proper - thickened epoxy! Why didn't they do it that way?? $$$$ Bondo is very very cheap compared to thickened epoxy. So if anyone is reading this blog who has to do a deck repair like mine- Please use thickened epoxy!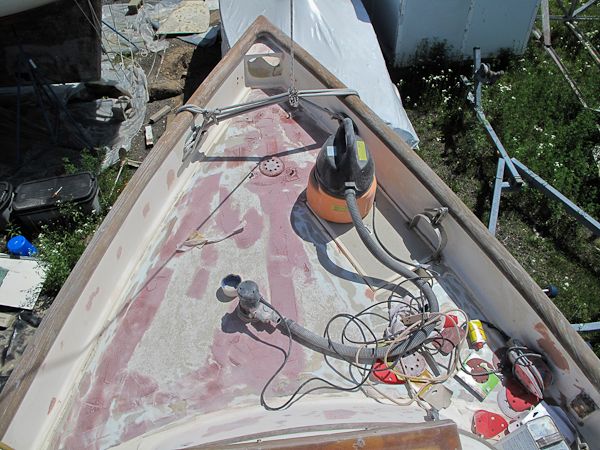 Add epoxy, sand, more epoxy sand till it was level. Over 15 years ago I heard of a product called Tek Dek, it's a synthetic teak decking material. I love teak!!! Especially on a boat and have always loved teak decks but just not the maintenance of them. With this product it looks great- always and no maintenance. Plus it protects the deck from my clumsiness with dropping tools and is a great nonskid surface - beats sand.
First thing to laying out the deck is lay and glue down the king plank- that's the center strip, than layout the perimeter.
Once this is done I hope to finish the rest of the deck next weekend.
That's it for now...