We have a new website!
21 January 2008
www.svmissemily.com
Again, its been awhile!
10 June 2007
I've lost my camera, so I haven't wanted to blog, without pictures.. but I guess i will anyway! We are in the process of making a website which is www.svmissemily.com. Its up now, but I haven't done anything with it.In the begining stages!! I was going to export everything from this site, and put it on to the new site.. but since my internet connection isn't very good it takes WAY too long! I'm going to go to my friends house aka the webmaster, and work with him on it. It's an early birthday present for Eddie (JUNE 18th) he knows that I was thinking about doing one, but he doesn't know its actually up yet... so hopefully he won't get on here and see this blog...hahahahha!!

Anyway... another great accomplishment... I AM A SCUBA INSTRUCTOR!!! YeaH!!!! After lots and lots of studying.. I passed!!! I'm so excited!! I just haven't had a chance to get my paper work back from Padi, and the OK.. to teach yet!! So I'm a teacher who hasn't actually taught!!! hahahah! oh well.. hopefully very soon!!

I will keep you informed!!!

ok.. i'm going to attempt to take a picture with my camera phone, and see how it looks... this is my view as of this afternoon!!!

love, micha
BLOGGING
28 April 2007
Just wanted to stop by and say hello... not much going on except that I have to retake one of my exams for my scuba instructor class. There were 5 total, including pool skills, and I did great on everything except one. So, I will retake this on May 21. Unfortunately, I have to take ALL five tests again. ARGH. It was a simple mistake, but I also was very exhausted and not a good test taker.

Anyway, I'm ok with it, just want to hurry and finish it up!!! Then I can get out on the boats!!! yeah!!! Office work is boring... LOL, but then again, I do live in Paradise.. so I can't complain much!

PS the picture is of me and my girls from work!! Great group and I love them!! ;)
Tile
19 April 2007 | Galley
ok... here are more pics... it looks great.. i love the border!!!! Eddie is the man!!!!
Tile is down!!
13 April 2007 | galley
ok... now he has the tile down!! it looks better than the pictures. he also is going to put border tile around, but he hasn't yet. he hasn't grouted it yet either... just wanted to get some more pics up... yeah we can finally cook again!!!
hope you like them!!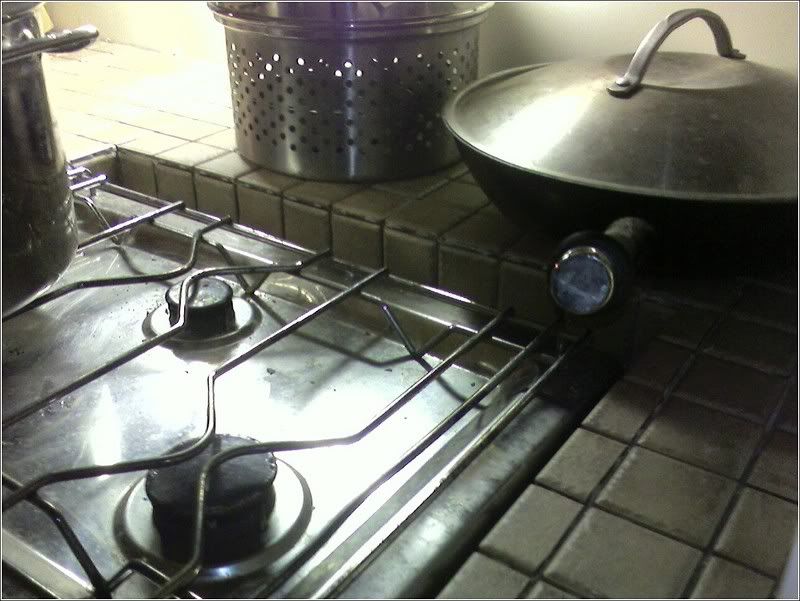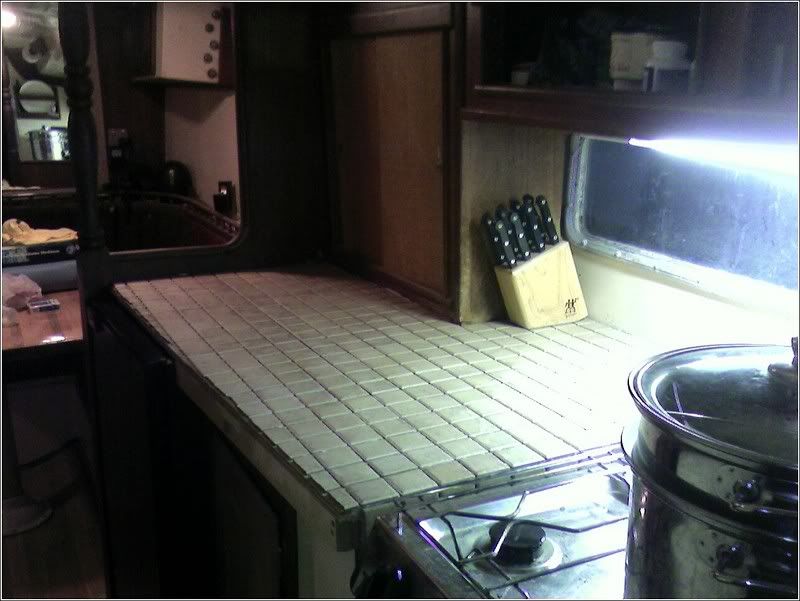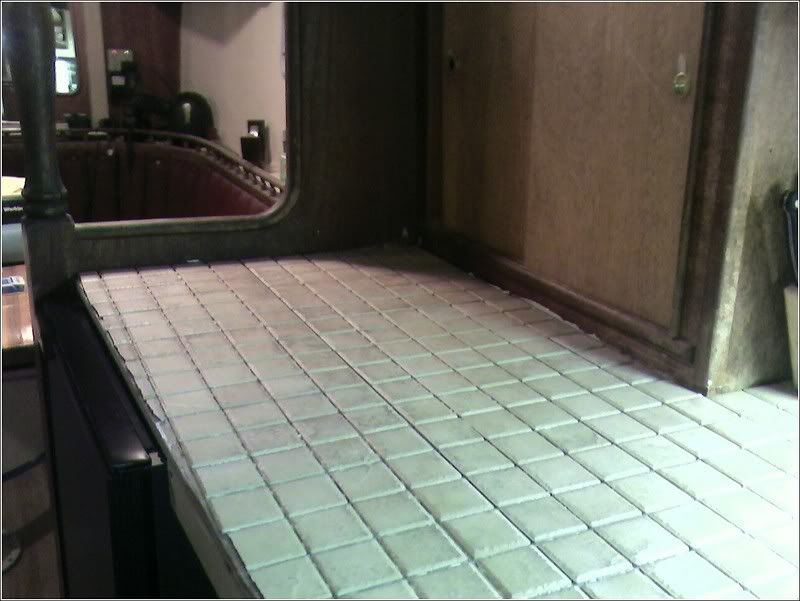 THE SINK HAS MOVED!!
10 April 2007 | THE GALLEY!
OK... WELL EDDIE HAS ALMOST FINISHED WITH THE GALLEY.. OR ATLEAST ALL THE MAJOR APPLIANCE MOVING! HE HAS MOVED THE SINK OVER UNDER THE STAIRS BY THE ENGINE COMPARTMENT. WHAT A PROJECT!!! NOW HE IS GETTING READY TO TILE IT!! SO HERE ARE SOME MORE PICTURES FOR YOUR VIEWING PLEASURE!! AND YES HAL.. PLEASE COME BY ANY TIME TO SEE HIS MASTERPIECE...LOL!!
Yes Rick, I know it's called the GALLEY..LOL!
05 April 2007 | My KITCHEN..LOL ;)
me
ok.. I have some pictures I took with my camera phone of the disaster on board... if you look at the previous pictures I have taken of the galley, then you can compare. Right now the boat is in shambles! But I know its going to look great when Eddie is finally finished with his project. It's day three and fiberglass is no fun to sleep in. I can tell you this, if your pissed off at someone, take a bag of this and pour it in their bed... LOL..ok just kidding.. that wouldn't be very nice.. :)
anyway, here is our current living situation. It looks worse than it is... just kidding.. it's REALLY BAD! BUT Eddie is doing an amazing job..and I have no doubt how beautiful it will look when he is done.
I'll post pictures of the new cock pit later today!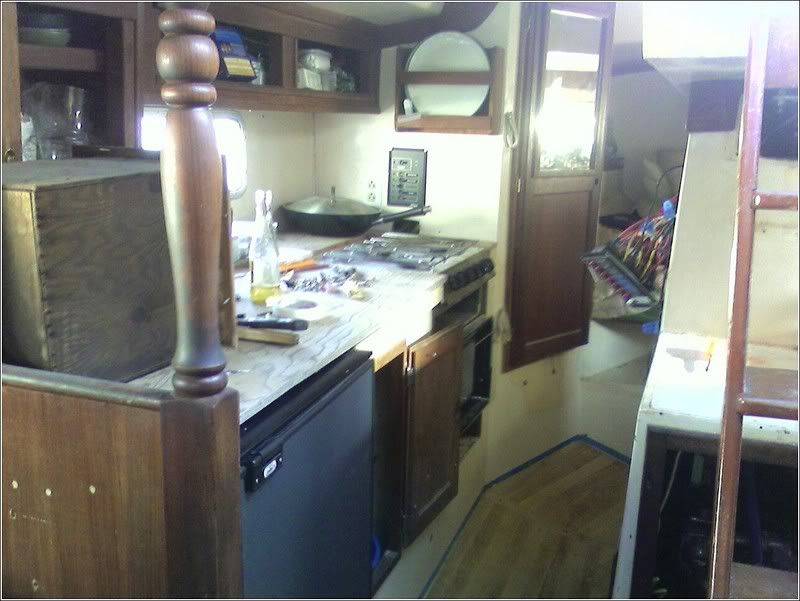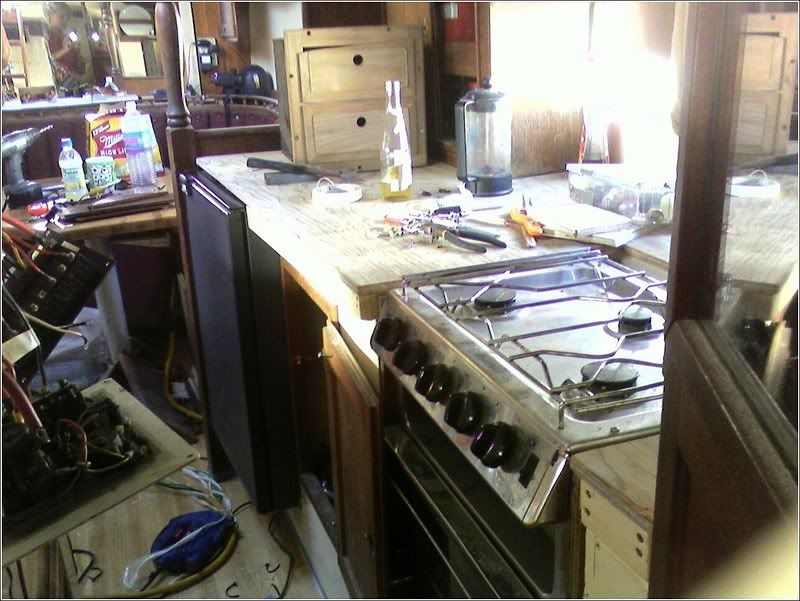 wow.. haven't been on in awhile...
04 April 2007 | work
me
Life has been really busy around here. I've been studying for awhile.. working alot, and "fixin" up the boat to go cruising in November. Well Eddie has done most of the work. but I have done my share as well... he just finished tearing out the kitchen .. the WHOLE kitchen! we moved the oven to the other side .. put in a new 12v refridgerator, took out the sink, and and is working on the new tile countertop. Everything is in its place.. I'm just worried about the sink.. he is moving to the center of the boat... Jen and Hal.. he is putting it right where the stairs are.. humm.. he said it will look good..and i trust him.. it's just a lot of work! and the last two nights have been fiber glass hell.... we didn't cover our room.. so fiber glass went everywhere.. oh well.. just can't wait to see it done! I painted the entire cock pit.. and it looks great... I will post pics soon.. just don't have a camera... mine broke. so Im looking to get a new one. I do have a 35mm.. a few of those in fact from when I actually was a pro photog.. so maybe I'll take some pics with that.. and develop them the old fashioned way! lol

anyway.. I'm starting the IDC on friday... I HOPEFULLY WILL BE A SCUBA INSTRUCTOR APRIL 15th.. that is the last day of exams... so wish me luck!!

I'll post pics soon.. in the meantime.. here are a few underwater pics.... enjoy!!
For our families...
06 February 2007 | miss emily
micha
Ok.. i'm getting bad at keeping up with this. I guess when we actually start cruising it will be alot easier.. i'll have more time ..right...MAYBE? ..

Anyway.. I can't believe that it is Feb 2007! I had wanted to go home to see my cousin Danny's wedding and to see the family... it would have been a great opportunity to see everyone at once.. but between work and studying for my divemaster... yes i'm almost done!! (i passed my physics test today with a 100!!!! yeah!!!) it was just impossible. So sorry to my family I really had wanted to be there!!! I love you all and miss you very much!!! I hope that if you ever want to visit you will!! It's a great vacation spot...and sooo I'm waiting patiently!!! heheheh

anyway.. about what I'm doing... i'm basically ready for the IDC (instructor development class)... i still have one more test left in divemaster... Decompression Theory...and 20 skills to master. so if you don't know anything about that sorry if this is boring!! Eddie has been working on the quicksilver catamaran for our friends Terry and his daughter Jen. ITs a snorkel catamaran and it takes out anywhere from 4 to 40 people.. or something like that. I briefly worked for them, but I got my job at the diveshop.. corporate dive shop i should say. I have a 401k..who would have thought in this business you could have all the benefits!!?? funny..anyway.. they take great care of me... not much money.. but its great experience. Plus when I become an instructor I will still get all of the same benefits..and a little more money. obviously we are not in this for the money.. just the love of the ocean and living our life the way we want! I can say this, we have made great friends here, but we are anxious to move on and actually cruise on Miss Emily! Caribbean 2007 baby!! WE are planning on going to the bahamas first and then island hopping in the caribbean!! After that, hopefully..we will cross the ocean, and head over to Eddie's homeland to see his daughter (Alexandra Emily) and family! I hope that she will be able to come and visit us before then, or vice versa.. but if not she will definetly be invited to come and sail with us whenever she wants!

Oh..and we want to Congratulate Eddie's brother Steve on his up and coming marriage!! I believe it's his first and I can't wait to meet him and his bride to be!! Please let us know when and where the wedding will be! Eddie said that it will be in Ireland or somewhere "warm"..I'm thinking the Keys.. LOL ;)

anyway... i just wanted to send this out to our families..(since i see that they are reading this now!! yeah!!! ) and to send out love and that we miss you all very much!! WE both can be bad at keeping in touch... but you are always in our thoughts!! I will try to maintain this site on a continuous basis..or atleast more that I have been! That way you can always keep up with us and we can keep up with you!! Please make sure to leave your emails, so that I can update my records and I can follow up with any of your comments that you leave here for us!!!

ok... I'll post more pictures soon.... I have tons of sailing.. and just us being silly!!!

LOVE you all!! Congrats Danny!!

I love you MOM and DAD!!!
-Michaelynn

PS.. this is one of the many dolphins that lives in our "backyard".. I was at work that day... wow.. what a hard job we have...!! :)
The Everglades
03 February 2007 | Florida.. air boat riding....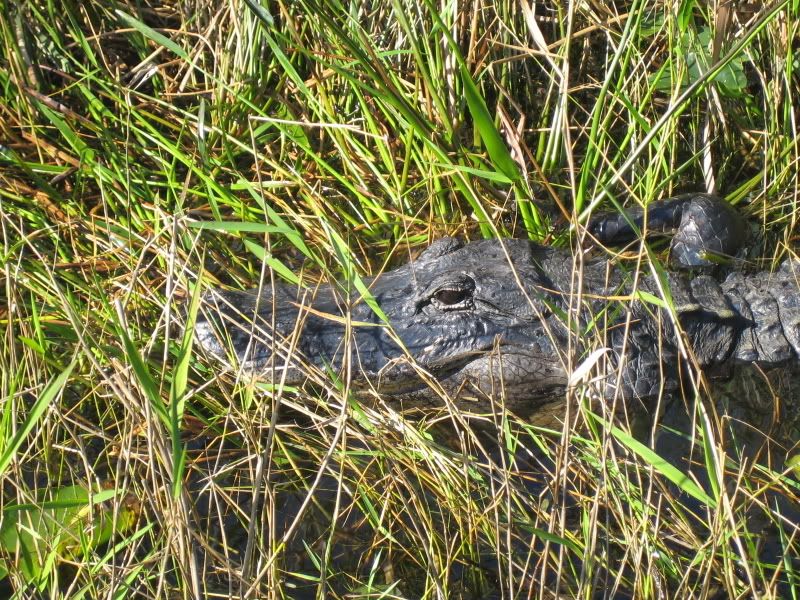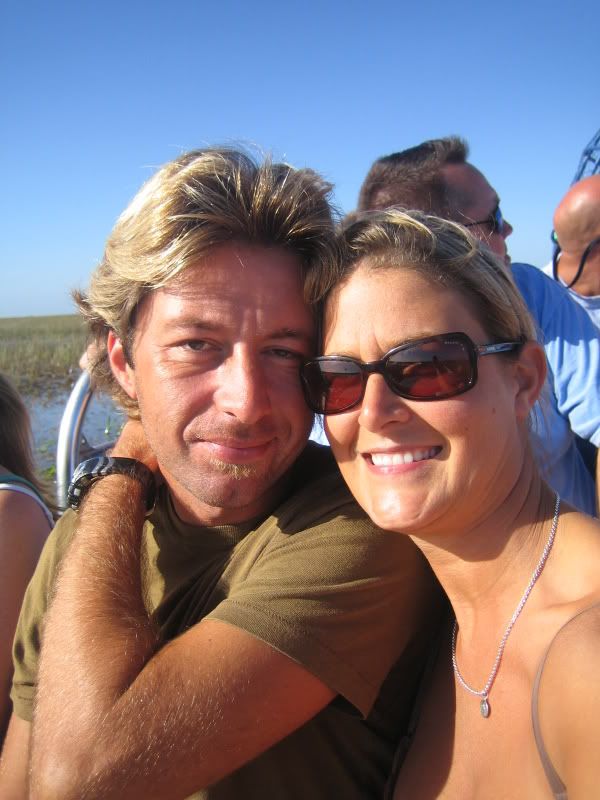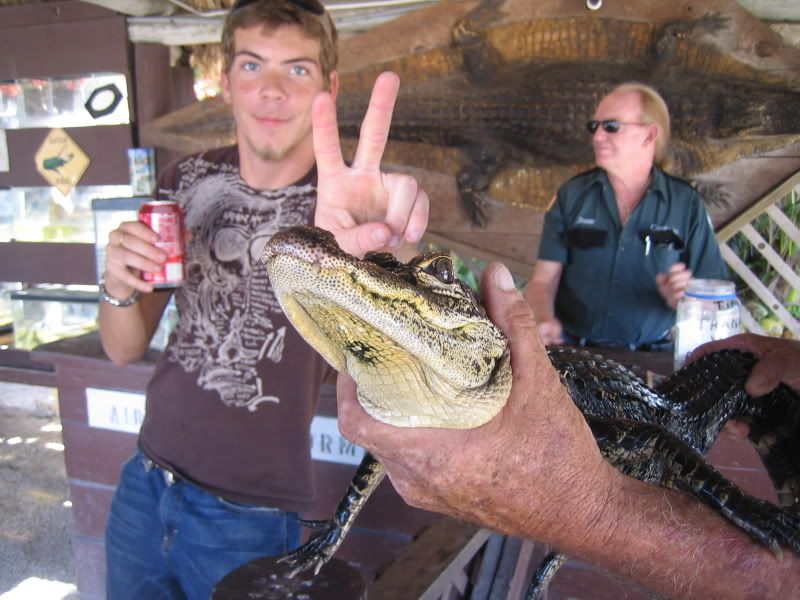 Diving for work....
02 February 2007 | the Spiegel Grove!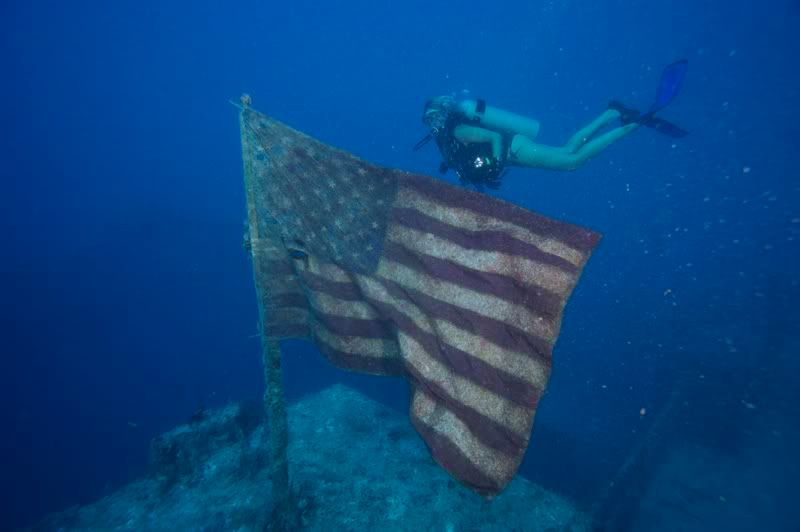 What a great day of diving! My boss / friend Joe, came to work and said that we needed more pictures of wreck diving for our brochures and for a diving convention in March up in New Jersey! He said everyone get ready we are going diving. WEll.. lets see it was either sit in the office all day answering phones or going out on the water... hummm... I of course chose diving! Let me tell you, it was cold and windy out.... the waves were rolling!! it was 5-6 feet and occasionaly 8 feet out there! The air temp was 60degrees and the water was 75. The day before we had went to the Spiegel and we were very cold.. so we were expecting the same conditions. The only difference this time, as opposed to the pic of Jackie and I above was that we could NOT wear wetsuits! The pictures were supposed to look TROPICAL! Since we are a tropical climate and it barely stays cold for long.. the advertising had to reflect such!
Soooooo we were planning on going to the Duane and then the Spiegel grove. The Duane is one of my favorite wrecks here in the Keys. I've been to it now about 5 times, and I love it. It's an old US Coast Guard Cutter (built 1936) that was donated as use for an artificial reef. She was sank November 27, 1987 at Molasses Reef. She lies upright on a sandy bottom 120 feet deep. She is 327 feet long and the deck is at 90 feet. She is awesome to look at!! Lots of goliath grouper and eel and shark are all over the place. Tons of fish and coral as well! Just beautiful!
But... instead of going to the Duane first we went back to the Spiegel... to do the first photoshoot. We had heard it was really rough at the Duane so we thought lets try the Spiegel first and get some pictures taken down there. Sooo.. as we pull up we see some of our other friends out there on different boats. Steve told us that there were ton of Man o Wars all around and that we need to keep an eye out before we jump in... and yes.. we saw them EVERYWHERE! That wasn't what REALLY worried us.. it was the COLD WATER! So as we kept telling our selves it was going to be hot... we all took shifts in jumping in.. two groups every 10 minutes. Austin and I were the last group! I told him to stay close.. and he did. Austin is 18 and has been to the Spiegel Numerous amounts of time.. and I have not. So we go on down the decent line..and it wasn't cold at all.. even being in our bikinis!1 It was beautiful but the viz wasn't everything we had hoped!
Here are a few pics of us from the shoot.. I am the first two.. Jackie is the 3rd..and Joe is the last two!
I missed the next dive on the Duane... cuz I had a really bad ear squeeze.. and yes.. the viz was apparently 100ft on the duane and the no current! OF COURSE.. I missed my favorite one.. The boat was rocking bigtime.. but that puts me to sleep (the waves were 6 and 7 feet..) but it was still fun!!!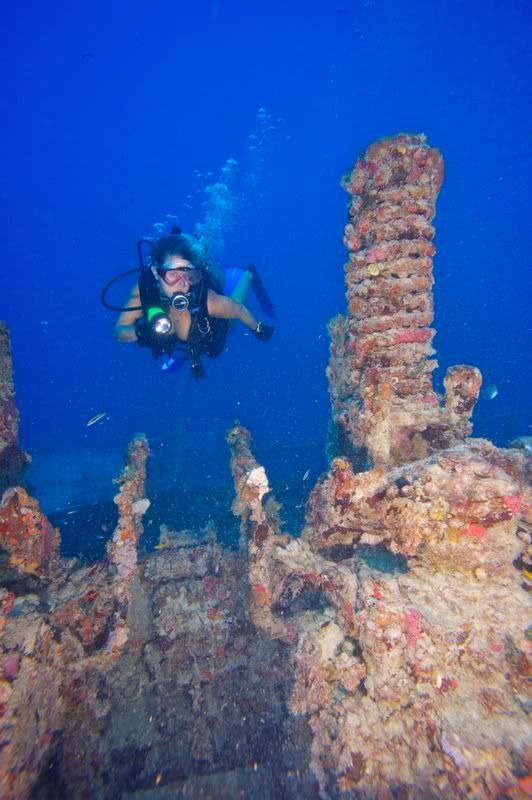 Up the mast..........
01 February 2007 | miss emily
me
Ok..I had to post these pics of Eddie going up the mast! He hates heights and the look on his face was priceless..... ! ok i shouldn't laugh too much.. cuz it will be my turn next....
ok.. guess its my turn... cause I'm still laughing..!! hehehehe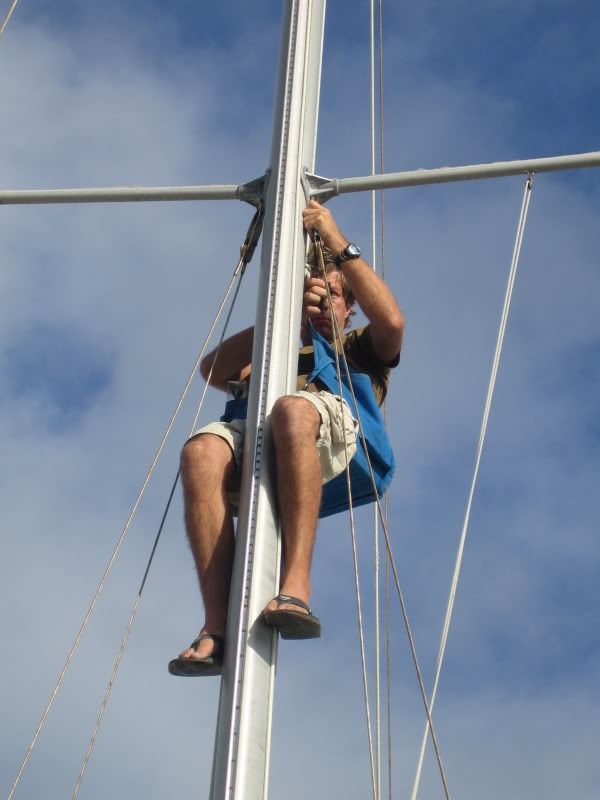 HAPPY NEW YEAR!
01 January 2007 | bed
moi!
Hope you all had a safe and happy new year! We had a great time lastnight..as far as I can remember..lol! Anyway.. today we are going out fishing..on the FantasticII with Chris and his Uncle Butch! Hopefully they will catch dinner..while I just catch the rays!!.. I can't be asked to do anything more than just lay out!!! :) I'll post the pics of the trip later!!!! Have a great day!!!!!!!!!!!!!!
Merry Christmas
25 December 2006 | Palm Beach
Merry Christmas Everyone!!! I'm very happy this Christmas, even though I'm not with my parents this year..but I am with Eddie! Last year at this time.. was really hard on both of us.. being without eachother... but this year we are together as well as a great friend..Chris and his mom, uncle, and Max, Max, and Bailey! Yes, three dogs! Atleast we aren't all on the boat... I don't think that we would all fit! Anyway.. I couldn't be happier..and I'm very lucky to be able to share everything with
Eddie. I love him with all my heart and I'm looking forward to a lifetime of Christmas' with him...on whatever island or country that may be!!!
I hope you all had a great Christmas..and Mom and Dad.. I love you very much and miss you more than you know!!!!!
XXXXXXXXXOOOOOOOOOOOO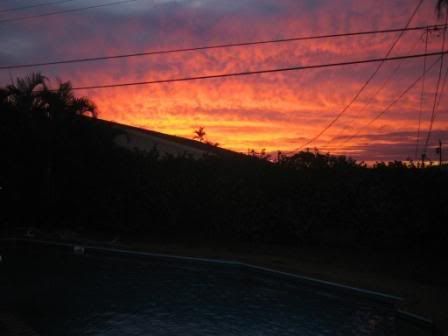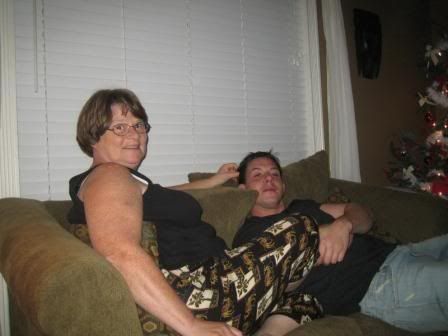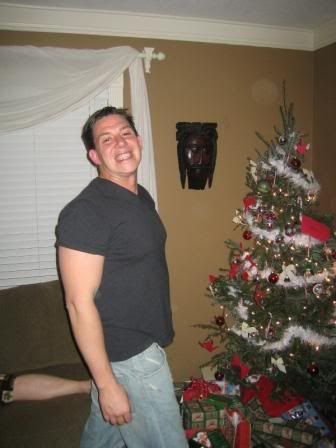 Neighborly...
21 December 2006 | On top of a post, in the canal...
Ok.. the one thing about being on a boat... is that you kinda lose your privacy.... not in a bad way really... but you just do. If you want to go outside and hang out on top of the boat...and read or just relax...there is always someone who wants to strike up a conversation. Now..for those of you who know me.. I almost never shut up.... but there ARE times.. (yes...really) when I just want to relax...as well as Eddie. Well... not on our boat. Our neighbor Lorna... great cooky ol lady... loves to chat...!! I love chatting with her...and she has so many stories to tell...if you ever get a chance to meet her..ask her about her flute collection...
anyway... where I'm going with this is .. I came outside for a cigarette.. Eddie had been teaching me stuff for my Divemaster Exams and we had been working on it all day..so we were pretty tired.. so.. i just wanted to take a lil break and just chill.... well the minute I go outside Lorna sees me and comes outside to.... i knew she wanted something...and so she asks for a favor..... her tv wasn't working properly and she asked if Eddie had any tools and if he could adjust her satelite dish. I found it quite funny... for one.. if i had of asked him to do that... he would have laughed..and would tell me to do it myself... (since it involved climbing a pole..and eddie hates heights) but.. he had to do the neighborly thing..and help Lorna out. He would have looked like an ass if he said no... right? anyway... I was amused...and her are a few pics of him on top of the post.
hey!
11 December 2006 | miss emily
We havent been on in awhile. Been really busy at work and studying for my Divemaster. I will upload more pics in the next day or two. Eddie is now working on the topside and getting all of the leaks fixed. Yeah..like we can actually get ALL of them fixed! LOL... anyway... check back in the next day or two and we will have more!

WE are getting really exited about cruising...and I've been chatting with Alex Dorsey from www.projectbluesphere.com..he has been crusing since 2003 and reading his website and chatting with him.... really gets me motivated to just go!!! Check out his page... its pretty cool!

much love!!!
Dolphins!
01 December 2006 | the ocean!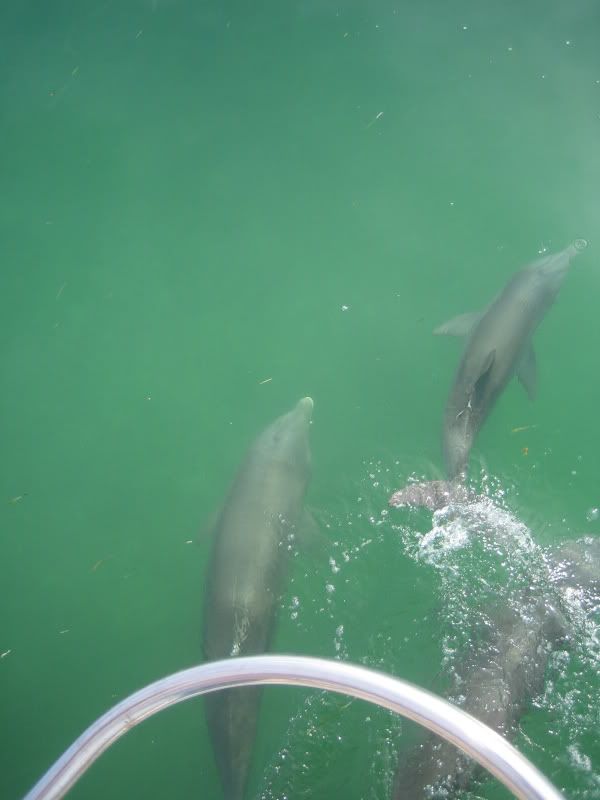 Ok... I'm a typical girl who gets excited everytime I see the dolphins!! We were out sailing...and well I jst had a feeling that I was going to see them! Sure enough a few minutes after I told Eddie..that we would see them today...they appeared!!! They must have heard me talking about them.. because they were jumping out all over the place... in front of the bow, at the stern...on both sides! it was really cool!!! There also was a baby.. and he was just learning how to leap from the water...he was adorable!! anyway... here are a few pics!! enjoy
Blogging....
07 November 2006 | work
me
just wanted to update you all that our floor is FINISHED!!! It looks great! I will have pictures to follow! We cleaned the whole boat and did a major reorganization. Now we are working on sanding the rest of the hardwood on the cabin and try to get all of that done soon.. but then again you all know how long it took to finish the floors...!! LOl

ok.. well I'm working at a Dive shop..and I need to get back to work!

love, me

by the way this picture has nothing to do with this blog... but I added it until I have the pictures of the floor. Isn't it a GREAT PIC... photographer is Stephen Frink based in Key Largo
HAPPY HALLOWEEN!
31 October 2006
HAPPY HALLOWEEN!
Glacier in the canal! :)
25 October 2006 | Paradise!
Moi!
Well yesterday morning was the first day for the cold front!!I awoke to a beautiful morning view of the sunrise, and a very chilly morning! I was so excited..I went looking for a long sleeve shirt to put on before taking the dogs to the park for my morning jog! Eddie was still in bed, and he said "it's not that cold outside!" He thought i was being dramatic... or that I was just wishful thinking....:) I smiled and proceded to make our morning tea. He then got up..and went above to see if it was REALLY as cold as I said. Needless to say he went back down below and found his jacket. He was cold! :).... love it when I'm right!
It was soo cold that there was a glacier that hit our boat... take a look at the pics.... it must have come from Antartica or somewhere far away...... LOL
Ok... no it wasn't a real glacier...it was just a big styrofoam block! With my twisted sense of humor.... I decided to take pictures and make it look like it was about to hit our bow....
yes I'm corny, but I constantly entertain myself....
This weather makes me very frisky.. I love when the weather is just a bit cold..and clear skys...and sun shining on my face. I was so happy about the weather...when we took the dogs jogging in the park.. I decided I was 12 again.. and did a couple of cartwheels! WRONG!... I pulled my top leg muscle... guess I should have stretched a bit more...LOL.. I then remembered that I wasn't in gymnastics anymore..... yet I still decided I hadn't had enough fun for one morning..and went roller skating with my friend Kyle. Luckily no injuries there... but my leg is still hurting.. I'm walking with a bit of a limp!! :) Eddie was pleasantly amused.... hahaha
I told you this weather gets me excited...and today..is another beautifl chilly morning... so I must get off this computer...and go and play before I go to work....
much love MOM and DAD! I miss you both!!
and Georgia.. I'm so excited that you are coming back... I can't wait to see you!!!!!!!!!!!!!!!
Micha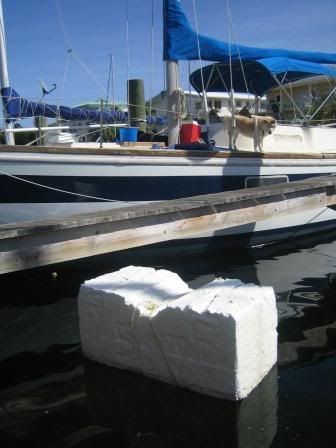 Lasagna!!!
24 October 2006 | Neptune 3000 Stove/Oven/Grill
me
Ok.. maybe not all of you out there would be as excited as we were when we found our "new" (atleast to us) propane oven/stove/grill. In England, I was told by Eddie, they call it a Hob.. or something.. anyway... we have been very excited about our new purchase. Thanks to our friends Hal and Jennifer on Mari Hal o Jen.. who gave us the heads up about where to purchase it! (thank you)..
ok..so since we have added this new addition to our galley.. we have created lots of wonderful meals.. Eddie loves to cook as well as I..and the one thing we hadn't done was use the oven. I have been craving my Mom's Lasagna (that is just one of hundreds of wonderful recipes that she has... SHE IS AN AWESOME COOK !!) So we went to the Winn Dixie and got everything that I needed! Ok..well except for spinach.. i still haven't seen it on the shelves here yet...
alright..so I finally made my yummy lasagna... and here are the pics... ok.. maybe this is a lil much.. but I am that girl.. who always has her camera ready.... the lasagna came out perfectly...well not quite as good as Mom's.. it never is... but yummy nonetheless!!!
Mom send me some recipes... Birock sounds good... I'm ready to make that next!!!
Happy Eating!!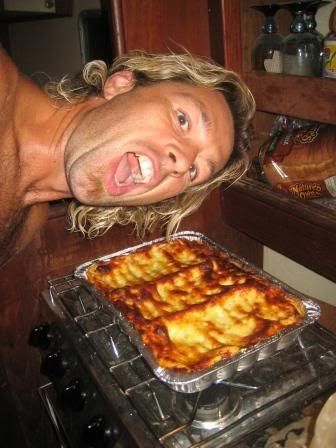 Sunsets
22 October 2006 | Atlantic
Moi!
Aren't sunsets just beautiful? This is my favorite time of the day!

Just wanted to add that.........:) thats all!
Interior Views!
19 October 2006 | Miss Emily
Me!
Well, I thought I would finally put up some pics of our interior!. It is not even close to what it is going to look like when we are done, but it is most definetly 100x better than what it looked like when Eddie bought it! We now have a stove/oven in the galley. The refrigerator will be replaced with something new. All of the dark teak inside the entire cabin area is going to be sanded down and made lighter to better match the new hardwood floor. ( as you can see in some of the pics, we have sanded down a few of the drawers and doors already. It looks better I think!) The sitting area instead of the burgundy fabric at present is going to be a light ivory faux leather. The dining table top is already sanded and looks a lot better than in this pic. Its very light wood now. We are also putting up mirrors all along the back wall in the aft berth and in the dining/sitting area. Eddie is also in the process of making a pull out bed so that we can have another place to hang out and watch movies instead of lying in our bed all the time. Let's see what else... oh yes, there will be cabinets all along the starboard and portside above the windows in the galley, sitting area, and head. Everything will have its place, and it will be all organized! yeah!! You know, when you live on a 35' boat with 2 dogs and your boyfriend, its better to have everything picked up, put away and out of site, (atleast for me and eddie) so that you can utilize ever bit of space that there is!! Oh yeah, we will also make cabinets in our bedroom, the aft berth, and I'm hoping we can start on that soon!...
Basically our goal is, to get everything inside done first, cabinetry, sanding, etc... then I can decorate, and then we will work on the cosmetic part etc of the outside!
It's Lots of work, but WHAT BOAT isn't? I love knowing that every little project we do, is one step closer to making it a home that is uniquely ours!
Oh..and if any of you have Coronado's like ours...besides our friends S/V Mari-Hal-O-Jen...and have any other ideas for us... please let us know!! Always interested in seeing the work of others!!
Have a great day!!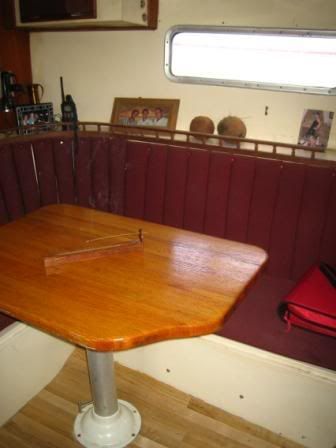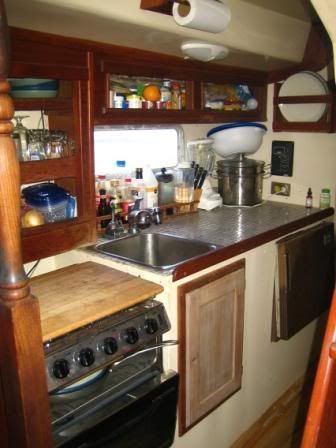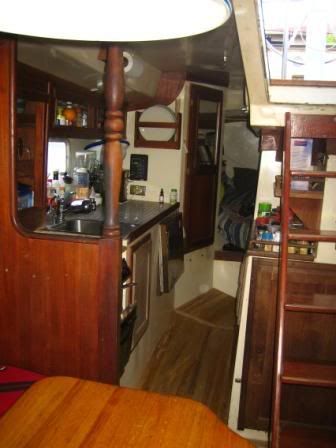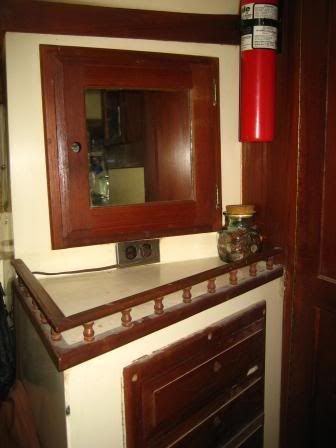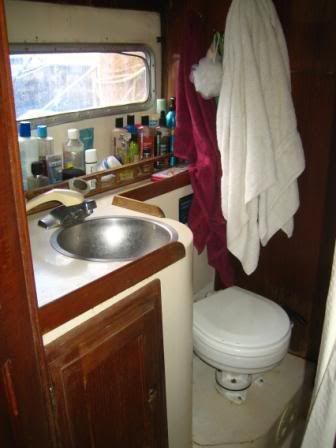 A Doggy Ramp!!
19 October 2006 | V Berth
Moi!
Here are some pics of the ramp that Eddie made in the V berth for the dogs to go in and out of the hatch. Before it was just a platform that went from side to side. We also used it as a shelf. Since both of my dogs are different sizes, it didn't work that well... and Max, my dobie, was too scared to jump up all the way. Now with the platform, it gives them more headroom, and when not in use is has a pully system that brings it up flush to the ceiling covering the hatch. The dogs can now walk up and down by themselves and hang outside on top or inside their bed area!
Just thought I'd let everyone see just in case anyone else had big dogs! It works great! Its not the prettiest ramp, but eventually we will make something that is a bit fancier!! And you can't really see it when its up anyway!!
This is definetly a dog friendly boat!!!!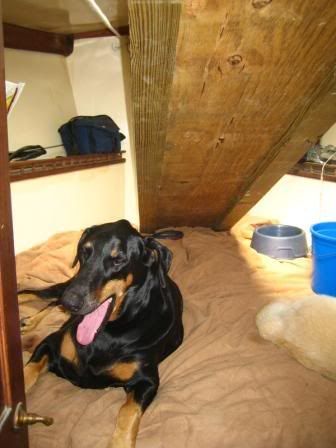 This pic is what it looked like before. The shelf/platform was useful, but it started to get lots of junk put on it, and I thought it looked unorganized!
Diving the Aquarius!
17 October 2006 | Tavernier
Me!
More info and the link to the Aquarius website
What a great day this has been! Last night after having dinner with a few friends Owen, Anja and Tom, we went to our local hangout Sharkey's and hung out with some other friends, Jen and Tad. Both work at dive shops and Jen had asked if Eddie, myself, and our friend Anja wanted to dive the Aquarius this morning. Of course we said YES, since it is not a place that most are allowed to dive! (More info about that on the above website) We didn't get all the particulars... or maybe she DID tell us what we were in for,( we just had finished a few margaritas, which for me, makes my memory a bit foggy! ) but all I remember is that we were to be at the dive shop before 8am, and we made it just in time! Still half asleep but no hangover....( we left Sharkey's earlier than usual! lol)
Well when got there, there were about 8 of us..and we were informed that the dive trip was to be filmed at the Aquarius and the Christ Statue and a few other dive spots. This was a film being made by a local photographer Frazier Nivens (he has done films for Discovery and the like) as an advertisement for a few choice dive shops around Tavernier. It will be played at DEMA (Dive Equipment and Marketing Convention) in November. They needed a few divers and we were asked! I thought it was pretty cool...and we had a blast!
For anyone who is not aware of what the AQUARIUS is, she is an underwater ocean laboratory in the Florida Keys Marine Sanctuary. She is a few miles off the coast and is at a depth of approx 60 feet. Scientist go and live inside Aquarius on 10 day missions to study and explore our coastal oceans. (I took most of that off the website, you too should check it out, very interesting:) )
Anyway.. the photographer had permission granted for us to go and video this awesome underwater laboratory. ( There are buoys and markers stating to not get within 1000 feet of the Aquarius to warn off boaters and divers in the area) We were told, of course, not to touch anything, to not turn the valves, and not to go on top of the platform, etc. BUT for me, it was just amazing enough to swim around and look at all of the beautiful coral, sponge, fish and sea life that is living on and around her! There are two enormous grouper that live underneath the Aquarius..and when you get to close, as we sort of did...they bark at you..and its very loud! (Yes, I call it barking, lol, and they are very territorial and a lil intimidating as well!) There is also one very large barracuda and many small ones patroling the area! He came very close to me on several occasions and we had a staring contest for what seemed like a minute before he darted a few feet away and ate a lil blue fish!! Atleast he didn't take a bite out of me for being on his turf!!.. :) I also saw an eel..and a southern stingray very close by! It was just amazing! I did peek inside a couple of the windows and saw someones' shampoo bottle and the shower they use! No one is living in it at this time, but I do believe there is another mission coming up very soon!
All in all it was a great day... we starred in an underwater mini film, and were allowed to venture to a place that not many local divers can say they have been before! I am so honored that we were allowed to go and I want to thank Jen and Dawn and Frazier for giving us this opportunity! It was wonderful!!!
oh..and we were asked again to help finish the mini film tomorrow.... in Marathon... we are going to dive the THUNDERBOLT...a wreck dive...which I have never dove on either!!!
So.... to be continued...tomorrow.!!!
"Photo courtesy NOAA and UNC Wilmington."
"Aquarius images are copyright © 2006, University of North Carolina Wilmington. All rightsreserved.
The Floor is ALMOST DONE!.. again!!
16 October 2006 | The Canal
ME
WEll.. we have been really busy lately and I have neglected our blog. So with that being said, i have lots of pics to update ..and it may take me awhile. :) We are almost done with the floor... we were having a hard time trying to white wash it and make it even. Now we have decided to just go with the natural look of the white ash that we used. Now, we have the starboard side done..atleast the first coat of varnish...and we will have to once again, sand down the port side. ARGH! We have almost gone overboard with this project... I mean literally overboard.... I wanted to just jump in and swim away! BUT.. it is looking great and I have a few pictures of what has been done so far. atleast we can walk on it..and not hop from the staircase to the chair through the bathroom and onto the bed just as to not touch the paint/varnish...etc. Try that one when you have had a few cocktails... a pretty funny sight! Anyway... we have a few other projects to work on today...and then go and hopefully play!

until the next time.........later..:)
Manatee!
07 October 2006 | The Canal
Moi!
Eddie and I have been working on this floor, for I don't know how long..and anyway.. my new project is the dining/kitchen table.. I've sanded it down and its looking really good! It will hopefully match the floor almost perfectly! anyway.. as I was walking back to the boat to get the varnish to finish MY project.. I saw this HUGE creature swimming around our boat! At first I thought it was a giant shark... lol.. but then I realized it was a Manatee! It was my first time to actualy get up close!! He was soooo cute!! A giant sea puppy!!So of course I get all the neighbors out of their boats to come and see!! There was a water hose hanging over the side of the dock..and that was what attracted him. Manatee's drink fresh water...and unfortunately they can get hit by other boats if they come into the canal. I was told that day by the lady accross the canal to not get him any water... but he already did...and he hung around us for atleast 30 min. I pet him and he played a little and I took lots of pictures!! He then had enough and swam off to the ocean!! It was so Cool!!!
Diving!
01 October 2006 | Molasses
Me!
Well..for those of you who don't know, I just started diving in June of this year! My family has been diving for MANY years..and I was the only one who didn't get certified! I was the black sheep on every dive trip we went on together as a family.I'd either snorkel or lay out on the boat while my parents and lil sister were down below! I had bad ears and could never equalize..and I'm sure I was also scared of "JAWS"! Anyway.. when I met Eddie we had talked about me getting certified because he had been diving for years and wanted to get into it again! I was definetly up for it... since I LOVE the water as much as he does! (This by the way was a year and a half ago... before we bought the boat and before he became a scuba instructor! ) Now that I am certified I am loving every moment of the underwater world... even on the days that aren't so great! My parents think that this has been the best idea I have had so far!!.. GO FIGURE!!!.... :)
Anyway, my friend let me borrow his underwater camera recently. Unfortunately for me I don't have my own underwater camera or the housing for the cameras that I do have...( At the present time I am only a land photographer LOL ... my next step is to learn underwater photography after I become an instructor too!)
So here are a few pics of me from that dive...and the very first pic I took was of Eddie..and some fish.. They are not award winning... but still exciting to me..since they were my first!!!
(Ok Mom, there are nothing like the pics you have from your gazillion trips to Cozumel, Japan..etc... but it is a start!! ( I LOVE YOU))
Micha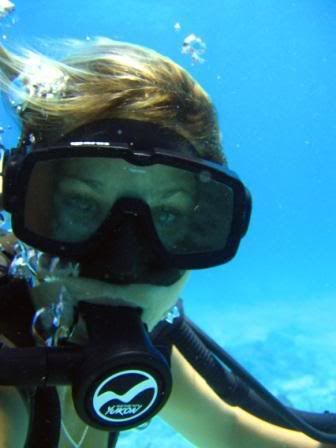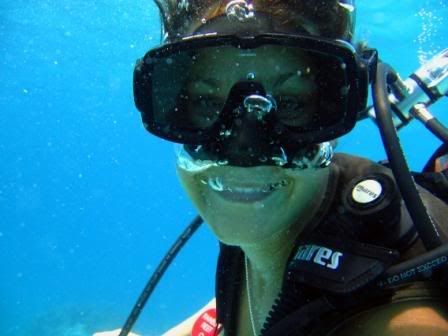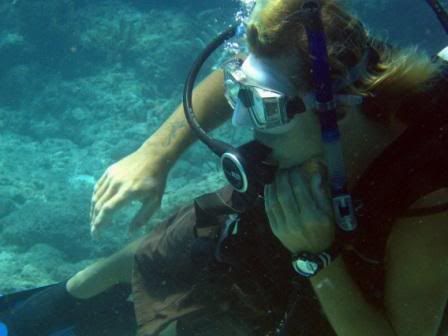 Miss Georgia aka Mermaid
25 September 2006 | Home
Me
I just wanted to put this up of my girl Georgia! She recently came to Key Largo to get away from a life and a marriage that wasn't healthy!

She started as an intern where Eddie works..and Georgia and I hit it off right away!! We like say that we are sisters and I love her dearly!

She is such an inspiration and such a strong woman! She has gone through many struggles over the years...and one of those was a weight issue... she lost OVER 100 lbs..and she looks fabulous!! She has raised four amazing children and unfortunately stayed in a marriage that was keeping her down longer than she should have, for the sake of her children.

Lucky for me and all of her new found friends down here, she finally decided that she had had ENOUGH and moved to Key Largo !

It is now HER TIME! and I feel that she deserves every bit of happiness that comes her way! She has such an amazing smile and a contagious laugh.. there is something about her that makes you want to be near her!! She is a beautiful woman inside and out, she is a lively soul....and I'm honored to be her friend!!

I Love you Georgia... come back from your cruise soon!!! Remember... its all about you now!!!

Your other Mermaid..... Moi!!
Sailing with Friends!
17 September 2006 | Atlantic
Moi!
We invited some friends over to go sailing with us... Molly and Simon! We had a great day...along with the fact it was almost my birthday... and so we were out celebrating a little early! (If you know me, then I try and make everyday my birthday in the month of September!! ) another excuse to have fun!! Anyway.. here are some pictures from that little adventure. Also the pics from that evening at Sharkey's! It was Drew's "official" birthday this day, and we decided to celebrate together!!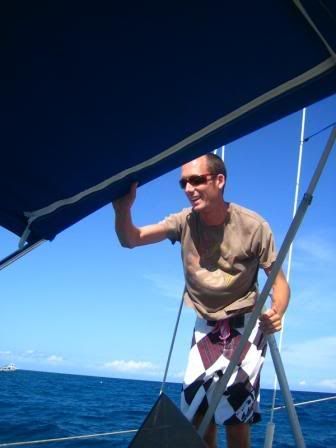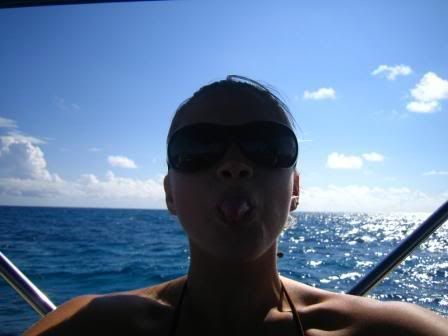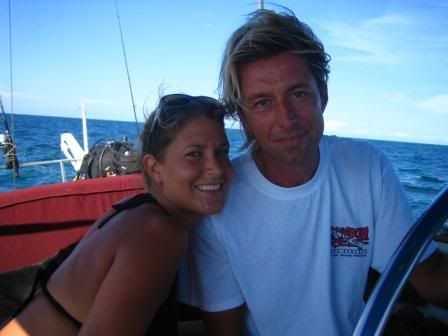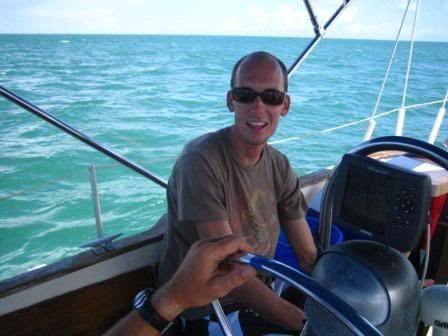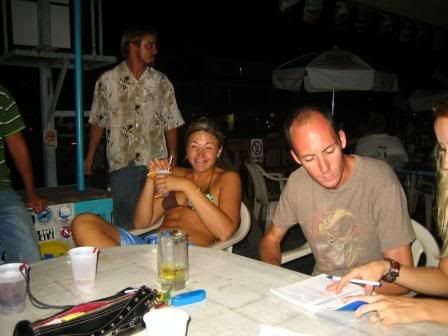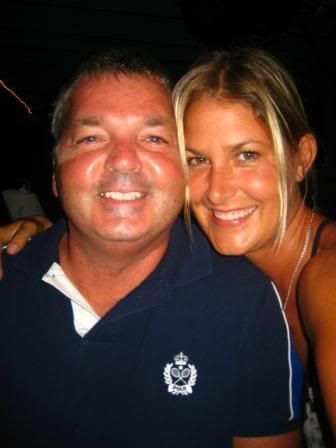 The Hardwood Floor is almost done....
31 August 2006 | Miss Emily
Moi!
It is looking great... the floor is almost done. Eddie has the day off because the dive boats still were not going out....cause of Ernesto... so we got the boat back in order....and he has been working on the floor for the last few hours... here are some more pics... I'm so excited! Next plan... sanding..and varnishing!! :)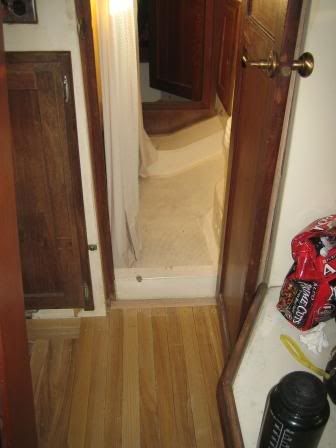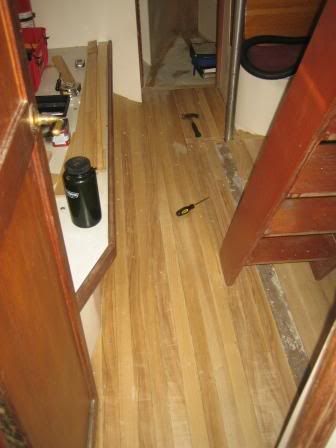 Ernesto, who????
31 August 2006 | Marina
moi!
Well, we got all prepared for nothing, but not that it wasn't a good idea anyway. Being prepared for a potential Tropical Storm or Hurricane in Florida is most certainly the way to go, regardless of the outcome. These storms have a mind of there own, no matter what every news channel, or weather websites want you to believe. Of course we don't have tv, which I feel is better for me. Last year, in Houston, we watched the weather channel all day, and night, and prepared for Rita. Of course this was after Katrina so everyone was just a little on edge to say the least. If anyone of you had watched the news when Rita was coming to hit, they said it was going to be a possible Cat 3 or 4 and that meant for us Houstonians, we needed to evacuate. Well, 4 million people evacuated the city and I stayed home. Lots of my friends with children were all stuck on the freeways for up to 24 hours! I, of course, watched the news the whole time, and was scared out of my wit! I'd been through Hurricanes before, but the news people really terrified me! Needless to say, the worst that happened that night was a branch from a tree outside my window fell... and it was a branch 5 in long!! Nothing happened to us, except for the bad hangover we had the morning after!
So with that all being said, now I'm living on a boat, in the keys, and where I should have been scared as I was last year (in the comfort of my brick home) I was not. No tv people telling me I'm going to die and that I need to head for the highway. We were just cautious and we were well aware of what could happen, and to prepare for the worst, which we did.
Now the HORRIBLE thing that DID happen near us (2 boats down) was that our dear friend George (we call him Mayor of the Marina..he has been here a long time) was that he had not replace his u bend on his exhaust, and didn't have his automatic bilge turned on. Some how, during all of the rain between 11 pm and 2am, his boat filled with water, and started to sink and went FAST. He woke up to the bow of his boat going down first, and the glasses on his cabinets crashing to the floor... !
Somewhere at around 4am, Eddie and I awoke, we just couldn't sleep, and went outside to have a cigarette. We saw George's boat completely underwater except for his fly bridge!! Now George is probably in his late 70's and I was horrifed that something happened to him but luckily he was fine! We sat with him from 4 am til 11am and waited until the Sea Tow guys finally lifted his boat! The CBS news crew was here all night, and it was kinda sad that they were reporting on his misfortune since nothing else had happened in the area! The ONLY good thing about it was that his family actually saw him on tv and rushed down to take care of him, since they weren't able to reach him by phone. His phone was down in the boat, of course!
Anyway, we are very thankful and greatful that Ernesto wasn't the Hurricane that was expected. No damage just a learning experience. And we are especially greatful that George was ok, and doing fine! We all promised to help him with whatever needs to be done..(A LOT OF WORK!) but we are just happy to have him smiling again! He kept his spirits high...even when his boat was under..and I know that us being with him through it all..helped him to keep his silly sense of humor!!
Here is a pic I took of him... when he was trying to make the most of it, and some pics of his boat when they finally got it to come up...oh ..and you can see the news guy in the background. I wanted to push him overboard with the boat!!
We love you George!!!
also here is a link to the cbs news video...they made it sound like it the storm cauesed the problem...it just happened to be the same day.... idiots...drama!
http://cbs4.com/video/?id=22190@wfor.dayport.com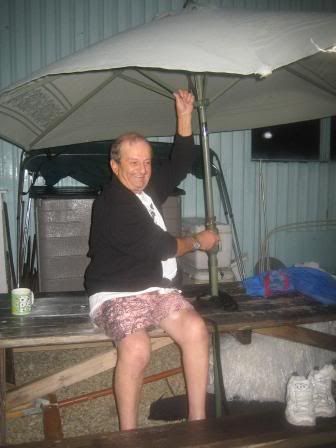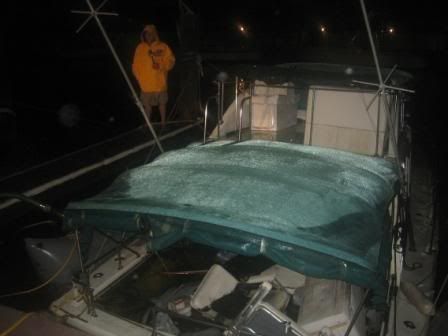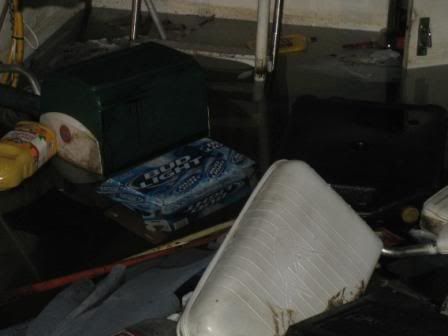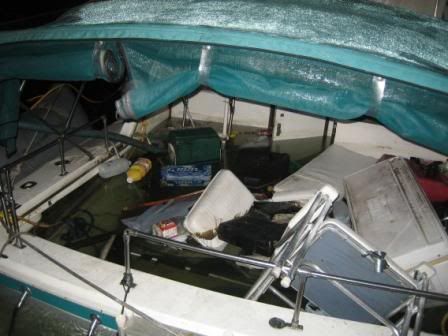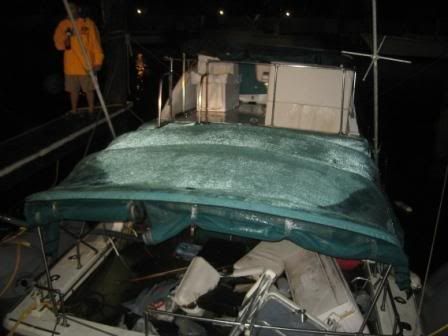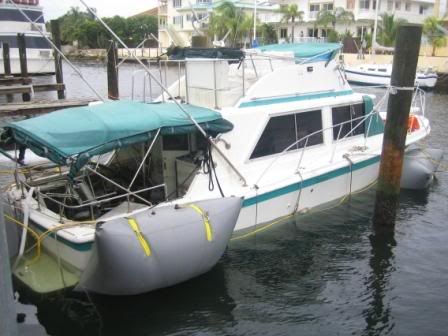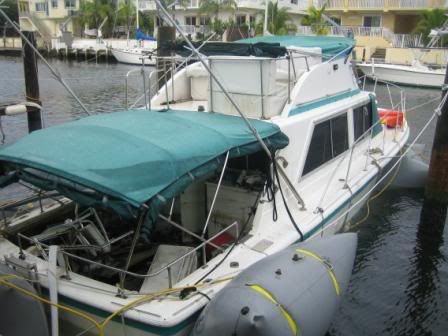 George's Boat
George's Video
Ernesto....is his name.
28 August 2006 | Florida Keys
Moi, again!
Well we are getting prepared for the next adventure on our boat... but one adventure I'm not looking forward to. They are saying that the tropical storm/hurricane... or whatever he is at this point is on his way towards us tomorrow evening at around 8pm. His name is ERNESTO! Hummm.... we will surely see what damage Ernesto has instore for all of us down here in Paradise. I was in Houston last year when Katrina and Rita hit...and we all know how that went. I'm actually not scared...of course, it's still a beautiful day, but I'm a little aprehensive and not sure if I should stay or take my dogs to my friend Georgia's. Eddie, of course, does not want to leave his boat.. so I think I should stick through it with him. We have tied up more lines... we are going to get more provisions, water, and of course alcohol.. to settle our nerves... :) I'm also going to take all of my camera gear.. and possibly the dogs to Georgia's house. Lucky for us.. we have people that really care about us all around. People have been stopping by all day asking if we want to stay with them, just in case.

So I guess we will just have to see what Ernesto has in store for all of us down here, hopefully he isn't that mad before he stops by.... hoping he is a bit more calm than he has been....:)

MUCH LOVE TO YOU ALL!!!!

Micha
What a beautiful day!
27 August 2006 | Marina
Moi
Just thinking how beautiful it is outside. I just finished my run with the dogs, and a little yoga...and time to take a shower and either study more... or help Eddie finish the floor. Its looking great! More pics to come later.... of course!

Can't wait to go sailing again.... I wish he would hurry up!! :)

Maybe a sunset sail is in our future this evening.....:)
Hardwood Floors
26 August 2006 | Galley and Saloon
Me writing from my safe and cozy bed in the AFT Berth....
WEll I haven't had a chance to get on here in a few days.. ok... maybe a few more than a few days... I've been studying my Resucue Diver manual..and Divemaster... and playing a little ...and working a little!! Anyway.. I will start with today... Eddie is laying down the hardwood floors... as I am lying in the comfort of my bed.. in the Aft Berth.. I hear him groan and moan every so often.. and I'm sure he is just exhausted. He has been working on this for atleast 7 hours...and you know when you get into a project... you sometimes can't stop. (ok..well for me... I start lots of things..and do stop..) ;) but not when its a project like this... it is really starting to look great... but now he is having a little difficulty around the edges... the floor isn't flat and its hard to get it down. Nonetheless... it looks AWESOME! I'm really happy with the way its turning out! .. ok...hold on... alright.. he is stopping.. I just told him he should and he already said he was.... so here are a few pics that I took... while I was sitting up in the companionway looking down.... oh..and look at the dogs.. they are really bored.. I think I will go and take them on a walk... while Eddie stares at his crafty handywork for the next hour or so.... !!! I can't wait to see it all done!!! Next stop..sanding..and varnishing..... FUN FUN!
Sailing with the boys...
19 August 2006 | The beautiful blue....
moi!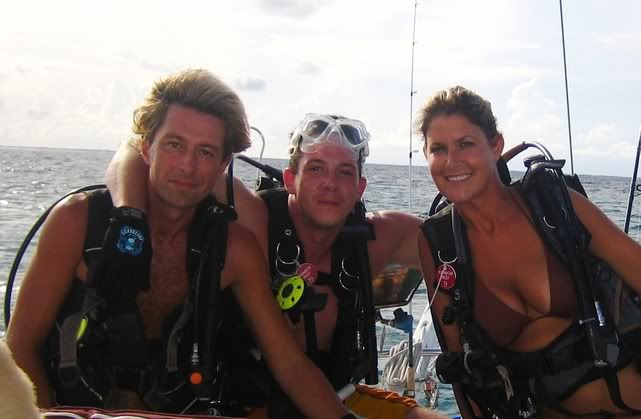 Well today was a GREAT SAIL.... yesterday Chris and his Mom drove down to finally go sailing with us. Unfortunately the weather was pretty dull... and there wasn't much wind. It didn't matter.. we were all going to have a great time.. no matter what! So we decided that we would go and have a few drinks at our local pub..and have a few appetizers before heading out. After a few hours of catching up...and teasing the boys about old times...we went back to the boat to get her ready. Unfortunately there was no sun to be seen. BUT we had a few beers and great company...and we were go out sailing...even if powered by the motor...with the sails up...:) ok.. we cheated a bit...hahha
anyway..after "sailing" a bit...the boys went out and snorkeled to catch our normal,as of late, meal... meaning.. lobster! I never thought that I would say this...but I'm a little sick of lobster...hahahhaa...ok..yes.. life could be worse! I could of had to pay for it!.... so anyway.. the boys caught just enough for dinner...and it was great!
Fast forward to today...the 2nd day... we got ready to go out..and realized that it was still too early and the tide was still low..so we all drove down to Holiday Isle to have lunch and maybe do a little shopping. We had lunch on the water...and it was turning out to be a beautiful day! The sun was beaming! Wind was picking up...and we were just a little excited, to say the least, about our next sailing adventure...AND this time..we had our scuba tanks....on a mission..to YES...get more lobster!... why not...? hahaha
Of course I can catch them... but I'm definetly NO LOBSTAH SLAYAH!!..hahaha.. I hate hurting and killing things... even if it was for food. I can't bare to even think about what Eddie does to these poor lil ugly tasty crustaceans...:)...ok, ok..enough of that! This mental image is horrifying me!! :)
Well it turned out to be an excellent day!! Just absolutely beautiful...and the wind was just enough for us to turn off the motor.... ahhh...peaceful! Just the listening to the wind in my ears..and watching the water rush by....ohh and yes.. we caught the lobster..and yes.. once again.. ate a wonderful dinner....even if it will be my last lobster for awhile...yeah....RIGHT!
So here are some pics from today!! Enjoy!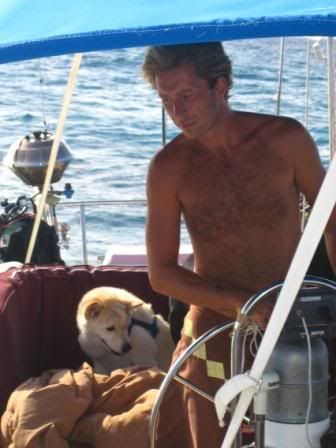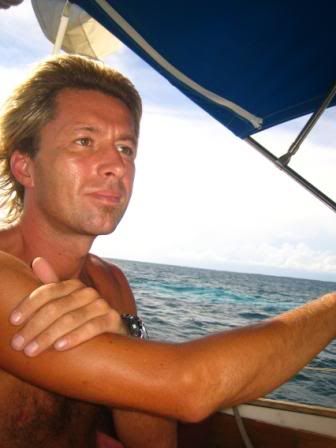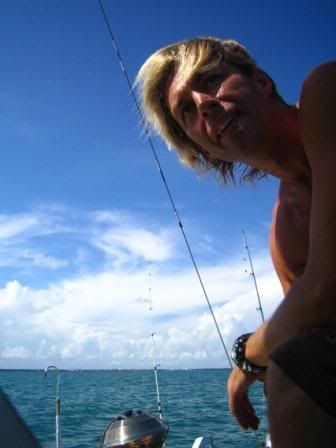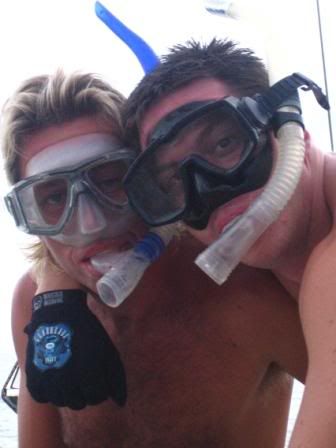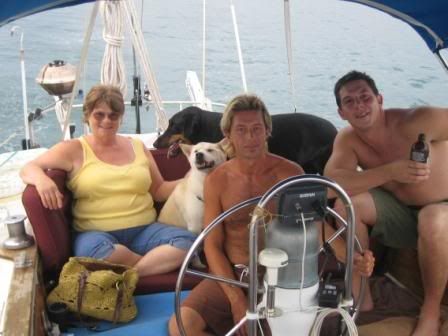 What a beautiful evening....
08 August 2006
well...I just finished my dinner.........and I actually cooked. Pasta and pesto with chicken. Of course it wasn't as good as Eddie's but it was good... non the less.

As I'm waiting on the laundry to finish its cycle(real exciting I know), I'm having a cocktail...smoking a cigarette...and watching the clouds blow west in my sky above! It's still a very windy night onboard, but the moon is one day less full..:)...and the clouds beneath her are illuminating from her glow. I'ts absolutely beautiful! I'm thankful no matter how the day goes...that I am where I am..and with the man I love..and have the view that I do.

goodnight..........
Rainy Day....
08 August 2006 | Miss Emily
HIGH WINDS AND RAIN!!
Well today has been a lazy lazy day. Its raining outside...and I hadn't had a chance to take out the dogs until an hour ago... Eddie and I are both either reading or playing on this computer... I myself, have been playing on this blog site for too many hours!

The wind is really picking up...and the boat is rocking heavily from side to side. I keet hearing it banging on the dock which isnt good...and which also means I need to go and fix it before the rain picks up and I get soaked!!

So I went outside to adjust the lines from the stern on the starboard side. My buddy...Captain Neil has been teaching me about the wind direction and how to adjust the lines correctly, so I thought I'd go and try myself. Wrong!! The wind is really strong... so even though I tried... the boat kepts shifting towards the portside and I'm not strong enough (YET) to pull it back.... unfortunately..I had to get Eddies help. What a girl I am... haha... I guess I need to work on that(my strength) a bit!!

Now the boat is set and its gently rocking back and forth... I'm now back in the comfort of my cool BUT dry cabin....and I'm looking around for something to do......the galley needs to be cleaned..haha..as well as the rest of the boat... but I'm going to stick to being lazy... atleast I can catch up on my reading. I'm currently working on my Rescue and Recovery and Divemaster books...along with "Maiden Voyage" by Tania Aebi. (yes.. I tend to do too many things at once...haha..and then never finish...)

So long... for now... hope everyone is having a great day....I'm going to go and see if Eddie will cook me another fabulous meal for dinner!!

Boredom creates hunger...... and I'm famished!!
Typical day....
07 August 2006 | Our Boat........
Just wanted to say what a great day it has been so far... sunset is approaching and we are having a few friends over for a BBQ.

Guess I need to hurry it up and get ready..... even though Eddie is still napping...!

The wind is blowing..and it feels wonderful outside!! Sun is shining..and Im loving every second! Can't wait to see our friends...:) What a great way to end the day!

Hope your day was as awesome as ours!

love, M
Good Luck to the S/V Mari Hal-O Jen Crew!
07 August 2006 | PARADISE
Funny thing....I just started this site yesterday..and not long after I had my first comment.. from someone I have yet to meet... Jennifer. I've been reading her sailblog site..all of the time and yet she probably had no idea!! Funny thing is, her husband Hal came over while Eddie and I were painting the hull of Miss Emily, and told us that he had a Coronado as well. He had told me to check out his family's website and ever since I have been reading it every chance i get..and I finally just had a chance to start ours! Then the first person to respond would be his wife!! What a small world!! LOL

So Jennifer... thank you for taking the time to write to me...and I hope that Eddie and I will get to meet you and your daughter soon! Im not sure if you have already left for Key West..and if you have........ good luck with your new adventures down there..and I look forward to reading about all of them in your new blogs! They are always entertaining..as well as informative!! :)

Thanks to all of you!
Hope to see you soon!

Cheers!!
THE MISS EMILY CREW

PS. This pic is from my first day in Key West a few weeks ago..and my first encounter with the Roosters on the street.... "what DID the chickens say, when they crossed the road?"...I had NO idea, but thought it was a cute pic...:) haha




Dogs and Sailboats
06 August 2006
Beautiful Day in the Keys
Well I traveled all the way from Texas with minimal clothes... (haha) and my babies Max and Bailey! I was really worried about how my dogs were going to adjust to the boatlife! Living aboard a 35' sailboat was going to be a bit tricky especially since our companionway is way to steep to allow my 120 lb dobie to walk up and down. So with the help of our friend Jameson... Eddie and him made a platform in the V berth (the dogs room) so that they could jump in and out with ease.... yeah right...!! they still act like they need assistance from me.. but when it gets hot out... they jump right back in!! They are adjusting well to living on the boat...and there are wild cats all around that Max, of course, loves to bark at. Lucky for us... all of our sailing neighbors have dogs too...and its pretty much a dog friendly area!! As I type they are walking around on deck... doing what dogs do! Loving the wind blowing in their faces!!

Its a beautiful evening and Eddie is about to cook dinner... while I enjoy a glass of wine and watch the sunset!!

Life is Good!!!
Miss Emily 1973 35' Coronado
06 August 2006 | The Atlantic Ocean
Me
Well this is the first journal entry that I have written for our newly renamed boat. "MISS EMILY" in honor of Eddie's daughter Alexandra Emily (12
) who resides in London.

I just moved here with my dogs and a few belongings all the way from Texas to Florida! (ok.. Eddie may disagree that I have only a few belongings.. but you should see the storage unit that I left behind!...

Anyway... I love it! I have been here a month now and I am enjoying being with Eddie and living on our boat and waking everymorning to a beautiful view...and watching the sunsets together from the cockpit each night!

With that being said... I will post more soon. i just wanted to get this started... and put a few pictures up so our family and friends can see what we are doing...and what we are up to in our daily lives aboard Miss Emily!

Micha, Eddie
Max and Baily

PS. The pic of Miss Emily is the day we splashed her after all the hard work Eddie did, along with help from moi!
The Day We Splashed
16 June 2006 | Boatyard
Me
Ok.. here are some more pics....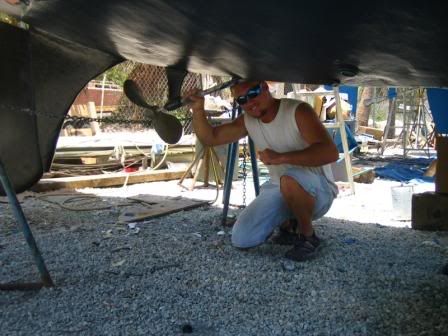 The Day we splashed
16 June 2006 | Boat Yard
Me
I am backtracking in a way... seeing that I just started this site a few days ago...(today is really the 9th of Aug.) but I just realized that I can change the dates on my entries to the original dates.. sooo I'm going to go" back in time"..so to speak... and add previous events and pictures from the begining when Eddie purchased Spindrift aka Miss Emily. That way Eddie and I can share these pics with the real Miss Emily, his daughter (Alex Emily)...and the rest of our families and friends.
So on this particular day.. two days before Eddies birthday....our friend Dean (who works in the boatyard...and who has been extremely helpful to us ) came by and gave us a bottle of champagne .. just before we were ready to get her back into the water! Just so you can keep up, Her name was STILL Spindrift, and we wanted to take her out for one last sail under that name. Now, if you know or don't know about sailboats.. or any boats for that matter...we had been told that there are certain protocols to changing the name of boats (some dont even recommend it and say its bad luck)...and we were told by Dean that we had to break a champagne bottle on the bow before we splashed her again. Of course we thought it was a great idea..(no need to add any bad luck in the future, right?!)
.....so here are the pictures from that day.... watch Eddie run from the Champagne bottle after it hit...it was hilarious!!!
PS oh..and I have since found out...there are TOO many rules and superstitions to keep up with but we ARE doing our best to follow them!!