19 October 2017 | Green Valley, Az.

Blog Period: 2016.07.01 - 2016.12.31 Update

The Colorado River Just North Of Moab, Ut.

The last few years we've invited our friends and family to come to our place for the 4th of July celebration. There is a certain amount of prep work that has to happen before folks arrive. We usually end up having two pot luck dinners. One at our place the other at our neighbor and good friends Tom and Kathy. We combine our two groups on the 4th and we can end up having over 20 people. Then the group breaks up, to go see the Longbeach fire works from their favorite spots. The next day everyone brakes camp and heads home.


We had boat equipment that need to be prepped for sale. Over the next few weeks we photographed each piece and listed it on either Ebay or Craig's list. Once the buying started to happen we had to package up and ship the various items. We did sell most of the bigger items although we didn't get what we thought we should, but oh well there are gone from our care and hopefully being put to good use. We even made trips to deliver items to Cathlament and Astoria.


Susan made a trip to Portland for a doctors appointment and a quick family visit. We also, drove into Longview to pickup our other grand daughter for a visit with us at the beach. Her visit extended into our family camp out on the first weekend of August.


Our family camp out is the first weekend in August and is a chance for all of our extended family to get together in one place. Not everyone can make it every year but we usually have a good turn out. This summer we had almost a full complement of available family in the area. The time is split between visiting, eating, trips to the beach, watching the evening fires and of course preparing smores. It's sure is fun to be able to catch up with everyone and see them getting reacquainted with everyone else they haven't seen in awhile. Two of the grand children celebrate their birthdays in August. So we have a little party for them with games, presents, cake and icecream, and to top it off we hang up a pinata filled with candy. Usually each child gets a couple of wacks at it before it gives up it's goodies. Great fun! All too soon Sunday rolls on in and everyone has to pack up their tents and hit the highways to home to get ready for the coming work week.


Our friends Herman and Nancy came out for a few days visit. It's always nice to have them spend time with us. They live in Green Valley when not in Portland visiting their family. Visiting them at their place helped us decide to buy a winter home in that area, only three blocks away.


Brent, Molly and Tom, Sue came out for a day of Letterboxing and we meet them at the RU restaurant for lunch before they headed back to Vancouver.


Towards the end of August we had one of our Grandsons come for a few days visit. He loves to play games and is always full of energy. This year coincided with the Longbeach Kite International Festival. He's learning how to fly a kite and it was good for him to see some real good kite fliers in action. His last big exciting event was to ride in the front seat of the RV as we drove from the beach to Cathlament for our annual Mexican Cruisers Rendezvous. Susan drove him to Longview to meet and return him to his mother.


We spent the rest of the weekend visiting with current and former boat owners and Mexico travelers. There is walking around the marina area and to town and back. A few folks play cards while others tell salty tales of yesteryear. We always have a wonderful pot luck on Saturday afternoon. Once again on Sunday we all break camp and head out to our next destination. For us we head back to our spot in Ocean Park.


This season we're heading south early and so once back at our spot we had to go through our check list of activities necessary to close down the "Dirt Boat Beach Base" for the season. We finished on schedule and head the road to Vancouver and our friends driveway.


Once in Portland, celebrated Susan's son Bill's birthday along with his family. We meet Pat's son Patrick for lunch and then we headed north to spend the weekend with Susan's other son Steve and family for the weekend. Back in Portland we paid a visit to Susan's granddaughter, Brittany and her family. Also, we had a dinner date/party with some boating friends, Sandi and Chris, and other common friends, Tom and Sue, Brent and Molly. A good time was had by all.

August and September Photo Album

We had decided to take the RV in and have the shocks replaced and a general servicing. This took a day. We had a few days left to buy last minute supplies and say good by to our friends before we had to depart for a scheduled rendezvous in Utah.

Cliffs Surounding Camp Site in Terry, Ut.

Last spring of this year we had made plans to meet up with friends Tom and Kathy and Dave and Jody to do some sight seeing in Utah, Colorado and New Mexico. So by mid-September it was time to head out and catch up with the tour in progress at Capital Reef National Park. We meet up in Torrey, Utah and stayed at the Thousand Lakes RV Park where Tom, Kathy, Dave and Jody were there waiting for us. The valley area around the RV Park had some spectacular views of sheer cliffs and rolling mountains ranges on either side of the valley.


We spent a day touring around the area in addition to going to Capital reef National Park. One place we went to was near by in Boulder Utah, The Anasazi State Park Museum. This site contains the ruins of an ancient village. The Museum houses the artifacts that have been found as well as a recreation of an Anasazi home life. We had a good time wondering around both the outside exhibits and the inside ones too.

Terry and Boulder, Ut. Photo Album

Next we heading off to Capitol Reef National park. The scenery on the way to the park only wet our whistles for the actual park, we even stopped a couple of times for photo ops, however when we arrived at the park entrance the road access was closed due to flooding from the previous nights rain. The roads had to be cleared before traffic would be allowed into the park. Since the crew we were with are all Letter Boxer's, Jody and Kathy had found some for us to go find. We took this opportunity to search for the ones near by, outside the park. So off we went, stopping at an old mud brick farm house, an Anasazi grain stash on the side of a low cliff and finally a board walk to see petroglyphs. Along the way there was an orchard that had apples for the picking. The equipment was provided and you'd walk through the orchard and reached up into the trees and pluck the applies you wanted and put them into a basket. On the way out we weighed our basket and paid a dollar a pound. By the time we completed that adventure the park roads had been reopened. We drove through the park marveling at all the different colorful rock/cliff formations. We found a lovely treed park with picnic tables for our lunch. We drove all the way to the end of the road, where there was a trail that you could take into a narrow gorge. The boys, Dave and Tom took Dave's jeep off onto another dirt road for some "Off Roading". They had fun and we did too visiting and taking photos of the various cliff faces. This ended our time in the park and the area. Next day we moved onto Moab Utah.

Capitol Reef Photo Album

We'd been to the Moab area back in 2006. So we sort of knew what to expect. The others in our party were excited to get out to the national parks. In route to each park we located a couple of Letterboxes, before arriving at Dead Horse State Park and Canyon Lands National Park.

The Trip to Moab and Moab Photo Album

Our first stop was the visitors center at Dead Horse State park. We shopped for souvenirs including, hat pins and then enjoyed a spectacular view from the veranda while downing some beverages. There is a trail out around a viewpoint and some of our party checked it out. (good photo ops) Next we moved further into the state park to experience the jaw dropping views at the various stops along the way. The last of the view points is located on an isolated mesa with access being only a very narrow strip of land, no wider then a road bed+, about 100 feet wide, called "the Neck". In the 1800's cowboys would coral their horses on the mesa by closing off the Neck's entrance. As the story goes some horses were left there too long and perished. That's where Dead Horse Point's name came from. Regardless, the views from the near 1400 foot shear cliffs to the mesas below were breathe taking and dizzying if you stood up close to the walled overlooks. Fortunately there was a high view point spot that was back from the edge where you could still see everything. Way too many photo ops!

Dead Hourse State Park Photo Album

After Dead Horse we went back out to the main road that lead further out on larger mesa to Cannon Lands National Park. This park is huge with part of it being south of Moab and the part we visited being north and west of Moab. Of course we stopped at the Visitors center which is always a good place for info and souvenirs. This part of the park's fame is the once again jaw dropping view points over looking cascading canyons that drop away from each view spot down thousands of feet. Like dead horse the initial drop to the first mesa is around 1400 feet. Canyons seem to disappear into other canyons further below to end at the Colorado river basin. The Colorado and Green rivers meet at one of the many over looks. The Park is divided into several sections to visit and a variety of activities from off road 4x4 trails to hiking and biking. You could easily spend a week exploring this park. We all had a great time visiting this spectacular National park.

Canyon Lands National Park Photo Album

We did spend sometime exploring Moab, shopping and visiting a local museum of which there are several.


Next we headed out to see Arches National Park. We made a quick stop for a Letterbox near the entrance (100 yards down the main path). We stopped at the visitors center before proceeding on into the park. This park attractions are derived from sandstone erosion over a millennium leaving behind a plethora of arches and a mired other stone sculptures. There is a nice road you can use to go between the attractions but if you're inclined you can use the trials to bike or hike. Once at an arch or other attraction there are paved or dirt paths to hike up to and around the attraction. Be aware that you are at around 7,000 feet so some of us can get quite winded when hiking around. We spent two days wondering around this park. Again all of us enjoyed our visit to the park.

Arches National Park Photo Album

Time has flown by since leaving Vancouver and it was now the end of September, having exhausted our time in Moab we moved onto our next destination of Mesa Verde Nation Park in Colorado.


On our way we stopped at Newspaper Rock, which is covered by hundreds of ancient Indian petroglyphs. This is located on the road to the Needles section of Canyon Lands, it's 12 miles up a 35 mile road. We decided to take this 24 mile detour to see these famous petroglyphs. There were hundreds of them on this rock. We decided that some of the engravers couldn't count because some pictures of feet had 6 toes. Turns out there was a Letterbox supposedly there but we didn't find it. However, Pat did mange to slide down a rock face into a cactus bush and get stickers in his hand during the attempted find. The available nurses kindly removed them quickly. One last sorta comic note. While looking for the LB near the bit toilet we heard some load exclamations indicting someone had dropped a phone into the pit. We left the monument shortly there after and resumed our travel to Mesa Verde NP.

Newspaper Rock State Historical Monument Photo Album

At Mase Verde National Park we actually had a camping spot for a week inside the park. Up until now we had stayed at private RV parks. This campground is located at 8,000+. We had an all new breathing experience here plus no cell signal, or wifi (unless you were very close to the public restroom in our camp area). Otherwise you could go to the campground entrance where a store/restaurant/laundry/shower/gas station services were located and get cell and wifi access if needed.

Our Camp Spot and The Mancos Valley Photo Album

Also up until now we had been seeing natural wonders. At this park there certainly was some natural wonders but the main attraction was the Ancestral Pueblo people's domiciles both up on top of the mesas and constructed under cliff over hangs, over a 700 year period. This is one amazing place! If you are into or just curious (like us) about the Ancestral Pueblo people there is so much history, historic sites and museum exhibits about this culture that you can become completely absorbed for days. Which we did! We all went on the Long House cliff dwelling tour and some of the folks went on more.

Wetherill Mesa Long House Photo Album

Also we drove around Chaplin Mesa Loop and the Archaeological Museum as well as the Far View sites and the highest point the Park Point overlook at 8572 feet, which is also a fire lookout station. Turns out that there are so many places we toured I'm not going to talk about them all and ruin your experience should decide to visit the park. Do plan a visit!

Chapin Mesa Top Drive Photo Album

Just so that we diversified our visit we also took side trips. One was to the Anasazi Heritage Center museum and outside exhibits.


We also took a day trip over to Four Corners. This is where four states touch each other at one point. It is located on an Indian reservation, had an entrance fee and a LB just outside the area. This was mostly a tourist trap but we were easily sucked in for the obligatory photo ops and of course had to buy a few souvenirs.

Four Corners Day Trip Photo Album

Next we took a day trip to Durango. This is a modern city that used to be a mining town sit in the mountains of Colorado. We walked around town and saw the sights. It was also a railroad hub and had the wonderful Durango & Silverton Narrow Gauge Railroad Museum, which we visited. It was a great day all around.

Durango Day Trip Photo Album

On the way to Four Corners we had past the Antique Corral store, we decided to go back and visit this store and discovered a whole treasure trove of stuff that was really cool but that we didn't need nor could carry in our RV's. (thank God!)

Antique Corral Photo Album

Last but not in the least we searched out on of the most interesting Letterbox locations every. Remember the "Tin Man" in the wizard of Oz. The location of our LB find was at a giant area where the property owner ("Muffler Man") had created the Tin Man Fantasy Land out of mufflers and other items, only instead of them all being silver they were white. What a treat and treasure for us to find in rural Cortez Colorado.

LB & Muffler Man Photo Album

It was a quick half day drive to Albuquerque, the only slow section was climbing up out of a canyon at 30 miles hour. We stopped at a road side rest and unhooked the car. This make our remaining trip much easier. Once at the Albuquerque International Balloon Festival site we merged into the waiting line to enter with all the other RVer's. Everyone had reservations so it was just a matter to verify our reservations and wait to be escorted to your spot. As mentioned earlier this adventure started way last spring while Tom & Kathy were visiting us in Green Valley. At that time Kathy helped us to make the reservations at the balloon festival. As we were waiting we could see literally hundreds if not thousands of RV parked row after row butt to butt close together. There was no services (power/water) here, they did have services to pump out your black/gray water or deliver potable water to your RV. We fully expected to be packed in somewhere like sardines with the rest of the parked RV's we'd been seeing. Our turn came and our guide lead our little caravan here, had us stop and wait, there then continue on to our spots. When we arrived at our spots, we each turned off the road and pulled up to a rope, we were now facing a field at least the size of 4 or 5 football fields. Looking out across the field we could see hundreds of RV's ringing around the space and facing into the field just like us, and guess what we had breathing room on either side of us, and no one behind us. How we lucked out we'll never know although we later got a sense that we were in some spots that had been cleared out by folks that belong to a club that had already left the festival. Besides having relatively nice spots they ended up being a ring side seats for the low altitude fly-by after the balloon launches a half mile away and some actually landed in front of us, Dave even ran out to help steady a balloon that had landed and then deflated. We had to pinch ourselves a couple of times at our good fortune. (Thanks Kathy and Jodi) Later we ended up joining this RV group (The Escapees/Boomers BOF) that we had barged in on. Their group reserves the same space every year and if you're a member you can sign up for a spot.


At the balloon festival there two times that there is activity. Dawn to whenever they launch if they launch. They don't always launch because of the winds either too much or not enough. At dawn they will fill their balloons and do a "glow". They are waiting for the "Balloon Master" to give the word go or no go usually somewhere between 07:30 - 08:30. The audience (us) can and we did crowd onto the ginormous field (two or tree tines as big as the one we're parked by) where hundreds of balloons are laid out on the ground in parallel rows, in various stages of being inflated. Every shape is represented by a balloon. Then if the wind is right they will start lifting off and as they say "Up Up and Away". It is a sight to behold! If we did'nt get to the launch field we could see them lifting up over the buildings and drifting our way on the wind currents, every morning. When that happened, we'd get our lawn chairs and sit in front of our RV and drink our favor beverages and watch the show. What a show it was! By noon or so they all had drifted away landed some place and that's it until the next day.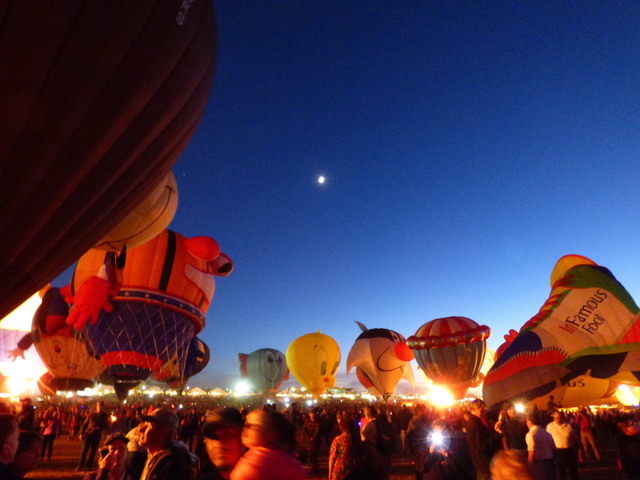 Balloon Fiesta Night Glows

Except that at night they have a "Night Glow" where they inflate their tethered balloons and attempt to coordinate the firing of their propane burners. It's quite an unbelievable sight to be under these HUGE balloons with thousands of people milling about, then look across the fields at all the rest while they fire their burners, which have a loud roar and the balloons take on an eerie glow, while they bob about on their tethers. Words, photos and videos can't express or begin to capture the spender of this event.

International Balloon Fiesta Photo Album
(NOTE: This Photo Album has 100 pictures. I got carried up, up and away. Enjoy!)

As mentioned the afternoons were ours. One day we all went into downtown Albuquerque, "old Town". We had fun shopping and wondering the streets. We found a nice place to have lunch and later Ice Cream cones before heading back to the festival grounds and our RV's.

Old Town Albuquerque Photo Album

On another afternoon we toured the International Balloon Museum. This place tracked the history of all different types of ballooning. We spent a couple of hours looking at all the exhibits.

International Balloon Museum Photo Album

Our time at the festival ended when the event ended. There was quite a lot of RV's departing over the weekend so by Monday we slowly got ready and manged to exit without any waiting. We departed our friends as they had other plans and we needed to get to Green Valley and get our RV into the AC/heat pump hospital.


Our AC/Heat pump died before we left the beach base. Once we arrived in Tucson an off loaded our "STUFF" from the RV we took it over to the service center that we had made arrangements with before leaving the NW. This turned into drawn out process of dealing with the extended warranty provider and our service provider. Needless to say there was some back and forth before that effort got going.


Our daughter Lydia and her family came down from Phoenix for a days visit and dinner before returning home. We had a days rest then our friends showed up in their rigs and spent a few days at a local RV park in Green Valley. Tom had decided to store his truck and camper at the same place I use. I helped him get setup with the place and pretty much supervised him putting his rig to sleep. After a couple of days all those folks left for points north. During this time a repair man came and fixed the lower border around the garage door that had been gouged open, by an un-named person. All was made good again!


The door had barely closed when our friends that live in Mexico over the winter showed up for an over night visit. They couldn't stay any longer as we had made plans to head to McKinney, Tx for a few weeks visiting family and friends.


After 2 weeks in Texas we headed back to GV. The RV was done and waiting for us so we paid the bill and picked it up, took it to De Anza RV Resort. This is where we winterize the rig before taking it to storage. Once in storage I check the battery water levels and run the engine and generator periodically.


When we returned from Texas we had several plastic bags of "hand me down" cloths from my oldest daughter to the youngest daughter. We set up a rendezvous half between Green Valley and Phoenix where she lives to hand off the clothes and share a lunch together her and her family.


We'd agreed to host the neighborhood fall/TG pot luck. We had few days to clean and make our place half way presentable before the party. With that event over our next party was for Thanksgiving being held this year at Herman and Nancy's.

October and November Photo Album

My brother and wife arrived early in the new fifth wheel trailer. They took an RV spot on the Tucson air base for a few days before moving to Green Valley for a two month visit. We celebrated by having dinner together at their place.


December was a blur. Susan went to visit her mom for a week. My brother and wife settled into the their spot at the Green Valley RV Resort. We had xmas parties in our neighborhood and with the HOV to attend. Dinners with friends new and old and Family. Also, took the car into have the "throw out bearing" fixed (more on this next year). We even had two Javalina's stop out back one evening looking for food. (See my Javalina video) The last couple of years we have gone to the Green Valley Concert Band performance with Herman and Nancy, again a great performance. My brother and his wife went back to Minnesota for the holidays and returned. Herman and Nancy flew to Texas for the holidays. My daughter and family came down from Phoenix for Christmas dinner. Finally at the end of the month our friends John and Marilyn came up from Mexico for a visit. The two of them come up periodically for doctors visits and such. Before we knew it the month and the year was done and us too! Happy new Year! Let's just keep the fun rolling along.

December Photo Album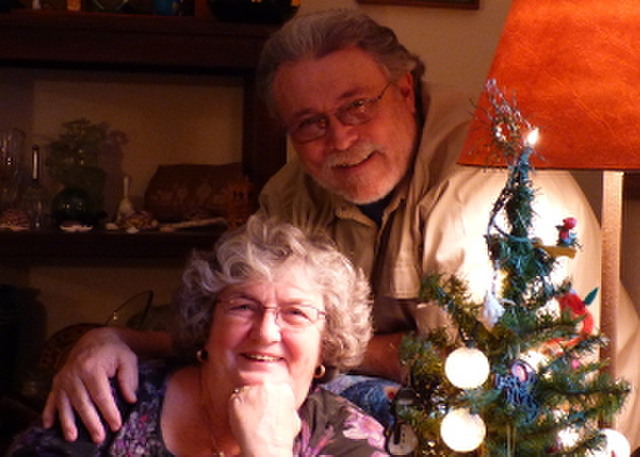 Merry Christmas and Happy New Year


Thanks for visiting our blog. More to follow for sure!

Posted on October 19, 2017