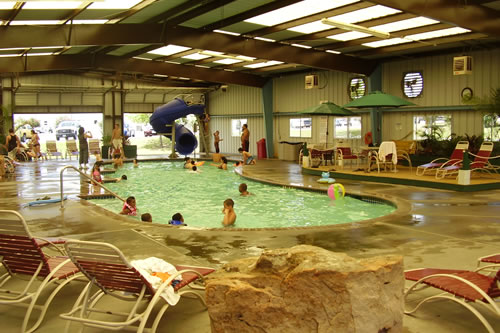 Swimming Pool at the Lake Conroe KOA
We had a lovely drive through areas of Texas we'd never been. It is always fun driving/exploring through new country. When we came to the right turn to go down to Galveston on the coast it was hard to turn north toward Houston.

Our rendezvous with the Texas Boomers was at the Lake Conroe KOA campground. This is a large but also great place. As with most KOAs there are activities for the family. We soaked in the heated and covered swimming pool until it became to crowded with kids.


The Texas Boomers are a group of folks that like RVing and going places to have a rendezvous around Texas. Our friends Jim and Marg from Austin belong to this group and we were meeting them at their April rendezvous. We had great time seeing our friends for 3 days and meeting a lot of new folks that love doing fun things in their RV's. We shared pot luck meals games and raffles. We had plenty of time to do our own things and we decided to introduce Jim and Marg to letter boxing. We had fun running around the city of Montgomery, the Lake Conroe area and the Sam Houston National Forest. We had some luck following the clues, got skunked a couple times and saw a lot of the area too. That's what we like about searching for the letter boxes exploring the area.


All to soon the weekend was over and everyone had to head off back to work. We decided to stay in this area but change locations. Our RV home base (mail service) is in Livingston and we'd wanted to see more of that area. We choose to go to Lake Livingston State Park. They had various spots available so we splurged and got a site right on the lake. We stayed for three nights. We renewed our drivers licenses in town and explored the area around the lake during our letter box outings.


Next we continued north back to Anna. We wanted to be in town early for Eli's Christening on the last weekend in April. We visited everyone again; attended her Christening and had an afternoon of letter boxing. Boy did we find some remote areas, what fun! Sometimes the clues lead us into cemeteries and sometimes a resident is involved in the clue!

Cemetery Head Stones can be Part of the Clue
Lakes Conroe & Livingston Photo Album

On monday we started to head north to Minnesota. We are going up there for a visit of the skipper's siblings. On the way we stopped in Forest City, Iowa at the Winnebego Factory to buy some needed parts. It was fun returning the dirt boat to her birth place. She was happy we stopped to fix her up. During the trip north we watched the weather real closely as there were a lot of storms capable of producing tornado's crossing our path so we adjusted our daily runs accordingly. We continued on to the skippers brother's place in Lino Lakes Minnesota.


In the twin cites the Dirt Boat was moored on the street in front of the skipper's brothers home. We proceeded to visit all of the family we could. Visiting at their homes and during pot lucks. We even had most of the siblings up to one his sister's lake home on Lake Alexander for a long weekend. What fun we had remembering growing up and visiting, not to mention the fine food.


We decided to drive from the Twin Cities to New Holland, Pennsylvania instead of flying. Even with the cost of fuel it was still cheaper to drive. We went their to help the skipperette's mom celebrate her 95th birthday. The trip lasted 6 days and all went well including a very nice family member birthday party. The drive each way was long, 1100 miles and tiring, but it was quick, 2 days each way.

Minnesota and Pennsylvania Photo Album

Once back to the Twin Cities it was time to pack up and head back to Portland. The skipper's brother had purchased a new trailer and the other brother had not seen it yet, nor had he seen our "Dirt Boat" yet. So he and his wife stopped over for tours the night before we left.


Early the next morning (9:30) we hooked up the car and bid farewell to the skipper's brother and sister in law. Then we pointed the Dirt Boat westward and headed out. Our route took us through North Dakota. Two days into the trip we came to the Theodore Roosevelt National Park. We decided to stop for the night and to take the driving tour of the park. The South Unit drive was 36 miles through the wilderness and free range roaming animals. We saw horses, buffalo, prairie dogs, and even a snake crossing the road.

Theodore Roosevelt National Park Photo Album

We headed west the next morning, within a few days we arrived in Portland. All's well that ends well. Our trip was over for a while and now it was time to visit with family and friends that live in the Northwest. After a week we headed out to the "Dirt Boat Beach Base" in Ocean Park on Long Beach Peninsula. We'll spend the summer here and enjoy visiting with family and friends, while keeping the yard looking sharp. At this point we only have 1 trip planned in the September before we'll be heading south in October.


Thanks for visiting our blog. More to follow for sure!

Created on ... July 25, 2011