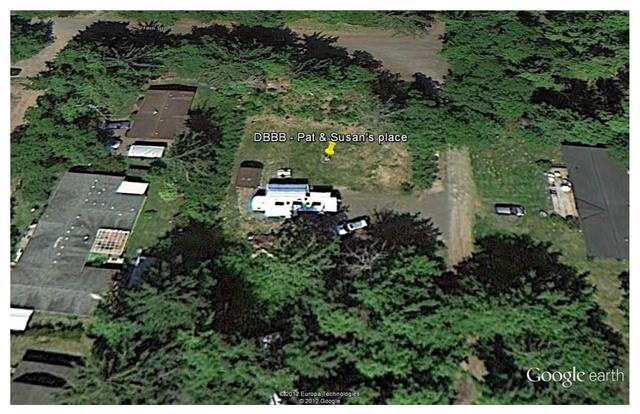 Dirt Boat Beach Base Revealed By The Satellite
(46°27'36.60"N 124° 2'12.28"W)
(Just plug the above Lat/Long into a Google search to find the Beach Base)
Can you find Pat & Susan at the Picnic Table?
What's the stick pin stuck into?
While we were in Vancouver seeking new letterbox finds at the local library we meet a couple of other LB'rs. We ended up having a lunch date a few weeks later and learned of a planned upcoming LB event at Millersylania State Park which is located just south of Olympia, Washington. Along with our hosts we decided to go to the event. Our plans were made and as happens so often in the NW a rainy and windy storm was predicted and the event was canceled. We went anyway, because we were on our way anyway to the coast, our friends were ready for an adventure and we're "unstoppable" as the local weather guys say. There was some rain and wind but not as much as was forecast. Actually there was a few sun breaks too. We did a lot of hiking while looking for several letterboxes planted around the park. Also just to show how obsessed we are we drove around the local area sight seeing and seeking more LB finds. This included grave yards, other parks and the Tumwater Falls park. Our weekend total was 17 finds. We had a great time together, and we all enjoyed the hiking to find the LB, including "RV" the dog. To learn more about letterboxing, click this link. By Sunday it was time to finish our trip back to our place at the coast.
Visit The Millersylvania and Tumwater Falls Photo Album
Since being back at our place at the coast, we've been rather busy. One of Susan's pet peeves about our lawn is that it's really good in some places and really bad in other places. You can actually see the bad lawn in the satellite view, to the right of the stick pin. Thus one of the first things to be done this year was to attempt to correct this issue. Of course the correct way to start this project was to rototill the areas to be reworked, then to flatten it down and then add new top soil (12 yards). Once that was done, Susan spread grass seed and fertilizer. Then we watered it twice a day and proceeded to watch the grass grow! Next new flowers had to be planted and the garden areas re-bark dusted. Not yet done we decided to replace the wood rounds on our path as they were falling apart and had become slippery when wet and stepped on. Our replacement was to be with gravel. Pat had been wondering if we could plant and have a garden. We found an above ground garden kit at Home Depot so a garden was born. So a yard of dirt and a yard of rock was ordered. The garden kit was assembled and planted. The old path was removed, leveled and replaced with "1/4 minus" gravel. We had left over gravel so we added an 18" apron around the fire pit. There was some other bad spots in the lawn so we turned over the old sod, stomped it down, added left over dirt, seeded, fertilized and watered the patched spots. We had to draw the line some place so after we bought a hanging flower pot and one of strawberries and replanted a third we stopped yard improvements. It's now time to cut the grass! Oh yeah continually watering everything!
Visit The 2013 DBBB Yard Work Photo Album

By the end of April we'd completed the yard work, made one trip back to Vancouver to see a grand kid Tee Ball game and an adult kid softball game. Susan planned to go back east to visit her mother for Mothers day. So in early May we went back to Vancouver to see Susan off and then Pat returned to DBBB to water everything. There was a heat wave at the coast for a week. Which has made it very dry spring here in the NW!

On May 9, my son and his girl friend and her 2 children called to see if they could come out and camp at our place on the weekend. It was going to be for one night, as they had to be back for work. They had a great time camping, visiting the beach and we even had a fire in our fire pit. They made "smores" and the rain held off until after all were in bed.


Over the weekend we got news of a terrible and tragic accident that had happened to Pat's daughters husband. I had to ask my son to pack up and leave early so that I could catch a plane to Texas.


We had a memorial service for Jay the following weekend. We had the service on May 19th. 550 people were in attendance. He was much loved by many people at Discount Tire, family members and friends. There has been such an out pouring of help that at times my daughter is over whelmed. I again got to see my son and my other daughter and her family from Phoenix and three of my Minnesota siblings and a sister-in-law. It was nice to see everyone but not under these circumstances. Susan and I are staying on in McKinney, Texas for a while to help my daughter and her three daughters get back on an even keel.


Susan will be returning to the NW in the middle of June for family and personal business. Pat will stay on in Texas for a while longer.

Thanks for visiting our blog. More to follow for sure!