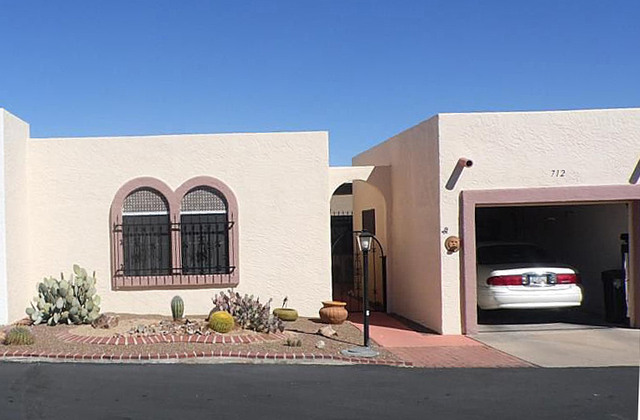 Our New Pairaiso Base

Honest, we were just looking and then we found it - Our new townhouse in Green Valley, Arizona - Aka the Pairaiso Base (712 W Pairaiso Pl). Put I'm getting way ahead of myself. Let's rewind to our arrival in Mesa, Az. in October (2013).


We traveled east out of Oregon and down through eastern Nevada. It was a cold drive as we were up in altitude and in late fall. By the time we passed through Las Vegas it was beginning to warm up. Our target was Mesa Az and RV park that had a good fall special. The first week or so were restful as we settled into the Apache Well RV Resort life style and Arizona in general. Our spot was within a stones through of our friends Brent & Molly. They own a park model and have been coming here for years. We did some letterboxing and family visiting. One of the Letterbox people we meet lived in a RV park where another resident had 2 pet tortoise. Of course we had to see them!
Our Spot-------------Brent & Molly's---------------Big Tortoises

Susan left for a week in PA at the end of October, she ended up having to stay for three weeks as her mother had fallen for a second time in two weeks by the time she arrived, injuring her back and was then scheduled for an operation. She stayed until her mother was stabilized and in a rehabilitation center.


Susan arrived back in Mesa by thanksgiving. She brought back news that her mother will most likely be moving out of her independent living cottage and into an assisted living situation and that we had volunteered to move her out, dispose of her belongings and move her into her place and store the remainder her belongings. However we weren't sure when that was going to happen. This was going to impact our plans and become a moving pivot point for the season.


We finished out our reservation at the RV park by mid-December. We enjoyed visiting with our friends and family that live in the area. We also managed to get in a few Letterbox finds.


We drove to our next RV park, Mt View RV Ranch in Green Valley. We use this RV park because its close to our friends Herman & Nancy's place and now our new place. This would be a short stay as we had to prepare the RV to sleep for a few months. Within 4 days we were driving the car to McKinney TX., and our next adventure. We had made a commitment last June to accompany my daughter, Jenica, and her three children to Disneyland for the Christmas holiday and the following week through New Years Eve.


Everyone had a great time wondering around Disneyland, waiting in long lines, eating very expensive mediocre food, while seeing all their favorite attractions. Besides being there on two days when they closed the attendance doors as the crowds had exceeded the 65,000 limit, Pat managed to pickup a sinus infection and had to visit the ER. That put him on the side lines for three days, while the two ladies managed to keep the young ladies attending attractions. (they are saints) Everyday the troupe would return to our room totally worn out. Everyone got the appropriate amount of souvenirs, Pat included, lots of video was shot of all the action and crowds. I'm sounding a bit negative, sorry, I think the grand kids had a wonderful time, I think my daughter had a wonderful time showing her kids Disneyland and seeing the excitement and joy in their faces. The grandparents ran out of energy long before they climbed in the return plane seats. I think after a week of running around everyone was tired and ready to go home too.

Visit The 2013 Fall Acticities's Photo Album

January started off relaxing while we waited to hear from Susan's mother's nursing care as to when she was going to be released to her new assisted living studio. Also, Pat's daughter had scheduled a foot operation in early January that we (Susan) were asked to help out around the home while she convalesced. After a week she was able to function on her own.


So by mid-January all was in place for us to fly to PA and move Susan's mom out of her independent living cottage and into her assisted living studio. This was a scheduled two week operation. Susan's brother had arranged for the movers and a storage place and a place to resell some of the nicer furnishings. So when we got there we started by having Susan's mother identify everything (clothes/furniture/paintings/etc.) she want in the studio or just kept. Next Susan and her brother made choices of the items either they or a family member might want either now or later. Then the items for resale were identified and packed up for subsequent pickup. So within the first few days Susan's mother was moved in and setup in her new studio and the reseller had picked up those items. Next we had to divide the remaining stuff into items for storage, for the "reuse it" store and the rest being garbage. I won't bore you with the box/trash bag counts for each destination but suffice it to say there was a lot of everything to get ready. Most every night we eat dinner with Susan's mom in her new digs and then went back to her mom's old cottage and collapsed. Finally everything was moved out including us, we had to move to a motel for the last three nights. But wait there's more! Despite having a closet and moving three dressers into her mom's new studio room she still insisted that she didn't have enough storage space for her hanging clothes. So we ordered a new upright closet. Of course some assembly was required, in fact all of it. Our last two days were spent assembling the new closet, rearranging the clothes and finalizing the studio setup. Susan's mom was thrilled at how everything had happened so fast and now she was ready to begin the next phase of her life, at 97.

Visit The 2014 Moving Mom Photo Album

February 1st we flew back to Mckinney, Tx where we recovered from our two week forced march. We visited with the family. We have some friends that live in different parts of Texas so we decided to visit them, so off we went south to Austin and a visit with fellow RV'ers, Jim & Marg. These folks are also Letter boxers which meant we spent time searching out new finds around Round Rock Texas. After a couple of days we headed south again to Victoria. We had never been in this area of Texas where some of our Portland friends, Dave & Gloria had moved. These folks are ex-boaters and very casual Letter boxers. We didn't do any LB during our visit but we did travel to the gulf coast and visited Port Lavaca and then on to Matagorda and a glimpse of the gulf. As you would have it it was RAINING and foggy so we didn't see much! We could tell that this area would be fun to explore if you had more time and the weather was better. We also went on a second trip to Goliad Texas and visited the Mission Espiritu Santo and a fort named Presidio la Bahia. The mission was one of several in Texas, created by the Spanish as they moved north settling the area. The fort and the area around Goliad played a big roll in Texas independence struggle with Mexico. After our tours we went into Goliad and had lunch the Hanging Tree Restaurant. The restaurant is named as it sits across the street from the Goliad hanging tree on the grounds of the court house. Lunch was very good and we did watch our Peas-N-Ques carefully making sure we didn't break any laws ... that we know of .... :->

Visit The 2014 Travels in Feburary Photo Album

This was the end of our southern Texas visit and we turned northwest to head back to Green Valley, Arizona. However we had to made a detour to Mesa, Az to turn over some cloths that Pat's Texas daughter was handing down to his daughter that lives in Phoenix. We stayed the weekend then headed to Green Valley. It was now time to get ready to head to Mazatlan to visit the boat after a two year absence. But that was not to be for awhile yet.


When we are in Green Valley we usually stay at Herman and Nancy's townhouse. They are very good friends from our days of cruising, their boat is a 36' Cape Dory named Sea Tern and is now for sale in San Carlos. (more on SC later) Now they winter in Green Valley and summer in the NW in their RV. We've been staying with them on and off for 4 years now and we like their neighborhood and the Green Valley Recreation Center amenities that came with ownership. We had thought that maybe sometime down the road we'd get a place in this area. So as we past time getting ready to head to Mazatlan we decided as a "lark" to see some of the town houses that were currently for sale. Just to see what you get for the money and the different interior layouts right ...


These fun activities were interrupted by Herman waking up with symptoms of a stroke on the following Sunday after our arrival. Nancy got him to the hospital and we immediately decided to stick around and help where ever we could. He stayed in the hospital for several days for observation, so we spent our free time looking at more townhouses. A couple caught our eye, but we didn't think we could qualify for a purchase at this time (see how easily we slipped into purchase mode). So we found ourselves in a recommended local bank, filling out forms to qualify for a loan, somehow we did! (this blew us a way) So the next logical step was to see if we could buy a place. (what are we saying/doing?) After more paper work, our offer was accepted. (Here is a video of our new place if you haven't seen this before: The Pairaiso Base Video). By now Herman was getting out of the hospital, that was good news now we could continue prepping for our trip to Mazatlan.


This was not to be, as we got some horrible news that our grand son had past away in Portland. Susan immediately flew there to be with the families and help out. Pat stayed to continue the house purchase process (what did I just say ??) It was a good thing to as Herman woke up the following Sunday with blood in his stools. He'd started taking blood thinner and this was a risk. So he went back into the hospital to determine where the blood was coming from. Meanwhile Susan was busy in Portland and Pat was busy in Green Valley running around getting all the paper work handled and helping out Nancy as much as necessary. By the end of the first week of March, Herman had returned home from the hospital and seemed to be on the rebound. Susan was scheduled to return at the beginning of the next week. We decided it was now or never to made a quick visit to the boat. So Pat finished getting everything done related to the house purchase, the pending closing on April 17th and packing for Mazatlan. So by Wednesday Susan had returned and we left for Mazatlan.


We stayed the first night in San Carlos which is our normal first stop. We meet up with some boating friends Brian and Laurie (SV Exodus) and went out to dinner. At the restaurant we meet another couple that we knew, Ron and Karen (SV Aegean Odessa) so we all sat together and had a great time telling sea stories. The next day we moved on to Mazatlan.


After all the delays and the pending closing we ended up with just a month to check out Perpetua and address any issues. Another reason we had wanted to be there was that there were two couples from Portland coming down for their winter shot of warm weather. That meant we'd have some buddies to hang around with. As other folks, who are normally there wouldn't return until just before we left. As usual after inspecting the boat and testing its systems there were issues to be dealt with, surprise surprise. So between boat projects, dentist visits and bingo (BINGO!?) sessions at The Torres Mazatlan a local time share hotel, breakfasts and dinners out we were quite busy. Also we had prospective buyer making inquiries and trading offers on the boat and then disappeared back into the woodwork. While in Mazatlan Herman and Nancy contacted us to ask if we would help them do some work on their boat Sea Tern after we returned to GV. Our month in Mazatlan zipped by fast and ended all to soon. The return trip to Green Valley through San Carlos was uneventful.

Visit The 2014 March & April in Mexico Photo Album

Within days of returning we closed on the house, bought groceries, moved into our new townhouse, and unpacked our suit cases, most everything else was included. (did I just say this?) It was real weird for Pat as this was his first purchased brick and mortar home ever! The DBBB is just a lot we park the RV on. We celebrated our newest purchase by having Herman and Nancy over for dinner. Within a couple of days we had our first guests. Our good friends from Brent & Molly from Mesa came down and spent a couple of days in our new guest bed room. Even did a couple of Letterboxes.

Visit The 2014 April Photo Album

The San Carlos work party on SeaTern was scheduled for 4 or 5 days. We did it in 4 days. The boat had been moved from the storage area into the work yard ahead of time, so once we arrived we could start, Right?, well not quite. They had asked for the boat to be washed which it hadn't and we realized that the main cabin key was forgotten. Not a problem the broker had a key except he was hard to find. After running around we got the key and scheduled the boat washing. Susan and Pat commenced sanding the top side wood, while Nancy cleaned down below and Herman worked on charging the batteries in preparation for starting the motor. We ran into Ron and Karen (SV Aegean Odessa) at our hotel, so during our off hours we had some more cruisers to share dinners and sea tales. The work moved along quite well and we managed to get all the required wood painted the inside of the boat cleaned and the engine even started, after 3 years. Nancy and Susan finished up by replacing the bad sections of the screening used to cover the boat. With the work completed it was time to head state side. By late Thursday afternoon we were back in the Pairaiso Base.


A longtime friend of Pat's had indicated that he might be able to visit us at the Pairaiso Base. We finalized the arrangements and our second guest showed up more or less on schedule. He could only stay for a few days. It was great seeing him and catching up after 14 years. Dale lives in America Samoa and rarely gets to the states. We celebrated his 79th birthday royally and then he disappeared back into the wind. I miss him lots!

Dale & Pat

Pat's granddaughter in Phoenix was turning 2 and the two granddaughters in Texas were having their first Gymnastics competition. ROAD TRIP! So on the 9th of May we headed to Phoenix for Zenaiyah's second birthday party. It was as grand party! (for a 2 year old) Our friends in Mesa Brent and Molly put us up for the night and gave us a chair for our new place that they no longer wanted. We said we'd give it a good home and gave them visiting rights whenever they are at the Pairaiso Base. The next day we were off to Texas. We got there on mothers day, the 1st anniversary of Jay's passing (Jenica's husband). We spent a great week with the grand kids and the gym competition was well attended by parents and grandparents. Also, the events moved around the gym floor for each different event. Since we had 2 girls participating we had to split up and hope we got to see each compete. It was a great performance by all the gymnasts and quite the challenge for the observers charging around the gym all of us with cameras.


Susan had decided to fly to Pennsylvania to visit her mother. She usually does this twice a year. Fall and spring. (this last year was an exception) The catch 22 was that she was flying back to Tucson. So that meant Pat had to drive back alone (what!) and get back in time to pick her up at the airport. This all worked out with a couple of days to spare. The well traveled new chair was setup and placed in the front room, and the car unpacked. Susan arrived on schedule on the 24th of May.


The next day was Pat's birthday and Pat's daughter from Phoenix, Lydia and her family were supposed to come down to see our new place and help celebrate his 67th birthday with our other friends Herman and Nancy. However after reading on Facebook that they were sick and a couple of phone calls it was decided that they would not come down for the visit. The party was very nice if not smaller.


No rest for the aged, on the 26th on May we got the RV out of storage moving it to a nearby Mt View RV Ranch. Then we began getting it ready to head north. We had to pack all our stuff to go north back into the RV, plus other stuff that had to go north, get some groceries, test the water system, take on fresh water, check engine fluids and test all the RV systems. A few things weren't working perfect but nothing that prevented us from leaving. Oh yeah, we had to close up the Pairaiso Base and make arrangement to have a caretaker look in on the place and check our mail.


On our scheduled departure date the 28th we picked up Herman and Nancy as they were making the trip with us, because they couldn't drive back themselves and it was cheaper then flying. Pat had planned a 5 day 4 night trip to Vancouver. The first night we stayed at a campground on Lake Pleasant. This is a large county park on a reservoir just north of Phoenix. We got there early in the day. We double checked with Lydia to see if the flu had run its course and it hadn't. So we explored the park only to find out that the visitor's center was closed. Did I say that it was hot outside, it was, so in mid-afternoon we all donned our swim suites and found a place we could drive almost into the water to park and then slipped into the chilly water. We got used to it fast and it was a great relief from the heat of the day. Herman tried to avoid the swim saying he'd forgotten his suit, Pat got out one he could wear after cinching it tighter by several sizes. He was glad he slipped beneath the water and he was the last one out!

Pat & Herman & Nancy
Swimming in Lake Pleasant
Visit The 2014 May Travels Photo Album

The next day we were off to Phrump, Nevada. We have some boating friends (Mel and Shari MV Mi Casa) that had just bought a place there and had space in their drive way for our RV. When we got there they wined and dined us with a great meal. We had fun visiting and catching up on each other activities.


The next three days were spent driving up the eastern side of Nevada, passing by Walker Lake again, and stopping in Fernley and the NW side of California. Once again passing through Klamath Falls, Oregon and then on to Vancouver. Our friends there let us park in their driveway. We arrived there on June 1st. Herman and Nancy had their daughter come over and pick them up.

Visit The 2012 Phoneix Trip NW Photo Album

June 1st was our friend and host, Sue's birthday, so let the partying begin. We spent the next three weeks visiting family and friends, seeing many baseball games, ballet performances. We celebrated birthdays and anything else we could come up with. We both managed to catch nasty colds which we are still recovering from. On June 22nd we headed the land yacht, toward the Dirt Boat Beach Base (DBBB). This completed our round trip starting last October. Whew!


If all that travel wasn't stressful enough during this same time period we lost 1 grandson, 3 aunts and 1 cousin.


To say we're glad this season is over is an understatement!


Thanks for visiting our blog. More to follow for sure!