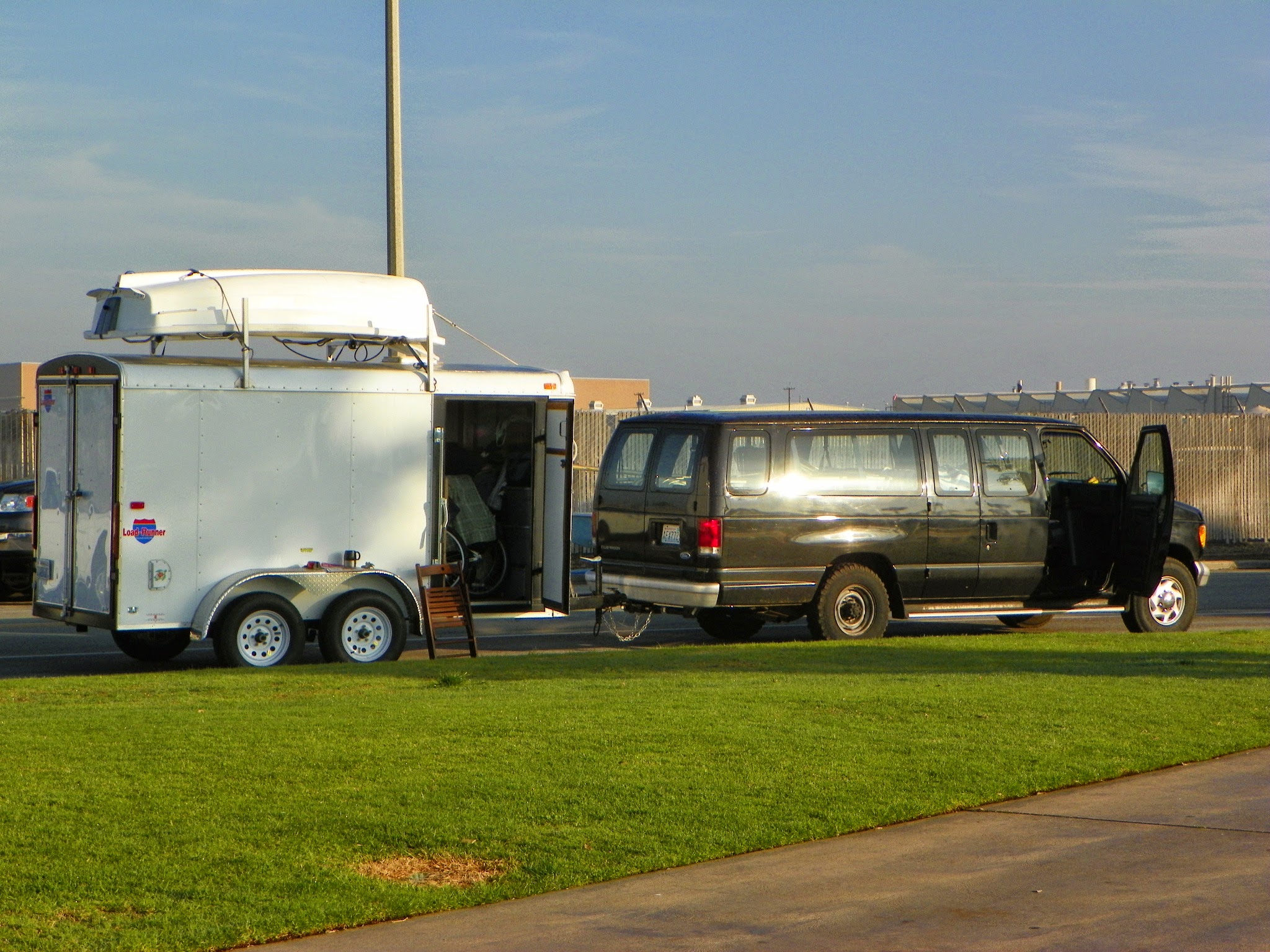 In 2011, when we quit our 9-5 jobs to buy a sailboat and go cruising, we debated on what we really wanted to keep from our stationary life. I had a few bigger things that I could not part with, and since my parents had just sold off all of their possessions to go cruising themselves, we didn't have anywhere to put our extra stuff. (Mike's parents didn't know it then, but they would be taking care of much of our mail!) Our solution: a Storage Trailer.
Like our blog? Please follow us at pacificsailors.com!
We thought that after a few years of cruising we might need/want to go back to a house and job, so we wanted to keep some of our hand-made furniture. Problem was, we had no idea where we would call home next. Renting a storage unit in Portland, Oregon (where we had been living for five years) made no sense since we also had to get a lot of our things to the new boat we would soon be purchasing in a yet unknown location.
So we bought a 12' dual-axle storage trailer, insulated the interior, and made sure it was well sealed from the elements. When it was finally time to move aboard our new boat,
Camille
, we towed all of our remaining possessions from Portland to San Diego. We were very lucky to be able to store the trailer with family for the next five years!
We lived on 
Camille
for three years and when we sold her (back in San Diego) the storage trailer once again came in handy since we had a place to store all of the extra boat gear we didn't want to sell with the boat. We were also able to remove big items to make her more presentable to potential buyers.
Fast forward another couple of years and we are once again boat owners. Last year, after buying
Limerick
 and with the help of Mike's parents and their 4Runner, we towed the trailer back to the Pacific NW. It is currently parked in a boat/RV storage yard just up the road from the boat in Anacortes, Washington.
On the drive to Washington we were very glad that we had paid extra to have a two-axle trailer. We lost a wheel on the freeway and nothing bad happened. A work trailer with only a single-axle didn't fair so well!
Currently, we pay $40 per month for a 30' RV storage space. That is enough space to also park our 
minivan
while we go cruising during the summer months. A huge bonus! We don't have to pay for costly marina parking or worry about the car being in an unsecured lot.
While we were between boats, we often ended up in San Diego and were able to stop by our storage trailer to change from winter to summer clothes, pick up suitcases for work trips, grab ski gear to head to the mountains, prepare for our 6-month work trip to 
Alaska
, or to pick up our snorkel gear and the inflatable kayak for our trips to
Panamá
 and
Mexico
.
Right now we are able to store some things in the trailer that would get in the way while we are working on the boat. We will pick up the
inflatable SUP
,
inflatable kayak
, generator, and various other things before going cruising this summer. We might even pick up a few summer clothes!
Ours hasn't been the normal cruising life of leaving behind the rat race and sailing off to distant shores. We still work seasonally and don't really want to be in the Pacific Northwest during the winter months. We also like to land-travel in our minivan, spend winters in Southern California to be with friends and family, drive cross country to a job site, and live in a real house once in a while. All this variety keeps things interesting, but it would be a lot harder to do without our little trailer!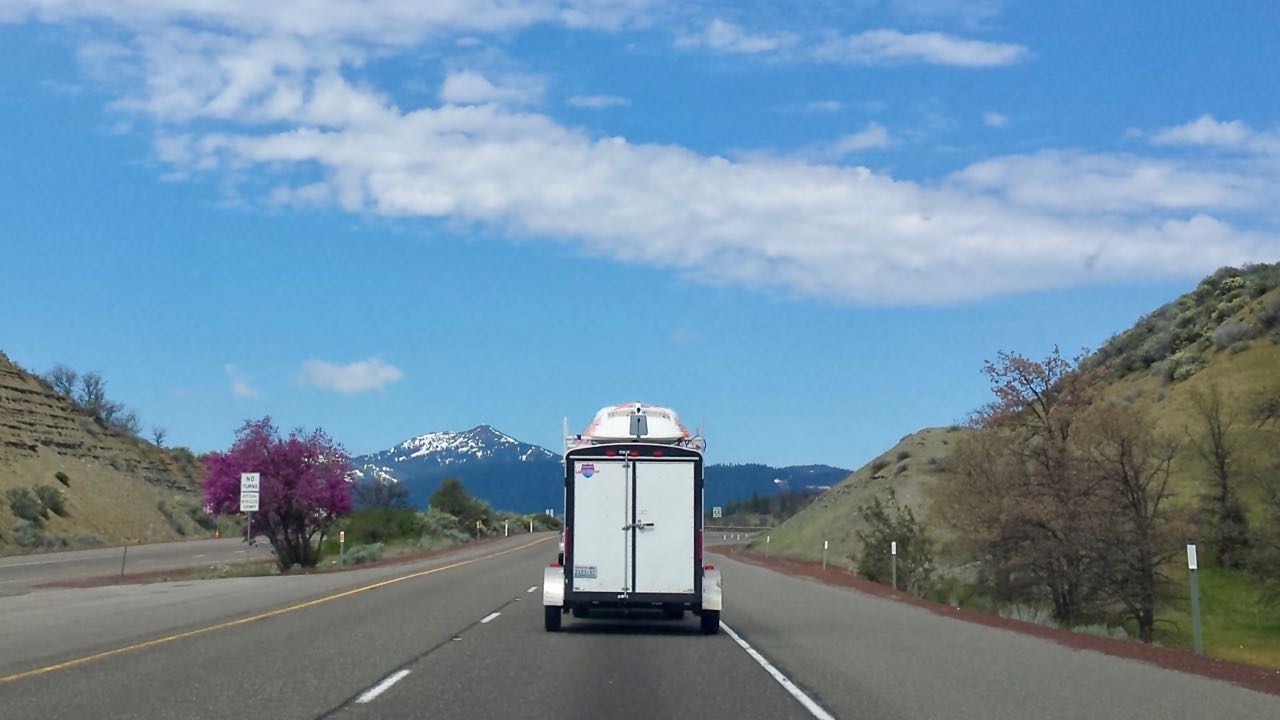 Replacing the lost wheel hub after spending an unplanned night in Bakersfield
We finally had a chance to unload everything and re-organize before heading north. It's not often that we have the use of a garage. It sure makes life easier!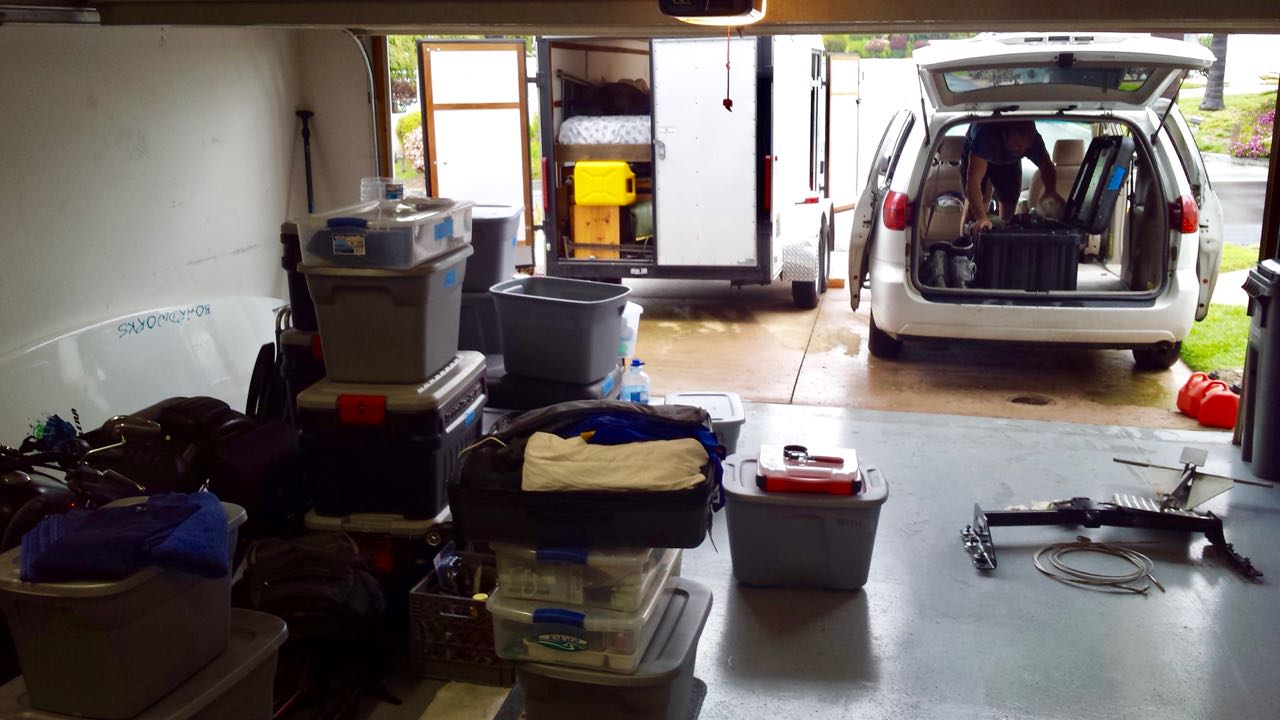 We are always taking and leaving things with the seasons. Not sure where we would store Mike's ski gear if we didn't have the trailer...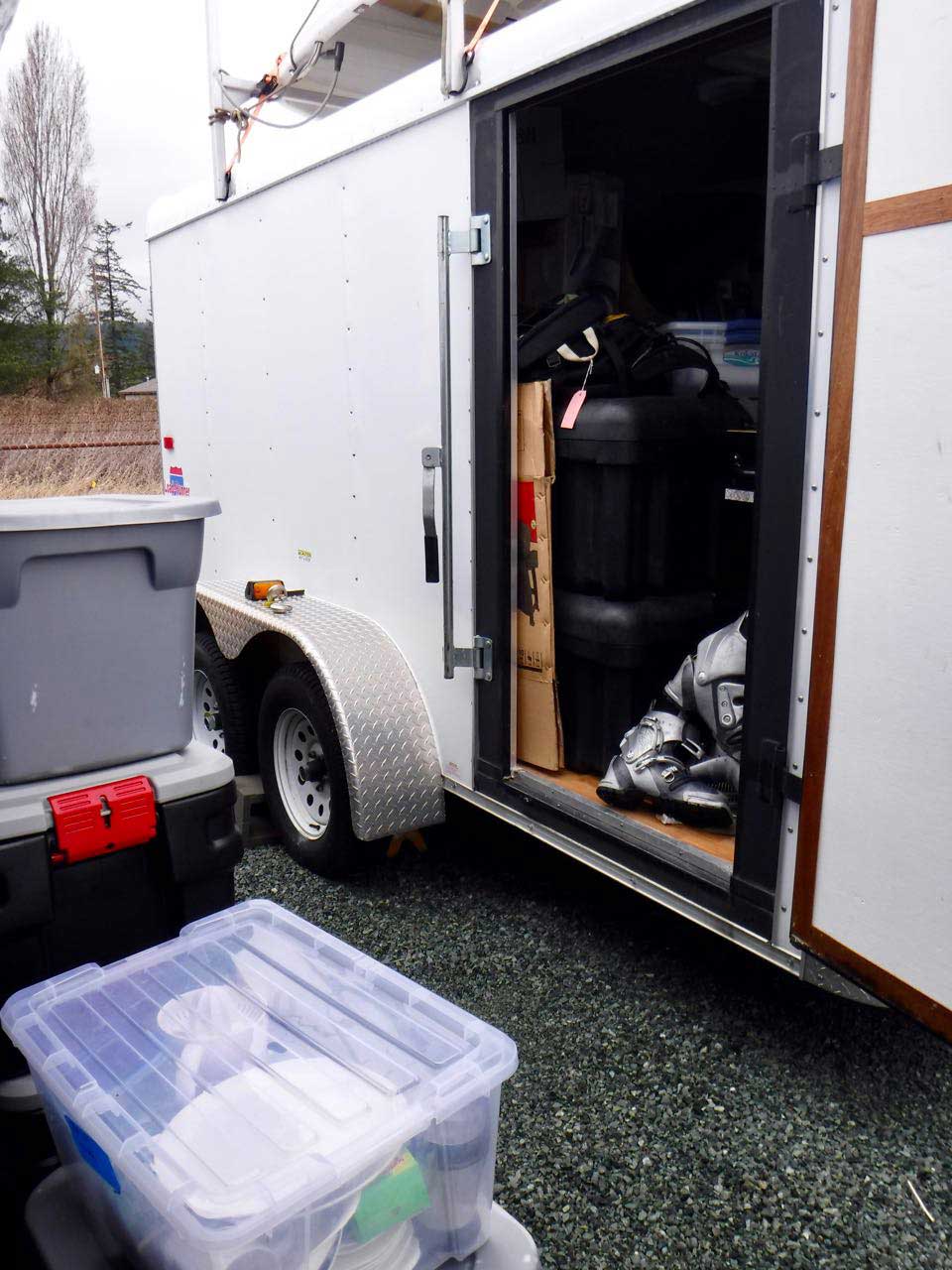 The trailer in the storage lot with enough space to leave the minivan while we cruise. Notice that little boat on top of the trailer? That's a 
Walker Bay
, and after baking in the California sun for the past five years it still looks great. Tough little boats!