Check out our website for more!
While we're waiting out winter in Washington, we're slowly preparing for the upcoming cruising season.
Limerick is all wrapped up
at the storage yard and we are sitting by the fire thinking about how to improve our daily commuter
Shamrock
, tender to Limerick. You know all about our
minivan
, but when we are out cruising our "car" is the dinghy.
We have spent a lot of time optimizing our dinghy setup, here are some ideas you may want to consider for your own dinghy. Let us know if you have any other great tips and ideas in the comments!
Deploying the Dinghy
Having a dinghy that can be deployed and retrieved quickly and easily is a key element of a cruising boat. Our dinghy is on a hydraulic lift with the outboard on a swing bracket. The outboard sits upright when the dinghy is secured and rotates into position as the dinghy is lowered. We can deploy or retrieve the dinghy in less than a minute. This proved to be very useful when our engine quit (due to clogged filters before we
replaced the fuel tanks
) just outside of an anchorage. We deployed the dinghy and gave ourselves a tow --  another great reason to have a powerful outboard.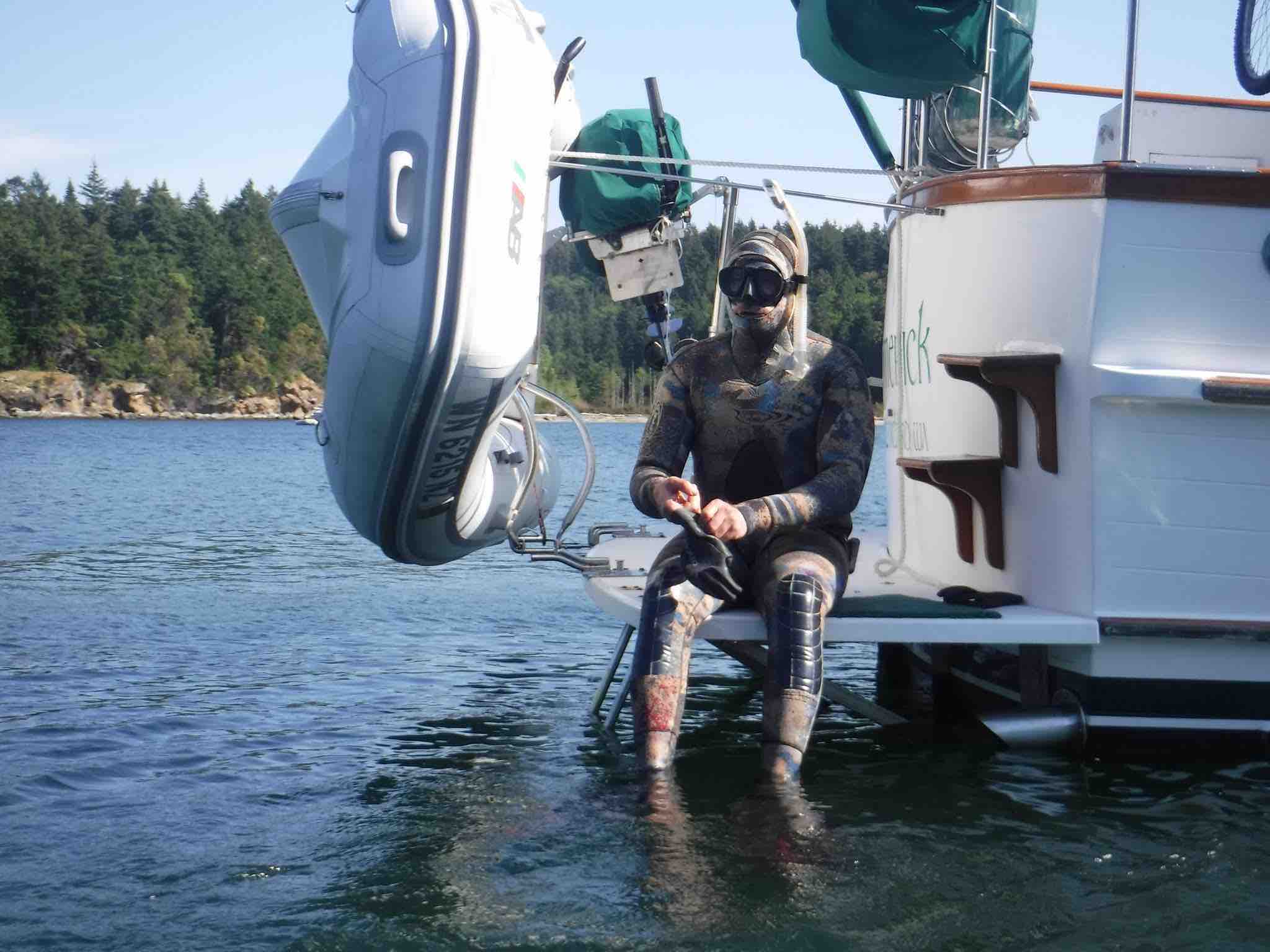 Going to Shore in the Dinghy
After having to heave our dinghy off the beach, swimming out to the dinghy during a high tide, and seeing others struggle with high and dry boats we went looking for solutions. Back on
Camille
, we had folding
dinghy wheels
so we could roll the dinghy on the beach, but
Limerick
's dinghy's outboard is too heavy for that and the beaches here aren't hard-packed but mostly gravel. We found this
amazing anchor bungee.
Along with a good anchor and a very long float line, we can now anchor the dinghy far off the beach and pull it back to shore at almost any stage of the tide.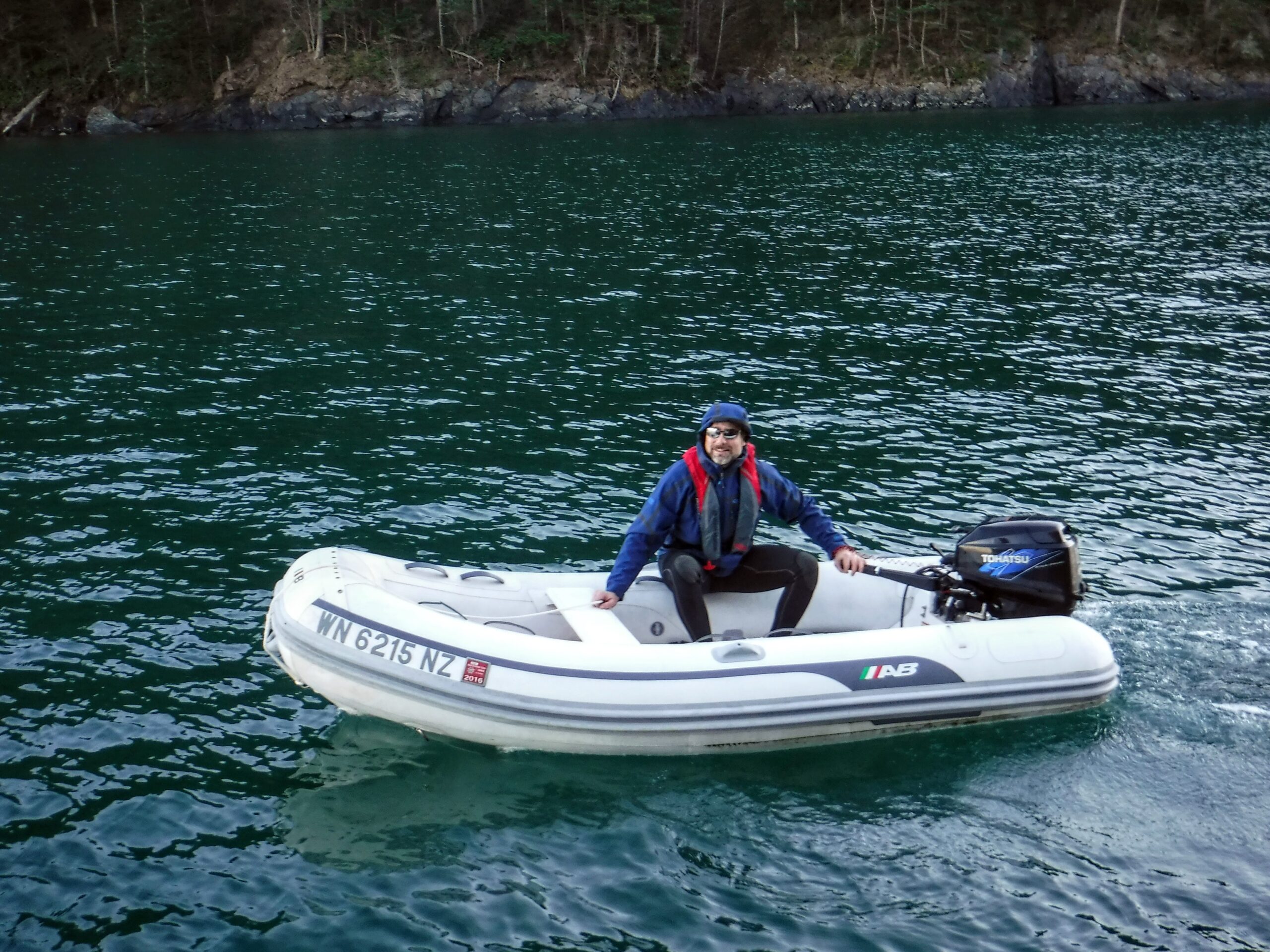 The anchor just happened to fit into one of the hoist brackets. Mike also added a
Racor fuel filter
below the outboard.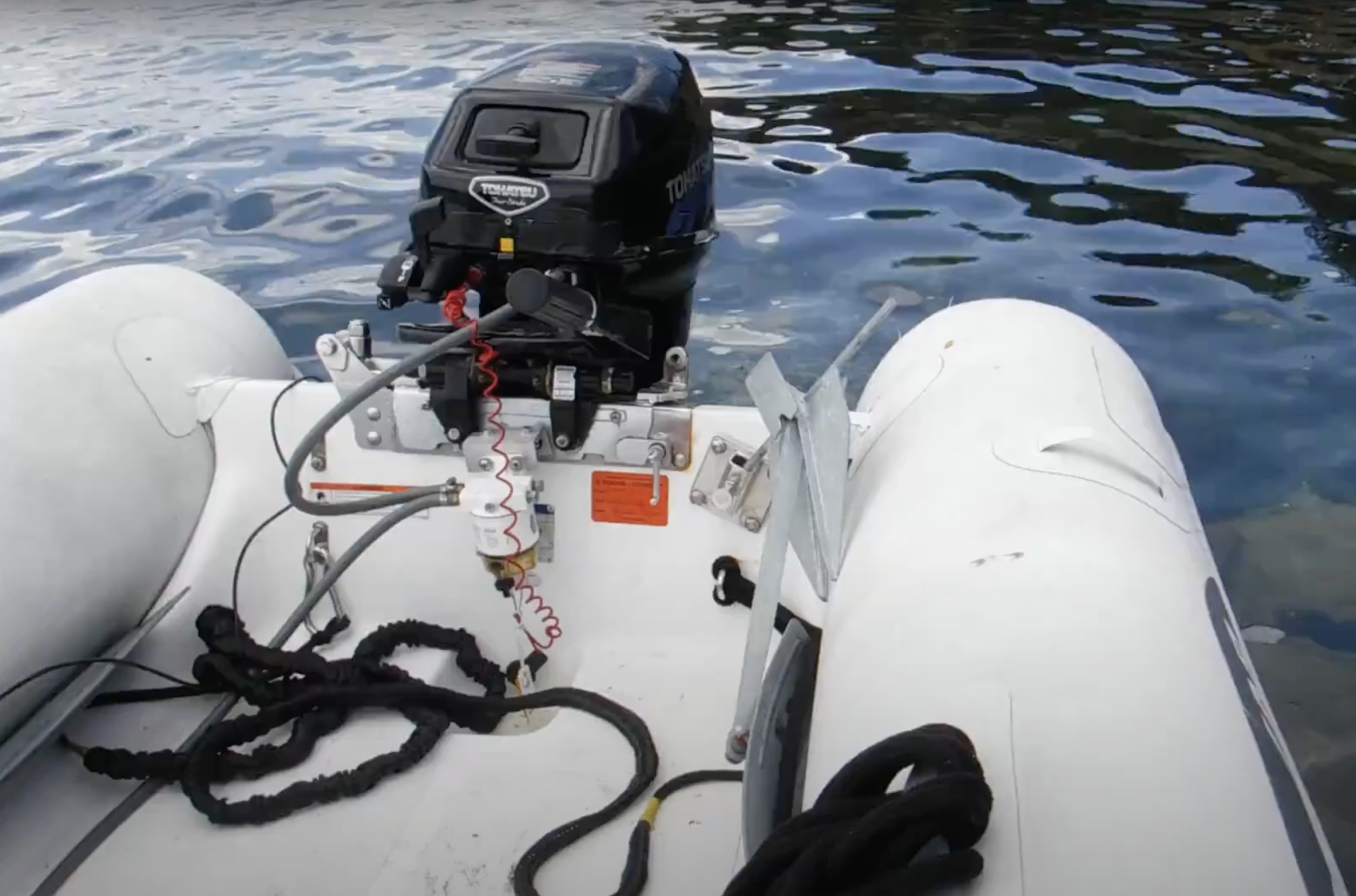 Demonstrating how the dinghy is pulled off the beach by the bungee.  
Launching our previous dinghy with
wheels
in Baja.  
Getting out of the Water
Getting back into a dinghy is not easy even if you went in the water by choice. If you fell in, are cold, and wearing heavy clothes, it can be near impossible, even with a rope ladder (they swing under the boat making it near impossible to climb). We found
this great dinghy ladder
that doesn't take up much space. The narrow, three-step model works great for our dinghy.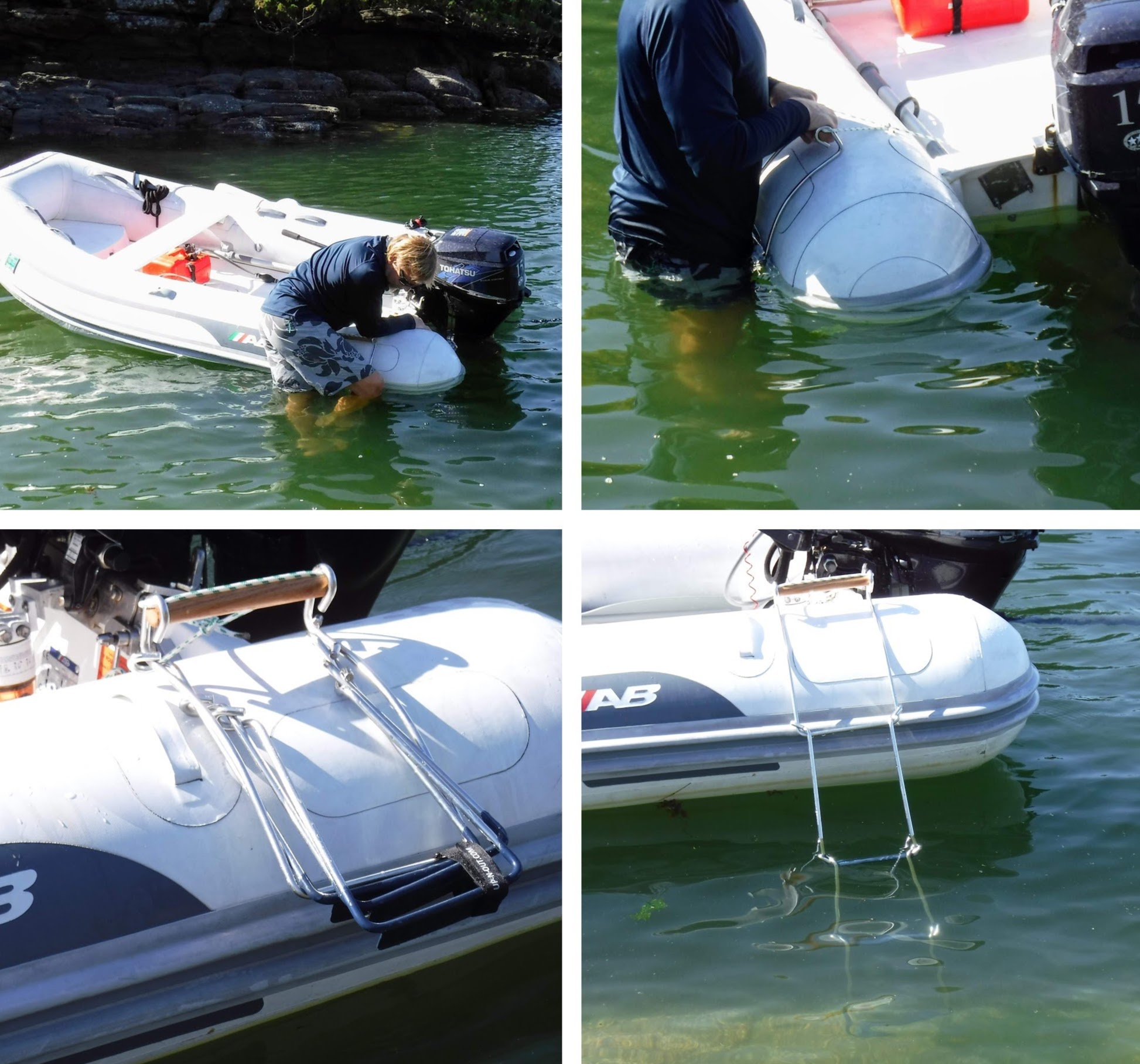 Finding the Fishes and our Location
We were using our phones for navigation in the dinghy but we also wanted a sonar to find the good crab and prawn fishing spots. This
chart plotter/fishfinder combo
even plots new soundings to our tablet and we can find those yummy fish down to 600 feet. We also use it on the kayak and go into more detail in
this post
. The
battery
to power the plotter is water-resistant, very small, and lasts all day. We still need to figure out better cable management though.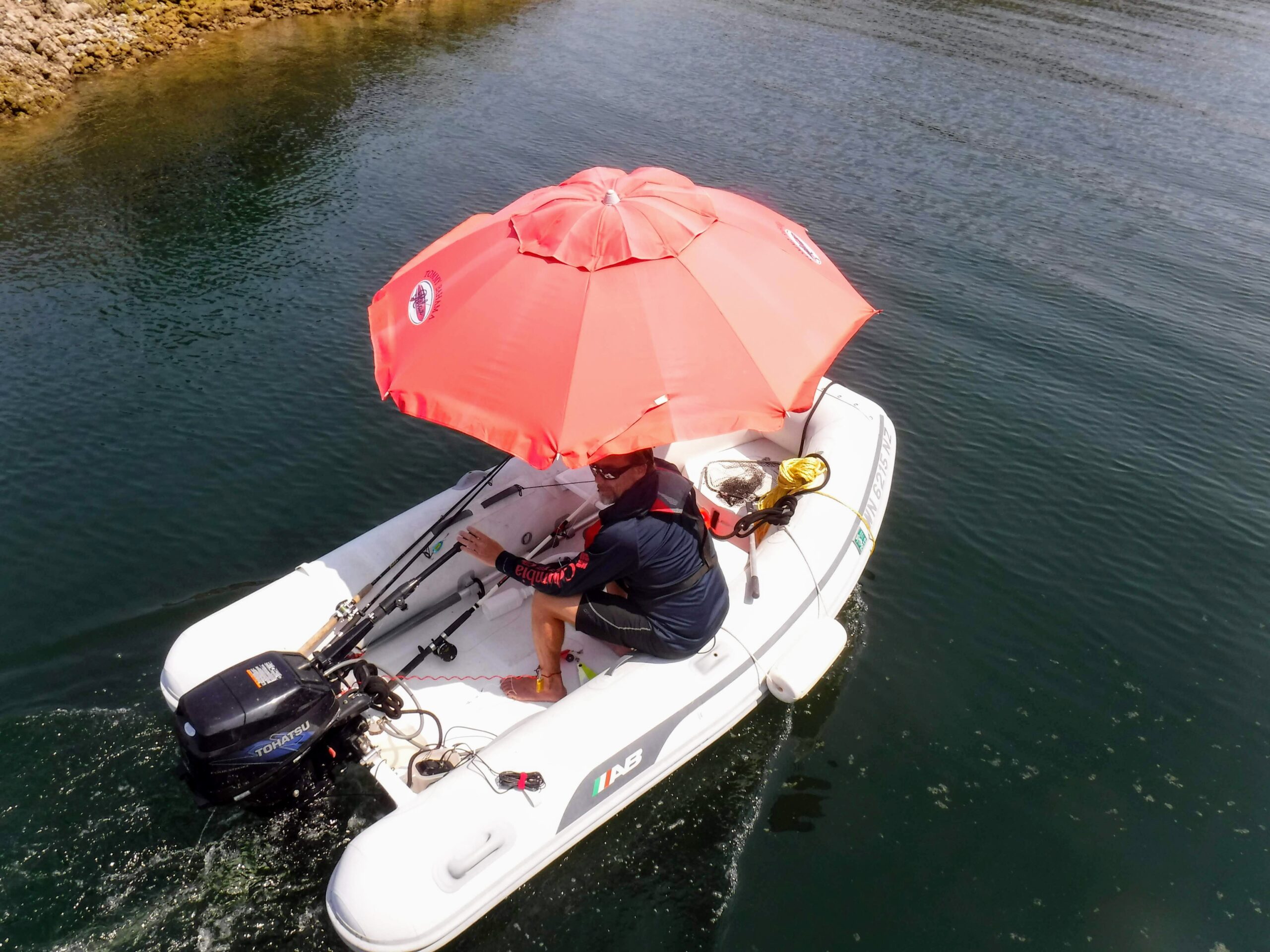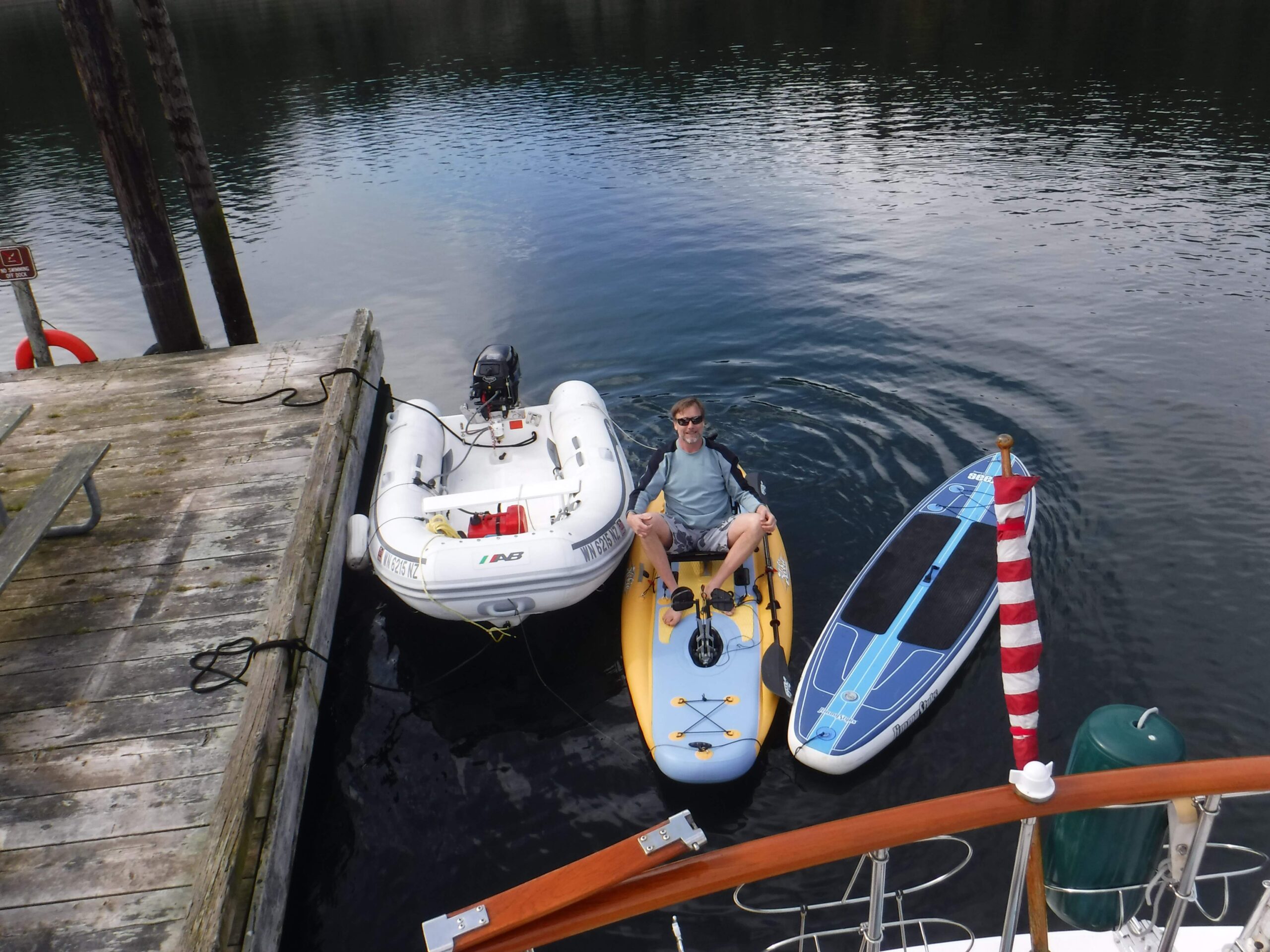 Things we always keep in the dinghy
Throwable cushion
- We have a
seat cushion
(aka throwable device in case of a man-overboard situation) that is covered in vinyl rather than the ripstop fabric most cushions have. The vinyl fabric doesn't absorb moisture so we can sit on it after just a quick wipe. They are harder to find and a bit more expensive. We always have a microfiber cloth or two on the boat as well.
Lifevests
- We were lucky that our boat came with six manual inflatable life vests (one is required per crew). We also have two automatic
Mustang lifevests
with built-in harnesses for rough weather. We keep the manual ones in the dinghy.
Info Sticker
with our boat name and phone number inside of dinghy in case it drifts away due to a badly tied knot (we always attach with two lines but you never know.) We also have stickers on the kayak and paddleboard. We picked up free ones from our local chandlery but you can also order them
here
.
Small tool kit
that includes spare parts like spark plugs, fuel filters, and a spare outboard key (PLEASE always secure your kill switch to your wrist or ankle, we know someone who lost a leg from being run over by a run-away dinghy.)
Nalgene (emergency) bottles
are great to keep small items dry. Ours contains an emergency whistle (required), a tiny compass, electrical tape, spare batteries, baggies, a tiny first aid kit, waterproof matches, a flashlight, a Swiss Army knife, pen and waterproof paper, hand warmers, and a space blanket.
Oar Tethers
- After losing an oar when we were towing our dinghy behind Camille, we now use
this poly-braid
to attach the oars to the dinghy.
VHF
radio
that is waterproof and floats (and we always bring a cell phone).
Drybags
- They don't stay permanently on the dinghy but we always bring at least one along, to hold our phones and dry clothes as needed. I don't like the heavy, rubbery drybags. Check out
these ones
are made of an ultra-light nylon material.
Cable Lock
- Dinghy theft was more of a problem in Mexico but we still try to be vigilant. We use all Yakima products with the same lock so we just need one key. This
cable lock
is nine feet long and covered in rubber so it doesn't chafe the dinghy.
Instant Patch Kit -
There is no use in carrying the patch kit supplied with the dinghy -- that takes hours to dry. If you are out and about you need to be able to patch a hole instantly. For a Hypalon dinghy, get
Type A
. For a PCV boat, get
Type B
.
High-volume pump
- This
air pump
is small, has no parts that break or rust, no cumbersome hose, and you don't need a flat surface to use it like with a large foot pump. Best of all, it's made in the Pacific Northwest. Don't forget the
pressure gauge
.
Bailing Device
- We love our dinghy's flat interior floor to keep the crew stable.  At the back of the dinghy is a depression to collect water, making it super easy to bail the boat and keep the floor clean and dry. It can also hold clams.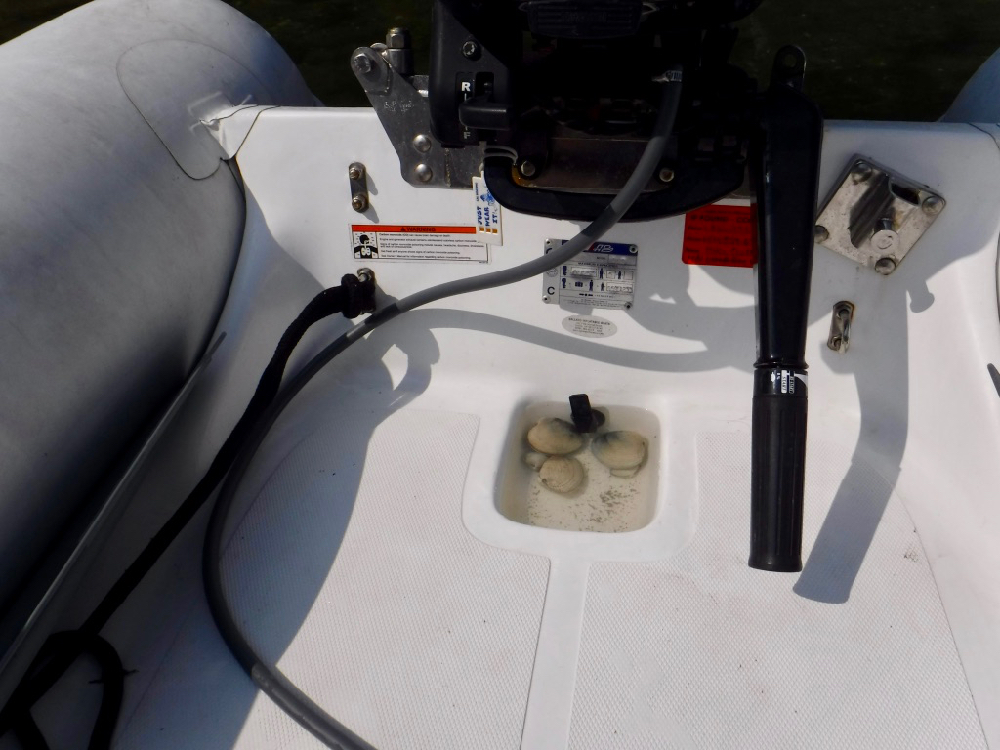 Some of these items have been replaced with better options (see list above)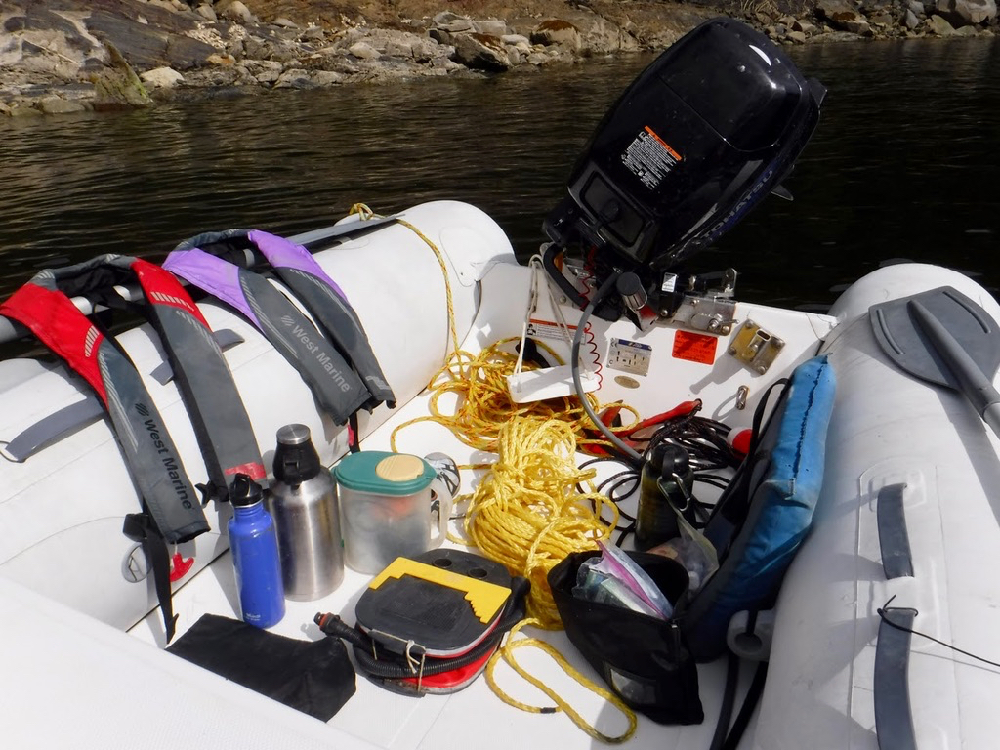 Most of the gear above fits into the locker in the bow, shown here being held open by our
tiller extension
.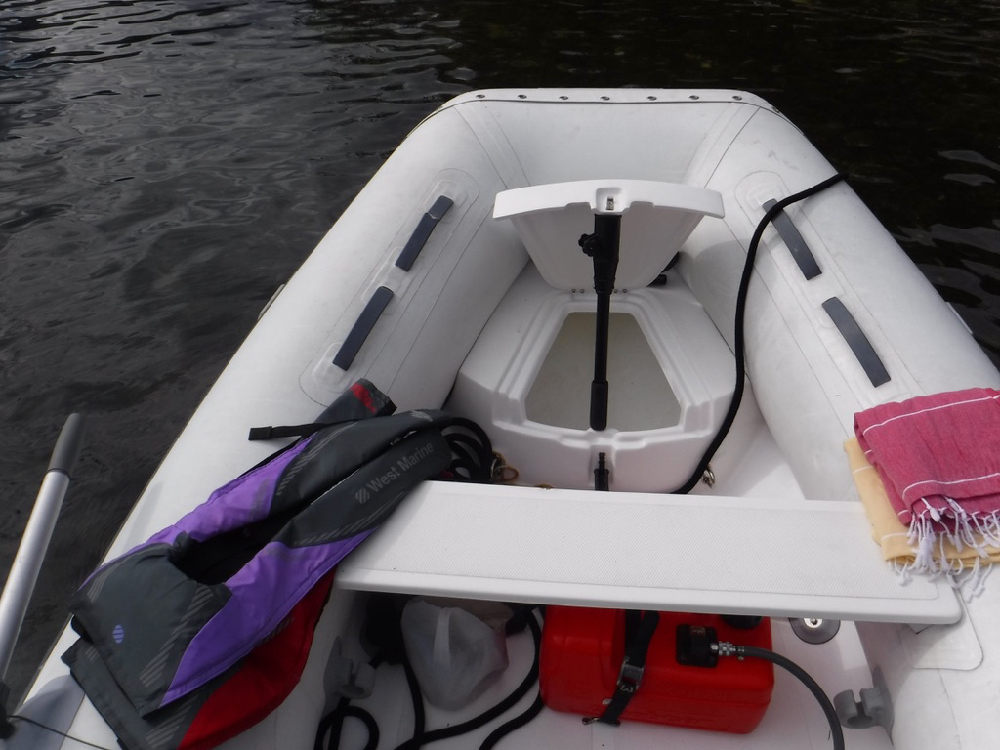 Dinghy Excursions
We take the dinghy to shore for hiking, picnics, bonfires, sightseeing, freediving, fishing, shopping, etc.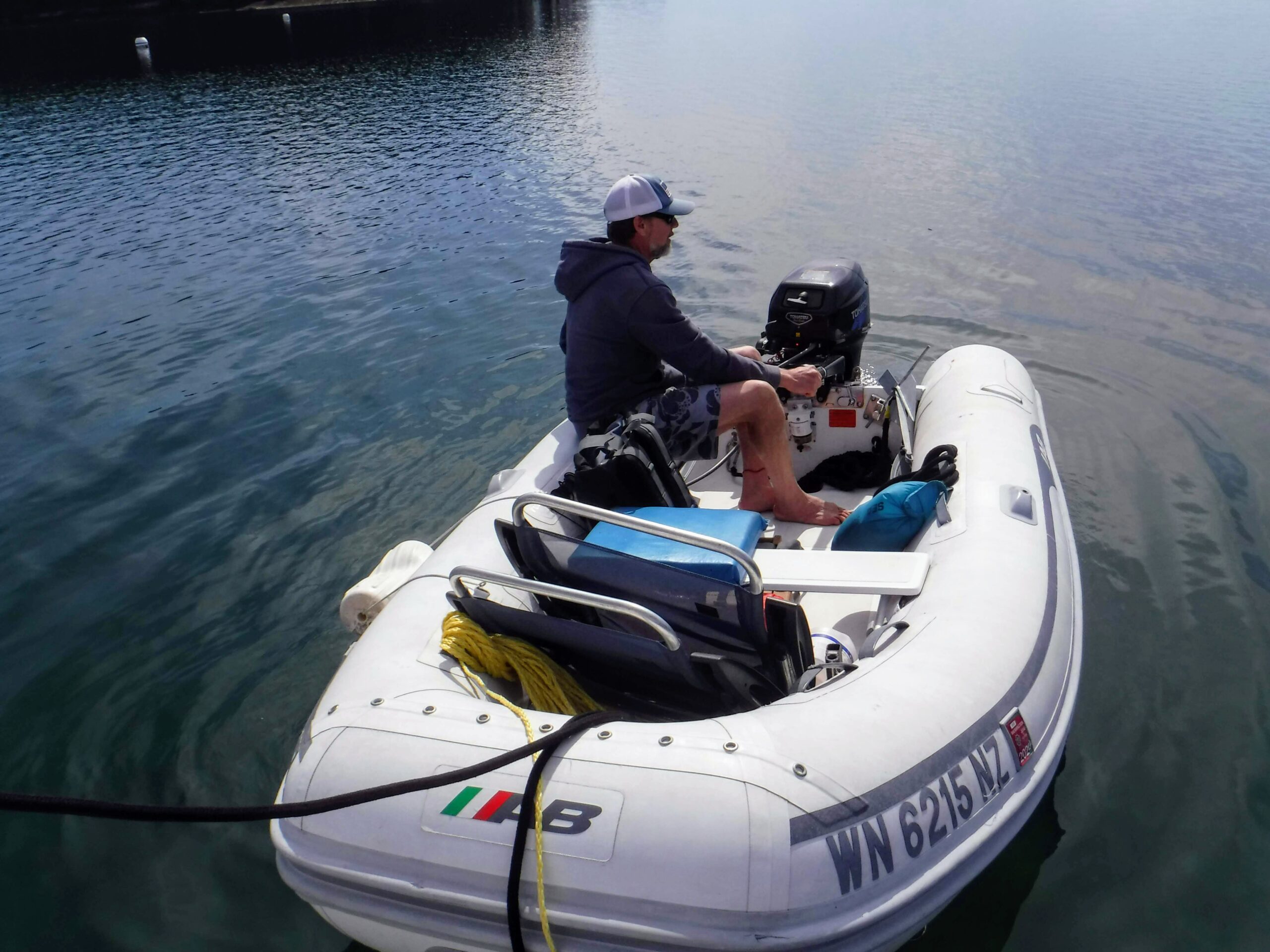 We bring our chairs, table, beach umbrella, and boat BBQ.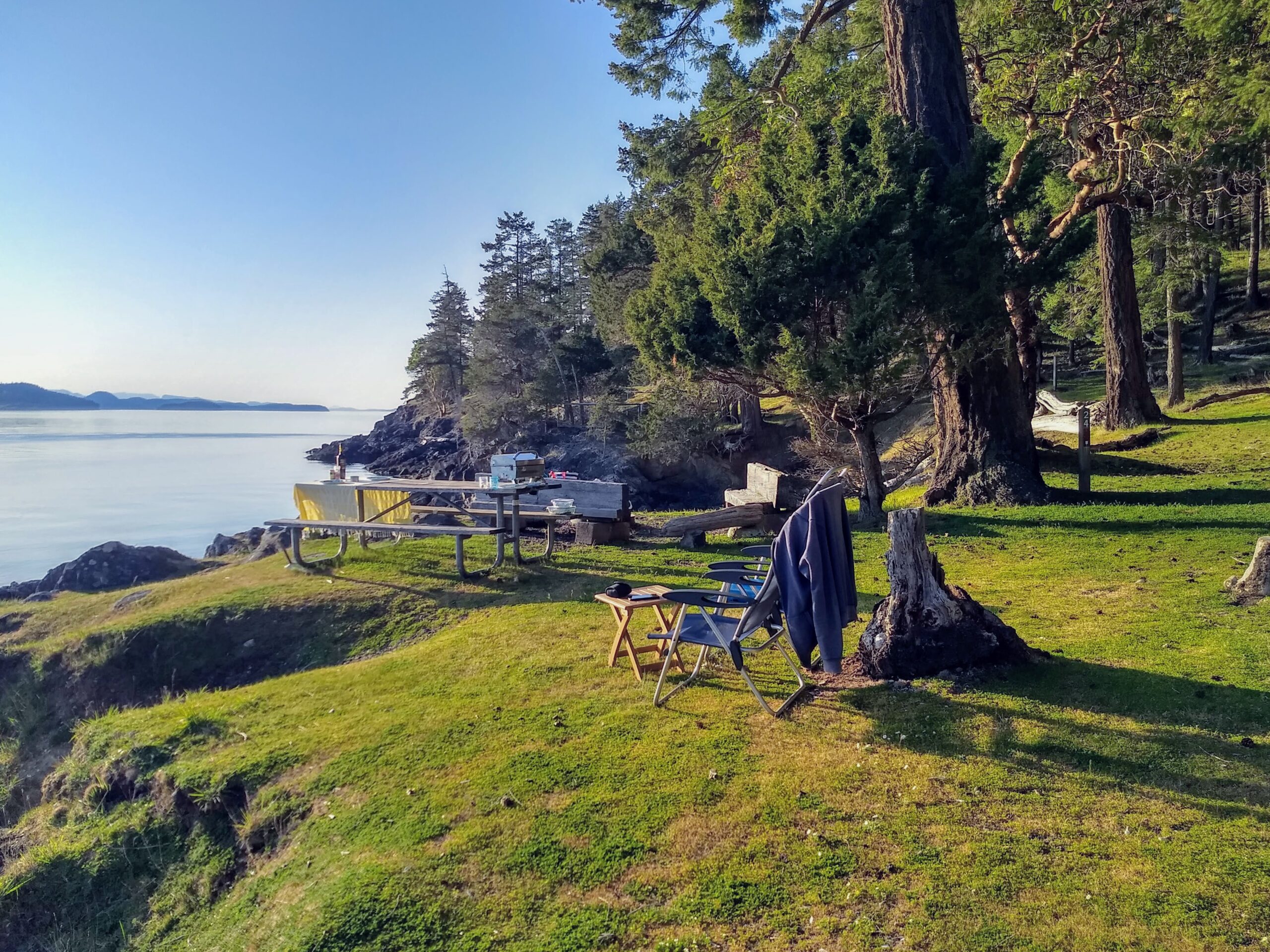 Spending the day at the beach in BC.
Hauling the anchor after another beach trip
Freediving at Patos Island Lighthouse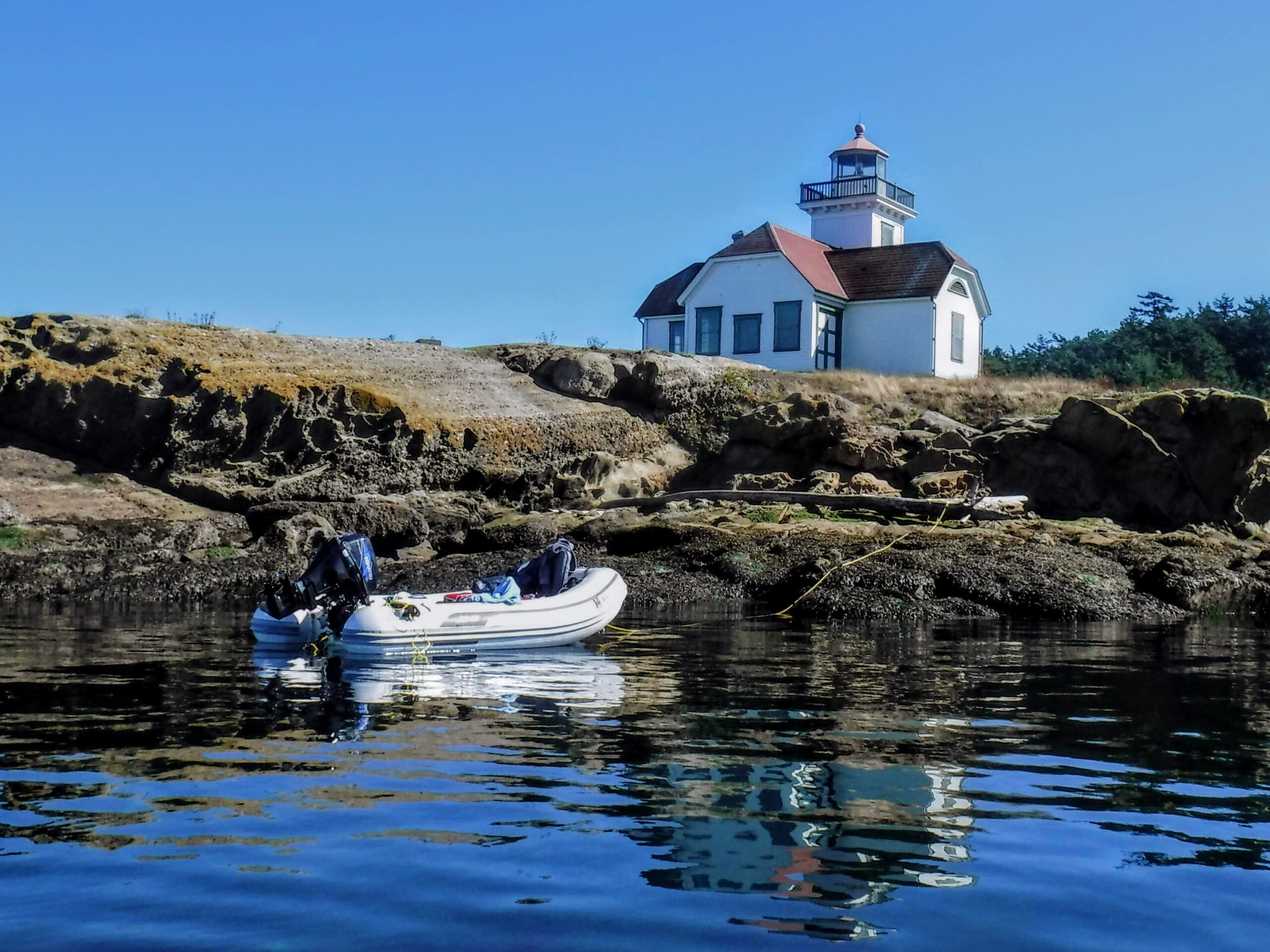 We can't wait to get back out there cruising and hopefully even back to beautiful British Columbia, Canada.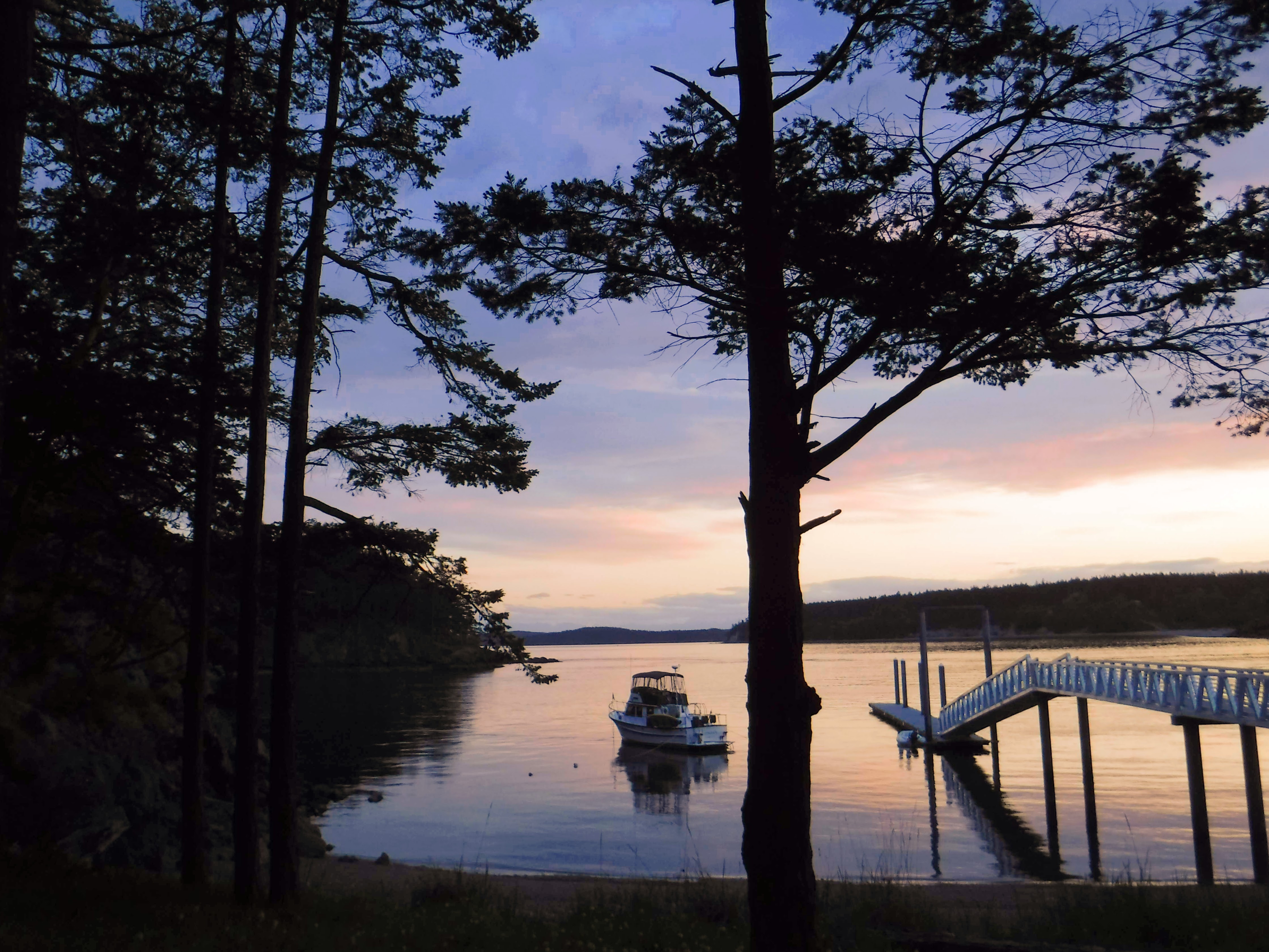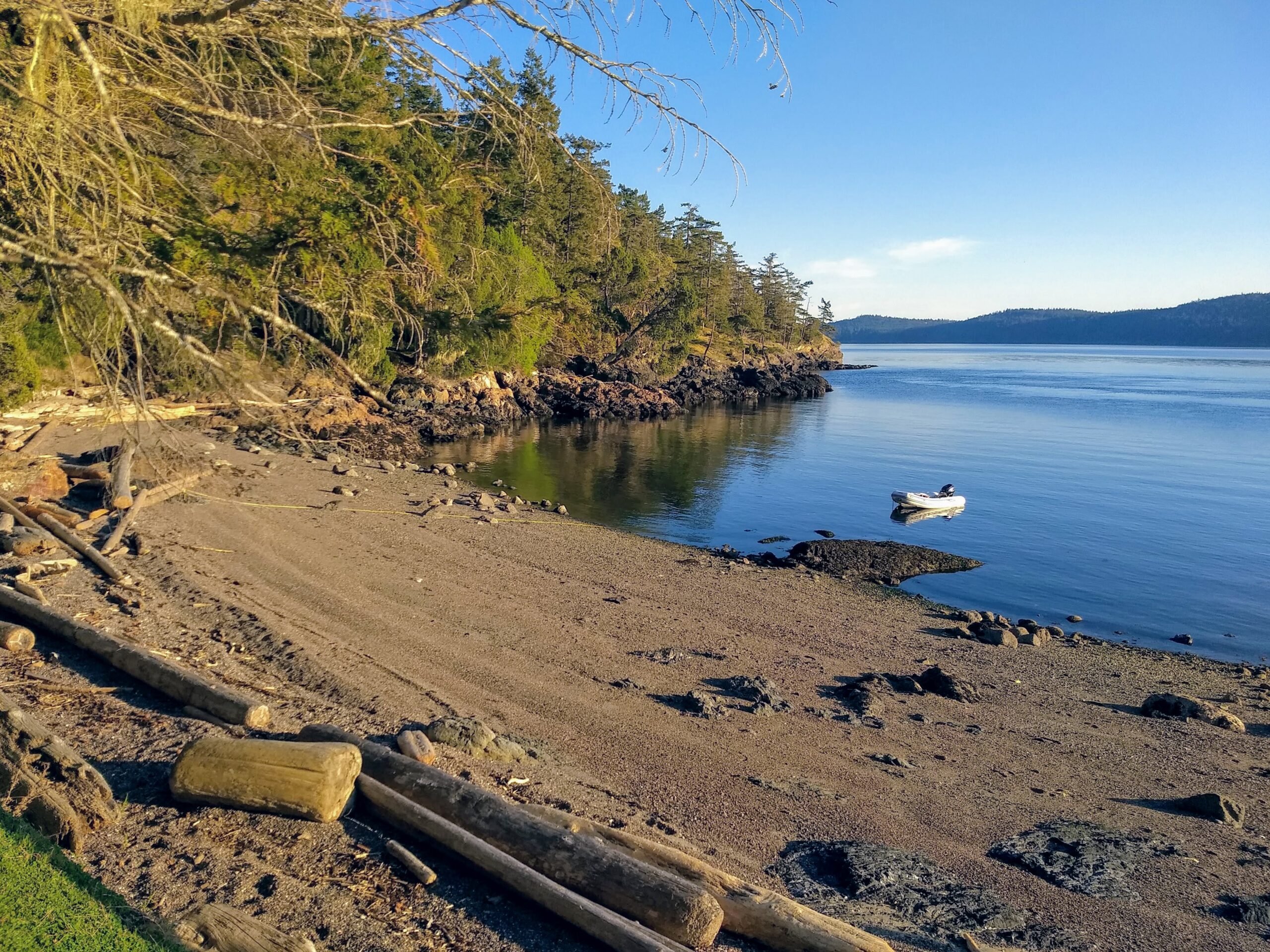 Trawler Gear
We created a custom design for our
trawler merch
. Check it out!