After a full summer of boat work (2009) and another long summer at home in Florida (2010), we're finally ready to hop on "RobinLeigh" and go sailing for a while.
We arrived on the boat on November 7th with a short list of chores and the intention of leaving the marina by the following weekend. It's 10 days later and we're still here - partly because of weather, but mostly because our to-do list was longer than it looked and we had a few surprises!
Here's the quick version of the last week or so...
Got here at night to a very cold boat - slept with lots of blankets and layers. Cat completely freaked out by his new surroundings. Spends most of the night trying to sleep on our heads.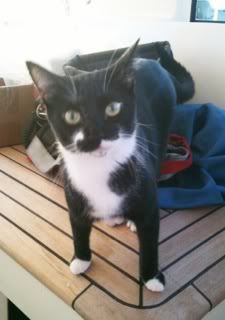 Three days later and things are semi-organized, major projects begin: prepping new dingy (old one died), running lines up the mast, buying supplies. While putting up the navigation light at the top of the mast, the quick-connect ring flies away into the water - Robin: "Are you diving for it?", Charles: "Not a chance" - off to the internet to find a replacement. A day later - "Why doesn't the freezer work?" - we spend a few hours tearing apart the galley so we can ship the controller off for repair.
Waiting for the our parts to arrive by mail we finished up our to do list: hanging sails and adding the boat's name to the side of the hull. In the mean time, more trips to the store, more food and supplies aboard (no frozen goods yet). Tucker the cat is getting braver and exploring the deck but still refuses to let us sleep through the night.
Mail arrives with a new quick-connect for the navigation light and a new controller for the freezer. One more day for installation and testing then one more trip to the supermarket for frozen goods and forgotten supplies and we're ready to go!
A final day studying the charts and learning how to use our new navigation software - our destination is set: Morehead, NC - 423 nautical miles south. That's 40 hours, mostly offshore. One full day and two long nights. Now to check the wind and weather forecast....
That catches us up to today: overnight we had a low pressure system come through with rain and strong winds. Thursday morning looks like a good departure.
More pictures here...