Thursday 10 February, 2011
We're off to Istanbul! We along with 80 or so other sailors are guests of the Marmaris Yacht Marina. Every year they provide this fun trip to this extra special city. They include round trip charter bus transportation, lunch, a wonderful full day excursion on the Bosporus Strait and VIP tickets to the Istanbul Boat Show. We feel like royalty.
We left the marina around 0800 in two busses. With stops for lunch and potty breaks we arrived at the Side Hotel and Pension just before midnight. Long day...
Our base camp is located in the center of the historical area of the Sultanahmet where we will spend the next week exploring. We have elected to stay longer and will not be returning with the rest of themarina guests on the bus. We will fly home 6 days later.
Friday 11 February
Istanbul is about 500 miles north of Marmaris. Our first day is spent on the Bosphorus Strait on a luxury tour boat. It's COLD, but sunny. We enjoy the live music, drinks, and a delicious seafood lunch. This body of water is surrounded on both sides by the city. One side is the European side & the other is Asian. Lucky for us the sun is trying to keep us warm as we pop in and out of the cozy cabin to enjoy the sites of this picturesque old metropolis.
When the boat comes back to the dock we are so motivated to get up close and personal to the city that we decide to skip the bus ride back to our hotel. We instead choose to walk back through the city. Our walk takes us along the historical waterfront, by several very old mosques (one which was on fire, fully engulfed in flames, we had to detour), across a bridge full of fisherman, through the Egyptian Spice market, and up and down the narrow cobble stone back streets. We stopped for coffee/cocoa at a local restaurant and enjoyed nosing around every kind of imaginable shop
We walk....and walk....and walk... guess what? Yep! Were lost! It's getting late and we ask several times for directions..... We always get a courteous response ....in Turkish! So we head into the night.... Finally, we see some familiar faces coming our way. They're a young Turkish couple on their honeymoon who are staying at our hotel. Yep... The hotel is just around the corner..... "Yes, of course we knew that", as we do an about face and head in the direction of our base camp. I'm sure from the looks on our faces they knew we were hopelessly lost....and COLD. Oh, but I forgot, Dave was soooooooooo cold he stopped at the first tailor shop we passed and bought a cashmere wool coat complete with hood. You'll probably notice in some of the photos Dave looks like an Eskimo pie!
Saturday 12 February
All equipped in our complementary bright red "Marmaris Yacht Marina" jackets and matching baseball hats we pile on the bus for a day at the boat show. We're issued "VIP" passes and greeted at the Marina booth ("our home away from home") by the marina owner, Mr. Bilgin, (nice guy). This "booth" consisted of an exclusive area for "Marmaris VIPs" only (that's us) . There was classical violin, guitar and flute playing as we are served C/T, juice, even WINE at our white cloth clad tables. This is our headquarters for the day. Tough duty. We've never done a boat show in quite this way before. Still, our feet got tired. Next year we're recommending they include foot massage. We ooood and aaaad at all the new wiz bangers and decided that old Freebird didn't need anything.....that we could afford. Returning to the hotel for a late afternoon rest we regained our strength. Later that evening we wandered around the corner to a quaint little Turkish café for a really scrumptious dinner. Good thing we only had to waddle around the corner back to base camp for the night...ZZZZZZ.....
Sunday 13 February
The Side Hotel provides 'breakfast". Dave's idea of the morning meal and the Turkish approach are quite different. (They actually serve fresh cucumber, tomato and olives + bread, cheese & a boiled egg), not that he ate any of it except for the bread and butter....So what does any good American do? Yep! It's off to Starbucks we go. After a Grande Cappuccino (Dave) and not so Grande Hot Chocolate (Judy) and some nice gooey pastries, we're prepared for a day of adventure.
First stop, The ancient Basilica Cisterns. Now remember if you will......IT'S COLD. These are cisterns and underground.....no sunshine. But we were brave and wandered through this amazing antiquity. We clamped an audio tour on our heads and learned some stuff. It was built as a water supply for the palace in the 6th century. It was made using 336 columns which were pilfered from Roman ruins and are some of which are the best masterpieces of sculpture from the Roman period. I'll let the pictures to the talking. Also check out:
Click
Next stop: the Hagia Sophia.
Hagia Sophia was rebuilt in her present form between 532 and 537. When the Ottomans conquered Constantinople in the 1400's they turned it into a mosque. Remarkably they covered up some of the original Christian artwork that is restored and visible today. It was declared a museum in 1924 by the father of modern Turkey, Mustafa Kemal Ataturk. It has been preserved as a national treasured site ever since and now a protected UNESCO Heritage Site. Check:
CLICK
.
Again, we clamped on the audio tour and bumbled our way around this awe inspiring structure. We've heard that it was the model for the famous Blue Mosque.
By now we're really hungry! We stumble onto a "pub" where they served hamburgers and stuff. Dave was thrilled as he is ALWAYS searching for a burger or pizza. The comical part was the Bing Crosby Christmas music playing in the background. Good hamburger though... Nice and warm too... A short walk and we're back in base camp nursing our exploding head colds.
Monday 14 February
Valentine's day
Today we take care of business. We head to the American Consul to add pages to our passports and make some notarized copies. The one hour cab ride takes us to the fortress like structure on the top of a hill way way way out of the city. We had to make appointments so we were about 2 hours early. We tried to enjoy yet another Turkish breakfast at a restaurant across the street. No Starbucks in the neighborhood. DARN Business completed, we jumped a bus and transferred to the tramway which took us back to our neighborhood where we had lunch at a sidewalk café and wandered the streets looking for that elusive valentine gift. Check! Earrings did the trick. Now we both have head colds, not just Dave and are not the most fun to be around. But still we managed to head out for a special Valentines night dinner. After considerable amounts of wine, topped off with a nice selection of antihistamines, a romantic night back at the hotel consisted of mainly snoring.
Tuesday 15 February
Today was our bazaar day. The mother of all bazaars. To be specific, The "Grand Bazaar". Wandering aimlessly would best describe it. This place consists of 61 streets with over 3000 shops. The old cobble stone streets have been covered with arched masonry. It's truly a National Geographic moment. As we pass by the shop owners shout out.."Hello! Where are you from? (Don't we look Turkish?) Duh, I have my dark pea coat and watch cap on just like every other male here...America we say... I love America, they say! "Come and look at my beautiful carpets/leather/clothes/ kitchen sinks".....I want to be your best friend" Thanks, maybe later.... One minute later the process is repeated. Sometimes we actually stop and have a conversation. Some of the shops are full of mysterious treasures and interesting smells. Always we are offered Turkish tea and a seat. It's the way business is conducted here in Turkey. Most of the time, we come away unscathed. Sometimes we succumb and take away some rare hard won treasure. Bargaining is the only way and they are the pros. We're like putty in their hands. In the end it's good feelings all around.
All this work! We're famished. We head into a back corner kabob house. It's loaded with locals (peacoats everywhere). It's warm and friendly. We enjoy a nice Turkish lunch. After some time we were able to find our way out of the market and jumped on the tramway back to the hotel. Judy's head cold was in full bloom., the living dead, she hit the sack. Dave caught up on some reading and had a quick dinner with our friends who were leaving the next day. Sure, guess who gave me his cold???
Wednesday 16 February
After our late "breakfast" and saying good bye to our friends we jumped on the tramway and headed to the incredible Dolmabahce Palace. The weather has turned incredibly cold, 1 degree. YIKES
Nice little place. 135,000 square feet, 285 rooms, 44 halls, 68 toilets, 6 Hamams (Turkish Baths). I really can't describe the opulence... It was built in 1856 for the Ottoman Empires 31st Sultan. It housed his many wives and family members. The last Sultan moved out in 1924 when it's ownership was transferred to the national heritage of the New Republic under the leadership of Mustafa Kemal Ataturk. Dolmabahce palace has great meaning for Turkish people since their supreme leader Mustafa Kemal Ataturk had used this palace as a residence, spent the most serious period of his illness and where he passed away on 10th of November 1938 at 9:05 AM. All the clocks in the palace are stopped at this time.
Lots of photos:
Click
We finished our day mostly on foot again wandering the streets. Stopping for lunch and then later coffee. That night we had one of the best meals we have had in Turkey. Testi Kebab. Our dish was ceremoniously brought to our table in the clay pot it was cooked in over an open fire. The pot was cracked open and the seductively delicious contents were served with fresh bread, salad and a wonderful dry red Turkish wine. We found ourselves still at the table savoring every morsel two hours later.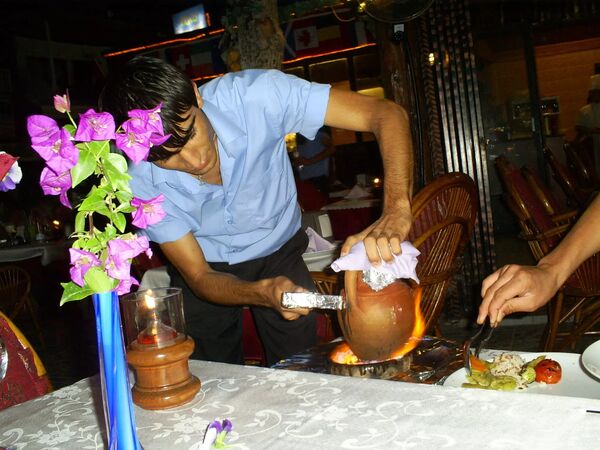 Thursday 17 February
We're off to yet another wonderment... This one takes the cake. Topkapi Palace was constructed in 1478 and was used as the administrative center for the Ottoman Empire and residence of the Sultans for 380 years. There are 300 rooms, 9 Turkish Baths, 2 mosques, and 1 hospital in the complex. The 3building's called the "Treasury" houses and displays some of the most valuable historical artifacts in the world....stuff like an 82 carrot diamond. Oh and surrounded by ~ oh ~ another, oh ~ 90+ HUGE diamonds. Then there is the TopKapi Dagger, a full set or chain armor, diamond/emerald encrusted. Amazing
The Harem housed 300 to 500 of the Sultan's wives, concubines, family and servants Wow! Busy guy. Again this is worth a look:
CLICK
This was all a bit overwhelming. We returned to the streets yet again for continued exploration.
Friday 18 February
Last Day: After a late sleep in we packed up our luggage, checked out of our base camp, and headed for Starbucks. I know this seems like a lot of Starbucks but you must understand that in our lifestyle for the last 9 years we have been deprived of things like Starbucks/ (Baskin & Robbins for judy). We probably won't see another one in a while. Not that it's life and death. It's just fun to indulge when you can. After a final assault on the streets of Istanbul we boarded the airport shuttle for the one and a half hour ride to the airport.
Bye Bye Istanbul, Hoscakal.
We arrived home to Freebird at 2300 hours. A storm was blowing 60+ knots as we drug our luggage down the dock. She was waiting patiently for us to come home. We rocked to sleep as the storm winds blew across Turkey.
MORE PICTURES