After a 43-hour passage, we arrived in Oregon as we crossed the Newport bar at first light, having to dodge a few small, but eager fishing boats zooming out. We immediately topped off the fuel tank, after motoring almost the entire way, due to a light headwind.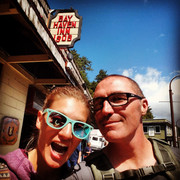 We found Newport to be a great little town, with strong fishing roots. Chelsea and I even found the local community aquatic center, where we managed to enjoy a few hours in the hot tub, and we found found some of the best hamburgers we've ever eaten at the
Barge Inn
tavern.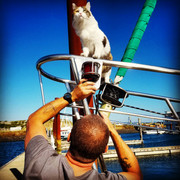 Monkey and I then tackled a few boat projects, including fixing a running light that decided to stop working on the way down the coast. I also managed to solve our lack of hot water aboard by removing the water tank's temperature control valve (TCV), which was not functioning. So as to not leave us bored with nothing to do, the boat's shore power system decided to no longer function. I replaced the aging shore power cord...no luck. I then replaced the boat's power inlet...still no luck. What else to do when stumped by a project? Chelsea and I headed over to the Rogue brewery, which we found to be pretty cool!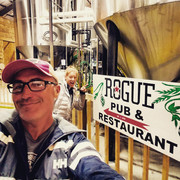 We then departed Newport for Coos Bay. We had to work our way around a dredging boat at the end of the jetty when leaving and another one while arriving in Coos. This was a short 7-hour passage and was pretty uneventful, other than the fact that the fog was so thick that we couldn't see much past our bow lights. We had our fog horn blaring for much of the passage and kept a keen eye on the AIS.
We're sitting in Coos Bay (actually, the adjacent city of Charlston, where the marina is). We were able to meet up with my friends Mark and Jeff, who both showed us around town a bit. Aaron and Christine had to head back home, so it's just Chelsea, Monkey, and I from here on out. Now we wait out heavy winds before we can continue onto Crescent City in a few days. California, here we come!!!