A lot has happened since we last blogged! On Sept. 12th we left Crescent City and sailed further South 288nm to San Francisco, along with our buddy boat friends Brad and Sonni aboard
S/V Luego
. This meant another overnight passage through thick fog, dodging both commercial shipping and fishing boats that love to zig and zag in unpredictable patterns. In the end, it was worth it, as we were greeted by the wonderful sight of the Golden Gate bridge. We bucked a bit of current there and continued over to Richmond.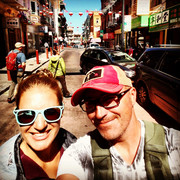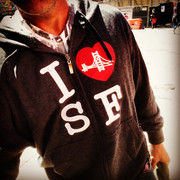 We spent several days in the Bay area, visiting with our friend Greg and taking the BART tram over to downtown San Francisco for some exploring. We also met up with my Aunt Carrie, which was fun, and we replaced the boat's primary anchor rode with 275' of HT 5/16" chain. (I ordered 300', but 275' is what ended up getting delivered - such is life).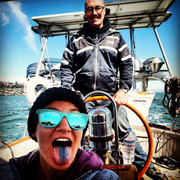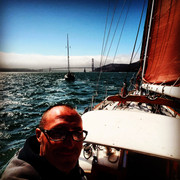 We then said goodbye to San Francisco and sailed down to Half Moon bay (Pillar Point) for more adventuring, before then continuing over to Capitola, which borders Santa Cruz. Capitola is a wonderful little town...with the exception of their mooring balls. We spent two sleepless nights getting tossed around the boat each night and made a run for the dinghy dock at first light. I'm told others have had better experience on these moorings and it was the only downside to visiting this fun little town.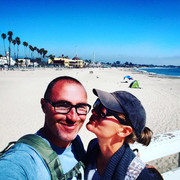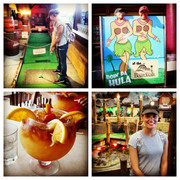 We did spend the good part of a day in Santa Cruz with Brad and Sonni. Even though the boardwalk was mostly closed on weekdays, we still had a blast checking out the pier and hit up the pirate-themed 18-hole putt putt course, which was a big highlight of this stopover.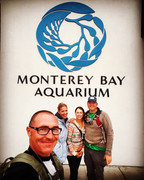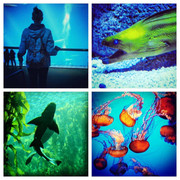 After two nights in Capitola/Santa Cruz, we sailed South across the bay to the Monterey Bay and explored their must-see aquarium. It made us all think about just what was going on underneath our boats as we sail. After a further couple of days in Monterey, we sailed overnight to Morro Bay, along with S/V Luego and another Seattle area buddy boat S/V Soulstice, with Stephen and Jen. We are currently tied up at the Morro Bay yacht club and are looking forward to more fun adventures here, which we will tell you all about very soon!! =)