We are now a long way from anywhere, in the Gambier Islands, eight hundred miles SSE of the Marquesas.
After swinging back to Nuku Hiva to resupply and see friends we headed down to Fatu Hiva, the most southerly of the Marquesas, fully intending to go back north to Hiva Oa before heading south to the Gambiers. Fatu Hiva has a dramatic bay (see image) but was otherwise quite limited so we decided to move on quickly.
Anyway, as we were looking at the weather for our sail north we spotted a really promising weather window for heading south so we decided to give Hiva Oa a miss and headed out. It was definitely the right thing to do. We had an amazing sail covering the 800nm in just over five days at an average speed of 6.5kts. There was enough north in the wind early on to allow us to grab some eastings so that we would not get too close hauled as the wind veered south and we managed to maintain an apparent wind angle of about 60deg the whole way, probably our best sailing angle. Apart from a couple of large squalls and the subsequent lulls in the wind it was a comfortable and uneventful passage.
The notable event occurred when we arrived at the Gambier pass. For some months we had been communicating with Birgit and Christian on the sailboat Pitufa. They have posted lots of very useful information on their
website
, including advice on when and how to visit the Gambiers. Without their guidance I am not sure we would have ventured this far off the beaten track.
Anyway, Pitufa were also using that weather window to get to the Gambiers from the Tuamotus and fate conspired to bring us to the entry pass within thirty minutes of each other. They proposed that we join them visiting the small island of Taravai before heading to Rikitea. We had a lovely week with them there, snorkeling and doing a little gardening for Eduard, a local farmer, in exchange for some fresh fruit and vegetables, something very difficult to find in the Gambiers.
We have both moved over to the main town of Rikitea now to do a little shopping and get some Internet (both with limited success) and to do some much needed walking before our legs atrophy completely due to sitting around on the boat. We would like to go and explore the outer islands but there are uncharacteristically strong easterly trade winds blowing at the moment so we are waiting here and hoping that the more settled summer weather kicks in soon.
The Gambiers are a major pearl farming location now. This has a couple of consequences, firstly navigating between the islands can be tricky, with pearl farm floats and lines everywhere, reminiscent of the lobster pots in Maine, and secondly, Rikitea is a little more 'industrial' than we have seen elsewhere in French Polynesia. It is not terrible but neither is it particularly picturesque. We are a bit spoilt on that score..... Like everywhere we have been in FP, people take great pride in their gardens which are beautifully kept and immaculately clean. I will try and photograph a couple.
The rest of the island looks lovely, with dense tree coverage and there are some great hikes that we are working up to.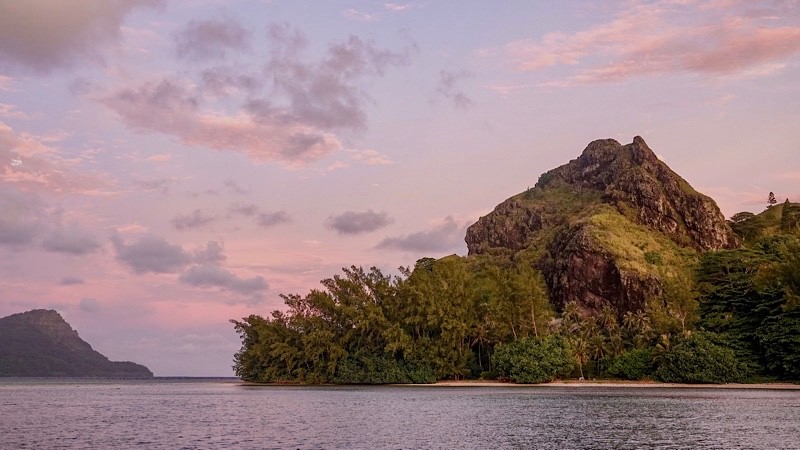 I very much doubt that I will be able to post any photo albums from here so I will work out how to put a few more lower resolution images into these posts.