Long one - get a cup of tea first.
A 'false pass' is a gap in the outer reef where water flows in and out of the lagoon but it is not deep enough for navigation. However it is great for snorkeling as all sorts of fish like to hang out in the tidal currents. We spent a couple of days there before the weather turned bad and it was probably the best snorkeling we have ever done. There were masses of fish, from tiny wrasse to large sharks and rays and everything in between. Most of the big stuff was hanging about in the deeper pools near the outer reef. The smaller fish were mainly on the shallow corals further into the lagoon.
Anyway the weather has turned bad, lots of cloud and rain with unpredictable squalls so we have been back in the main (and very sheltered) anchorage of Rikitea for a few days, eating pizza (pretty much the only 'restaurant' food available) and meeting cruising friends. The monthly supply boat came and went without much to offer. We did manage to get some potatoes and carrots and a few tomatoes but nothing green. There were cruisers wandering the main (only) street asking if anyone had seen a cabbage.
We did go to a barbecue and dance performance to help fund a group of kids to go to a Pacific cultural festival in Hawaii at Easter. The dancing was in the sports hall but you had to queue for the barbecue outside the adjacent community center. It was absolutely tipping down with rain so the barbecue was in the same tent. We are going to smell of barbecued goat for some time.....
The dancing was fairly interesting. We did not have an interpreter and the rain beating on the roof made it impossible to hear anyone anyway but it looked like a blend of a Christian nativity play with Polynesian mythology. The missionaries have a lot to answer for....
Unfortunately the weather looks a bit iffy for the next week or so but we will probably head out again tomorrow to do some more exploring. Anyway, back to the fishies; I have realized that, unless you are there, there is no way to determine the size of them from the photos so I have organized these from small to large and will gives some indication of scale.
These two Fang Blennies are a couple of inches long and are the only type of fish that has actually attacked us so far. They feed by stealing scales from passing fish so I guess they needed to taste us. Not very painful but a bit of a surprise. The yellow 'glow' round their tails looks like a light is being shone on them but it is solely pigment. There are a number of fish with these bright spots and the way the color fades into the surrounding areas is so convincingly a light source that you start looking for the battery compartment. We need to do some research on tropical fish evolution because you can sort of work out appearance and purpose with land animals and birds but this lot are crazy and there is no clear reason.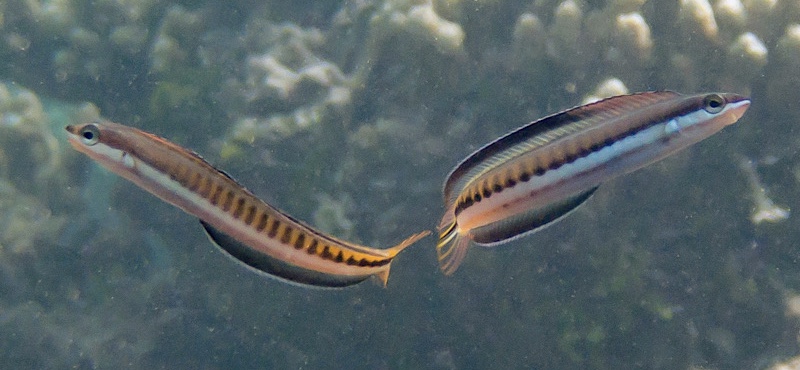 I have been trying to photograph this small (@3") Sunset Wrasse for weeks. They swim quickly and are normally very skittish but I just floated quietly in the shallows and they started to ignore me, sometimes coming too close to photograph.
This aptly named Bird Wrasse is transitioning from the intermediate phase, mainly brown and green to the mature phase which is almost black with dark green fin edges. There are a lot of them about but they are very cautious and fast so hard to photograph well.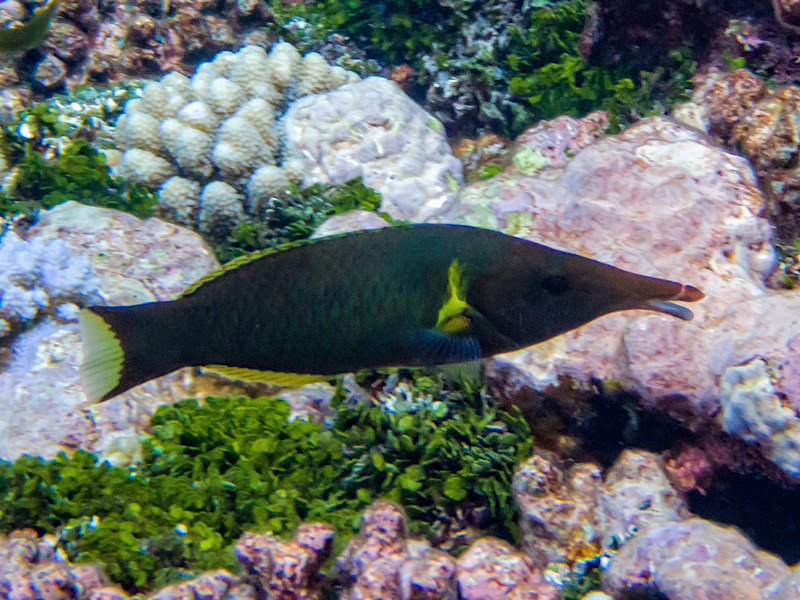 Parrotfish, a close relative of the Wrasse family, come in a wide variety of colors but are generally not highly patterned. This Spotted Parrotfish is very distinctly marked. It is about 18" long.
These Blue Spotted Groupers are a regular sight here and vary between 12" and 24" long. Behind it there are a number of different parrotfish.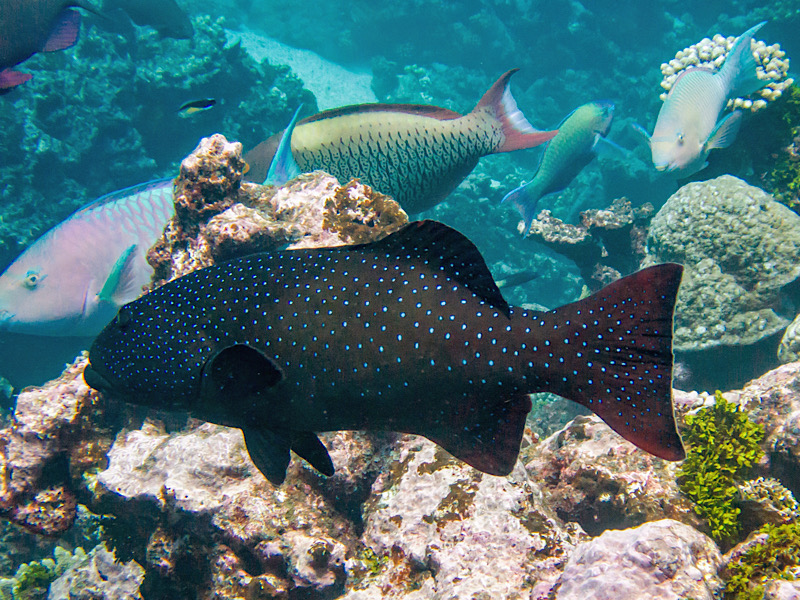 This intermediate phase Humphead Wrasse is the largest of the Wrasse family and it is already more than 2ft long. The mature phase gets to be more than 5ft and is a massive fish. They are beautiful fish but they have been much deeper and shier in other parts of French Polynesia so it was a treat to be able to get good shots of this one.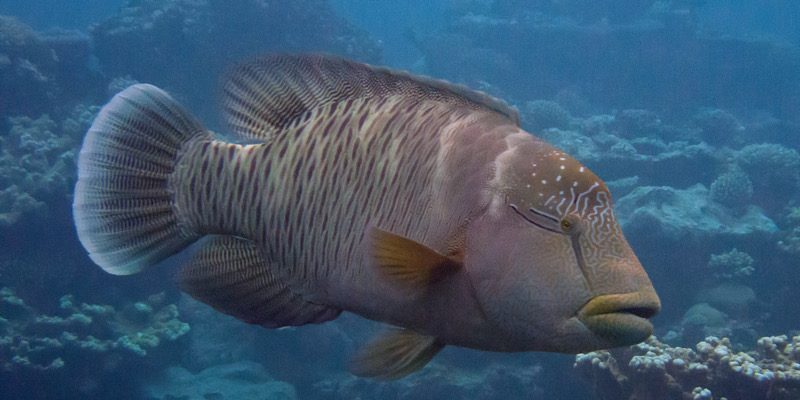 These two Spotted Eagle Rays were patrolling one of the deeper sand holes near the outer reef along with numerous sharks. They get to be 11 feet wide but the larger of this pair was probably 4ft across.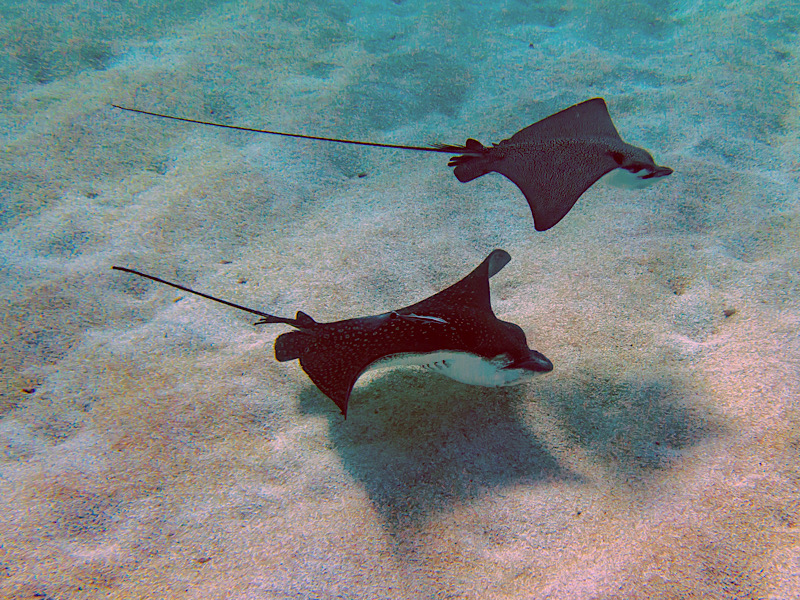 A closer shot of the larger ray shows that, far from being flat, they have a very solid body. This one has a small Remora swimming above his back.
These two White Tipped Sharks, patrolling the shallow reef top, are about 5ft long. We pretty much ignore them now although they can be a bit of a surprise, particularly in shallow water, but they have never shown any sign of aggression (unlike the 2" Fang Blennies....). They are just very inquisitive and are probably hoping we will kill something and leave some scraps in the water.
This is not a great picture of a Black Tip Reef Shark but what is 'on' it's nose is interesting. We have seen single Golden Trevally accompaning larger sharks but never a small school of them and not right on the shark's nose. Many mysteries here. First is how the trevally stay in absolute formation with the shark, like they were mounted on wires - from the front. Second is why the Shark does not get driven crazy by this bright yellow mass right in front of its eyes and have them as a snack. It is indeed a strange world underwater.
That's it for now. Just need to find somewhere with enough bandwidth to post this lot. The nearest good internet access is about 400nm away in Hao so that's out. I would really appreciate some feedback on this more pictorial approach to the blog. Ideas for improvement are always welcome.
Graham
Addendum
I had just finished writing this. The weather was gray but actually quite bright when a dark cloud came over the mountain behind the anchorage. The next thing we knew the wind was howling, Leela was heeled over at about 45deg (at anchor....), things were flying about the cockpit, the dinghy that was alongside came out of the water and reared up level with the deck and the rain was coming down so hard we could barely see. Luckily the dinghy landed in the water upright and we think the motor is OK. The boat next to us was not so lucky. Their dinghy flipped over and they now have the motor on deck trying to get the salt water out of it. I would estimate the wind at around 35kts (70kmh) but it could have been more. A friend on a boat further down the bay said he thought it looked like a waterspout. Anyway, we seem to have survived without much loss or damage. We routinely keep the decks clear and everything tied down so nothing went overboard as best we can tell. A couple of lines broke on the cockpit canvas but no fabric damage. Fortunately our rainwater collection system was all set up so we even managed to collect about thirty gallons of rainwater in one squall, a good thing we did because we are not getting nearly enough sun to run the water maker at the moment.
It is completely calm now, like it never happened. Such is life on a boat.