We had heard that the diving in Fiji is world class but it has exceeded our expectations by a long way. It reminds us of Bonaire thirty years ago, perhaps even better. Only Bonaire and early Cozumel come close in our experience. There is an amazing variety of fish life, at least equal to French Polynesia with loads of new stuff more common in the Western Pacific, but what really stands out is the vast number of different colorful corals, all completely healthy with zero sign of bleaching and the equally vast array of invertebrates, particularly Crinoids and lots of sponges. Just a much healthier diverse ecosystem than we have seen for a long time. I have posted an album at the link below and in the menu but I will document a few of them here where more information might be useful.
Album
There is a wide variety of very healthy hard corals that would need a book to fully document.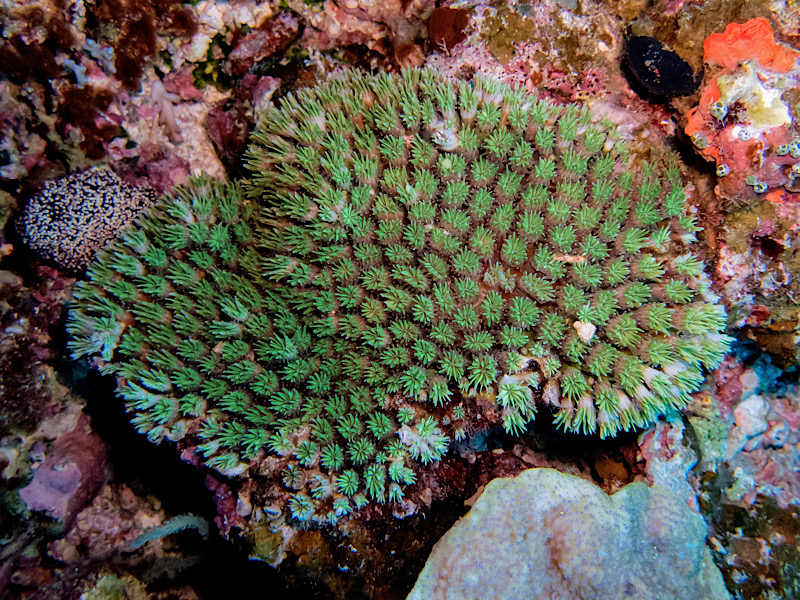 but it is the soft corals that are truly amazing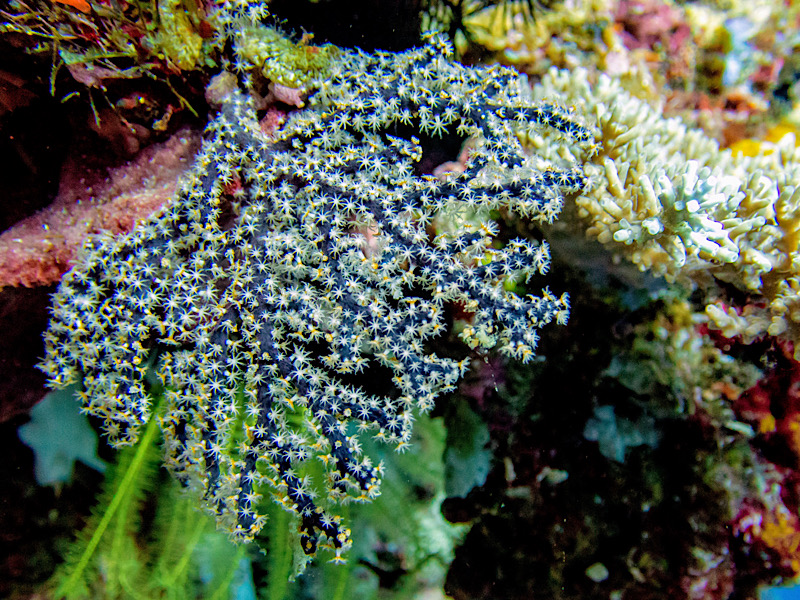 Many varied sponges and Tunicates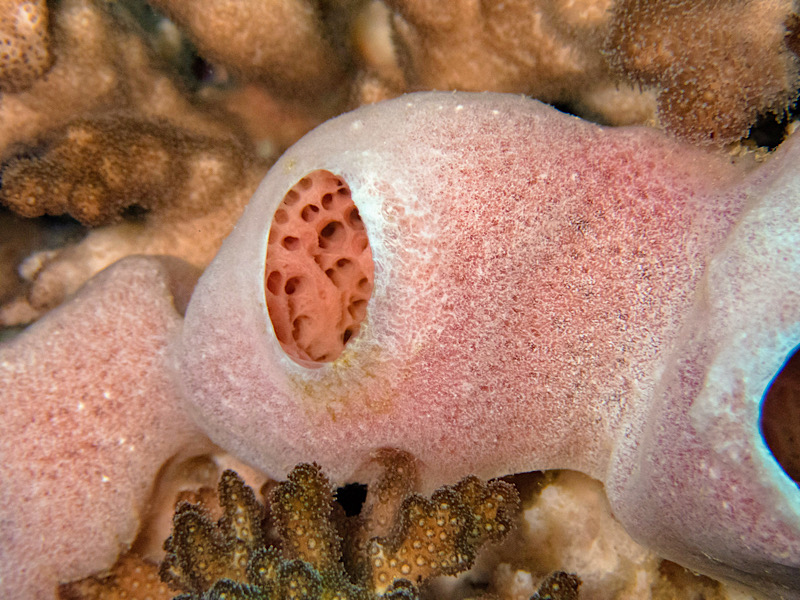 This piece of 'candy' is built by a colony of absolutely tiny Bryozoans
There are anemones galore, most with their specific type of resident clownfish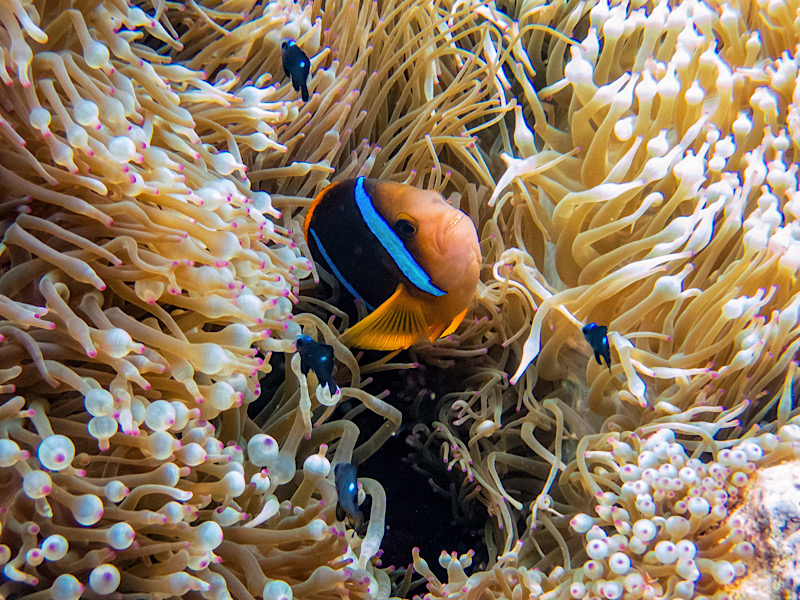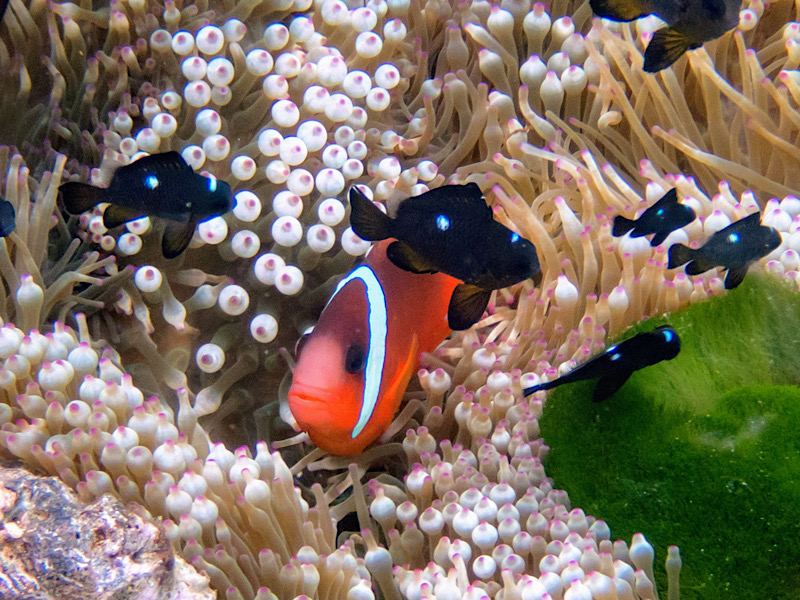 We missed seeing Crinoids in French Polynesia but this place makes up for that in spades. There are countless different variations. At first glance they look like plants, most of them are found nestled in a crevice, but they are in fact animals. The array of 'branches' are feeder arms surrounding a central mouth. They have legs underneath that allow them to move around. This is the first time we have seen them out and about in daylight.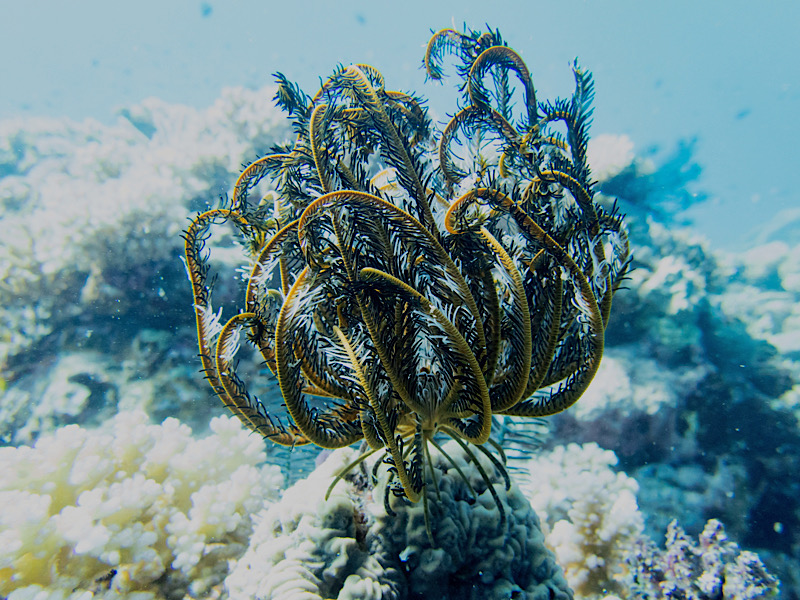 A lot more Nudibranchs and slugs than we have seen previously. Most of these are less than an inch long so not easy to find despite their flamboyant patterns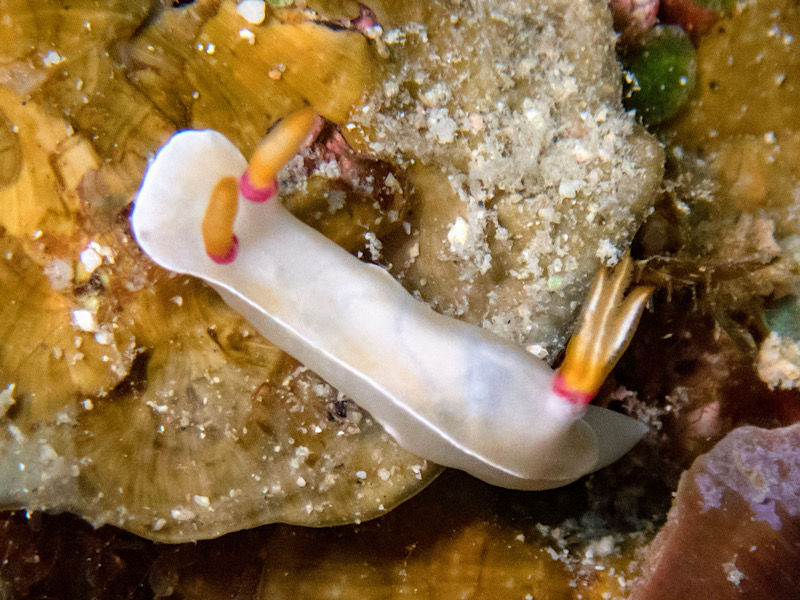 There are plenty of large clams but these burrowing clams are tiny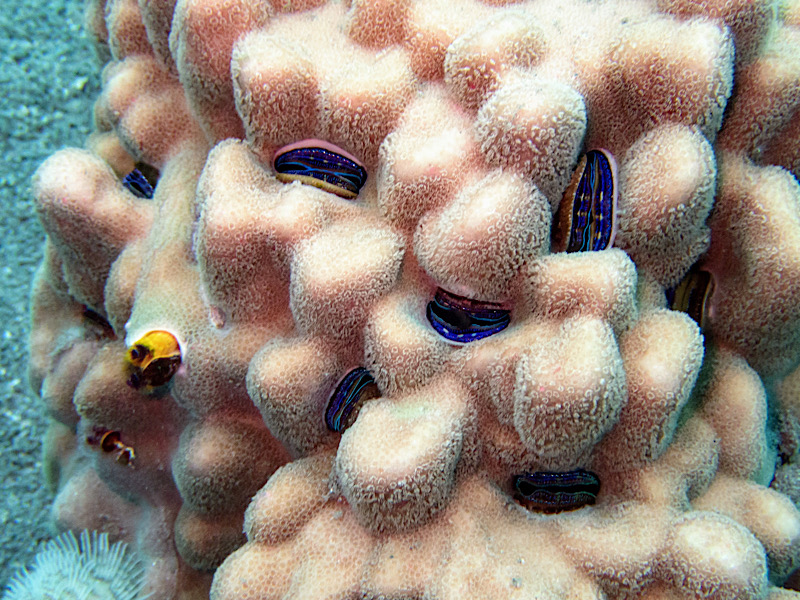 This Sea Krait is actually a true snake that has adopted a semi aquatic lifestyle. It hunts in the water but digests its food and breeds on land. It is extremely venomous but entirely placid so no threat to careful divers (us!)
I've concentrated on the other creatures here but there are fish a plenty
This beauty is a large Clown Triggerfish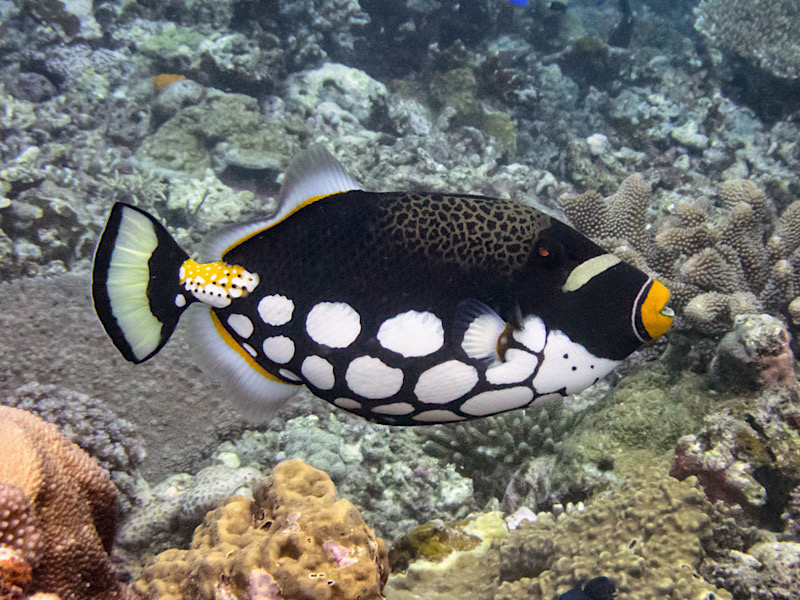 The ubiquitous Stone Fish is an absolute master of camouflage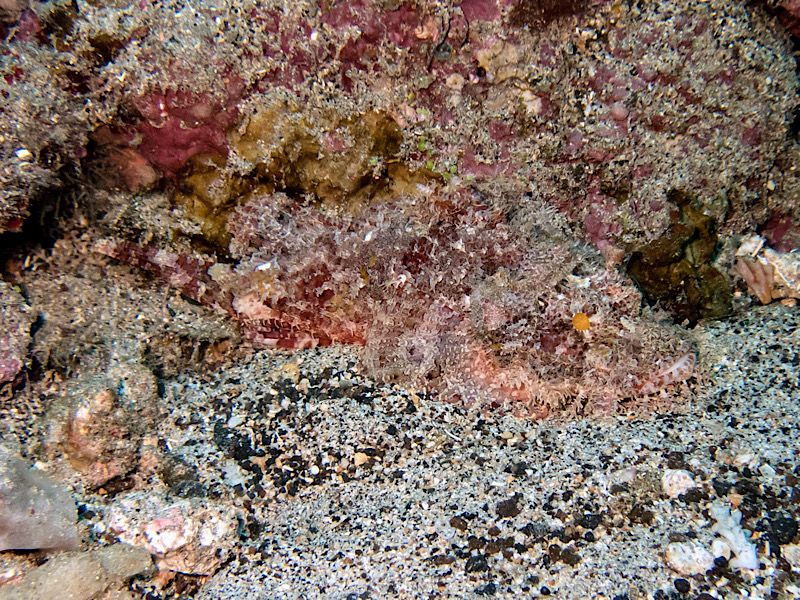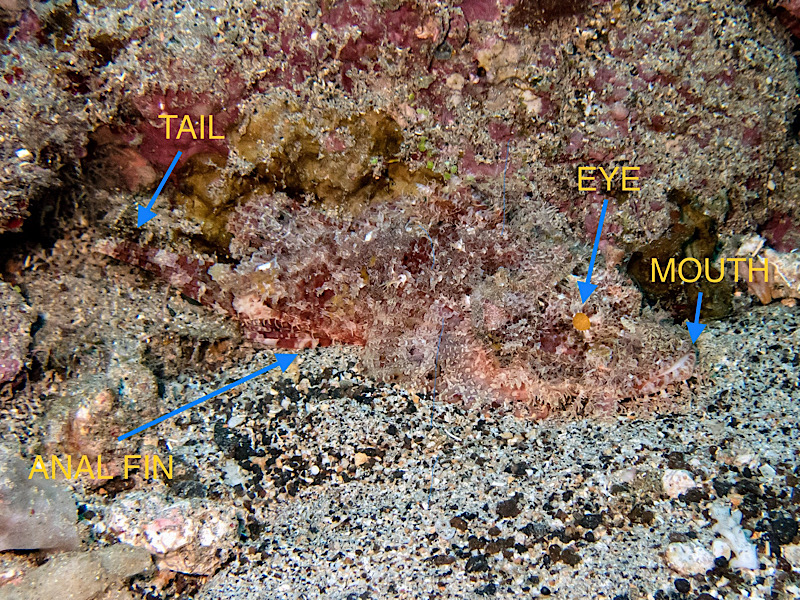 We first saw Shrimp Gobies in French Polynesia. This is a different variety. Each Goby cohabits with a blind shrimp. The shrimp excavates the living quarters while the goby keeps watch. The shrimp keeps one feeler on the goby's back at all times and if the goby moves it retreats rapidly into the hole. Each type of shrimp goby cohabits with a single and unique shrimp. Its a strange world down there....
You don't always have to go far. These wonderful immature (but large) Spadefish are hanging out under Leela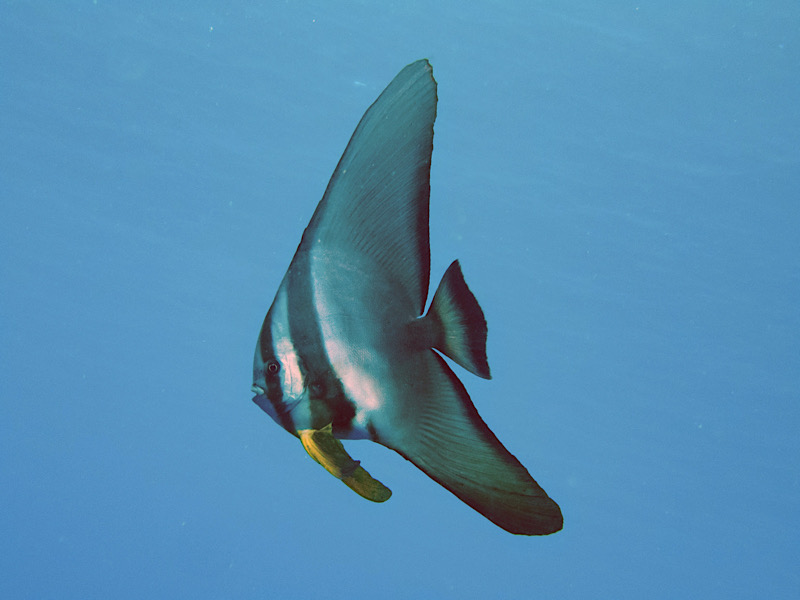 Lest you think this is all 'Blue Lagoon' life, this is our dive buddies huddled down and masked up to protect themselves from the driving rain. It was COLD but the diving made it worth the pain.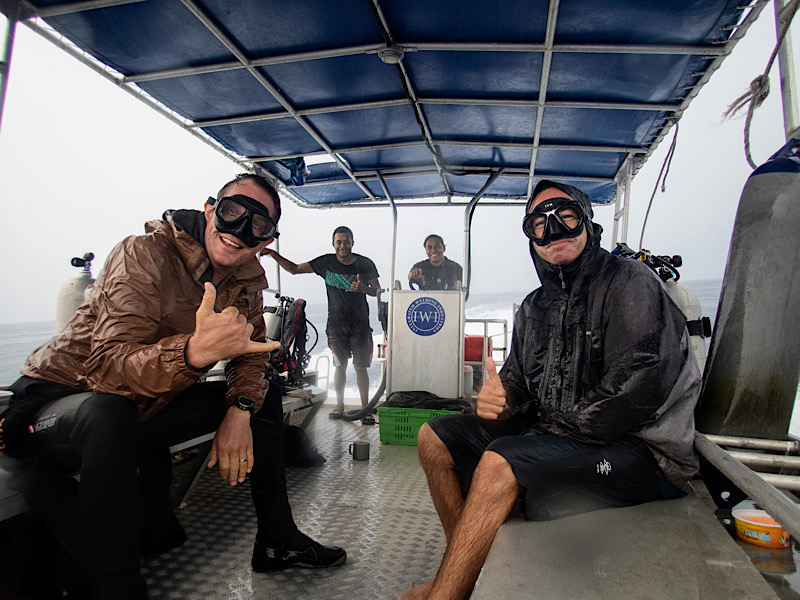 Again, there are many other pictures in the album linked at the top of the post. I have included comments where more information might be useful but feel free to ask questions. I wonder what week two will bring....
Take care