There is a constant site in estuary anchorages in Mexico and the States. A boat aground when the tide, current and wind conspire against the boat owner that anchored just a bit too close to edge of deep water. Typically there isn't any real damage to the boat because as bad as it looks most boats can take a gentle drying-out but it sure is easier to look at when it's not your boat!
Combine cheap anchoring and moorings with flat calm water and you can find them everywhere from Puerto Escondido and La Paz Mexico to Morro Bay, California. Boat that stopped being "boats" long ago but to someone is home. Local Government agencies and Harbor commissions try to kick them out and make their life harder through anchoring limitations and various rules, but the Float Aboard or Sea Gypsys always find a way around the maze of rules and regs designed to run them out. Morro Bay actually has more than it's fair share of floating (or not so floating) water condos, but it's part of what gives the area it's charm.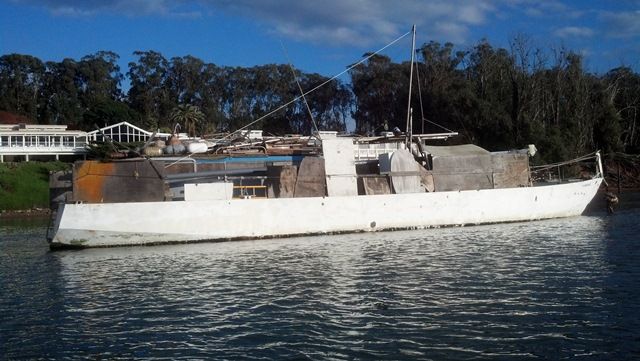 Jason and I took a dinghy tour of the estuary and about fell out of our dingy laughing at this boat owner who turn a bumper sticker political slogan into his boat name. I bet I know who he voted for last Nov.
What isn't a Lie is just how much we like Morro Bay. We have been coming here for short day visits as far back as I can remember, but this is the first time we have been here by boat. We have already met lots of friendly live aboards and unlike the novelty of us living aboard in Port San Luis, living aboard here in Morro Bay is quite common.