So I started tearing apart the interior today. I have to hand it to Per Brohall, it was pretty easy to get it apart. Everything was screw/blot secured, and pretty straight foward to take it apart.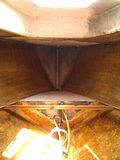 I brough the wood home to work on it in the garage. I haven't made the decision yet if I am going to re-finish whats there, or replace entirely. I have a few design ideas for a new layout of the v-berth, so i'll sketch those out and then make my decisions.
Also, the fiberglass inside looks to be in excellent shape. Granted I need to get a decent layer of mold and debris off. I think next weekend's work is to try and get a power washer in the boat, and blast everything forward of the blukheads.