With our week long charter in the BVI completed we headed back to Bequia. Again, we had a great time and many laughs with our guests on 'Faith.' We also celebrated our Captain's birthday with cake, candles and, most importantly, ice cream.
Every charter is quite different, but one thing remains the same.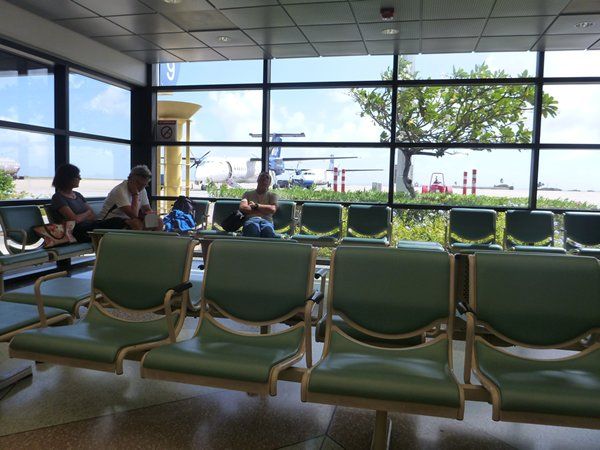 We do spend an awful lot of time in airport waiting rooms. This is the transit lounge at Barbados Airport, which is one of the 4 or 5 airports we pass through traveling to and from each charter. That is Tim by window snoozing.
We finished the charter on Saturday the 1st of Feb, flew out of the BVI at 0700 in the morning on the second and arrived in Bequia nearly 12 hours later. We stopped at St Martins, St Kitts, Antigua, Barbados and finally St Vincent where we got the 1730 ferry. We arrived in Bequia almost 12 hours after we left the BVI. It was a long ole day.
We rested up for a whole 3 days in the company of Skip and Madeline on 'Saralane' and Skipper Tim on 'Stormbird' before heading off on Tuesday the 4th for Trinidad to collect our new dinghy, last reported to be in Grenada. We expected to be waiting for us when we arrived.
But while we arrived in Trinidad, our dinghy was redirected Santiago, Chile.
Trinidad is a great place to get work done. During the summer, the Chaguaramas area of Trinidad is full of yachts avoiding the hurricane season and many take advantage of the expertise and reasonable prices. You can get just about anything done here.
While waiting, we moved into Coral Cove Marina and had Shawn from Superb Covers measure Larus up for a cockpit cover. We also had our cockpit seating replaced with sustainable teak and are having the aft hatch made of teak and plexiglass replaced.
We've been enjoying the society of Coral Cove Marina where we have a number of friends met here in Trinidad and in different parts of the Caribbean.
We're also taking the opportunity to see a more of Trinidad. Many of the trips we've done (are doing) have been organised by Jesse James of the Maxi Taxi (mini buses) firm called 'Members Only.'
Just a brief as side about how things work here. To facilitate communication between the cruisers themselves as well as the local businesses many sailing destinations have a Cruiser Net. The Net here in Trinidad is run by the Cruising Community with input from local companies. It allows cruisers to get help and information or find parts and services and get to know other cruisers by listening on VHF 68 every morning at 8.
Members Only arranges sightseeing trips and trips to sporting and cultural events as well as trips to the markets, malls and supermarkets. With Carnival fast approaching, Jesse has arranged trips to events we wouldn't necessarily know about as a tourist. Jesse also liaises with the local authorities about issues concerning and of concern to the cruising fraternity.
Now on to the photos!
Our first excursion was to the main Port of Spain Market early one Saturday morning.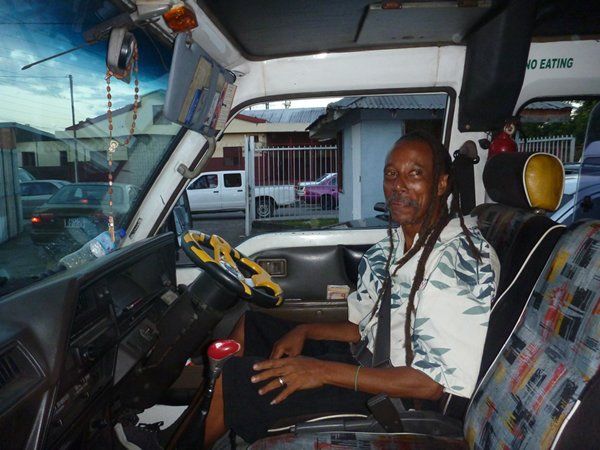 This is Poppi, our Maxi Taxi driver. He picked us up at 0600 and then collected us at about 0830. He made me wait to take the photo until he had shaken his dreadlocks free of the ponytail they'd been tied back in, I suspect for sleeping purposes. I greatly enjoyed the ride to the market as I got the chance to ride shotgun in the front seat. Poppi has a bright yellow race car driver steering wheel and I amused myself, and hopefully Poppi, by making engine rev'ing noises whenever he changed gear.
The first part of the market you come across is the area where you can buy meat and fish. I bought some gorgeous big shrimps/prawns that were a 100TT$ for 2 lbs. They use every bit of the animal here and you could buy anything from ear to hoof. (Our Trini neighbours at the marina shared their leftover curried chicken necks with us. Delicious but not very meaty and rather unexpected.)
My favourite part of the market was open air fruit and veg market.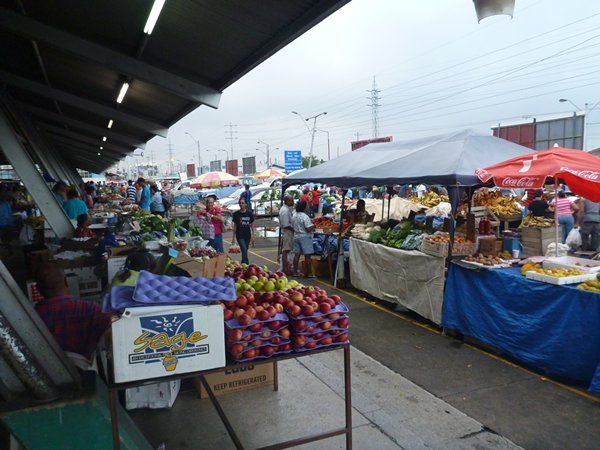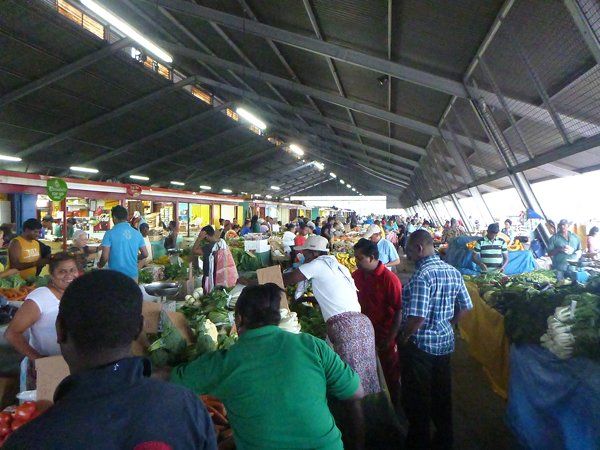 As well as stands and stalls, people also sell from crates and the back of trucks.
Beautiful arrangements of Scotch Bonnet Peppers, bananas and Shado Benni which is a local herb that tastes exactly like fresh cilantro/coriander.
They also sell some clothes, groceries as well as home-made condiments and you can buy the local delicacy 'Doubles' for a post shopping snack. Doubles are usually eaten for breakfast and bought from street side vendors from coolers - the various parts are made at home and constructed to order. They are made up of two soft fried circles of bread dough with a spoonful of channa (chickpea) curry, some grated cucumber and a variety of sauces or pickles served in a square of grease proof. I like mine with just a little tamarind sauce and a judicious dash of hot sauce. The correct 'Double' eating stance is to well lean forward with your feet clear of any curry and sauce that might escape.
Eating Doubles is a messy business which is why there are no photos at this point. You need both hands to deal with your 'Double'.
Our next day out was with Derek, a Members Only Maxi Taxi driver, avid cricket supporter and darn fine cricket explainer for those of us who needed it, to watch Trinidad play CCC (Caribbean Campus and College) at the Queen's Park Oval.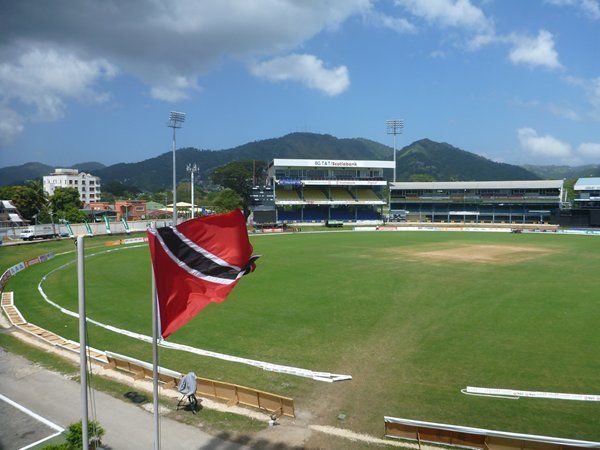 We showed up early to get a good spot.
Maybe a bit too early, but you really don't want to show up too late.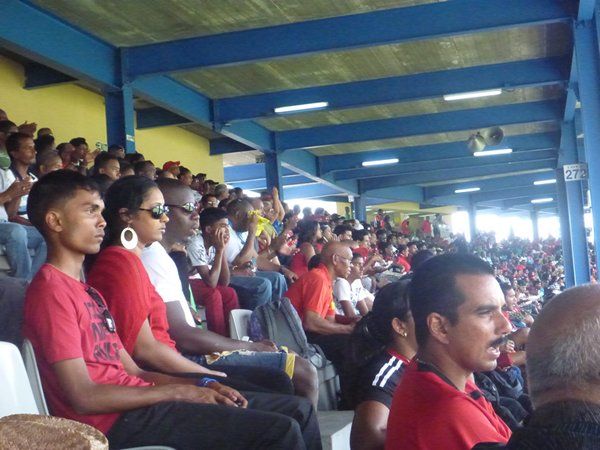 Trinidad trounced CCC but CCC is made up of young players learning and perfecting their game so it was not a great surprise. Tim and the other guys went the next week to see Trinidad get trounced by Barbados.
I went on my first Carnival themed event to see the
Panarama 2014
Northern Large and Medium Band Semi Finals.
We saw three bands play.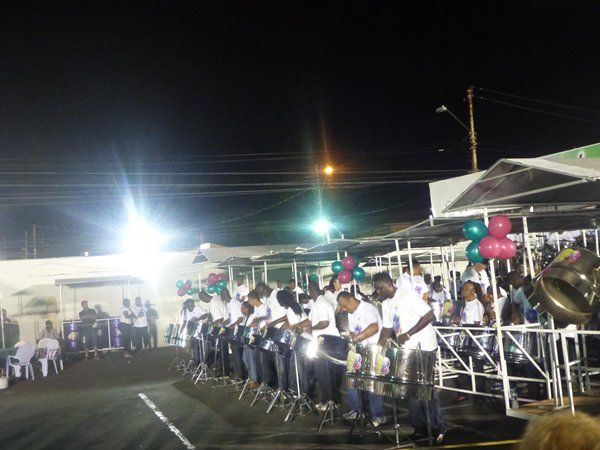 They put on a great display with lots of choreographed jammin' and lots of enthusiasm.
These are the Renegades who were the favourites to win.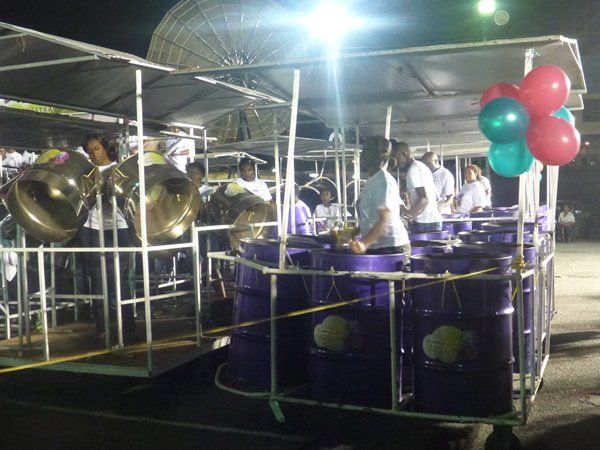 They really are made of old oil drums. The pan yards, where pan is played, were parking lots or areas between buildings and they were decorated and filled with spectators and food and drink stands.
We travelled with Jesse by Maxi Taxi to various Pan yards where the bands practiced and waited for the judges arrive. It really was a great experience.
We rented a car for a few days with Tony and Jane from Capisce, who are also in Coral Cove Marina. As well as shopping and buying diesel in 25 litre jerry cans from the local gas station at 1.50 $TT a litre (about 15 pence a a litre) in 100 litre batches, (The 100 litre limit is supposed to stop boats buying diesel this way. Diesel bought the marina's isn't subsidized and much more expensive.), we drove south to visit the
Pitch Lake
.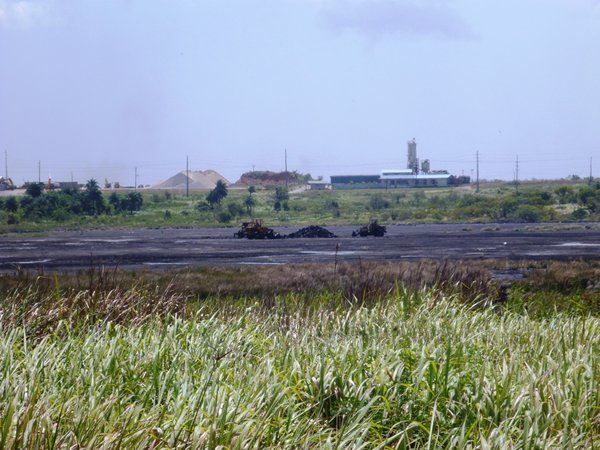 We were the only visitors there and with our guide Wayne, had the place to ourselves.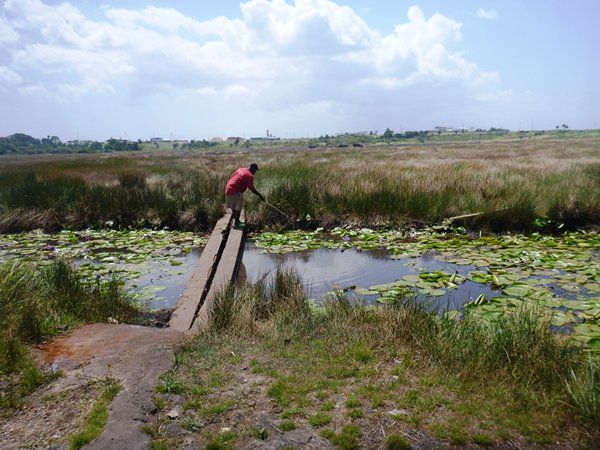 The floral and fauna living in and around the Pitch Lake were a real surprise. With some skilled whacking, Wayne was able to present Jane and I each with a lily.
Mine was blue.
I also saw my first cashew tree.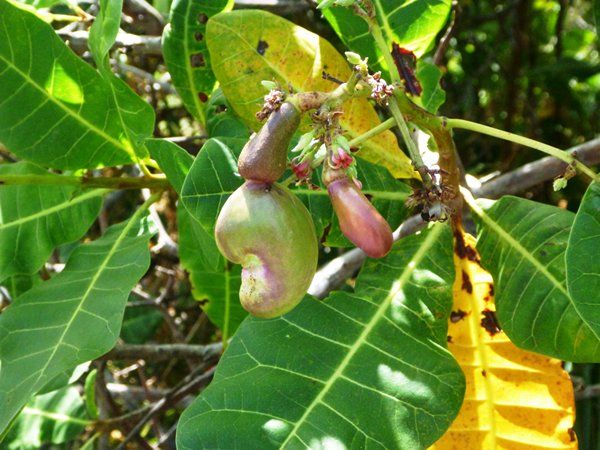 They look very much like almond trees but the cashew fruit is much sparser on the tree which explains their high cost.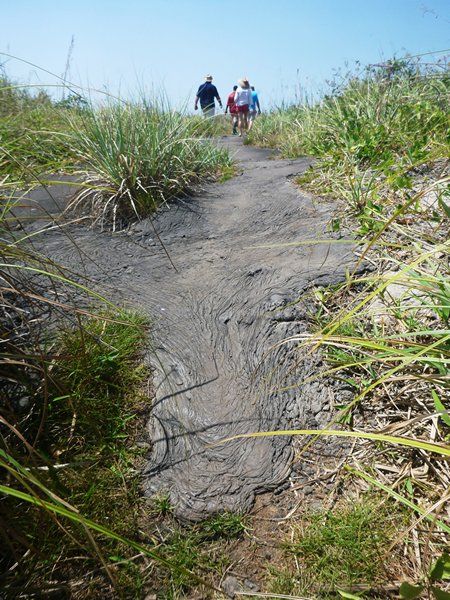 We followed a winding path of tar down toward the lake itself.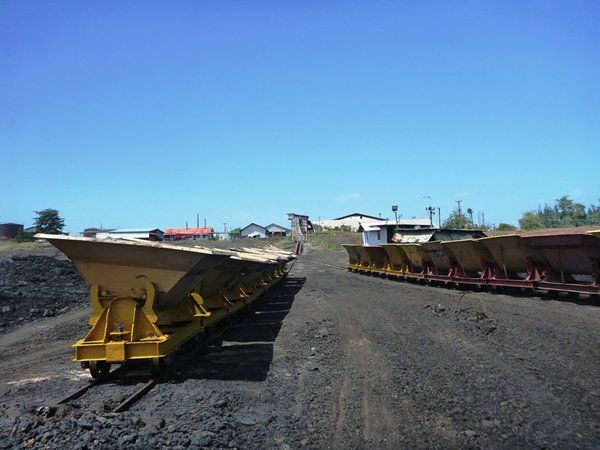 Bulldozers pile the tar near these hopper cars. The tar is moved via hopper to a conveyer that takes the tar up to the processing plan.
After this point, we were told to follow directly behind Wayne.
Unless you knew what to look for, you might well end up in one of these areas where the tar was liquid.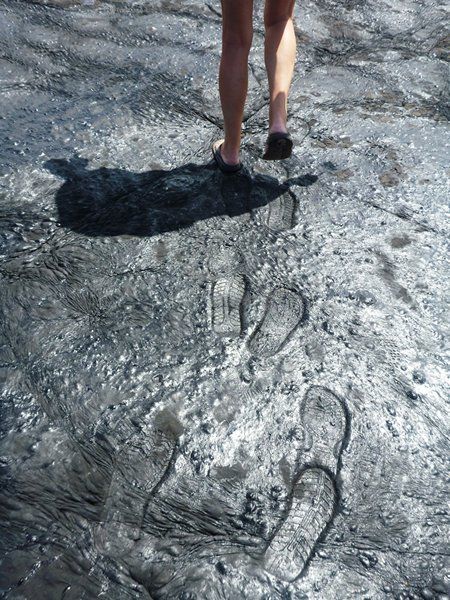 So follow we did!
The forms we saw were as unexpected as they were amazing.
These folds of tar were formed by the weight of rain water ponds. As the water dries up, the tar rises upward and its surface will eventually become smooth and flat.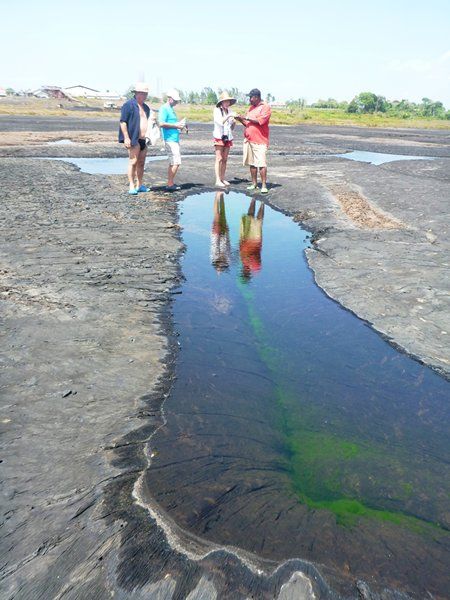 The water was surprisingly pro-life. Tiny fish and algae could be found in many of the pools. Tony even went for a swim, which is one of the Lake's attractions.
That's not gold at the bottom of the pond, but liquid tar with some sort of film between it and the water.
The tractors collecting tar stopped and waited for us to pass.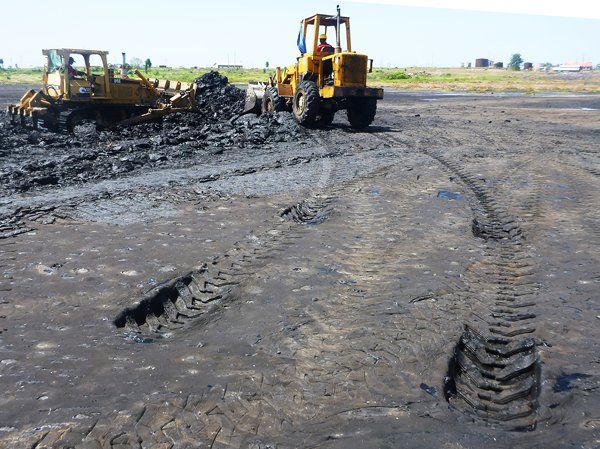 It was interesting to see how far the back wheels had sunk in in such a short time.
However it appears, this tree stump is rising from the tar.
Whatever goes down, will circulate back up again in time as part of the decay process.
It really was very interesting and if you get a chance go and see, if you can.
We did get lost both coming and going in San Fernando. In the same area to boot. The signage to the motorway left much to be desired.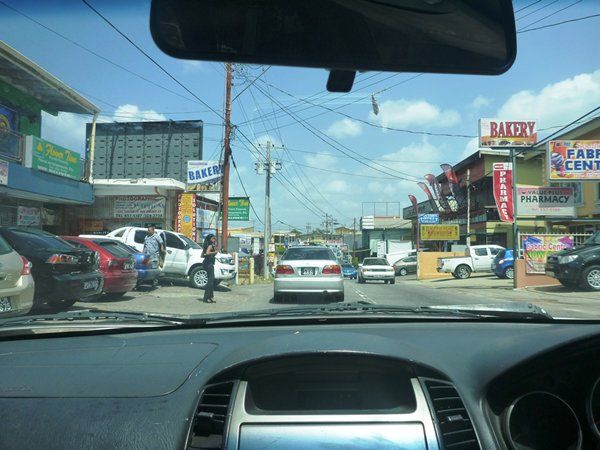 'Haven't we seen this before?' Yes!
The Pitch Lake was our furthest destination so as we worked our way back we went in search for the
Temple in the Sea
.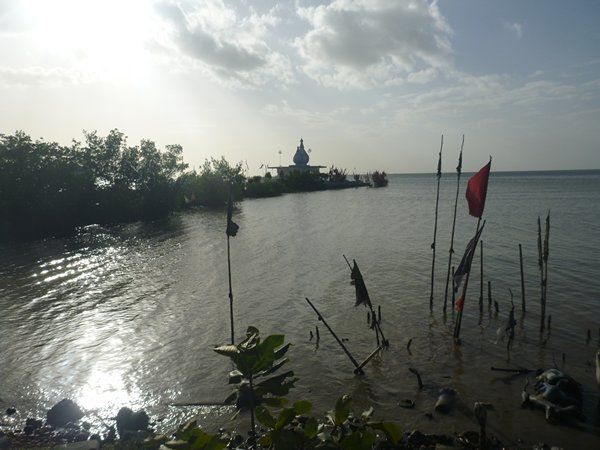 Denied permission to build Hindu temple in Colonial Trinidad, Sewdass Sadhu painstakingly built his Temple in the Sea.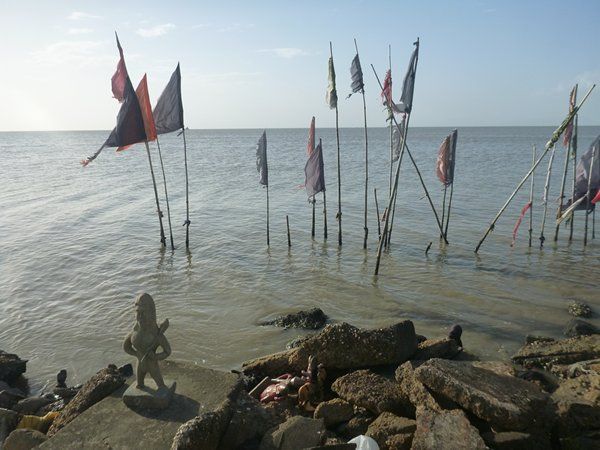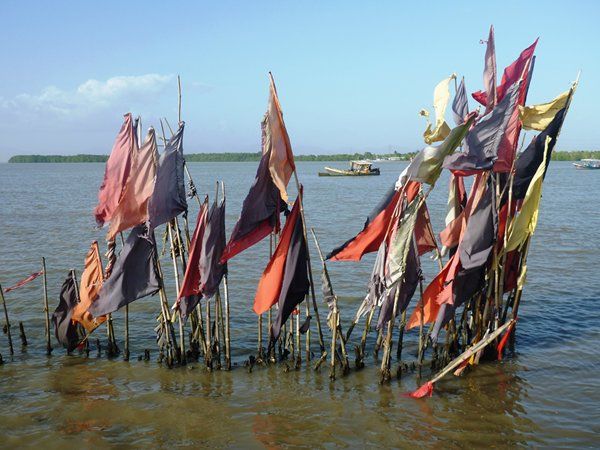 It is gratifying to see that the temple is well used to this day.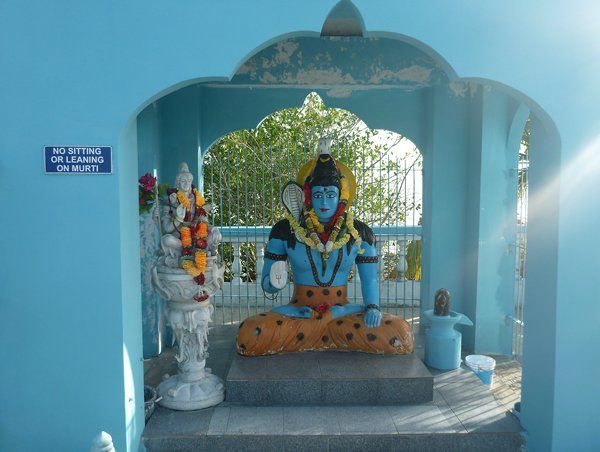 I loved the sign on the approach to the temple admonishing people not to sit or lean on murti. In Hinduism, a murti is an image in which the Divine Spirit is expressed.
On our way to the Temple in Sea, we were side tracked by signs advertising a statue of Hanuman, the Hindu Monkey God.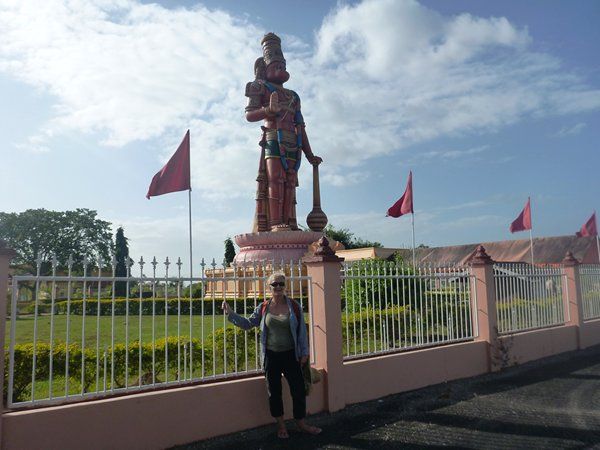 It was well worth the detour.
Our last task with the car was to pick up our new dinghy from Customs.
It finally arrived on the 19th of Feb, which was a long enough delay for TNT to refund the cost of delivery.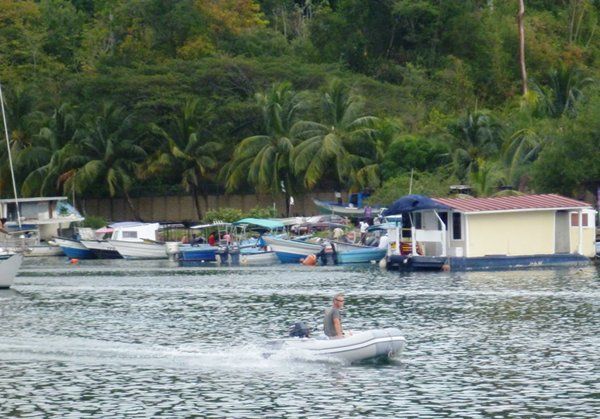 The Captain and crew both heartily approve.
16.00 25/02 - Our new Bimini has arrived! Our new bimini has arrived! It is amazing. I will post photos soon along with ones of our visit to the Old School Carnival last Sunday.
Tonight at 1800, we are off to the Carnival Kings and Queens Semi finals, so not time now. But I will get them posted asap. :D