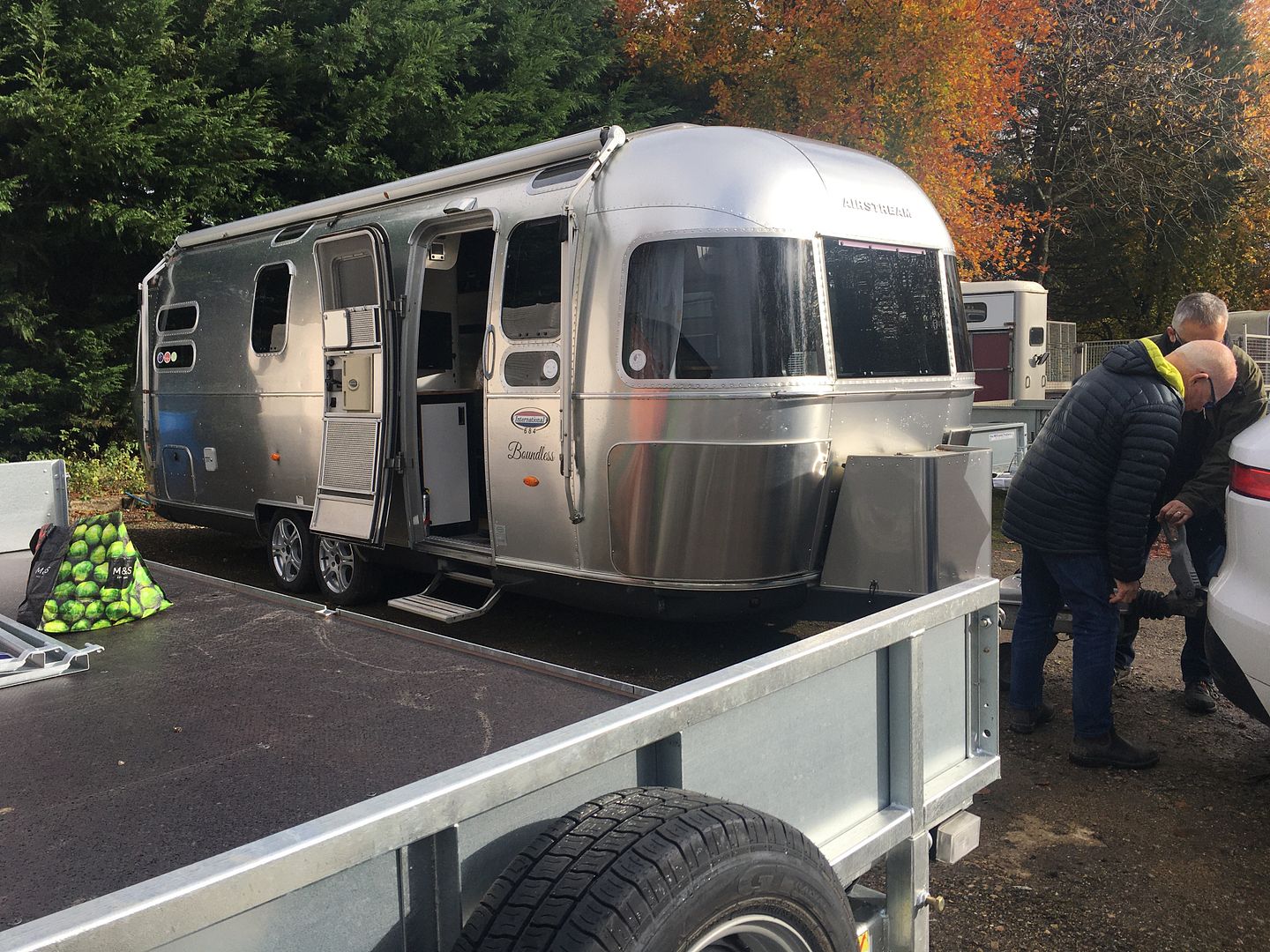 The past weeks have been busy, packing away the house and whittling down exactly what we can take with us on this upcoming road trip. But fingers crossed, next Monday will see us away from Milford towing the silver bullet, heading for our first stopover, a small site close by Birmingham where we've planned a 48 hour stay during which we are having one last job completed, the fitting of some electric 'motor movers'.
We'll then resume our trip north, aiming for another 48 hour stopover in Chester on our way up into Scotland. Neither of these legs is longer than 4 hours, and will allow us to get familiar with any towing peculiarities....
With a supercharged Jag pulling the Airstream don't foresee any issues, and it's all a bit more comfortable and certainly very different from our very first road trip together in 1969.
Back then, shortly after getting married and deciding we hadn't really seen enough of the world, we sold some wedding presents and teamed up with pals Glyn and Moira to spend a huge £120 in Germany buying an old split screen VW combi just like this one.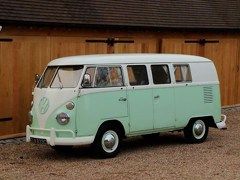 We blagged a sponsorship from VW (yes - travel by van then was still newsworthy) to get its engine rebuilt, and stocking up with as much as it could carry (which wasn't a lot with its 1300cc of pure power), and with a balance of just £150 in our purse we departed the UK with a dream of driving overland to S Africa. As needs must we reckoned we could always work when the purse got empty.
It was a blast of a trip ....
The van had 6v electrics and despite the service, a dodgy generator. So the slower we went, the dimmer the lamps and the slower the wipers. Top speed was 70mph and that downhill with a following wind. Much, much slower uphill and across the mountains. It was the time of Parisian pavement partying, mixing with local kids, US draft dodgers from Vietnam, and expat youngsters avoiding the troubles in N Ireland. Of crossing a Spain with no freeways and unfriendly Guardia Civil. Of North African border guards with scissors on hand and authority (and guns) that allowed them to shear off hair off hippies that they considered too long. A Gibraltar blockaded by Franco, all barricaded and garrisoned by several Brit regiments to halt a threatened invasion. It was all so cool, a happening time, and we were fortunate enough to be right in the middle of the mix.
Over those two years we learnt lots about life and definitely about ourselves whilst out on the road. It cemented an understanding that traveling is good - and provided some life guides we've stuck to ever since. Our time in the early IT sector. Choosing to work for various European and American firms. The 20 years in Australia. Our early retirement and cruising 30000 miles on various yachts. Our more recent time down in Spain. They were all fueled by the zest to enjoy new people and new places which probably stemmed from that very first van trip together 50 years ago.
And just so you know, when we made it over to Africa, we just couldn't get through. Even in convoy with other travelers, the wars we found raging - in a band across the continent (Congo, Chad, Sudan) - made it impossible to drive from the north to the south in safety......and then while we were over there, the Six Day War kicked off! The whole of N Africa became a tricky place for any European travelers.
So it was a speedy scurry back to Gib. Pick up some local work to replenish the purse - and later fly back to the UK.
Must say on settling back down, I began to appreciate that I left the UK as 21 coming on 17, and returned 23 coming on 30. The traveling experiences taught us lots, and the trip was a fantastic achievement in some difficult times. But with a new family on the way, it was appropriate to then trim the beard, cut off the hippie locks, and (oh no), go get a proper job.......
So here we are now just over 50 years later, embarking again on another traveling adventure.....albeit with more dosh in our pockets and this time in a bit more luxury.
But next week I'm departing as a 73 yo, and absolutely don't want to return feeling ANY older than that! But what with lots of hiking, cycling and relaxing partying over the three months, my goal is to return not just fitter but maybe feeling younger too.
Now WOULDN'T THAT BE a fantastic achievement? On. On.