We'd both spent time studying pilot books and the Reeds Almanac to make sure we got this passage right, as the Chanel de Four is one of the last two tidal 'gates' we need to get through on our journey this year south to Lagos in Portugal for this summer.
This is the tihrd time we're covering this passage, having completed it in 2004 on our Grand Soliel 42 and also in 2005 on the Hanse, both times in company with Rally Portugal. Those passages were almost races, going direct from the UK to Bayona in N. Spain before heading down the Portuguese coast. This time we've come from the UK sailing alone, and spend quiete some time sorting some boat electric issues in Brittany.
Now we're all fine, and pushing down and around towards Southern Brittany where we aim to lini up with some new sailing pals and escort them across the Bay.
This current days sail is the shortest route between Aber Wrac't and the ports in N Biscay where we expect to find our pals, and avoids the larger seas and heavy ship traffic you'd normally find outside the off lying Ouessant Isles.
We're bashing into a solid SW'ly but the Chanel du Four is wide enough to tack through safely and deep enough not to build the seas too high. And with a trusty chart plotter it is not difficult to see where one is at all times and keep to deep water. Strong tides and exposure to the Atlantic swells often result in steep seas that can get positively dangerous in shallow water when the tide runs against the wind - which is why we are sticking with the deeper stuff.
The guides advised us to ensure we got to the narrowest part off St Mathieu right at the bottom, just at slack tide to avoid the worst of any overfalls. We definately don't want to get there before the tidal flow stops, as this wind against tide in the shallow slot builds huge standing waves.
We left Aber Wrach't under full sail (it was a lovely sunny day) in a building south / south westerly breeze. Not really the wind direction we wanted as we were heading that way, but with a goal of getting to St Mathieu at 2.15 pm and itchy pants making us leave at 9.30, we assumed we'd be able to slow down any time we liked. Got that wrong.
We unfortunately found ourselves in company with a number of other yachts going the same way. And you know what it's like when you get a few boats in the same water space? Yup - it turned into an impromptu race. Meaning we led this disparate fleet into the top of the channel, lee rail buried under water as we creamed along into a 20 knot wind making at times 9 knots over the ground.
Have to say if felt for me like the beginning of the holiday. First time we'd really had Swagman blowing away the cobwebs and hopefully carrying us to warmer climes.
But as we closed the final big lighthouse (and in this region they do big REALLY BIG lighthouses) off St Mathieu, the winds were almost true south, and strong enough to make us tuck in a single reef on our mainsail.
Swagman still charged along being assisted by the southerly flowing tide when we saw this maelstrom of white bumpy water stretched out before us from the lighthouse towards the open seas, like a white surfers wall. We'd arrived just an hour of so early - but there was nothing that scared us from continuing.
We yahooed and held tight as Swagman shouldered into this stuff like a rugby prop forward doing 10 miles per hour - sending huge bursts of spray off her bow as we blasted and bounced our way for what seemed like ages, but in reality was maybe fifteen minutes, came out the other side into what was relative calm seas south of the cape.
Could then have gone and changed my underwear:-)
The seas were still big but not breaking, and the breeze was still up over 20 knots and we knew the seaside town of Cameret on the southern shore of the bay is tucked in under high cliffs and therefore sheltered from SW'lies. It proved too attractive a place to ignore. So we eased our sails, swung the wheel to head due east, and surfed along the swells on a broad reach for another hour before finally fetching up before this pretty little town and it's harbour / marina complex.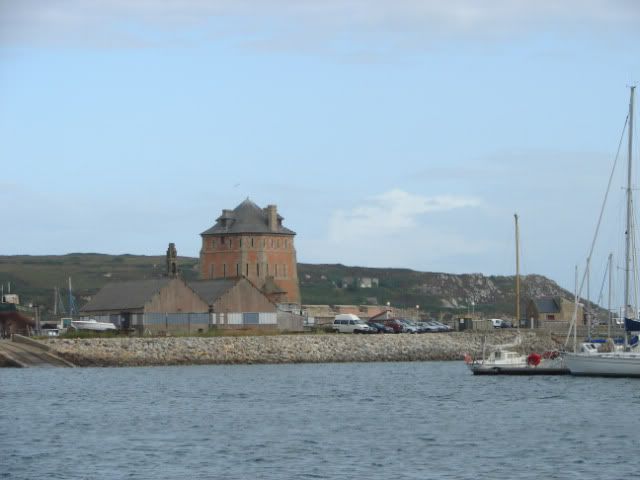 The days weather had kept lots of boats at home so the marina itself was full, so we grabbed a visitors mooring buoy off the harbour mouth and settled there for the night.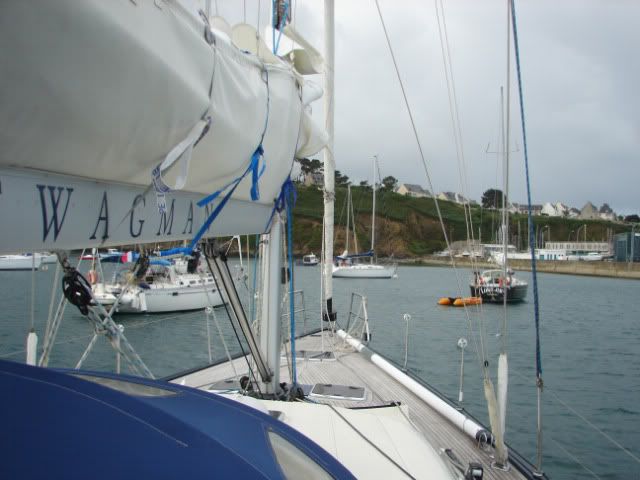 Did a short run ashore and found some lovely artwork for the new home, ate on board, and were treated to Bastille Day celebration fireworks right alongside us just before midnight.
Today sadly the weather is not good. Wind stronger at 25 knots - still from the SW (the direction we want to go) but with rain showers and grey sky. Plus I'm also having a tricky of a job getting Sue out of bed (she just now demanded another mug of tea). So all in all it's shaping up that we'll not make our next tidal gateway of the Raz de Sein today, so let's stop here one more night and look to move onward when the weather eases.
Here's wishing you all a happy Bastille Day.
Vive la revolution - no worries.
JOHN and SUE xx