Part 1 Ashkelon, Israel To Kos, Greece
In the end, this season, we had no less than eight delivery job requests. With our boat renovation projects on hold we spent many hours brainstorming how we could manage all our landside responsibilities and still take on these jobs. Then the new company which had taken over management of the Lagoon 500, that has been Manny's main workplace these last six years, decided that they too wanted to deliver the catamaran to the Med. Immediately.
Our planning stopped while he scrambled to get the boat ready for a passage down the Red Sea, through the Suez Canal and into the Med. Crew had to be organized, gear had to be checked, the boat's bottom had to be cleaned and the knees and props had to be checked. Endless emails were sent, provisioning lists were made, we began to pack and a constant eye was kept on the weather.
Then just as suddenly, they cancelled the whole idea. A few weeks later the delivery was on again... and then cancelled again. This crazy dance continued through spring and into summer till mid July found us still in Eilat. Totally fed up and having already turned down many jobs, Manny took the next offer that came our way. We signed on to help deliver a boat from Ashkelon Israel to the island of Crete in Greece.
I was thrilled. Eilat had been having the earliest and hottest summer on record. For over a month temperatures had been hovering around 50C and I was ready to get away! Moreover, I've wanted to sail to Crete since 1979, when I lived there for half a year or so. This sounded like the perfect opportunity.
And so, at the end of July we found ourselves on a 40 foot Elan sailboat in Ashkelon marina. We met with the owner and chatted. Manny had met him previously on several occasions, as we all lived in the same town, and knew that he had several passages in the Med under his belt. This time round, the owner would be on board and we'd be serving as crew. While we chatted about the passage to Crete he was fairly vague and declared that "we'll see how the winds are and be spontaneous". Being a teacher he had a long vacation and time was plentiful. He explained that he needed to go back home for a the next few days, gave us the boat keys, and asked us to give him a hand reinstalling his anchor winch that had been taken off for repairs.
Happy to help, Manny got to work. Meanwhile I went down below and began to check out the galley, our heads compartment and cabin. It soon became apparent that we were in for a fair bit of work even before we left the dock. As we later concluded, the owner wasn't organized and was one of those sailors that wasn't very big on maintenance. The anchor winch installation led to a bigger job, when Manny found that it had been assembled incorrectly. Then, there was a battery that needed replacing, a head that wasn't working, corroded wiring and a propane tank regulator that was leaking. The water tanks need cleaning, and the engine needed an oil change and filters replaced. Working under hot and humid conditions, left us tired and frustrated, but thoughts of sailing to Crete kept us going.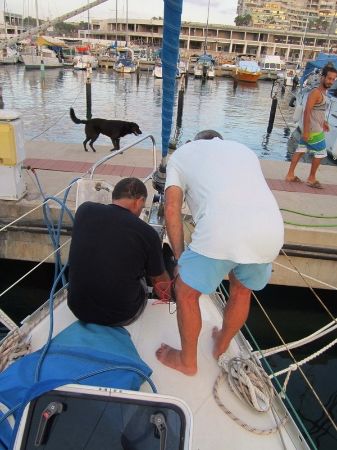 On his return, the owner changed his mind and decided that summer winds were too strong in the vicinity of Crete and we'd sail to Cyprus and on to Rhodes instead. We were disappointed, but by this point we just wanted to be sailing. The week wore on while we worked on various repairs, cleaning, organizing and provisioning. The owner frequently disappeared to deal with family issues and to pick up parts.
Finally Manny hit a wall saying to me,
"If we don't leave tomorrow, I'm backing out and we're booking a last minute holiday somewhere nice. I thought we'd be sailing not doing all his boat maintenance".
That evening the owner showed up around midnight and declared that he had organized clearance for the next morning. Little did he know how close he'd come to losing his crew.
Always the optimists we woke up early. I was too tired from the long days of work, to even have the normal butterflies in my stomach. We did a little last minute organizing, fueled up, cleared out and were underway by 10 AM. As we cleared the breakwater and headed out to sea, we could finally relax.
I had seen Elan sailboats at dock and watched a neighbour sail his on the Red Sea, but I quickly learned that she sails very differently than most boats I've sailed on. The Elan is a racer cruiser and I found her motion on a long passage at sea to be uncomfortable. With 18 to 20 knots of wind and our destination of Paphos, Cyprus upwind, we settled in to a long beat. The boat heeled hard over and the motion was very jerky as she crashed into the two to three meter swells. Within twenty four hours I was bruised and sore from my body slamming into all sorts of edges onboard.
The heat and the humidity were still high, even at sea, and the rough movement onboard had me reaching for my seasickness medication. This time round I experimented with taking only half a pill and it worked so much better. It was enough to settle my stomach and I didn't suffer the normal drowsiness. Within an hour or so I felt well enough to go below and cook some food.
Even with all the obstacles we faced, it still was so good to be at sea. As the sun set the owner gave out watch hours and I was pleasantly surprised to find that I would have a full eight hours sleep every night! I would sit till 10 PM, when he and Manny would switch off during the night till 6 AM, and then I would take over again. I soon grew to love those quiet morning hours on my own. Winds were lighter at 6 AM and the boat's motion was easier. I could boil a kettle of water for tea without falling against anything and write in my journal.
The winds held at twenty five knots and for three days we tacked upwind under sail. On the third day exhausted from the long beat we entered Paphos. We had often heard about this small fishing harbour on the West coast of Cyprus, but in actuality we found that it was little more than a couple of unoccupied spaces on a dilapidated wall. We med moored carefully doing our best to avoid the scrap metal that's everywhere on this very foul seabed. The high humidity made showers a first priority. None were available dockside and we couldn't find an accessible beach nearby, so while the owner dealt with clearance, we showered onboard. A meal out was in order, some grocery shopping for more fresh food and an early night.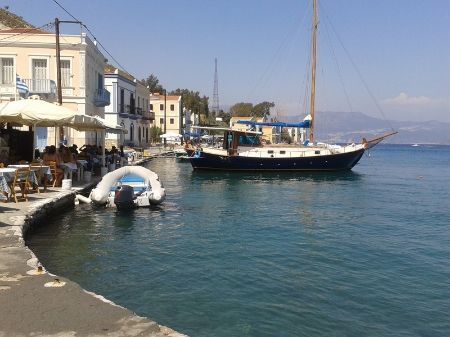 We woke early to take on water and fuel and then quickly set out for Castelorizon, our point of entry for Greece. The owner had seen a weather window for light winds and since this would be another upwind passage of 140 miles, he was eager to make use of the opportunity.
All day we motor sailed towards the Turkish coast, hoping for some shelter from the Meltemi. The high humidity made everything damp and we sweat copiously. Normally Manny and I would stop late afternoon for a cruiser shower - a dip in the sea, a scrub with liquid soap and a quick rinse with fresh water - but the owner was against stopping the boat.
Late afternoon on the second day, the Meltemi strengthened to gusts of 40 knots. We were just off the coast of Kekova Rodes and after much discussion Manny finally convinced the owner to anchor in one of the many well protected anchorages for the night. At last light we snuck into Woodhouse Bay, dropped anchor and tied off of a rock. The boat sat secure and still for the first time in many days. Much to our surprise and due to the political situation in Turkey, Kekova was deserted. We reveled in the peace and quiet and in moments we were all in bathing suits ready for a swim.
The evening we spent in Woodhouse Bay remains to be my best memory of this trip. Kekova Rodes has always had a warm place in my sailing memories, but after five days of beating it was extra special. After a long swim and a light meal we all turned in. Even without cockpit cushions, I chose to sleep outside. I grabbed my yoga mat and spread it out. As I lay down I looked up into the canopy of stars overhead, so grateful for this short respite.
Next day we were up at the crack of dawn to get underway again. We wanted to hug the Turkish coastline and make as many sea miles as we could before the Meltemi picked up. Our tactics paid off and we had a good sail arriving at Catselorizon mid afternoon. We anchored for a few hours in St Georges Bay where we could swim, before mooring at the town dock for the night.
The town of Castelorizon is picture postcard pretty. Med moored to the quay, our cockpit faced one of the many little alleyways that branch off into courtyards. Houses painted in pastel shades lined the hillsides. Many of the Greek families from this island had immigrated to Australia in the sixties and not so long ago Castelorizon was pretty much deserted. In recent years, those same Greeks have begun to come back and to renovate their family homes, so the island is reviving. That evening two ferries arrived from Turkey and the town became busy with tourists. After clearance procedures, a stroll around town, and some boat chores, three more Israeli boats tied up. We chatted a little about the winds and our passages and then wandered off to get some dinner.
While we sat around the table, one of the women from a neighbouring boat commented on how funny it was.
"All my friends and family are so envious of us. They think we spend all day sailing in a perfect breeze working on our tans and drinking cocktails. If only they knew!"
I laughed knowing that everybody else was suffering a long beat through the strong summer winds as well. Later talking to Manny, we both shook our heads over how many Israelis make this upwind passage summer after summer.
We woke up early the next morning to the sounds of the owner getting ready to leave. We'd hopped to perhaps spend one more day here and have a chance to explore a little, but always on the alert, he'd seen a weather map that suggested light winds and was eager to get going. By seven AM the owner and I were sitting in the cockpit fighting for a scrap of shade as we motored over calm seas. The boat had a very tiny bimini which was almost of no use during morning or late afternoon. With the continuing high humidity, there wasn't a whiff of a breeze to cool us off and I couldn't decided which was worse: slamming into high winds and heavy seas or sweltering as we motor sailed in a dead calm.
The day wore on in much the same way. Nobody had an appetite. The owner had turned off the refrigerator, convinced that it was draining his batteries, so even a cold drink was out of the question. By the end of the afternoon, when the wind did pick up, I was at the end of my patience.
Throughout this trip, the owner was silent about his plans. At first we thought he was just a laid back guy, but once we were underway we found that he was constantly changing his mind. Hourly changes we made to our course, our destination, or the itinerary. He'd emphasize how sailors needed to be flexible and have lots of spare time. In the beginning we readily agreed knowing how weather and sea conditions can change the best laid plans. By now, we realized that he didn't always know what to do. Tied to the quay, the passage looked easy, but underway when the winds picked up he'd begin to stress. We saw so many changes that would make this passage easier, but he was set in his ways.
Now with the meltemi picking up, we were on course for the island of Rhodes. The owner planned to stop for a crew change and while he invited us to stay on, we were relieved to be able to get off the boat. We enjoyed being at sea but the pace and the constant beating in an uncomfortable boat had made this a trying passage. At ten PM we crept into the New Rhodes Marina, tired but thrilled at the prospect of a good shower.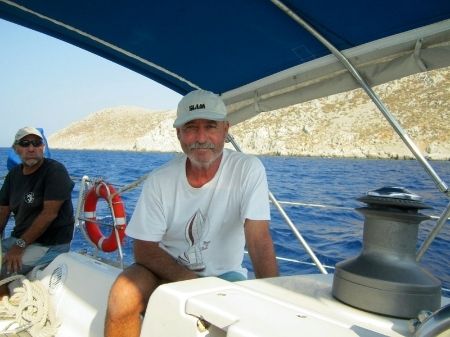 The next day with the Meltemi howling in the rigging, the owner called a technician to deal with his battery issues and for once instead of jumping in to help, Manny left him to it. We went to explore the area around the new marina and check out some marine stores.
The New Rhodes Marina
was a pleasant surprise. While still under construction, we were impressed with the good floating docks, showers and toilet facilities. We chatted with other boats and heard that their haulout facilities and dry-dock are good and prices reasonable.
Later that afternoon as we sat to talk to the owner about leaving the boat, he became agitated. Apparently his actual plans were to sail on to the island of Kos where his wife was due to arrive and he had no crew to help him. The stories he'd shared about crew joining him in Rhodes had changed. What were we to do? Leave the boat anyhow and leave the owner without crew? Or grit our teeth and continue on to Kos? I explained to the owner that we had signed on for a 4 to 5 day sail to Crete. It was now a week and a half later and if we were to continue we wanted a slower pace. His wife wasn't due for a week and that would leave time to slow down, island hop, and explore a little. We also needed to stop somewhere where there was good WIFI reception so we could book our return flights. He reluctantly agreed.
As a peace offering we went out to dinner at a small restaurant on a side street that we'd found earlier that day.
Rodion Geyseis
advertised local Rhodian cooking and the menu which was only in Greek changed daily according to available produce. The friendly owner patiently described each local dish to us in his excellent English and we ordered some of the best Greek food I've ever eaten. We sat in a shady courtyard and were serenaded by a local jazz singer late into the night. A really excellent evening!
I think one of the most important parts of sailing is how the crew and skipper gel. It's vital to have good lines of communication and co-operation. So having decided to continue, we both made the extra effort to try to accept our differences and take everything in stride. On his part, I think the owner tried to slow down a little and to give us some time to ourselves once in awhile. In that way the next week passed more comfortably.
We day sailed to Simi, Nisyros and Astypalaia. The meltemi continued to blow in the direction we were headed and after each passage we beat into harbour tired and happy to rest. Each of these islands was new to us and we would have happily spent a few days exploring them. The picturesque harbour in Simi was packed as is usual in high season and securing a good med mooring was equally challenging. Luckily we managed an early start and escaped unscathed.
We did spend two days in Nisyros. This was one of our favourite islands on this route. Far enough away from the major islands, there were few tourists. The sleepy village and small harbour sported three tavernas and a few car rental shops as well as the usual grocery and bakery. Our Wifi connection was surprisingly good and we were able to book flights back to Israel. However, as soon as we connected, two emails came through. One was a request for a quote to deliver a boat from Levkas to Israel, and another was from the management company for the Lagoon 500 yet again demanding a delivery from Eilat to the Med ASAP. We quickly replied to the first email and happily ignored the second. We'd deal with that when we got home.
This island's attraction was an active volcano and on the second day we rented a car and toured the island stopping to gaze into the bubbling inferno. We also found a volcano museum with much interesting information. I left with new appreciation for our planet as a living and breathing entity.
That evening we had heard that there would be a local group playing in the village. During dinner we were entertained by a lively group of street performers who gave a fun show. Then we trooped down the dock to a square where a local band played and families danced into the night. Manny and the boat's owner stood for hours entranced by the Greek's sheer love of life.
We arrived in Astypalaia after a day of slamming into 4 meter waves and 35 knot winds. Rather than tackle another day of beating into the Meltemi, we convinced the owner to spend two nights here as well. Astypalaia is somewhat off the beaten track and we spent a laid back day there strolling around the town, and swimming off the tiny beach. In the evening we climbed the over one hundred stairs up the steep hill to the town square - which wasn't really a square at all, but a ridge of restaurants and cafes that sat atop the steep hill. Here, the views down over the winking lights of the village to the harbour were fantastic.
Our last days sail took us to Kos. Having beat past Kos to reach Astypalaia, I was looking forward to finally having the wind aft of the beam and for much of the passage it was. We even had a couple of hours in the lee of Kos where winds dropped to 15 knots and we glided over smooth seas. Later, true to form, as we changed course, the Meltemi picked up to gale force winds and we beat into the wind for the last few hours.
Arriving in Kos, we sighed in relief as we heard neighbouring skippers exclaiming over the next week's weather report. There were especially strong winds on the way, and we, for once, didn't need to worry about them. Early the next morning, bleary from little sleep, we pulled our duffle down the dock to the taxi pickup point. Surrounded by crowds of drunken party goers, we jockeyed for a free taxi.
I looked over at Manny and laughed. Instead of sailing into Crete and meeting up with old friends, we'd just spent two and a half weeks beating into the Meltemi, on a most uncomfortable boat. Shortly we'd be back in Israel preparing for a memorial service and facing the prospect of two more long deliveries. The life of a delivery skipper is never dull.