It has been thirty years since my last visit to Greece. It's not that I haven't had opportunities to visit since then, but more that I've been reluctant to destroy my happy memories. For along with everything else, Greece is where I met Manny.
Upon leaving Sicily, Manny's original plan had been to sail to the Greek island of Crete. It was a logical plan. The island of Crete lay midway though the long leg to Port Said. We could stop there to rest and take on fuel and water, but even as I watched for a weather window, I was dragging my heels. I had a whole village of friends on Crete and I hadn't seen them in thirty years. We would only have forty eight hours there. How could I possibly race around and visit everybody in so little time?
In the end, a chance conversation with a couple on the dock at Syracuse directed us to a new route. They talked about visiting the Peloponnesus, the southernmost part of mainland Greece. They told us that anchorages there were almost empty, even in high season, and that the villages were untouched by tourism. Their stories along with a stubborn front creating gale force winds over Crete, got Manny thinking. So, when he finally chose a small town on the Peloponnesus coast as our next port, I readily agreed.
Our passage from Sicily to Greece began with clear skies and calm seas and we sailed under jib alone making seven knots. Within a few hours a moderate swell began to build creating an uncomfortable roll and once again life on board Ellen became less enjoyable. While Manny and Mosheko continued to have hearty appetites, Dima and I looked a little green around the collar. It seemed that no matter who was on crew, half of us suffered from mal de mere.
However, nothing lasts forever and late on our second day out the winds veered a little and decreased in strength. On that night's watch we found ourselves in Greek waters and dawn revealed the hills of the Peloponnesus in the distance. As we changed course to enter the broad bay that was to be our next port of call, we all commented on what a quiet passage it had been. We had been alone on the sea for three days with no other vessels on the horizon and no visits from dolphins.
As we motored closer to the small town which was a port of entry to Greece, we were entranced by the scenery that unfolded. Arid hills on either side of the bay provided excellent protection from the onshore winds. Dotted around the shoreline were quiet beaches, rocky coves and a monastery. Entering the little man made harbour, we searched for marina staff and quickly spotted a worker waving madly from a far pier. He motioned us over to tie up to a barge and caught our lines as Manny carefully brought Ellen alongside. With a broad smile and lots of gesticulating he explained that this was an abandoned marina, so there would be no fees. There also would be no dockside electricity, or water taps. He, however, would be happy to fill our fuel tanks from his tanker. While the rest of the crew shook their heads in dismay, I laughed. This was the Greece that I remembered!
After taking on fuel, Manny, Dima and I grabbed our ships papers and passports and went in search of the Port Office. We quickly found the building and after a short conversation and a long telephone call we were told to come back in the morning. We spent the rest of the day exploring the town and checking out the prices of provisions. Later that evening we enjoyed our first Greek meal in a waterfront taverna.
Next morning we woke bright and early to rush off to customs. This time Mosheko joined us and once more we all climbed up the four flights of stairs to the Port Office. Again we explained our situation. We were a delivery crew on our way to Egypt and the Red Sea. This would be our only port of call in Greece and we needed twenty four hours to take on fuel, water and provisions before our last leg. We understood that under Greek law we were required to buy a cruising permit and a transit log and were prepared to pay the price. We would need to clear out tomorrow.
The Port Captain sat for a moment and then called his superior. Then a long conversation in Greek ensued between several different port officials who poked their heads in from different rooms. Finally we were told in utmost seriousness that we did not have to do any clearance procedures - no cruising permit, no transit log - BUT -there was one condition. We were never there. We were to never tell anyone, under any circumstances, that we had been there. And from that moment on I felt at home.
Twenty four hours is not a long time and we stretched each hour to the limit. We explored the town and bought what provisions we could from the small grocers and patisseries. We checked around for a nearby tap where we could top up our water tanks and took a little time out to swim off the town's beach. The humidity and high temperatures were making a noonday dip mandatory. Dima found the local sailing club and introduced himself to the teachers. Late that evening Mosheko grabbed his video camera and went off to the town square to film a bouzouki concert. I was sure I would regret not joining him but the pace of this long delivery was taking its toll. As I fell into my berth, my thoughts turned to our last leg. We had only 600 miles to go but they would probably be the most demanding miles of the whole trip.
Leaving the warmth and generosity of Greece was difficult for everyone on board. We had barely had the chance to get to know this small town and several good anchorages in the bay beckoned. However this was a delivery and we had a job to complete. So, the next day, we turned Ellen back towards the Med. As we motored out to sea, Manny and I talked about returning to Greece aboard Yofy soon.
Our passage to Port Said was to be the longest on this delivery. While we hoped to miss the gale force winds still hovering over Crete by sailing far enough south of the Island, we would need to keep a close watch on the weather for a few days. Soon we would also be entering the busy shipping lanes for ships entering and leaving the Suez Canal and we would need to be extra diligent on our watches. But it would be the increasing heat and humidity that would provide the greatest challenge for everyone on board.
From now on we each contrived to wear the lightest, most comfortable clothing we could find. Out came thin muslin shirts and long pants that would protect us from the sun but allow any breeze to keep us cool. We donned our biggest hats and the sun screen was never far from hand. We drank gallons of water a day and the four watermelons we bought in Greece disappeared quickly. (I still don't understand why I didn't fill our freezers with ice cream...) . In the heat, everybody's appetites diminished. The highlight of our days became late afternoon when we would stop Ellen for half an hour to swim off the stern.
Manny's route planning was well done as winds never went above 25 knots. Ellen took off under such favourable conditions and we made good speed. On our third day out Manny called Boris on the satellite phone with an ETA and gave him instructions of how to arrange for our Suez Canal pilot in advance. A large cloud of dragon flies lighted on Ellen's deck. They were soon joined by small biting black flies. Night watches were tense affairs with many ships passing us both to port and starboard.
On our fifth day out I wrote in my journal of the sweet nostalgia of coming home. This was our last full day on the Mediterranean and suddenly we all were eager to savour the last moments. Each of us migrated to our favourite corner on Ellen wanting to be alone with our thoughts. During our afternoon swim we saw our first jelly fish. Boris had been constantly calling us on the satellite phone to urge us to go faster but this night we reduced sail. Manny wanted to slow down and time our approach to enter Port Suez at first light.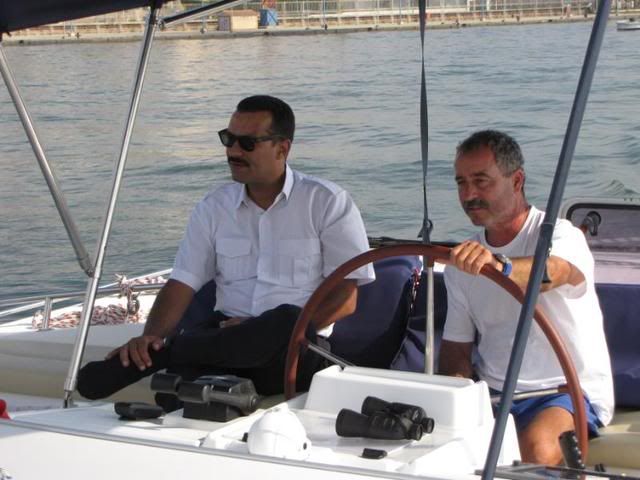 At dawn on August 21st, I awoke to find Port Said on the horizon. With each mile, the heat and humidity increased. Our clothes became soaked with sweat and we knew that from now on our biggest obstacle would be the heat.
By 07:30 I had made radio contact with Felix our canal agent in Port Said and a pilot boat was on its way. Within minutes he was along side and joined Manny on the fly bridge. Quickly we advanced down the shipping lane and into Port Faoud Marina. Fifty Euros baksheesh was handed over and we were tied up alongside the pier. Our crew was tired, desperately in need of showers and a cold drink. While we waited for Boris to appear, I asked Manny to turn on the air conditioner even for just a few minutes. Quickly I regretted my request as the foul odors coming off the sewage filled harbour were blown full blast into our cabin. I opted to suffer the heat and turned the air conditioning off.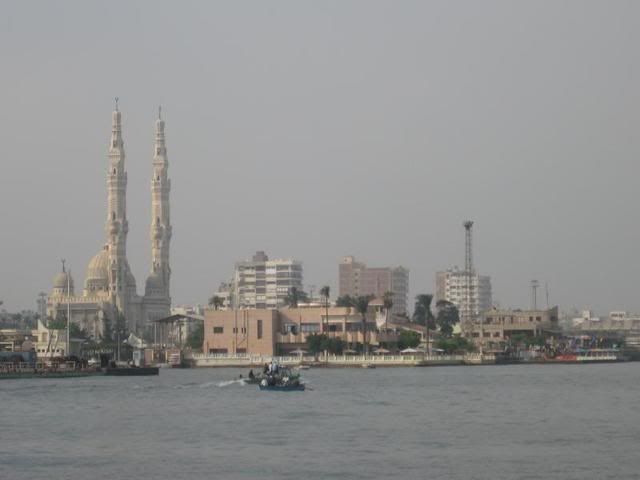 An hour and a half later Boris arrived and the pace of things began to pick up. Said our agent's representative came and went arranging garbage pickup, bringing pita bread and falafels and explaining each step of the long bureaucratical process. Finally the crew's temperatures had been checked by a team of doctors, Ellen had been measured, those measurements had been sent off to be calculated and translated into our transit fee, our passports had been sent to the border control and the ships registry had been sent to the Port Authority. Throughout all this dozens of people came and went. At one point, one poor man stood talking to us with rivers of sweat pouring down his face and dripping off his clothes. Baksheesh exchanged hands at an alarming rate.
Old hands at Suez Canal transits Manny and I had come prepared. We had a locker filled with coke cans, individually wrapped chocolate wafers, two cartons of Marlborough cigarettes and a wad of Euros in small donation notes. Throughout the process Manny gently pressed for an early morning departure and the chance to transit the canal in one day. Each time his request was turned down, he gently explained that Ellen could make 10 knots under way and that we needed to be in the Red Sea quickly. We plied Said with cold drinks and camaraderie.
That evening, after a long day and still no rest for the crew, Said arrived with the news that we could leave the next day. Our passports and ship's papers were on their way and our transit fee had been calculated. He also mentioned that for a "small fee" he might be able to arrange for us to transit the canal in one day. More baksheesh passed hands. At midnight, exhausted and no longer able to keep my eyes opened, I fell into our damp berth. Just as I drifted off to sleep, I heard Said arrive yet again with the news that we could leave at 05:00 and transit the canal in one day.
At 04:30 the next day groggy from lack of sleep we set off. Hakim, our pilot for the first half of the canal settled in behind the wheel. The sun inched its way over the horizon as we motored past sand dunes. By 08:00 the heat and humidity were unbearable and we opened every port to let in any passing breeze. By 09:00 Ellen's cabin had filled with flies and we were all truly miserable. The only comfortable space was the small square of shade where Hakim sat on the bridge. I retreated to our sleeping quarters and tried to rest.
At 10:00 Hakim announced that we were nearing Ismalia and soon would need to change pilots. We temporarily left the canal to motor alongside the pier in Ismalia and Hakim extended his hand for baksheesh as he stepped off the boat. Samir our pilot for the second half of the canal stepped on board and once again we were underway.
The heat and flies intensified until by mid afternoon I was close to tears. Just as we all wondered how much longer we could go on, Samir announced that we would have to anchor at the end of Great Bitter Lake and wait for the morning's ship armada to pass. To Samir's dismay we all jumped in the water the moment the anchor was down. Even at a soupy 30 degrees, the water felt blessedly cool. Now that we were out of the Med we were on water rationing and showers were off limits. Grinning with relief, we rinsed off layers of grime and sweat.
Within an hour and a half we were underway and began to sweat again! Finally at 18:00 we arrived in Port Suez. Samir, baksheesh in hand, disembarked and Ellen headed out to the windy Gulf of Suez.
I had been mentally preparing myself for this last passage all through the Med. Once we had safely crossed the Bay of Biscay, I knew that The Red Sea would be the next rough weather passage. Manny reminded me that we would be on a run and how that would affect onboard comfort, but I have memories of really uncomfortable Red Sea passages.
In the end the Gulf of Suez never delivered its full potential. We sailed on a broad reach under reefed jib and main, with winds of no more than twenty five knots. Ellen surfed down the three meter waves and when I glanced at our knot meter we were making a steady 10 knots. A favourable current added to our speed over ground. By the next evening we were at the Straight of Suez. We had sailed 250 miles in twenty four hours!
And then to all of our amazement, just as we prepared to round Shabali and head northward towards Sharam, the wind died. Within an hour the waves calmed and we were motoring over glassy seas. At 20:00 we entered Sharam where there is clean diesel to refuel. We tied alongside a pier with the plan to top up Ellen's fuel tanks and spend a quiet night at dock where we all could catch up on much needed sleep. However, once again Egyptian bureaucracy stymied our plans. For the next five hours Manny bartered back and forth with the Sharam agent. In the end his answer was clear. There was no fuel available for foreign vessels. We would have to leave at first light with what fuel remained in our tanks.
So with only a couple of hours of sleep Manny had Ellen back underway at 03:30. We wanted to clear the Strait of Tiran with the sun at a good angle and we knew the calm conditions could soon change. At 07:00 we had cleared the Strait of Tiran and once on the other side the winds began to blow again. While we motored into twenty five knot head winds, morale on board was high. We were on the home stretch and the excitement grew with each mile we made. Then we cleared Dahab and once more the wind died and the seas flattened.
In just a few hours we would be entering Israeli waters. Quietly we all took time to contemplate our journey.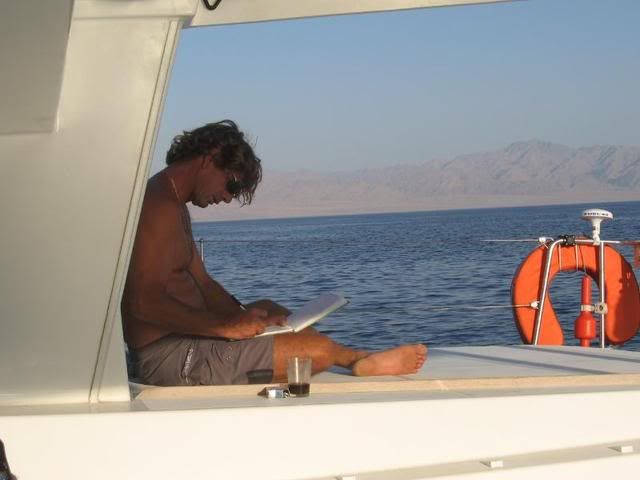 At 22:00 on August 24th Ellen entered Israeli waters and we were home. As soon as we had secured Ellen's lines in her new berth, someone handed round cold beers. Manny gently slid away from the gathering crowd of well wishers and walked off to Yofy's cockpit. Suddenly it was all over. All too soon life on land was rushing in. For just one moment he wanted to quietly savour our days at sea.
That night we slept the deep sleep that only comes after many days of constant watches. The next morning we headed back to Ellen with Mosheko and spent the day cleaning her from stem to stern. Only when the entire boat was sparkling clean did we hand the keys back to Boris.
As we walked away from Ellen, Manny and I were quiet. It was satisfying to complete a safe delivery and it was sad to end the sailing. I was ready to stop and rest for awhile from the constant movement that a delivery job requires. We had many memories to digest and some new plans to create. It had been quite a summer job!