Ask anybody in Eilat what they have to say about the month of June this year and you can be sure they will talk about the heat. At the beginning of the month we were hit with sizzling temperatures that hovered over the area for weeks, and then a heavy Sharav. Already weary of the heat and sand, Manny and I began to think of escape.
Just in time, another offer for a boat delivery job came our way. Towards the end of June Manny worked on firming up the contract, and I began to think again of provisioning. Last summer sailing on the Atlantic leg of Ellen's delivery, I prepared a big pot of soup each day. Using my vegetarian cooking skills, I used different grains and legumes to provide non meat protein but also to give a good base of carbohydrates for cold watches. This summer our delivery will be in the Eastern Med where summer temperatures are sure to dampen my enthusiasm for standing over a hot stove. So what will I cook?
While at sea on a small boat, I find it easiest to cook one-pot-meals. Sailing in the Eastern Med during the summer often means light winds and hot humid weather. The last thing anybody wants to eat in this weather is soup and we have been informed that the refrigerator on this boat may not work. I am thinking of one-pot-meals that will revolve around room temperature grains or pasta salads and rice dishes.
Before setting offshore, I like to cook some satisfying food that will be easy to heat and serve. That way if sea conditions leave me with an uneasy stomach, I can have a rest from the galley and Manny still has a good meal. Last summer while provisioning in a French supermarket, I found some interesting packages of mixed grains. They turned out to be such an onboard success that I will be taking one mix with us. This simple pot of mixed grains and savoury spices can provide good energy without upsetting most stomachs.
Simply Satisfying Grains
1/3 cup coarse, cracked whole wheat (bulgur)
1/3 cup quinoa
1/3 cup split red lentils
1 medium cooking onion, chopped
½ cup chopped celery or 1 fennel bulb chopped
1 tsp ground turmeric
1 tsp ground cumin
1 tsp ground coriander
½ tsp ground fennel seeds (if using chopped fennel bulb then substitute a small piece of chopped fresh ginger root instead of ground fennel)
1 ½ Tbsp olive oil
2 cups water
Wash grains well, until water runs clear. Drain and set aside.
Sauté onion in olive oil one minute. Add spices, stir and cook one minute. Add celery or fennel, stir and cook one more minute.
Add grains; cook a little, stirring to coat grains with spices. Add water and cover pot with a lid. Bring to a boil and then lower to a simmer and cook till done. Approximately 30 minutes.
When all the water is absorbed, the grains are cooked. Turn off heat and let sit for 5 minutes. Stir with a fork to break up grains and serve.
Serves 4
In my experience, leafy green vegetables don't last very long without refrigeration. One good way to provide the missing minerals and nutrients found in these vegetables is through making herbal infusions. An herbal infusion is a large amount of dried herb that is brewed for a long time. While herbal teas provide some nutrition, an infusion packs a much bigger wallop. For instance, a cup of nettle tea contains only 5-10 mg of calcium, whereas a cup of nettle infusion contains up to 500 mg of calcium.
I first learned about herbal infusions from herbalist
Susun Weed
If you want to learn more about herbal infusions and which herbs we can use, I highly recommend taking one of Lady B's
online herbal classes
. A past student of Susun Weed, Lady B, aka Barbara Hall is a gardener and herbalist living in Oregon, USA. She has been gathering, growing and preparing herbal medicines for many years and has a wealth of knowledge. Today she shares that knowledge in several lively online classes that will leave you understanding healing and herbs in a whole new way.
Onboard Yofy, we make infusions from dried Nettles and Red Clover but it is our Red Raspberry Leaf Iced Tea that draws all the attention. Among other things, this tea is rich in Vitamin C, bioflavonoids, calcium and magnesium. It is a cooling tea with the potential of reducing high blood pressure and cholesterol levels in many individuals. Each summer I make gallons of this iced tea and get rave reviews from all our visitors.
Red Raspberry Leaf Cooler
1 cup of mixed dried herbs: Red Raspberry Leaves, Hibiscus flowers and Rose Petals (about 2/3 of the mix is Red Raspberry Leaves)
1 bottle of pure apple juice
1 ½ to 2 liters of water
Infuse herbs for a minimum of 4 hours in one liter of boiling water. Strain, squeezing out as much liquid as you can from the herbs. Pour infusion into a two liter jug, add apple juice and top up with water. Refrigerate.
While I prepare provisioning lists, I think about the challenges of provisioning in a new language. Finding ingredients, reading labels and learning how to substitute ingredients can be very challenging when you don't speak the local language. Last year I happened upon
Kathy Parsons'
websites. These are two great sites where Kathy provides printable cheat sheets and shopping lists for sailors cruising in countries where French or Spanish is spoken. I found her cheat sheets to be invaluable shopping aides and she has also written two good language guides for sailors.
Of course once all the provisioning is completed and brought back to the boat a whole new challenge awaits us. Where the heck can we put everything? Nothing frustrates me more than cruising authors who say store everything in lockers, but don't tell you how. When we first went cruising many years ago, I constantly asked other sailors, "Where do you store your provisions?" On a small boat I just never seemed to have the space. So now, for all of you who wonder the same thing, this is where all the food provisions get stored onboard Yofy.
Galley storage for day to day use: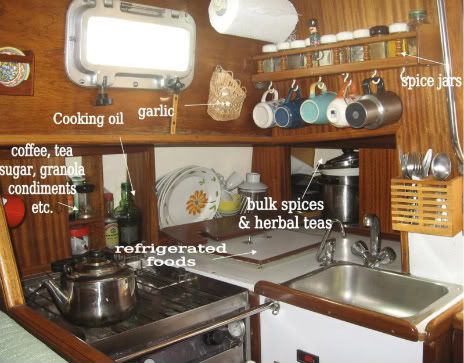 Note how often things are tucked away in behind other things (such as bulk herbs and spices tucked in an empty corner next to the cooking pots)
Cabin storage which includes fresh vegetable storage, day to day quantities of grains, etc. plus dry stores and back up:
The fresh fruit and vegetable locker is vented by two good sized plastic vents that Manny inserted in the settee base. Sorry, I didn't manage to get them in the shot. These vents provide the needed ventilation to keep things from going off quickly.
Today's grab bag is a hanging net where I tuck opened packages of crackers, nuts, bread and any fresh fruit or vegetables that need to be eaten today. When we are under way, I also use this net for our night watch treats.
I do wish we had a bigger galley with handy locker storage that would make access to my Tupperware containers of rice, flour, and other kitchen essentials easier. For now I need to lift salon settee cushions to access the storage.
And this is how it looks:
VEGETABLE LOCKER
BULK DRY GOODS LOCKER
CANS AND PACKAGED FOODS LOCKER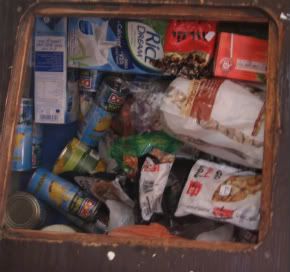 I have lined the floor of each locker with plastic non skid padding that both reduces onboard rattle when underway and makes for easy cleaning.
However you choose to organize the food provisions on your boat, finding accessible lockers and an organized way to find a place for everything will make the cook's life much more agreeable. And as we know aboard Yofy, a happy cook means more creative onboard meals. And tasty and healthy meals underway provide the energy and enthusiasm for bearing any discomfort that a passage may bring.
Now I'm off to prepare lunch. Bon Appetite! Or as they say over here Beteavon!