If I were to describe Gocek in one word it would be peaceful . We have visited Turkey several times before this trip, sailing to Finike, Kas, Marmaris and Kusadasi. Each town has it's own charm but Gocek remains a special memory because of the tranquil atmosphere - and the trees. Several times a day I would stop to breathe in the scent of pine and to listen to the silence. After living for so long in a hectic holiday town on the edge of the Negev desert, we had found ourselves a little utopia.
Gocek is located at the northwest corner of the Gulf of Fethye, on the Lycean coast of Turkey. Surrounded by pine clad mountains that slope down to still waters, the gulf is spectacularly beautiful. Like a long fiord, it is scattered with many little coves and islands reminding me somehow of childhood vistas in northern Ontario, Canada.
The small village of Gocek was discovered by tourists some years ago and has since grown into a thriving tourist enterprise. The gulf offers excellent sailing conditions and numerous anchorages making Gocek a popular destination for sailors. Several marinas have been built and there are four yacht chandlries in town selling marine equipment. There are some small pensions that cater to land based tourists who also come to enjoy this special place. Despite the inevitable changes that tourism brings, Gocek has managed to retain it's small village charm. And there lies it's magic.
We stayed in the Port Gocek dry dock, a boatyard outside of town. Our walk into Gocek passed through the adjoining boat yard and then meandered along the shoreline. We'd pass by a few locals fishing on the grassy banks of a yet unopened tourist development, folks relaxing in chairs in front of three or four parked caravans, a sushi restaurant offering rental bungalows that looked quite inviting, a shore side pub with a flower covered trellis and then a tiny bridge ushering in the cobbled path along Gocek's water front. The sleepy main street has the usual tourist shops, cafes and a couple of small two story hotels. This town caters to yacht charter companies and in season there are sailors, shops selling marine parts and supermarkets for provisioning every few steps.
On our first walk into town we began to look for a bundle buggy (a small shopping cart) to help us lug our provisions back to our boat. We walked the main street and checked out several shops that looked promising but didn't find our cart anywhere. Finally we ended up at Migros, one of the five supermarkets in town, and found the store manager out in front speaking English with a customer. When we asked him where we could find one, he called to his son who led us a good two kilometers outside of town to a housewares shop where they had one bundle buggy. On arrival his son introduced us to the owner, waved goodbye and cheerfully walked the long way back. We were to constantly find this sort of kindness at every step in Gocek.
Later we were regularly offered dockside delivery for any provisions that we bought. Apart from smaller food shops, there are five groceries stores in Gocek - Migros, Tansas, Carrefour, Día and BIM. Although the supermarkets are small for those used to hypermarket type provisioning, we found a good variety of stores available. I even found tetra packs of tofu, soya and rice milk, and brown rice. We did however need to check all the shops because each supermarket sold a different variety of goods. For example BIM did not sell alcohol. Prices varied a little too.
One or two shops in town sold vegetables but the best place to provision for fresh, unrefrigerated vegetables and eggs was the market. The weekly market in Gocek is on Sunday and for a small town, it offers a good variety of food, spices, teas, housewares, cheap clothing and the inevitable locum - Turkish Delight. There were booths selling homemade cheeses, yogurt and locally pressed olive oil. Fishermen were selling the day's catch from a truck flatbed and there were farm fresh eggs. The fruit and vegetables were bursting in flavour, really the best we've eaten in years. Unable to hold ourselves back we bought peaches the size of grapefruits, salad vegetables and olive oil. I picked up some nice plastic plates and a small cooking pot.
One day we walked out of town along the shore in the opposite direction. It was a lovely walk winding along a quiet mountain lane. At the end of the bay we found Club Marina enveloped by towering banana trees and date palms. Right next to the docks was a cafe serving cold beer where we rested our feet and watched the charter boats coming in from the day's sail. As we lounged there, Manny spotted a ferry schedule and we were saved the long walk back. Just in time the funky little shuttle boat arrived to escort us back to town. Later we learned that Club Marina's cafe was a popular, if pricey place for visitors to eat.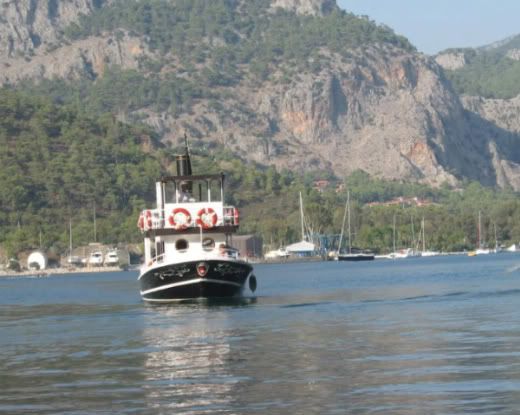 Strictly avoiding the tourist joints, we found delicious foods in some local restaurants. We ate beans in a light and tasty tomato sauce with rice. The Turkish make the best rice - sauteing vermicelli and the rice in butter before cooking. The rice was so tasty that once we were home I researched a good recipe which I found on Nihal's cooking blog called
Turkish Food Passion
. Scroll down the page to Turkish Rice Pilaf with Vermicelli (Ÿehriyeli Pirinç Pilavı)
I tried Cacik, cold yogurt soup and vegetable stew. Manny tried kebabs and eggplants stuffed with meat, but his all time favourite was Shawarma, a traditional method of cooking meat on a rotisserie. Dursun Usta is one of the most popular restaurants with the locals. It sits off main street, just up from the post office in the middle of an orange grove. We tried to eat here several times but unfortunately found it closed for Ramadam Bayrum. Due to all the yacht traffic, Gocek's restaurant prices are upscale compared to other locations in Turkey, but we found with a little care that we could eat reasonably. We enjoyed all our meals and excluding alcohol prices were in the range of just 10 Euro for the two of us.
There are several good boatyards and four yacht chandeliers in town. We were impressed with the efficient and clean yard at the Port Gocek Dry Dock. Many cruisers choose to store their boats here for the off season and launch straight into the anchorage, thus avoiding the high marina fees. Manny spent many hours walking around each marine store. He found some good deals but in general prices were much higher than in bigger towns like Marmaris. We felt the biggest deterrent to shopping in these stores was the lack of visible pricing. Over and over we found ourselves standing in line at the cash to enquire about a price. This would entail a long computer search by the store manager, who usually didn't speak much English. In the end Manny would just give up and forgo any further purchases.
Perhaps shopping for parts in Fethye would be more successful. Only a forty minute ride from Gocek, Fethye can be reached by dolmus - local mini bus service. The Gocek dolmus stop is at the Ofisi gas station at the top of the town on the main road. You can pick up the dolmus here. It will wind out and around town picking up passengers and then finally depart at the orange grove near the town hall. The cost of a trip to Fethye currently is 4.5 Turkish Lira. For anyone with a little time, it might be a better answer to finding boat parts at a reasonable price. Otherwise Marmaris is a two hour bus ride away in the opposite direction.
On our last evening in Gocek, Manny asked me what I'd like to eat for dinner. I immediately chose the muscle seller. Right next to the main pier, in the center of Gocek a young man stands with a cart of muscles. For only two Euros you can buy a plate of ten muscles. Each muscle has been steamed open and a spoonful of spiced rice put on the shell next to the cooked muscle. The muscle seller opens the muscles and arranges them attractively on a plate with half a lemon. In my mind, it is the best dinner in Gocek - a town with a wide variety of good food.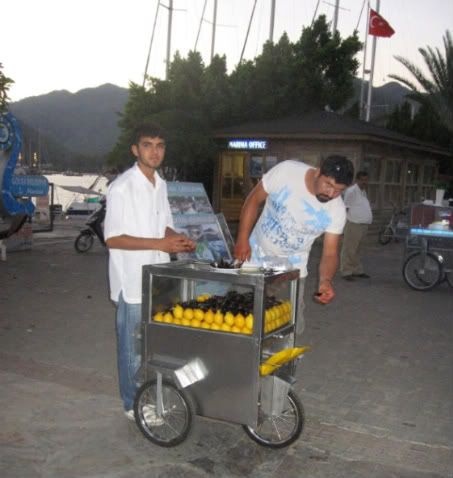 We bought two plates and walked along the pier to a bench. After enjoying every bite, we strolled along the waterfront to Dice - a quiet bar. We entered the bar through a little gate of bougainvillea and saw our table. Out on a long pier between the anchored sailboats, we found a table for two. The only sound was the wind in the pines and the occasional lapping of water against a boat hull. We ordered a nightcap and wondered at the sheer pleasure of sitting beneath the stars, between the bobbing boats in complete peace and quiet. Even in town, where the streets were busy with tourists it was quiet. It was as if everyone had agreed to be gentle in this place.
It isn't very often that Manny and I get to spend a couple of weeks lingering in such a small place. While we would have preferred to be out there at anchor with the other sailors, our enforced land based vacation entitled us to a different view of one little slice of Turkey. And so we raised our glasses and bid farewell to Gocek. We'll be back and we hope that Gocek won't have changed too much.