The June night was warm with a mild breeze playing over the water. Four of us lay dozing on the cat's trampoline while we swung on a mooring. We were three adults and one very excited boy. This would be the first time that Daniel had slept on the deck of a boat.
That weekend was full of many new experiences for Daniel. Yet it almost didn't happen. When we originally invited our friend Pedro, his partner Julia and her son Daniel to come sailing with us, Pedro turned the offer down. "I'd love to come" he said, "but Daniel will get bored and drive us all nuts". Julia agreed. We persisted and finally convinced them, when we told them that we'd be sailing on Ellen, the Lagoon 50 that Manny skippers, and that there would be lots of space and amenities.
We've often heard people complain that they can't take their kids sailing because they get bored. Neither Manny nor I have children, so we normally stay out of the discussion. When we were living aboard in Canada and during the time we spent cruising in the Bahamas, we rarely bumped into families with kids, leave alone went sailing with them. Even so, we found it hard to believe that children wouldn't enjoy sailing. Since coming to this part of the world, that's all changed. We often find ourselves with one or more kids onboard and we're happy to say, that in our experience it doesn't take much to keep them interested.
For example meet Rotem, Nitsan and Ziv.
These three little guys, all under the age of ten, come to Eilat with their parents once or twice a year. When they visit us on the boat, they are delighted by so many things we take for granted - the ropes, the opening hatches, the wheel...and of course the head. When we are out on the water, Nitsan carefully watches Manny, eager to learn a new job like stowing the fenders or flaking a line. They leave full of stories about the opening bridge in the marina, our storage lockers UNDER the floor and all sorts of other mysteries.
Often the families who join us have never been on a boat before. This takes a little extra preparation, an eye on the weather and some clear instructions before we head out. Apart from my usual "how to use a marine head" speech, I let the parents and small kids know that nobody leaves the cockpit underway. I show the children where to sit, get them life jackets if needed, and gently explain that they will have to stay seated until we anchor. I try to sweeten this hard rule with a promise of swimming once the anchors down, swinging in our hammock or something fun to look forward to. Once under way, there are normally enough things to keep them entertained and we keep the sailing part short. This can be a little frustrating for the adults, especially if there's a nice breeze blowing, but kids will get downright cranky if you make them sit still for too long. Soon enough the old refrain of "When will we get there" or "I want to go home" will start up.
One exception to this rule was Fedor.
Not yet two, this little guy was entertained by most everything on board and even took a turn at the wheel. Later his father told us that Fedor loved to start the engine, so we gave him the chance to turn the key. It's the little things that keep kids interested.
Our neighbour Amir sails an Aloha 27. He had his first child, Ronny, out on the water within weeks of being born. I give full credit to his wife for being up to the challenge, but the result is a little girl who feels at home on the water and is completely relaxed on a sailboat. Now Ronny has a younger brother, Yuval, who goes sailing too. Amir tows a kayak along and once they are tied to a mooring, he often entertains them with a tour of the anchorage. This summer we captured the fun in this great picture.
Many people tell us that the secret to teaching kids to enjoy sailing is to start young. Older children can be a whole different ball game. We've certainly seen this when a guest shows up with a young teen. More than once we've winced at the site of an Ipad, or headphones that dash any hopes of teaching them how to sail. And that's why we consider Daniel to be such a special story.
The first time Daniel arrived at our boat with his mother and Pedro, he was about nine years old and terrified. It took many minutes of convincing to get him to step on board and the whole time we were on the water Daniel, sat white knuckled, seeing disaster at every turn - the boat was going to tip over, we would sink, a shark would attack us, a whale would attack us... we would all die! He was most relieved when we finally returned to the dock and he could step off the boat.
Over the next months, Pedro enrolled Daniel in swimming lessons and a year later when he joined us on Yofy, he was a little less afraid. Now he could step on the boat and with his life jacket, he felt secure enough to lower himself into the water from the stern ladder. But he still wasn't very interested in sailing.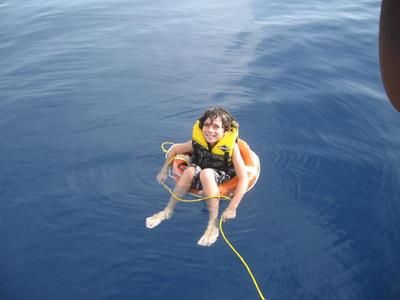 During this time, we had gotten to know Daniel a little and over dinners on shore, Manny talked to him about boat design. A sharp boy, Daniel soon began to ask a million and one questions about steering systems, hull design and how the sails move a boat forward. The next time he came out sailing with us, Manny showed him the engine and the instruments. When we anchored, I gave Daniel the job of watching the depth meter which he did by gleefully shouting out every meter all the way from 30 meters down to 10. He was getting hooked. Boats could be interesting.
And then he saw the kids from the local sailing club whizzing by in their Optimists. We explained to him that these were kids just his age and - "Look! They were sailing their very own boats!"
Now his mother showed some resistance - Daniel sail his own boat?! Another year went by and each time he joined us Daniel ogled the Optimist sailors. He began to take the wheel sometimes, to walk forward on deck and to point out landmarks along the way. He could now swim without a life jacket. Although, he was growing into a worrier and still had his moments of entertaining disaster at every turn, he was much more relaxed.
The start of the next year, Julia relented and enrolled Daniel in the sailing club. By the end of the year, he had learned to sail his own Optimist. Today when we remind him how of far he has come, Daniel laughs.
It was hard to recognize Daniel, now 12, that weekend last June when he joined us for an overnight on Ellen. It was in celebration of the end of the school year and he was in fine form. He confidently walked the decks, took the helm, and kept an eye on the chart plotter. As soon as the anchor was down he was in his bathing suit ready to swim. And was he bored? After a wonderful night sleeping out under the stars, Daniel entertained himself by jumping into the water from ever higher parts of the boat for next eight hours barely stopping to eat. When it was time to sail home, he was terribly sad. "Can't we stay one more night?" he pleaded.
Daniel may never become a sailing enthusiast, yet over the years while sailing with us and at the local sailing club, he has gained confidence and pride at learning a new skill. Sailing with kids certainly does take patience and some adjustments to normal routines. In spite of this, in my opinion, the rewards far outweigh any extra effort taken.