We step off the plane in Corfu and breathe in the pine scented air. The temperature here is even cooler than Athens where we had a nine hour layover between flights. We are bone tired after getting up in the middle of the night to fly out of Israel and then waiting so many hours for our connecting flight. We've done our best to keep our luggage light, but it still feels heavy and we're not finished yet. We've got to meet our taxi and drive down the coast to Benitses where I've reserved a room for us. For now, though, this breath of cool air is a balm after the crushing summer heat of Eilat.
It's the beginning of July and Manny and I are on our way to join a sailboat that is due to arrive in Corfu, in a few of days. Before we go sailing, we intend to kick back, relax for awhile and get to know Corfu a little. Benitses sounded like a good base for us and we aren't disappointed.
From the taxi that is waiting for us, to the friendly family that rents the studios we are hooked. Benitses is a great point to travel to Corfu town, Gouvia marina and points south. Our studio sits against the pine clad mountains and has a magnificent view of the little harbour and the sea. Every morning we weave our way through the alleys and down to the beach. Women sit in the shade of their doorsteps and we call out "kali mera" as we pass. Evenings, we puff our way back uphill and stop to exchange "kali nichta" with these same women, who are now enjoying the evening breeze.
Each day we check our email for a message from the boat's owner. He is sailing from Croatia where he has completed the purchase of this boat and has agreed to message us when he arrives. We are travelling with a small tablet and an android phone both which should allow us internet access. We don't have a phone plan and plan to rely on Skype for all our calls home, as we've always done. We haven't brought our laptop in order to cut back on weight, and hope that the tablet will work well with weather maps. These days with the internet everything is so much easier isn't it? Or maybe not.
The WIFI signal in our room isn't strong enough to receive email let alone to use Skype. We tried walking around the building, standing right under the antenna but still can't log on. This is new for us. We've always had no problems with WIFI on land, in Greece or anywhere else we've traveled for that matter. With no internet café in sight, this could be a major glitch. Finally, our last day in Benitses, we find a restaurant with a good signal and pick up our long awaited message.
Within twenty four hours we are sitting in the cockpit of Bay Spirit, the Cyclades 39 which has just arrived in Gouvia marina. The owner is an old friend of ours and we've got lots to catch up on. We meet his partner and his son and take a tour of the boat. Manny pokes his head into lockers, the bilge and looks at the engine. Later, we head out for last minute provisioning and finally dinner at a nearby taverna. Gouvia is a full service marina and the dockage fees include WIFI, but nobody on board is able to log on. The weather looks settled and we only have a short hop to the mainland planned for tomorrow, so we should be fine.
Surely the nicest part about this delivery is that the owner wants to take his time. He wants to gunkhole his way south through the Ionian where pleasant winds and abundant anchorages are the norm. We quickly settle into a routine. We start most days with an early morning swim and relax in the cockpit over coffee. Sometimes we like the anchorage so much that we stay put and spend the day lounging with books or exploring with the dinghy. Other times we go ashore to explore the nearby town and to find a café with WIFI.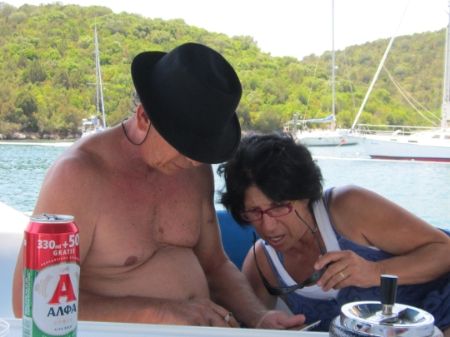 In Sivota, our first anchorage after Corfu, Manny and I find a shop selling Wind SIM cards and buy one for our phone. Now we should have no problem getting internet, checking weather forecasts and using Skype. Pleased with ourselves we head back to the boat to get started. Within a couple of hours we find that while we can receive a signal, we can't get on the internet or call anyone on Skype. For an hour or so, we all sit around the cockpit trying to sort out the problem and give up. After all we didn't come here to sit over computers all day. We'll figure it out soon.
Over the next 3 weeks, we spend hours trying to make a Skype call, open an internet site and read our emails. We do succeed to message on Skype and to read and send emails through the phone, but we never are able to surf the net or get on the weather sites. The tablet is useless. We had two techies on board for part of the time and even they were stumped.
In Zakintosh we finally find an Internet café, one of a fading breed, as everyone these days has Iphones and WIFI availability increases. It is a dank, dark, hole of a place crowded with pimply, pubescent boys madly gaming away the morning hours. We are not sure if the lure is the high speed internet or the secrecy in which to smoke cigarettes. We gingery sit down and gape through the haze at the 10 year old boy chain smoking, across from us. Here, Skype is no problem and we quickly make a few important calls and check out the week's weather forecast.
Before the advent of computers or WIFI, we never considered the need to stay in touch. Now and then we'd find ourselves near an international phone booth and spend the good part of an afternoon lining up to call home. Our families didn't expect to hear from us regularly and we didn't have any business clients to correspond with. These days with aging parents and boat owners depending on Manny's service, things are different. For now, we need to get online from time to time.
At the end of July, we ushered Bay Spirit into a nice little town on the Peloponnese where she would wait for new crew. We rented a car and drove inland to explore a little. Everywhere we went we had the same problems with WIFI. Perhaps the problem in Greece, is a little like the problem in our marina in Eilat.
Here in Eilat, Yofy is tied to a dock surrounded by hotels. On any given weekend or holiday, the hotels are full. Iphones and androids are immensely popular in this country and often every family member has one and uses it all day long. So when the hotels fill up, the WIFI airwaves get clogged and we can't access the internet. It's a problem that all the liveaboards have here. We've changed providers and renewed modems but the only answer is to wait till all the guests go home.
So it seems that Greece is suffering from the same internet traffic problems. Their WIFI waves are jammed and nobody has the funds to fix it. Perhaps the tablet and phone we took were part of the problem too. Certainly next trip we'll try to take our laptop. Fortunately, this time we were sailing at a time and in an area where weather forecasts were not critical. And didn't we go away to do some sailing? Sure we did and next blog I'll tell you all about it.