Sometimes we get lucky and this was one of those years. Late April we got a call from Dooby, an old friend who was buying a boat in Croatia. He wanted to slowly sail her back to Israel during the summer. In fact he wanted to take three months to sail her home. Would we be interested in doing the Ionian leg with him?
Of course we were interested. This would be a way to combine business with pleasure, as Manny has been interested in spending some time in Levkas for several years. By June we were set to fly to Corfu where we would meet Dooby and Bay Spirit, his new Cyclades 39 sailboat.
We arrived in Gouvia Marina on the Island of Corfu midday Sunday at the beginning of July. We were tired because no matter how we plan it, the travel time spent getting to a distant boat is always the hardest part of the delivery. Grateful that we had time to rest before setting off, we happily unpacked our bags and readied ourselves for a few weeks of stress-free sailing.
The general plan was to sail south to the Peloponnese via Levkas and Zakintosh. The decision had already been made not to take the Corinth Canal but to round the Peloponnese into the Aegean. Along the way we would be at our leisure to choose anchorages either on one of the many islands or on the mainland.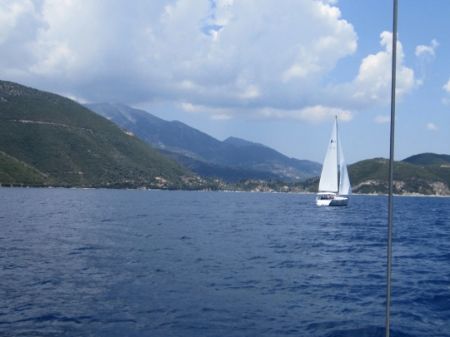 Tuesday after a day of provisioning, one last load of laundry and filling water tanks, we cast off lines, raised sails and pointed Bay Spirit's bow south. A gentle breeze slowly filled in and by late afternoon we were making good speed towards Moutros where several good anchorages awaited us. Even though we arrived late in the day, we found a good spot tucked in between several charter boats. The bay was lovely with scrub pines and a little beach and only a short dinghy ride away from the town of Sivota. Our first night at anchor we chose to stay put and cook onboard. The next morning we got the dinghy out and visited Sivota, a quiet, pretty little place with upscale boutiques and cafes. There is a town quay with electricity and water. Fuel is available by truck. At the north end of the town there is a small grocery store and an unfinished harbour. Nobody seems to be tending the harbour and several boats were tied up there. It was a nice place to walk around but a little pricy for us. That afternoon Dooby dug out the hammock and we were in cruising mode. We spent the rest of the day swimming, reading, snoozing and exploring the coastline in the dinghy. We all agreed that while Moutros is a fairly busy spot, this was a very pleasant anchorage and we could have easily spent a few more days here.
Thursday we were underway in good time only to find no wind and so we motored. Dooby set course for Levkas and the hours passed peacefully. The islands in the Ionian are greener than those in the Aegean and have high mountains leading down to deep bays. Along the coast of the mainland we passed quiet bays and tiny villages nestled between the hills. After a few hours a breeze came in and we were able to raise sails. We sailed on a straight course for Lefkas making 5 knots. Ahh this was the life! Even the temperature was great - sunny but not too hot. Late afternoon, after searching the distant coast for the opening, we lined up Bay Spirit with the canal entrance which only becomes apparent at the last moment. To cap off a perfect day, we caught the very last seconds of the bridge opening and scooted through to a good spot on the town quay.
Mooring here is for free. Water is 5 Euros to fill your tank and wash your boat. If you are quick, you might be able to do a bucket of laundry too. Check the sign at the small hut for the number and call in advance. He's the water guy for the Levkas town dock and you need him to turn on the tap. There are a couple of electrical hookups but unless you get a spot right next to them you'll need a very long electrical cord. Of course Levkas also has a big marina with all the amenities for those who want more comfort.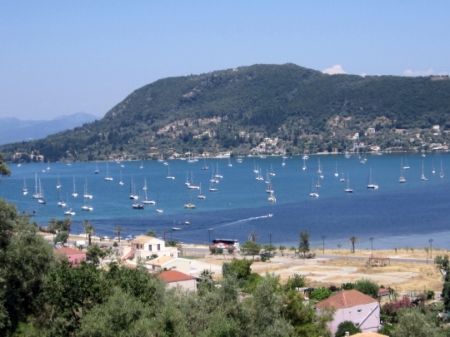 Vilcho Bay Levkas
Levkas is a huge sailing center and a cruising sailor's delight. Several large charter companies and brokerages have bases here. There are at least four good chandleries, a wonderful second hand marine store, good yards for boat maintenance, and great anchorages. The town is pleasant with, many good shops for provisioning and finding parts. Vilcho Bay, perhaps the most well known anchorage in Levkas, has room for hundreds of boats.
The Vlicho Yacht Club
is not a private sailing club but rather a pub run by Ruairi & Vicky Bradley. The small pub has hot showers, a washing machine, the best book/ CD swap library that I've seen anywhere, WIFI, printer and copy services, a good notice board and …oh good food and drinks. They also offer guardiage and many other boating services. If you want to know anything about Levkas or need something for your boat, just ask your waitress. She's bound to hook you up with the right person.
The Second Hand Marine Store levkas
It was hard to tear ourselves away from Levkas but Dooby needed to do a crew swap in Zakintosh in a few days. His son who had been with him since Croatia was leaving and a couple of mutual friends would be joining us for a week. So one morning we hauled in our gangway, untied our lines and motored down the salt canal. This is a narrow channel that runs through wide salt marshes between Levkas and the mainland. The scenery was pastoral with green hills and rocky shorelines. Later we motored by Onassis' island where a pretty anchorage awaits but we didn't stop there. The wind filled in from the south and we continued on to an anchorage at the southern tip of Levkas. We spent a quiet night at anchor eating onboard and going to bed early as the next day we had sixty miles to make to Zakintosh.
The next morning we were up bright and early to find that the wind had swung back around to the north and within two hours we were making five knots under sail. What with the perfect breeze, the sunny day and copious fresh air sometime later I found myself nodding off and headed below to my cabin for a siesta. An hour or so later I dreamt that I was rolling up a steep hill and woke up to find myself sliding up the bulkhead next to our berth. The wind had picked up and when I went back out to the cockpit, Bay Spirit was heeled well over and romping along at eight knots. Dooby, his son and Manny were all grinning like crazy kids.
Late afternoon, we entered Zakintosh harbour and tied up. Just as we reversed into our spot on the town quay, we were met by two men eager to take our lines. One was a man with a fuel truck who we promised we'd buy from later. The other was a man dressed in official clothes asking for our papers. Dooby handed over his transit log and answered questions as to our last port. He was told that the mooring and processing fees for the paperwork would be 50 Euros. Our jaws dropped and then I noticed a sign on the quay, right behind the official.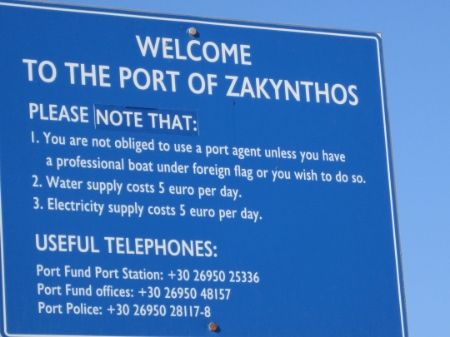 I tried to signal to Dooby to have a look, but it was too late. He had paid the official.
We've seen this before in Greece. It's one of the ugly sides to life in this country and frustrates the cruising sailor. Town quays in Greece have traditionally been free. Nowadays there may be a fee for electricity or water but the mooring is still normally free. Obviously there is a payoff going on somewhere in Zakintosh, but as a visitor to the country there's not much you can do. After a little discussion, we decided to chalk the experience up to newcomer's naivety. This was our first time in Zakintosh. However we would need to come back here in a week when we would drop off our guests. Next time we wouldn't be so naive. We'd do our own paperwork ourselves and save a bundle of money.
Zakintosh is a gruff sort of town. While you can find boulevards and quaint side streets if you are willing to venture afar, the near at hand waterfront has a grotty feel. It is however a very good place to take on crew with a local airport, excellent provisioning and laundry facilities. It also has a ferry dock with regular ferries to the mainland. We quickly did some laundry, topped up our provisions and welcomed Meir and Sarah who would join us for one week. We planned to head back north into the Ionian and explore a few more islands.
It was great to have more time to sail this beautiful sea. During the summer months the Ionian is hard to beat for sheer perfect conditions. Mornings are normally calm with a gentle breeze coming up around noon. By three or four that breeze fills in and winds will pick up to 20 or 25 knots till around nine in the evening when the wind dies down for a calm night. Daytime temperatures during July were 25C to 30C.
You can plan your day sails to suit your needs. Got small children onboard and don't want to heel to much? Then set out early in the day and plan to anchor by 3 PM. Want to shake out your sails and enjoy a good race? Spend the early morning relaxing and swimming and then set out around noon. You'll start off with light breezes but be prepared by 4 PM to tuck in a reef. The prevailing wind direction in July and August is NW to WNW and perfect for a north south cruise.
Next blog I'll introduce you to Osie, Meir and Sarah and tell you about sailing with old friends and some of our best moments in the Ionian.
© Robyn Coulter 2013