Back in 1979, I was backpacking around Europe when I met Manny. Our paths crossed, a spark was lit and later that year I found myself visiting Israel for the first time. In our mid twenties, we both had similar dreams. We wanted to travel and slowly see the world. We were willing to work along the way. Manny wanted to live on a sailboat and I easily bought that dream.
In those days there weren't many Israelis who would understand two dreamers like us, but for a couple of years, we found kindred spirits with a group of friends. Nicknames were common then and Dove became Dooby, Meir became Butch and Manny... well he's always been Manny to me. As for me, Robyn was a strange enough name for an Israeli to pronounce, so it stayed as it was. We all spent many evenings pouring over copies of Cruising World magazines that my brother Hugh sent us. We schemed at making enough money to buy our first boats and some of us hitched our way north through Europe looking for that pot of gold.
In the end Dooby, Doron and Meir hitched up with another friend and were the first to buy a boat. They took off sailing and our ways parted. It was to be many years before Manny and I could rustle up the funds for our first boat, but we stand as the diehards being the only couple to actually liveaboard and still hold on to the dream. Recently we've reconnected with Dooby and as life would have it, his kids are grown, he's now with Osie and he's back to dreaming. This year he bought Bay Spirit, a Cyclades 38, in
Croatia
and sailed it back to Israel. We joined him for the Ionian leg.
Last blog
I wrote about the first part of our cruise. Now we continue with Meir and Sarah on board.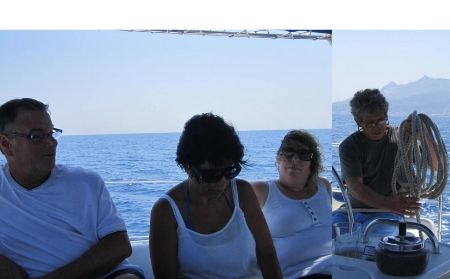 For their first night onboard our new guests wanted to eat out. It was Sarah's birthday and Meir invited us all to join them. We set out by foot walking by the tourists shops and further along the coast to a more residential area. We found a lovely, quiet place where tables and chairs were scattered under the trees across the street from a tiny taverna. In one corner table, an informal gathering of musicians sat strumming ballads into the summer night. It was the perfect spot. Over the next few hours we ordered wine and mezes. Then the owner brought a round of raki. The musicians continued to play. We ordered more wine and mezes and ended the evening weaving our way back to the boat and up the wobbly gangway to our berths.
The next day groggy from way too much alcohol we had a slow start. Late morning we cast off our lines and set out for Ormos A'y Nikolaos an anchorage at the northern tip of Zakintosh. We had a fast sail with good winds and anchored early in a bay alongside a few small tour boats. We all were happy to spend a quiet evening and turn in early.
Leaving Zakintosh island next morning, we passed the Blue Caves at the northern tip of the island. Winds were light and we had a quiet sail entering the bay of Vathi on Ithaca late afternoon. We med moored to the town quay and looked around at the pretty town. A string of colourful houses along the waterfront gave way to appealing shops and tavernas. Alleyways continued to wend their way up the mountainsides making for a steep climb in some places.
Since all visitors must arrive by boat, this is a town that has welcomed sailors for centuries. The town dock was free and busy with cruising boats. While there is no electricity on the quay, Makis is your man for water on Ithaka. Call him at +30 6979 687862 and he will bring his tanker truck to your boat. We saw a sign advertising showers on one of the small houses and while we never used it, we heard that for a small fee you could have a good hot shower there. The town has a good hardware store and a small building supply store for basic plumbing or electrical fittings. There are a couple of good grocers and excellent vegetable shops as well as a bakery, tavernas, cafes and souvenir shops.
We passed two pleasant days in Vathi walking around town, eating out and sitting in the cockpit and enjoying the show of yachts as they entered and left the bay. The guys hiked up the mountain to the building supply store and found just the fitting to fix a leak in the head. The second morning we sailed around the corner from Vathi into the large bay and anchored off of a small beach in good holding. We spent a laidback day beach combing, swimming and lounging.
In a natural way the group split into two and the guys stayed on board the boat while Osie, Sara and I set out for the beach in the dinghy. I have spent so much time with all male crews that I have forgotten what a pleasure it is to spend time with women along the way. We easily fell into the conversations that women have - talking about families, aging, change and the choices we all have made along the way. It was a tranquil place where we easily could have spent several days enjoying the quiet.
Anchors hold well here but be aware of the weedy bottom!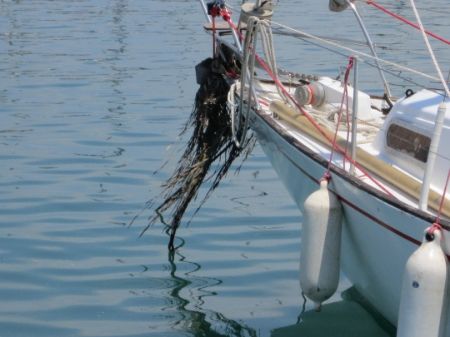 We reluctantly said our farewells to Ithaka and set off on a reach for Meganisi the next day. All day winds were fickle changing from 16 knots on the beam to dead calm and then back to 16 knots again. The coast of Meganisi is much indented with finger-like coves offering good shelter. During July and August it is a popular destination for sailboats and if you arrive late, you may need to search for a space. We explored a bit and then quickly anchored before there was no room. Even though the anchorage was crowded, it was quiet enough and we spent a pleasant evening on the hook. After we all had gone to bed, Manny stepped out on deck and for the first time enjoyed a night sky full of stars. Far from city lights, finally we could see the constellations.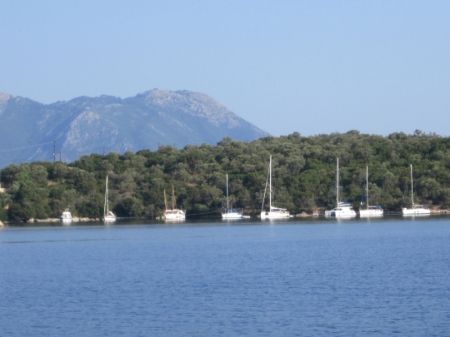 Next day we hauled anchor early and set south for Cephanlonia. After a short romp under full rig the wind dropped and we motored for several hours only to have the wind come up again to allow us to reach into Poros near the southern tip of the island. Although a great point for a short hop over to Zakintosh, this was a lousy choice for the night.
We entered under strong winds, with williwaws coming down off the mountains. Neighbouring yachties, who had come in earlier, jumped ashore to help with lines. It was a wild struggle under onshore winds but we finally secured a med mooring to the quay. Over the next hour or so, we joined hands to help with other arriving boats fending off and handing lines. Once the evening winds calmed a little Manny, and I set out to explore. It was a pretty spot with a good hike over a steep hill into a sleepy little town. Bare provisioning was available so later we ate a good diner at one of the local tavernas close to the down dock.
Leaving Cephalonia, we had a good sail to Zakintosh. We were back to drop off Meir and Sara who had a flight to catch. Along the way Sara moaned about going back to work. It had been a relaxing week and we had visited some wonderful islands. As we neared Zakintosh, Dooby began to think about his tactics for dealing with the local "agent" and the exorbitant fees he charged. (which I wrote about in part 1). He decided to opt to do his own paperwork at the port and save the 50 Euros.
We approached the town dock and a moped roared up with the same "agent". Dooby gently refused his offer to help and got quite the cold shoulder. The guy immediately called the port police and gave us until that evening to complete the paperwork. Dooby stood firm. Manny and I walked with him to the other side of the harbour where the Port Authority building stood. We waited while Dooby went in. After a long wait he returned. He had been told to come back later, the officials weren't in. We went for Gyros and then Dooby went back. The officials still weren't in. Then the office was closed and he couldn't get his stamp till the next day. The game was clear. This agent and the Port Authorities were on a scam together. As visiting sailors to Zakintosh there wasn't much we could do but pay the agent and avoid the town dock here again.
Sara and Meir said their goodbyes and we spent the next day catching up on laundry and making some Skype calls home at the internet café. The four of us were happy to leave Zakintosh and early morning we set sail for Katakalona a small town on the Peloponnese. This was to be our last sail on this trip and true to form it was perfect. A gentle breeze filled the sails and we made 5 knots while the autopilot steered. We lounged in the cockpit and talked about the last weeks. It had been a wonderful sailing vacation and we were grateful to Dooby and Osie for inviting us along.
Katakalon was a quiet and friendly port. We spent a couple of days packing and doing some organizing. From here we would rent a car and drive through the Peloponnese. Dooby and Osie planned to anchor out for a few days of R&R after a month of guests, and then continue to head south.
Greece is a country that has always welcomed sailors. The Ionian was no exception. Here you can find cheaper marinas and many free anchorages and town docks. In remote bays, family tavernas, grocery shops and bakeries service the cruising community. As I write this blog, news has come of a
new tax
for visiting sailboats in Greece. Sailors are up in arms as the hefty fees may be prohibitive for many cruisers on small budgets. We will keep our eyes on the final outcome of this new law. While we are aware that the Greek economy is in crisis, we fear that cruising is fast becoming a lifestyle of the rich - if not famous.
© Robyn Coulter 2013