Some people talk about Murphy and his frustrating laws. Among my friends and in astrological circles, we talk about Mercury Retrograde. Call it what you will, this last month has certainly been frustrating. Obstacles, minor accidents and breakdowns have been steadily holding up progress aboard Yofy's refit.
Three weeks ago, just as summer temperatures began to soar in Eilat, our refrigerator compressor called it quits. By the beginning of last week we were also replacing a new dry cell battery that was a dud, the solenoid on our starter and a cooling unit on our old car. So, rather than madly ticking off projects on our "to do" list, Manny's been busy dealing with on the spot emergencies.
It has been a frustrating few weeks. However, we keep reminding ourselves that if something has to breakdown, now is the best time for it to happen. It is always easier to repair and replace parts dockside than when you are underway.
When you get right down to it, Eilat is one of the least logical places to refit a boat. The town sports one marine supplier, who rarely seems to have in stock whatever it is we are looking for. Plumbing, electrical and mechanical supplies are vaguely spread around town in a few shops that may or may not carry what you need. Invariably the solution is to drive five hours up to Tel Aviv and spend a day trudging around the industrial district, long list in hand and hope that you will be lucky enough to find somebody with the part in stock.
We are also learning that every part of this globe has a season for boat repairs. Down here, summer is definitely not that season. Everything gets hot. Tools lying in the cockpit become branding irons, new tubes of silicon harden to cement, epoxy cures before you can finish spreading it and varnish cans bubble and boil. When temperatures rise to the mid forties Celsius (or over 100 degrees Fahrenheit), no one moves very quickly and if they do it's generally in the direction of the beer cooler.
Years ago, living aboard through snowy Canadian winters, we dreamed of sunnier climes. We were drawn to this town's laid back lifestyle citing it as the Key West of Israel. Where else could we dumpster dive for free off cuts of mahogany and cherry wood, wear flip flops out to dinner or practice yoga on the dock? Our chilly Canadian eyes glazed over the lack of local marine distributors and focused on wearing shorts year round.
With the advent of the internet and world wide shipping, we were sure we had found a good solution. Sadly we have found that the price of shipping is often more than the price of the product. We quickly learned that we don't live in a backwater, but more correctly the outback.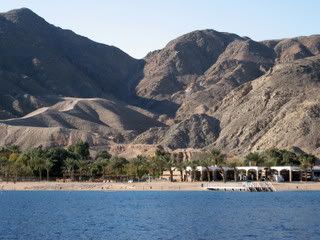 Don't get us wrong now. Our years living in this town have offered many new experiences. We've been fortunate to join nature reserve rangers on a desert data collection trip to tag and release foxes. I've snorkeled alongside mother and baby dolphin, just hours after birth. We've camel trekked through the breath taking silence of a desert wilderness and visited Bedouins. Manny has dived with whale sharks and giant manta rays. We've swum under countless full moons, smoked fish at beach campouts, hiked through desert wadis and sailed every month of the year.
After all, those are the moments whose memories will last a lifetime. This summer's frustrations will be short lived and thankfully soon forgotten. Really, who are we to complain?