January came in with a blast, bringing cold temperatures and grey skies. For two weeks we hunkered down, pulling warm clothes out of storage and preparing for some winter weather. Then the sun came out, temperatures rose ten degrees and we've had mild weather ever since. While it feels like spring, nobody is quite sure whether to take this mild spell seriously or not.
Things change quickly in the Middle East. One day it is sunny and mild and the next it is winter. One evening we are chatting with friends about the tense political situation between Gaza and Israel and the next morning our radio says we are at war. So it is that while I have been writing about avoiding piracy in the Red Sea, we have survived another war, and done a major refit to Yofy's engine room.
All this time Yofy has been tied snuggly to her dock. Before we could install the new Nanni diesel, we had to find suitable damper and adaptor plates; parts which connect the engine to the transmission. Throughout October and November I scoured the internet searching for a suitable supplier. Each day Manny would fume at the lack of responses to my emails and in the end it took over 30 emails to various websites until we unearthed two good sources. Our search was so long and so frustrating that I am happy to post here the names of two very patient suppliers who gave us excellent service. One is
Waterway Power center
in the USA . The other is
Lancing Marine
in the UK .
While I held fort on the internet, Manny painted the engine room, installed an air conditioning system and an extra bilge pump, rewired all the gages and moved the junction box, extended the engine beds and engine mounts and changed the water intake and filter. Each evening I would walk down to Yofy and find Manny hunkered down in the engine compartment busy at one of the jobs.
In November, we took a few days break to travel to the Galil in the north of Israel. We had a wonderful time forgetting about engines, bilges and wiring. One day we drove to the village of Turan to buy our years supply of olive oil. We found the village press nestled in an olive grove. Goats grazed the land next to the parking area reaching high up in the trees to catch tender young leaves. Inside various locals were bringing in yesterdays olive harvest for pressing. We watched the olives tumble onto the little conveyor belt and into the macerators. The oil from those olives was a deep green colour and poured thick like honey into our waiting jerry cans. Now Yofy's special temperature controlled wine locker also holds four gallons of cold pressed virgin olive oil.
Just in time for Christmas our damper and adapter plates arrived and Manny began installing them. Next, he welded a cart to roll the Nanni diesel along the dock and another temporary frame which would serve as a landing site for the engine when it was lowered inside our cabin. Manny's plan was to slide the engine onto her mounts from this temporary frame. Finally at the end of December, on the new moon flood tide the new Nanni diesel was winched into place.
Throughout January Manny was busy aligning the engine, modifying the exhaust and changing the cable attachments. As I write, he is once again in the engine compartment doing what we hope is the last adjustments to the engine alignment. I have learned that there are so many different details to attend to when you change an engine on a sailboat. Since the summer, I have watched countless numbers of times as Manny heads up to Amnon's shop to tool a part that he can't get in town. Once again, I am thankful for his good technical skills.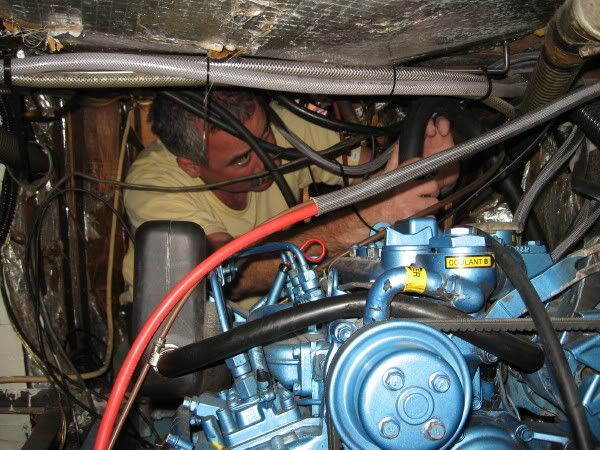 Nothing shows how long a boat has been stationary than the marine growth on her bottom. By now Yofy sports a thick crust of barnacles and daily one of us questions if she will actually be able to move out of her slip for a sail trial. Good thing we now have a powerful diesel that can take the challenge!