In case you are wondering just what happened to us these past couple of months, worry not. Change certainly came and it came quite quickly. For me who digests change slowly, this summer has been a mind boggling mix of excitement, worry and many, many challenges. But I am getting ahead of myself.
Late June, after a month of idle chatter, Manny suddenly closed the deal on a delivery job. This was to be the longest delivery we have done yet and for us required lots of preparation. How do you just up and leave students you regularily teach, clients you have lined up work with and your floating home at the drop of a hat? How do you find crew, acquaint yourself with several different cruising areas and learn a new boat's systems in a couple of weeks? Let me tell you it isn't easy, but it is possible.
Our summer job was to fly to France and pick up a brand new, luxury, 50 foot catamaran and deliver it over 3000 miles along the Atlantic coast, through the strait of Gibraltar across the Mediterranean, through the Suez Canal and up the Red Sea to Eilat. The boat, Ellen, was a Lagoon 500 and would be used for chartering.
And so it was at the beginning of July that Manny, Mosheko and I set out for La Rochelle France. After twenty four hours of waiting around airports, cramming into crowded charter flights and driving all night long through the French countryside, we arrived tired and excited about the start of this great adventure. We were welcomed aboard by Boris, the man who is managing the whole operation and his nephew Ilia. Ellen, our home for the next two months was floating gently at La Vieux Port in La Rochelle.
Barely able to keep our eyes open after twenty four hours in transit, Manny and I jittered with the excitement of being in France again. Here we were in the land of baguettes, camembert cheese and may I add cheap wine! However, before we could enjoy France's culinary delights we had lots of work to do.
The first leg of our delivery was up the infamous Bay of Biscay and along the Atlantic coast of Spain and Portugal to Gibraltar. We had only a few days to finish commissioning Ellen, do some sail trials and provision. At every spare minute, I tried to keep a watch on the weather with hopes of finding a good window to get us around Cape Finister.
For this leg we would have on board Boris, Ilia, Mosheko and Noam, our last crew member who would join us in a few days. Knowing that Boris and Ilia had never sailed before, Manny planned on doubling up watches, a strategy that turned out to be well chosen.
Just five days after arriving, at the end of a long day of provisioning and installing yet more new equipment, Boris suddenly decided that it was time to go. Ilia had a flight back to Israel from Malaga Spain on July twenty third and Boris was determined to make it on time. Manny and I swallowed our concerns about racing the clock and safe passages - a theme that was to resurface again and again on this delivery. I quickly checked the weather one more time and saw that while we did not have an ideal weather window, it wasn't the worst.
Within two hours we were under way.
The Bay of Biscay lived up to her reputation and we had a long, wet windy passage. No one on board had sailed a catamaran before. This first passage was a beat for four long days. The incredible pounding and jerking motions a cat makes on a beat, along with the terrific crashing sounds wore on us all. By nightfall of the first day three of the crew, including this blogger were sick. Day two brought a respite so Mosheko got his fishing lines out and Noam cooked baked chicken and potatoes for dinner. When I came out early for my night watch, I found Mosheko and Ilia with huge grins on their faces blasting Dire Straits from the stereo. During the night dolphins joined us. Throughout this passage we saw many dolphins but that night they were spectacularly beautiful streaming phosphorescence from their tales.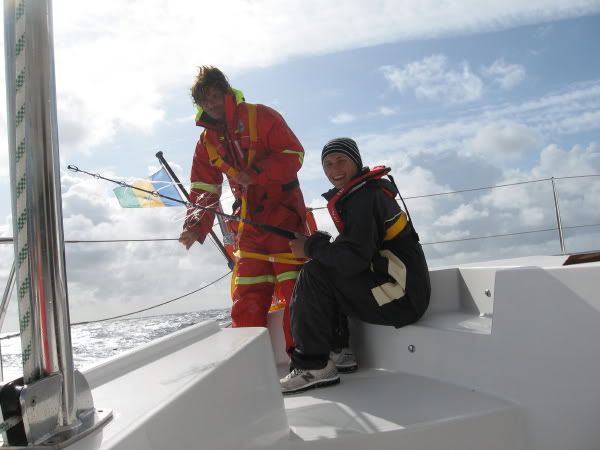 Then the weather took a turn for the worse. By day three we all looked a sorry sight - wet, cold and exhausted. On July 14, my log entry says it all:
Very rough. High seas. Wind blowing spume off of tops of waves. Taking lots of green water over the bow. Very wet on the fly bridge. Autohelm has stopped working. Steering by hand under engine.
Adding a devilish twist the autohelm had broken during the day and Manny wasn't able to effect a repair at sea. All night long, the crew hand steered in driving rain.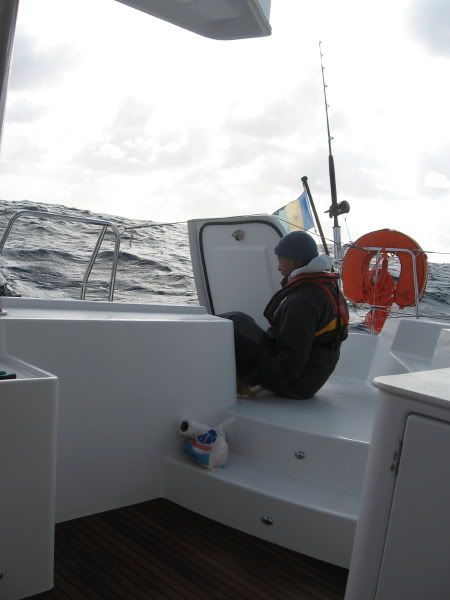 It is here that I must give credit to Boris and Ilia. Newcomers to the game, they had a harsh initiation and the morning of day four Boris gently asked Manny if there was a safe harbour nearby. I had prepared myself in advance with several options along this coast and quickly suggested La Coruna, Spain.
On July fifteenth, Ellen motored into La Coruna and tied up at Darsena de la Marina. It is always a surprise to come in to calm waters from rough seas. As one closes the shore the boats movement becomes enjoyable, the sun peaks out of the clouds and up ahead one sees the marina and all the shore side amenities beckoning. This day was no exception. We were a tired and wet crew. We had only started on our journey, but the Bay of Biscay was behind us and we were satisfied with our progress.
Over the next few days we would have repairs to make, some fresh stores to buy and laundry to do. For now the old city of La Coruna beckoned. We had a new town and a new country to explore.